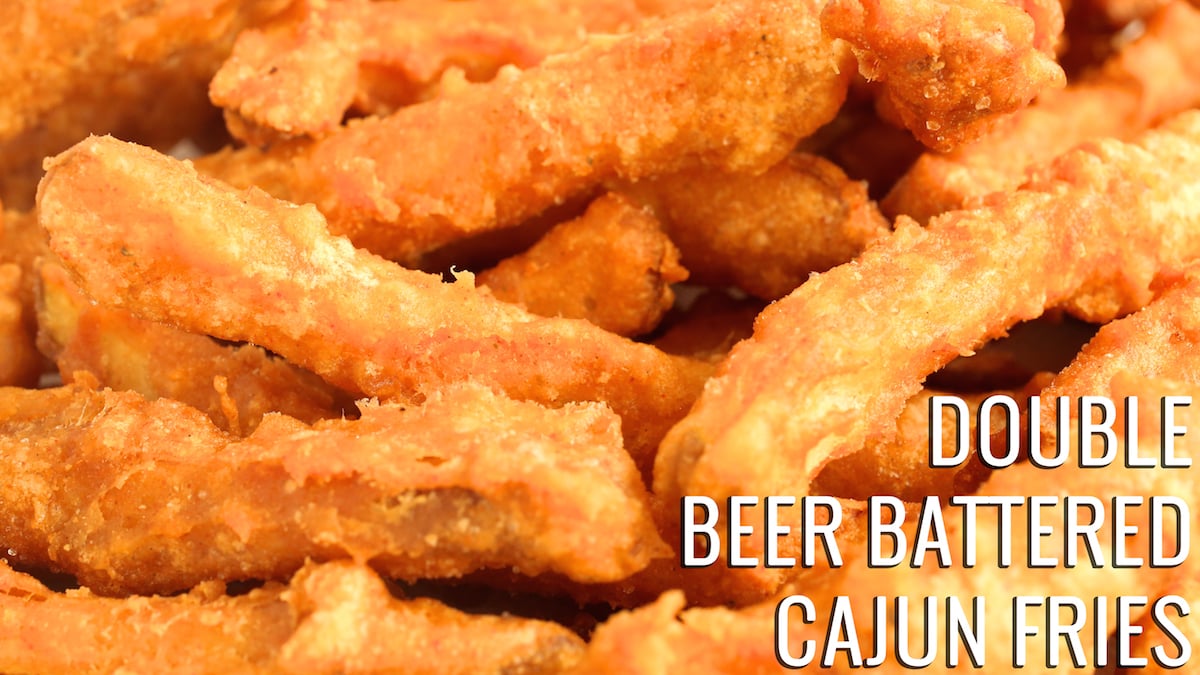 Never underestimate the power of a good french fry. It can change your day, heck, maybe even your life!
While I am pretty confident in my mashed potato making skills, this was actually my first time attempting to make homemade french fries. I've learned from a few of my favorite restaurants who serve amazing truffle fries that the "secret" to making a crispy fry is soaking them in ice water. This removes the starch, so they fry up better and crispier.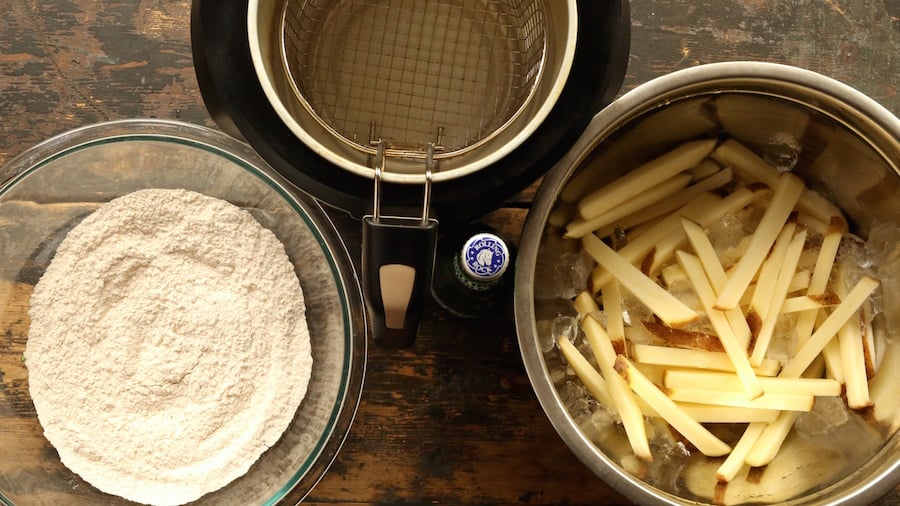 I think these beer battered cajun fries would be perfect served alongside some fried catfish or other seafood. I paired them with a deep-fried lobster tail (recipe coming soon!). They turned out so good, I honestly can't wait until I have another excuse to make them!
These crunchy fries pair well with our buttermilk chicken tenders, Nashville hot fried oysters, Instant Pot crab legs, and buttermilk chicken wings.
This post contains affiliate links (when you buy we make a little money at no cost to you). See our disclosure for more information.
Print
Double Beer Battered Cajun Fries Recipe
Homemade french fries dipped in cajun spiced beer batter twice so that they're extra crispy. 
Author: Jessica Pinney
Prep Time: 4 hours 30 minutes
Cook Time: 8 minutes
Total Time: 4 hours 38 minutes
Yield: 4 1x
Category: Side Dishes
Cuisine: American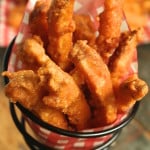 Ingredients
2 pounds russet potatoes
2 cups all-purpose flour
1 tablespoon Cajun spice
2 teaspoons garlic salt
2 teaspoons onion powder
2 teaspoons paprika
2 teaspoons kosher salt
1 teaspoon ground black pepper
1 cup lager-style beer (I used Rolling Rock)
Oil for your fryer
Instructions
Slice your potatoes into 1/4″ french fry sticks. Place them in a bowl filled with ice and water. Let them soak in the ice bath anywhere from 4 hours – overnight.
In a large bowl, combine the flour, spices, and beer. Mix together until a pancake-like batter has formed. If necessary, add more beer. Divide the batter between two bowls (remember, we are going to end up battering the fries twice). Toss fries in batter until each one is completely covered.
Preheat your fryer (If you need one on a budget, this one is less than $30!). When it is ready, drop in the fries in small batches. They tend to stick together, so be sure to gently separate them with your tongs. In this step, we are essentially blanching the fries. We want to fry them about 5 minutes until they are golden and limp, yet cooked through. When they are ready, remove with the tongs and place on a paper-towel-lined plate while you fry the rest.
When you have blanched the fries, dredge them in the other bowl of batter. Again, fry them in small batches. This time we are only going to cook the fries about 2-3 minutes until they are deep golden brown. Place on another paper-towel-lined plate to drain.
Serve immediately.