I'm a proud, life-long card-carrying member of the chicken tender lover's club. I remember, even as a teenager, my father getting very frustrated because no matter what restaurant he took us to, I would order a plate of chicken tenders and french fries.
What can I say? Chicken tenders are delicious and you know what you're getting. They're always there for you!
I don't eat them quite as often these days, but I do still enjoy a good tender from time to time.
It turns out that it's really easy to make homemade chicken tenders and totally worth it! They come out so crispy and delicious. I can't think of a better lunch!
I wanted my homemade chicken tenders to be coated in the perfect spice. To me, this means notes of pepper, onion, and garlic with a hint of spiciness. I went through several batches until I achieved the balance of taste I was looking for.
Ingredients
Raw Chicken Tenders
Flour
Buttermilk
Spices (salt, garlic, onion, pepper, and cayenne)
Oil for frying
How To Make
To make your own buttermilk chicken tenders, start by soaking the tenders in the buttermilk for at least 30 minutes up to 4 hours.
Next, make the breading by stirring the flour and spices together. The extra crispy, crunchy little bits are made by drizzling a little bit of the buttermilk in the flour and stirring with a fork.
You can fry these in a cast-iron skillet if you don't have a deep fryer. I like using the deep fryer when possible because it regulates and maintains the temperature really well.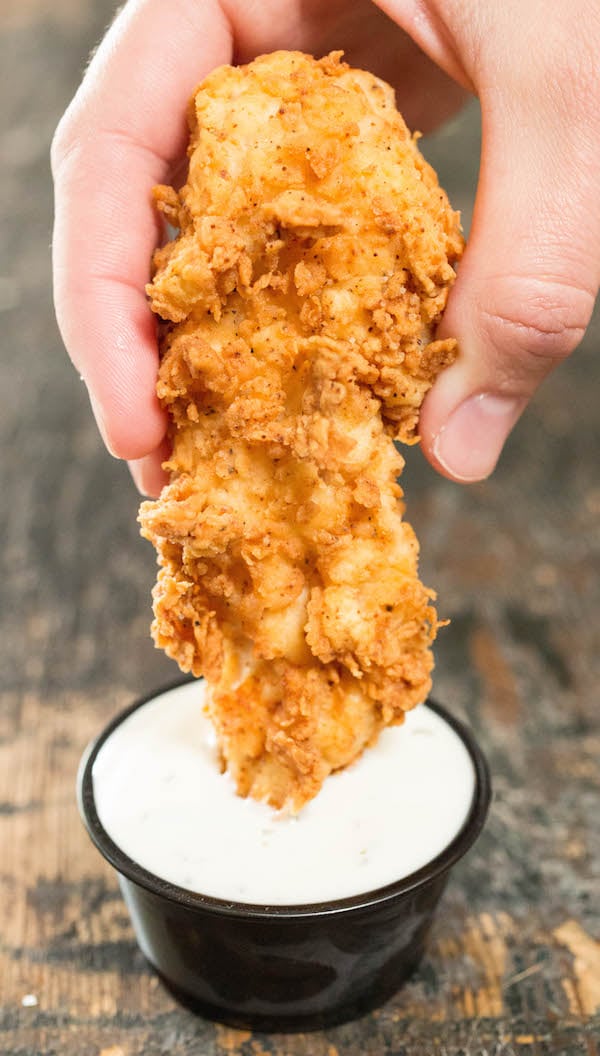 The best part of chicken tenders is the dipping sauce! What sauces do you like to dip yours in?
Janette prefers dipping hers in ranch, while I like dipping mine in ketchup/mayo mixture or BBQ sauce. You really can't go wrong!
Other Chicken Recipes
More Fried Recipes
Print
Buttermilk Chicken Tenders
These extra crispy homemade chicken tenders with buttermilk are coated with the perfect seasoning.
Author: Jessica Pinney
Prep Time: 40 minutes
Cook Time: 4 minutes
Total Time: 44 minutes
Yield: 3 1x
Category: Main Course
Method: Fried
Cuisine: American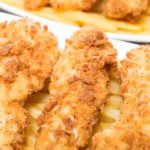 Ingredients
1lb Chicken Tenders
Buttermilk
1 1/2 Cups Flour
1 tsp Salt
1/2 tsp Black Pepper
1/2 tsp Garlic Powder
1/4 tsp Onion Powder
1/8-1/4 tsp Cayenne 
Oil, for frying
Instructions
Place chicken strips in a medium bowl and pour buttermilk over the top until they are submerged. Place in fridge and allow to soak for at least 30 minutes.
Take another bowl and add the flour and seasonings. Stir with a fork to combine. Now drizzle about 1/4 cup of buttermilk into the flour, stirring lightly with your fork as you add it. (This will create the small clumps of batter that make the chicken tenders extra crispy!)
Heat your deep fryer to 375 F or add 1″ of oil to a cast iron skillet and heat oil to temperature over medium heat.
Once the chicken tenders are done soaking, remove them from the buttermilk mixture and dredge in the flour. Turn them over to thoroughly coat each side.
When oil has come to temperature, add the chicken tenders, frying in batches if necessary. Cook them on each side for about 2 minutes, until golden brown and crispy.
Remove them from the oil and place on a cooling rack over a baking sheet or paper-lined plate.
Serve immediately with your favorite dipping sauce and french fries.