Janette and I have very few recipes that we eat on a regular basis. The ones we do have to meet a few requirements:
not too many ingredients
easy clean up
be soooo delicious that you just can't put your fork down!
When something satisfies all three of those, there's a good chance it's getting added to the regular rotation! This easy blackened chicken recipe is all of those things and more.
Because it's a protein, it can be added to so many dishes. I love blackened chicken salad, pasta, zoodles, or even stuffed between two pieces of butter lettuce as a low carb sandwich.
However, this blackened chicken has no problem standing on its own. For convenience sake, I mostly serve it as is next to a bed of greens. This makes it a very filling and guilt-free meal, as it has no-carb/no-sugar. Perfect!
This post contains affiliate links (when you buy we make a little money at no cost to you). See our disclosure for more information.
The only three ingredients you will be needing are chicken breast, butter, and the all-important Chef Paul Prudhomme's Poultry Magic Seasoning
. You may also want to salt your chicken a little, which I would recommend unless you're trying to cut sodium.
The real secret to blackening is plenty of butter and a nice hot skillet, preferably cast iron
. This will help us get the crispy sear that is a staple of blackened meats.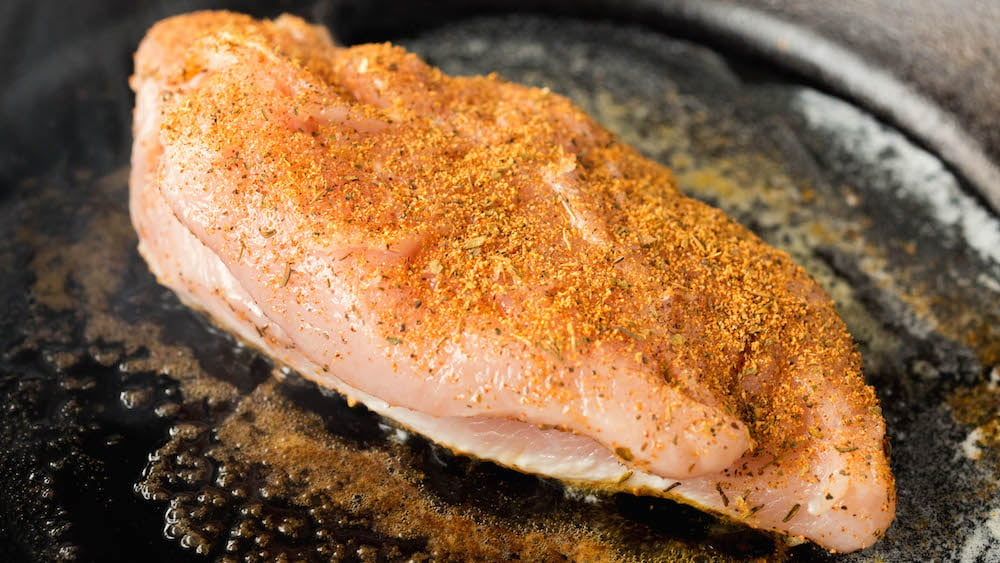 We really do eat this chicken more than any other dish. I hope if you make it, your family enjoys it as much as we do. If you incorporate it into another recipe, such as a salad or pasta, please let us know how it went so we can try it!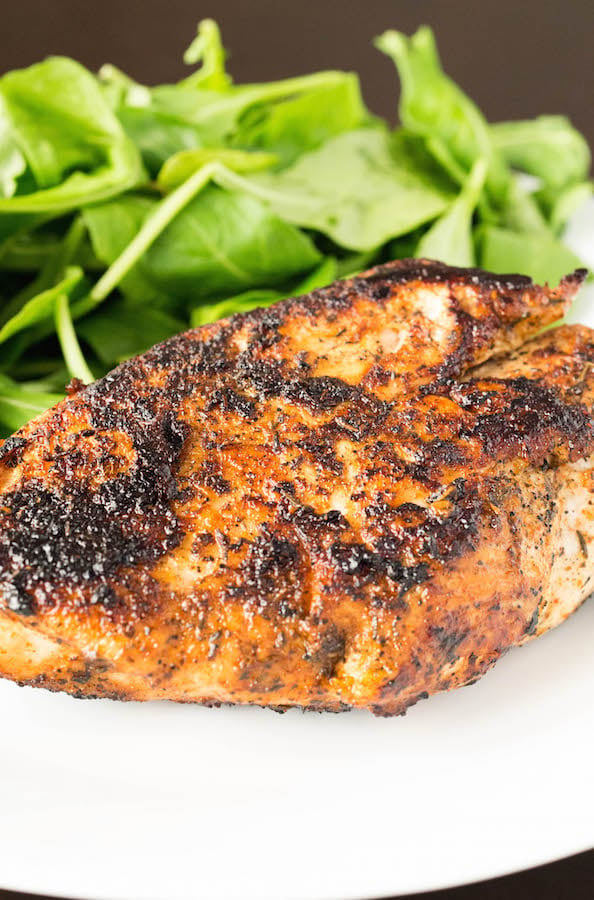 More Chicken Recipes
Print
Easy 3 Ingredient Blackened Chicken Recipe
An easy, healthy recipe for Blackened Chicken. Only 3 ingredients needed!
Prep Time: 5 mins
Cook Time: 20 mins
Total Time: 25 mins
Yield: 1 1x
Category: Dinner
Cuisine: American
Ingredients
1 Chicken Breast
2–4 Tablespoons Butter
Instructions
Begin melting butter in cast iron skillet over medium heat.
Season both sides of your chicken with Poultry Magic and a little salt (if desired).
When the butter has melted, place the chicken in the skillet. Do not move after you place it down (this could mess up the crust we want to form). Cover with a lid.
Cook three to four minutes, then flip the chicken over. Cook another 3-4 minutes. Check temperature (I use an instant-read thermometer) and continue cooking, flipping every few minutes, until the chicken is 165° in the thickest part.
Remove from cast iron skillet and allow the chicken to rest 5-10 minutes, then serve.