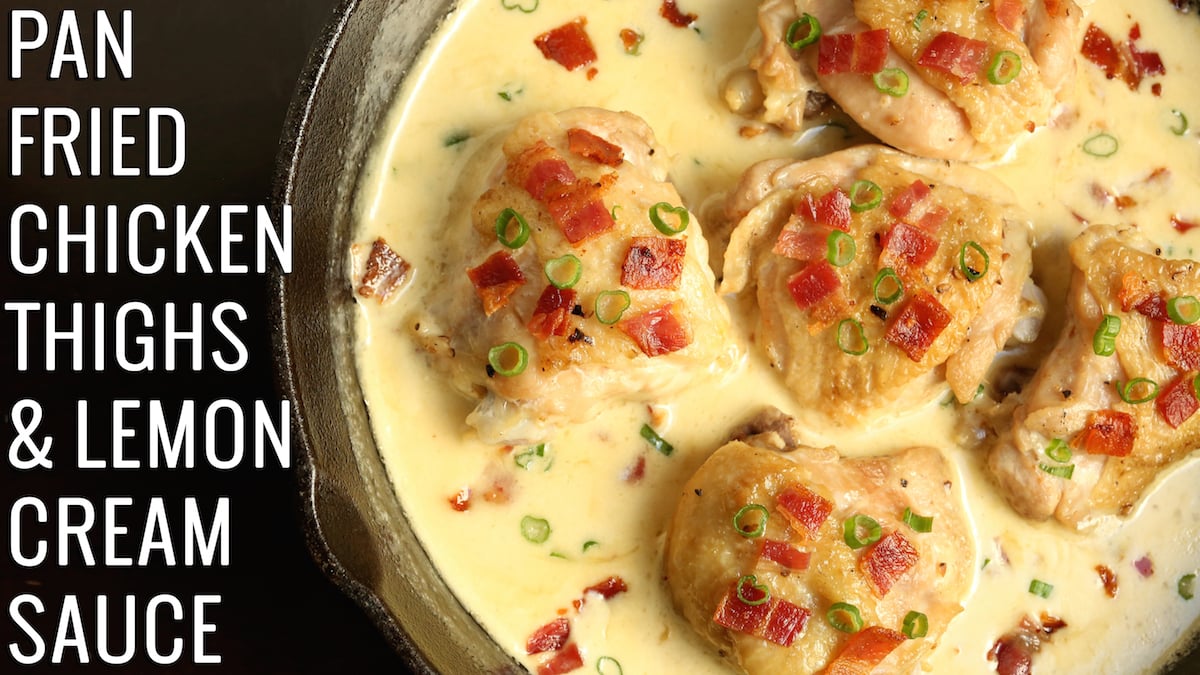 I eat a few pounds of chicken every week, so I am no stranger to some well-cooked poultry. I usually eat breasts, but I wanted to switch it up and treat myself to a few thighs.I'm so happy that I did because this recipe for pan-fried chicken thighs has landed itself in my top 5 favorite chicken recipes!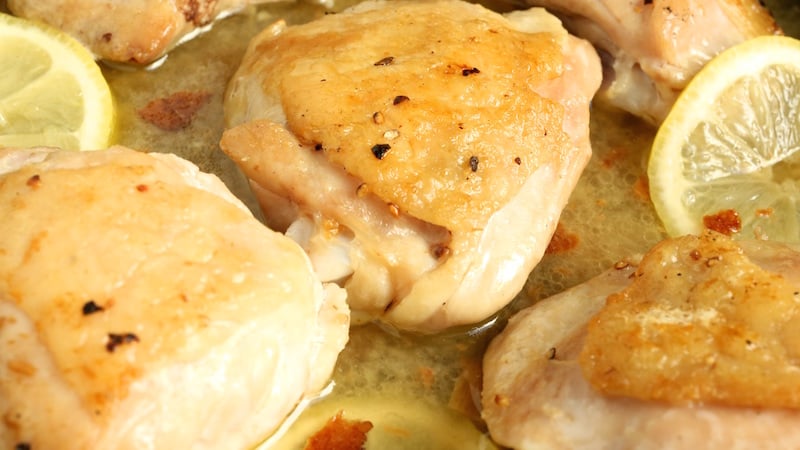 The cream sauce is decadent in consistency. It's flavored perfectly with garlic, bacon, green onion and a little citrus twang from the lemon. When I was finished eating I was truly said I didn't have more chicken to use as a vehicle for sauce. If I had been alone I may have eaten a spoonful or two by itself. It was that good!
Print
Pan Fried Chicken Thighs with Lemon Cream Sauce Recipe
An easy weeknight dinner, this Pan Fried Chicken Thighs with Lemon Cream Sauce Recipe is always a crowd pleaser.
Author: Jessica Pinney
Prep Time: 5 mins
Cook Time: 30 mins
Total Time: 35 mins
Yield: 3 1x
Category: Entrée
Cuisine: American
Ingredients
2 tablespoons olive oil
5 chicken thighs
salt and pepper
3 garlic cloves, minced
1 cup chicken stock
6 strips bacon, cooked & chopped
4 thin lemon slices
2/3 cup heavy cream
2 green onions, sliced thin
Instructions
Season chicken thighs with salt and pepper, both on top of the skin and under.
Heat the olive oil in a skillet. (Is used my cast-iron skillet.) Once the oil has heated up, place chicken thighs in skin side down. Cook for about 5-7 minutes on high-medium heat, covered. When the skin is very brown, they are ready. Remove from skillet.
Add minced garlic and a small amount of chicken stock to the pan. Cook for one minute,
Add the remaining chicken stock (1 cup). Add half the chopped bacon.
Place chicken on top of bacon in the pan. Arrange the lemon slices around chicken thighs.
Cook, simmering, covered, for about 20 minutes, until chicken is done and is no longer pink in the center.
After chicken is cooked, remove it from the skillet. Remove lemon slices from the skillet – it's very important that you remove them now, do not leave them in for the sauce otherwise it will be too sour. Add 2/3 cup heavy cream to the skillet. Bring to boil and mix everything well, scraping from the bottom. Immediately reduce to simmer, add chicken thighs back to the skillet and reheat.
To serve, spoon some of the sauce over the chicken thighs, and sprinkle with remaining chopped bacon and chopped green onions.