This savory, creamy casserole is a great way to use up Thanksgiving leftovers. It's an easy to make dinner recipe that's loved by the whole family.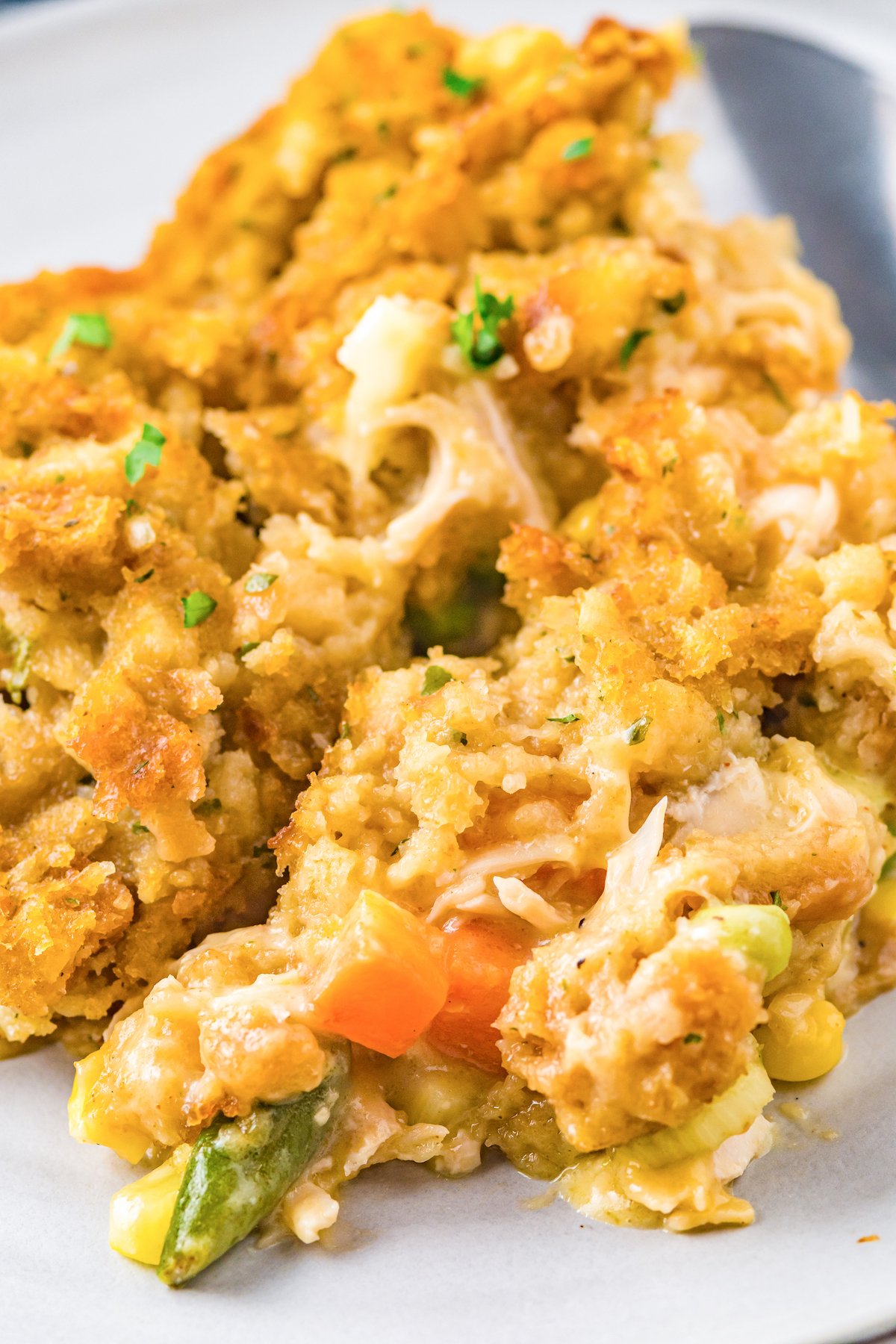 This rich casserole has all the flavors of Thanksgiving dinner! I make it throughout the year when I'm craving a holiday feast and then again with our leftovers every November.
One of the best parts of this dish is that it's so versatile. There's plenty of room here for improvisation and substitutions based on what ingredients you have on hand. It's always a great way to repurpose "dry" turkey, since the casserole itself is so moist.
I personally love to pour some leftover turkey gravy on top. Yum!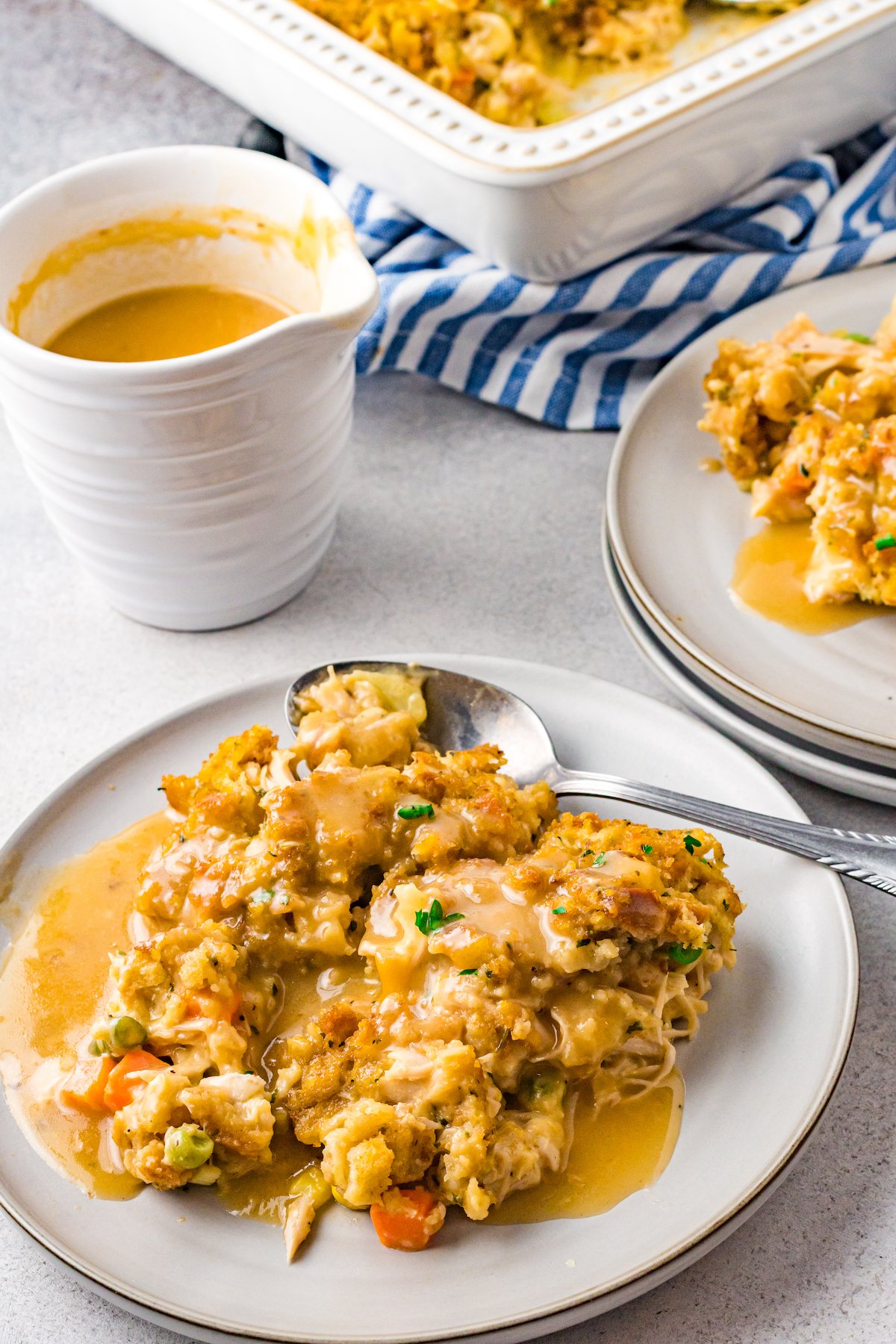 If you're looking for more ways to use up your Thanksgiving leftovers, I recommend trying my Thanksgiving Crunchwrap Supreme, Thanksgiving Leftovers Pizza, or the Leftovers Monte Cristo (my favorite!).
Ingredients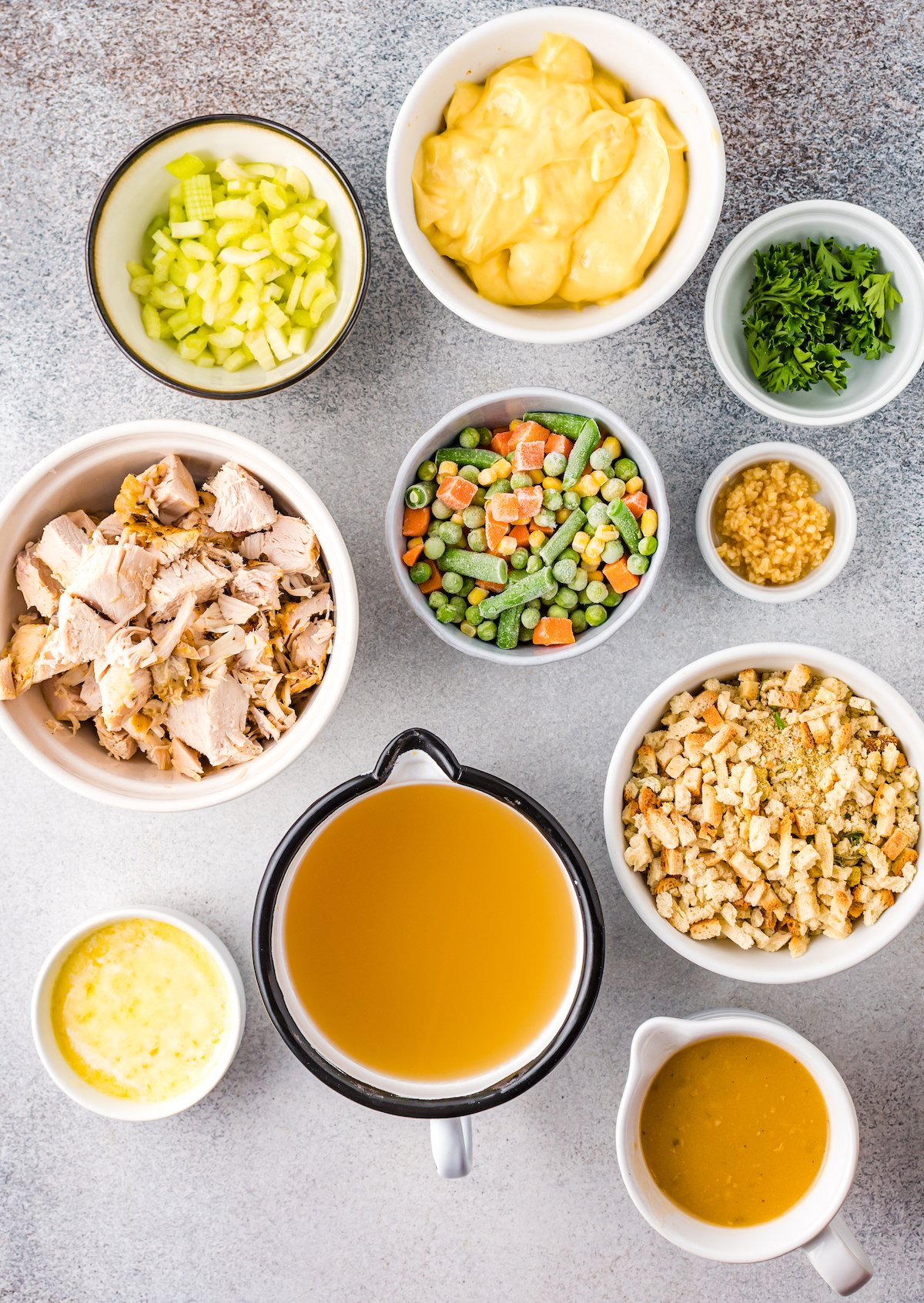 Turkey – You can use any already cooked turkey, we generally use leftovers. You could also use chicken, rotisserie works great.
Vegetables – You can use any vegetables you have on hand. A bag of frozen mixed vegetables works well. I also like to add chopped celery.
Stuffing mix – I've made this using both boxed stuffing mix and leftover stuffing, either is fine. (My cornbread stuffing is delicious!)
Minced garlic – I like to add minced garlic, but you can reduce the amount or eliminate it completely to suit your tastes.
Butter – I used salted butter, but margarine can be substituted.
Chicken broth – I prefer the flavor of chicken broth, but vegetable broth or water can be used instead.
Condensed cream of chicken soup – Condensed cream of mushroom or condensed cream of onion soup can also be used.
Optional
Gravy – I like to use leftover gravy to pour on individual servings of stuffing as it is served. This is completely optional.
Parsley – I like to add a sprinkle of chopped parsley as garnish. It can be left out.
How To Make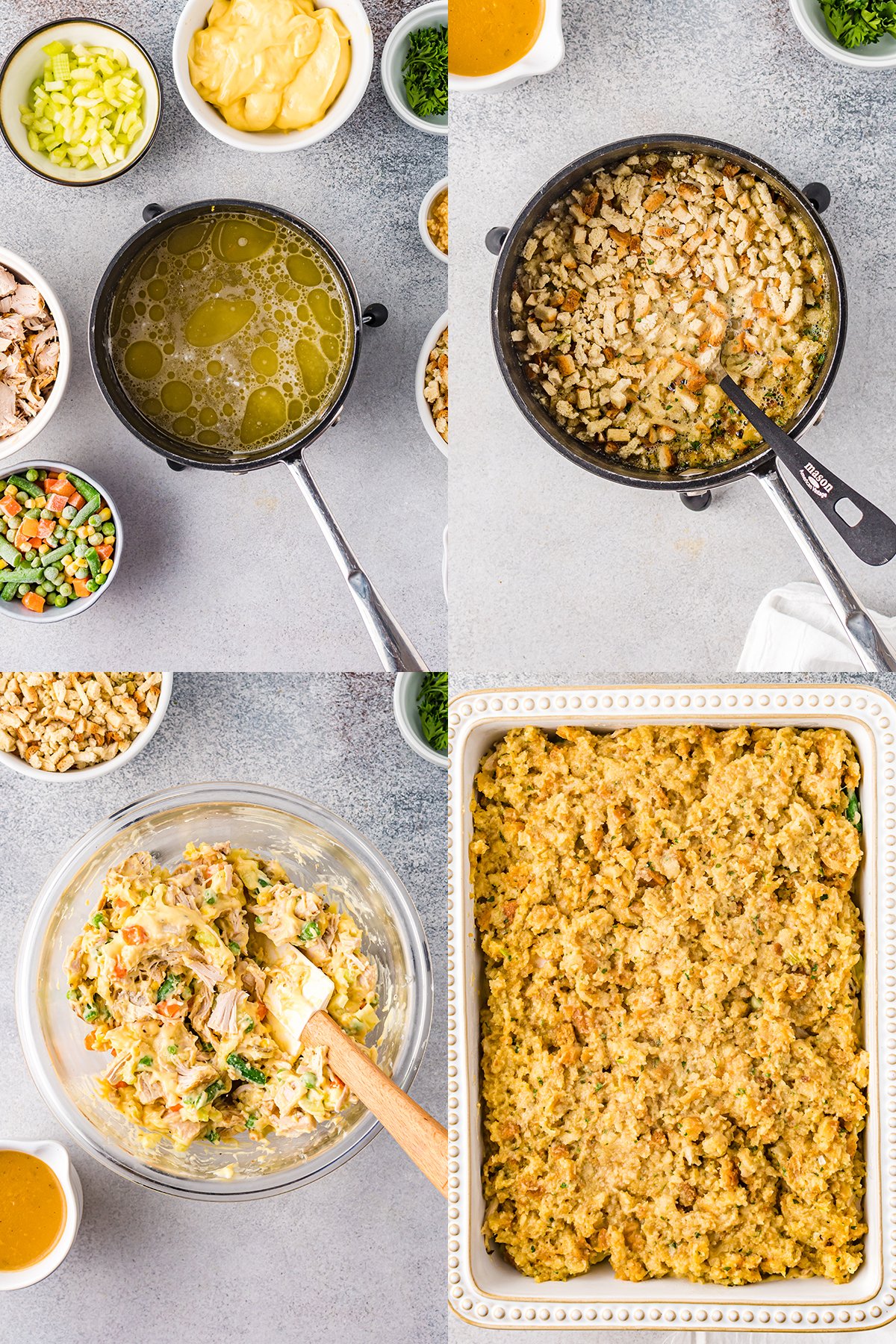 Add the butter and broth to a pot then bring it to a boil.
Remove the pot from the burner, then add the dry stuffing mix. Gently stir, then cover the pot with a lid and allow to sit for 5 minutes.
In a mixing bowl combine the turkey, vegetables, celery, garlic, and canned soup. Stir until combined.
Pour the turkey mixture into the pan and spread it out in an even layer. Cover with the stuffing, then bake at 350° for about 30 minutes, until it is bubbly.
Tips
The more flavorful the turkey is, the better this dish will be. I recommend using something like my beer injected cajun turkey or wine brined turkey.
If you're using your own already prepared stuffing instead of box mix, you can leave out the butter and broth. If your stuffing is on the drier side, I would pour 1/2 cup of broth over the top of the stuffing in the casserole dish.
For maximum flavor, sauté the chopped celery with 1/4 cup onions with some butter for 3-5 minutes before mixing in to the casserole.
More Casserole Recipes
Print
Turkey Stuffing Casserole
A casserole made with leftover Thanksgiving ingredients, like turkey and stuffing.
Author: Jessica Pinney
Prep Time: 20 minutes
Cook Time: 30 minutes
Total Time: 50 minutes
Yield: 8 1x
Category: Main Dish
Cuisine: American
Ingredients
6 Tablespoons butter, melted
1 1/2 cups chicken broth
1 box stove top stuffing mix
3 cups cubed leftover turkey
1 10 ounce package of frozen vegetables
2 celery stalks, sliced thinly
1 teaspoon minced garlic
10 ounce can condensed cream of chicken soup
2 cups gravy, for serving
1 Tablespoon parsley
Instructions
Preheat the oven to 350°and spray a 9×13 inch baking dish with non-stick spray.
Heat the broth and butter in a pot until it boils.
Remove the pot from the burner and add the dry stuffing mix. Gently stir and cover with a lid.  Let sit for 5 minutes, then remove the lid and fluff with a fork.
In a mixing bowl combine the turkey, vegetables, celery, garlic, and chicken soup. Pour into the 9×13 baking dish and smooth out into an even layer.
Cover with the stuffing and place in the oven for 30-35 minutes until bubbly.
Remove from the oven and sprinkle with parsley. Cut and serve.