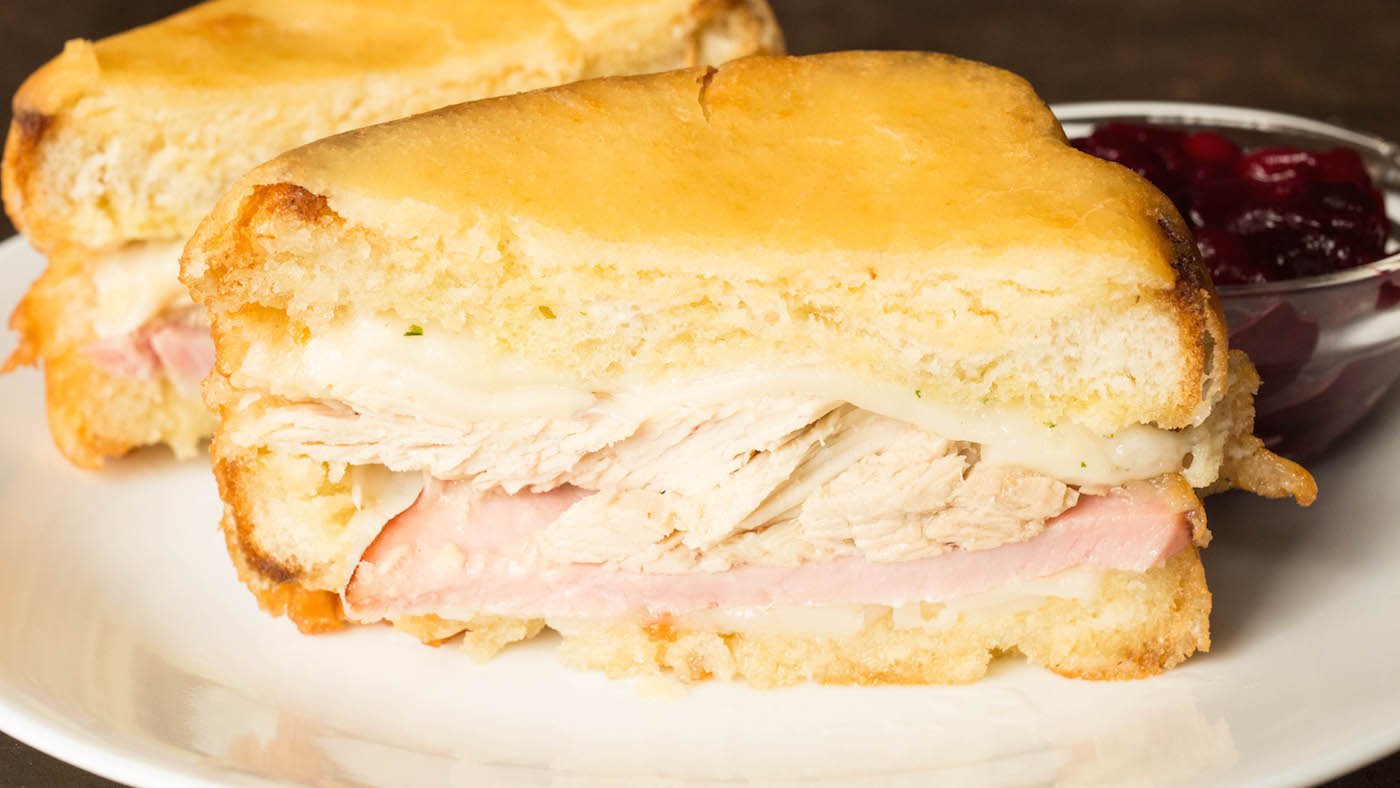 The question with Thanksgiving leftovers is always what to do with them.
At Thanksgiving dinner, I like the Turkey and sides to mostly be served in the traditional way. I think the leftovers are the time to get really creative.
I've loved Monte Cristo's since I was 9 and spotted one on a menu. Ham, turkey, and cheese between two slices of bread, dipped in a sweet batter, then deep fried??!? And served with jam!? My eyes lit up and from then on every time I saw one on a menu, I ordered it. (Luckily for my health, I don't come across them too often).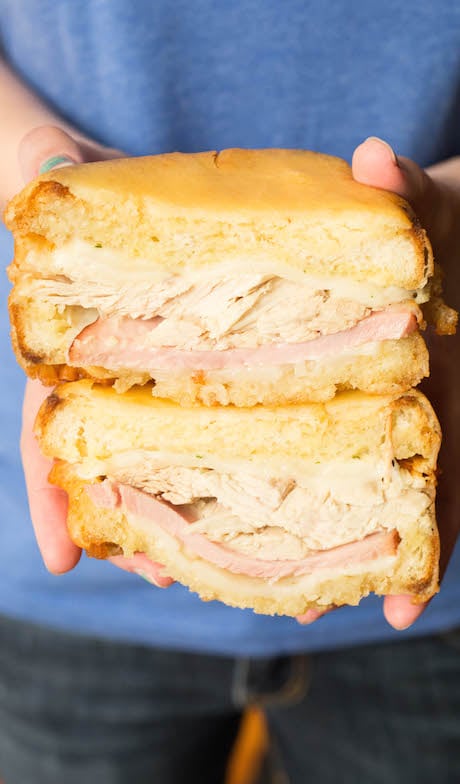 To take the traditional Thanksgiving leftover sandwich to the next level, I decided to morph it into a Monte Cristo.
I used garlic Texas Toast for the bread with a slice of Drunken Goat cheese on both. Then I added a layer of my Sriracha Beer Injected Cajun Turkey and another layer of leftover ham.
The Thanksgiving Monte Cristo is then dipped in a sweet batter and deep fried to golden perfection.
And of course, cranberry sauce makes for the perfect jam.
Print
Texas Toast Thanksgiving Leftovers Monte Cristo Recipe
Turn your Thanksgiving leftovers into a Monte Cristo sandwich! Ham, turkey, & cheese on Texas toast deep-fried, and served with cranberry dipping sauce.
Author: Jessica Pinney
Prep Time: 10 mins
Cook Time: 5 mins
Total Time: 15 mins
Yield: 2 1x
Category: Sandwich
Cuisine: American
Ingredients
Batter
1 Cup Flour
2 tsp Baking Powder
1 Large Egg
3/4 Cup Milk
1/4 Tsp Salt
2 Tablespoons Sugar
Sandwich
1/2lb Leftover Turkey
1/2lb Leftover Ham
4 slices Drunken Goat Cheese (Swiss or Munster would work great too)
4 Slices of Texas Toast (I just used the kind from the frozen food section)
Canola Oil
Cranberry Sauce
Instructions
Add flour, sugar, salt and baking soda to a medium bowl. Mix together well.
In a separate bowl, whisk together the egg and milk.
Add the egg and milk mixture to the dry ingredients. Mix together until there are no lumps.
Assemble the sandwich. Use the texas toast for the bread. Place a slice of cheese on the bottom piece, then layer the ham and turkey, top with another slice of cheese and the top piece of texas toast.
Place a toothpick in each corner of the bread.
Dip in the batter.
Fry in a deep fryer, or in a cast iron skillet with canola oil. Fry only a few minutes, until golden brown.
Slice down the middle, serve with leftover cranberry sauce, and enjoy!