Make the juiciest, most beautiful brown turkey ever with this red wine brine recipe! The perfect Thanksgiving or Christmas dinner main course.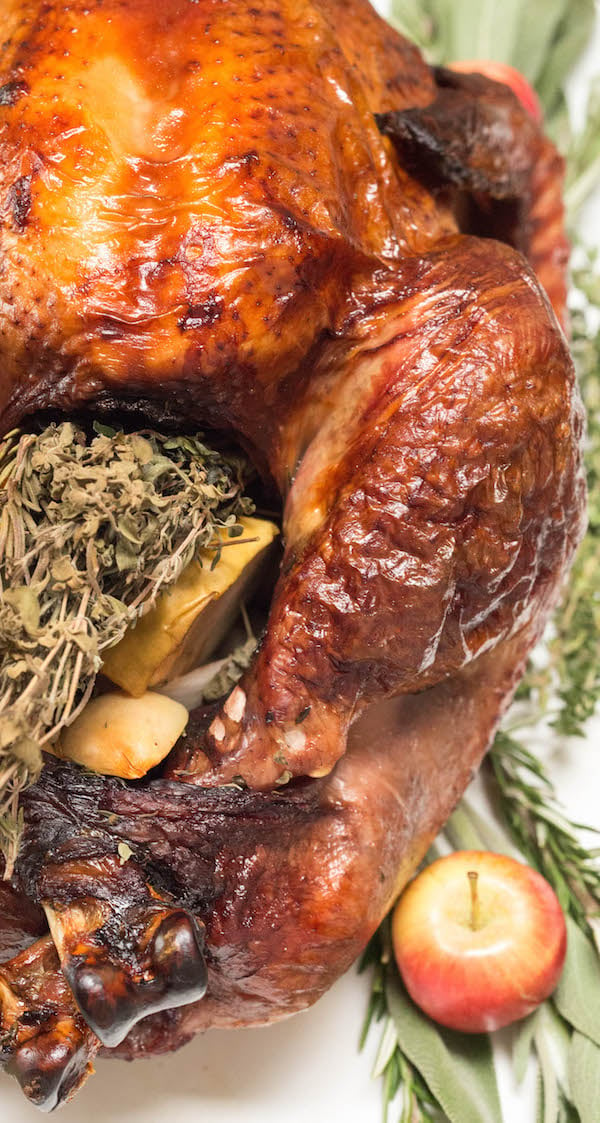 I've been making a red wine brined turkey for my friends and family every Thanksgiving for the past several years.
It is the most flavorful brine I've come across. It leaves your turkey incredibly moist, tender, and full of flavor. The red wine helps turn the skin a beautiful golden brown.
Red Wine Turkey Brine Ingredients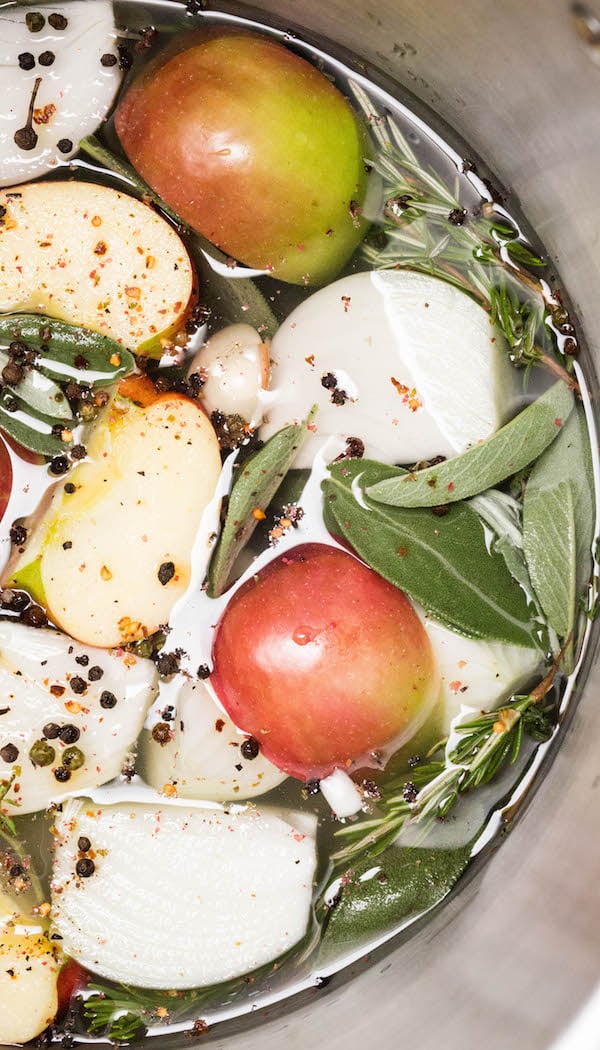 Making this red wine brine does require 2 bottles of red wine, but hey, it's the holidays! I think it's worth it. It's also perfectly okay (and recommended) to use inexpensive wine. Save the good stuff for later! 😉I use a red wine blend that my grocery store sells for less than $10 a bottle.
You can use any apples you'd like, though I'd recommend using a variety that's on the firmer side. The apples you see in the photos are McIntosh.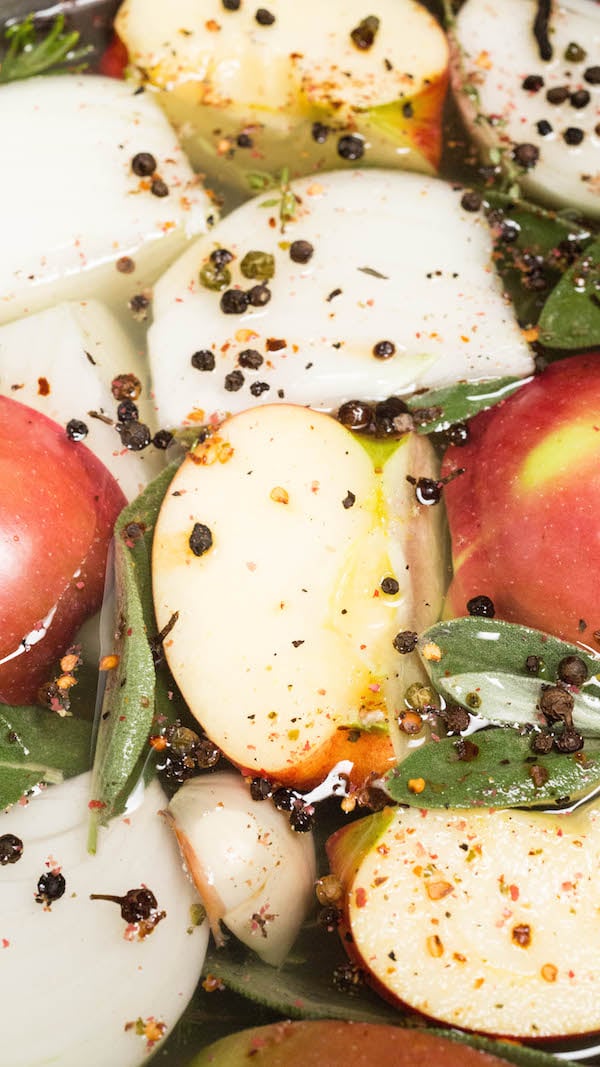 Both yellow and white onions will work for this recipe, though I prefer white. They have a more potent flavor, which comes through better in the brine.
I used classic poultry herbs in this brine like thyme, sage, and rosemary. You could also add marjoram or remove an herb entirely if you have a particular aversion to any one of them.
How To Make Red Wine Turkey Brine
Bring all the ingredients, other than the wine, to a boil in a large stockpot. Let boil one minute, then turn off the heat and allow to cool completely.
How To Brine Turkey with Red Wine
After you've made the brine and it has completely cooled, it's time to soak that bird.
You'll need a stockpot, or another large container (I sometimes use this) to brine it in. In a real pinch, you could also use a turkey bag. (That's how I brined my turkeys all through college 😉)
Add the bird to the cooled brine, then pour in the red wine. If the turkey is not completely covered by liquid, add more water until it is. Cover with lid, then put in the refrigerator to brine for 48 hours.
This post contains affiliate links (when you buy we make a little money at no cost to you). See our disclosure for more information.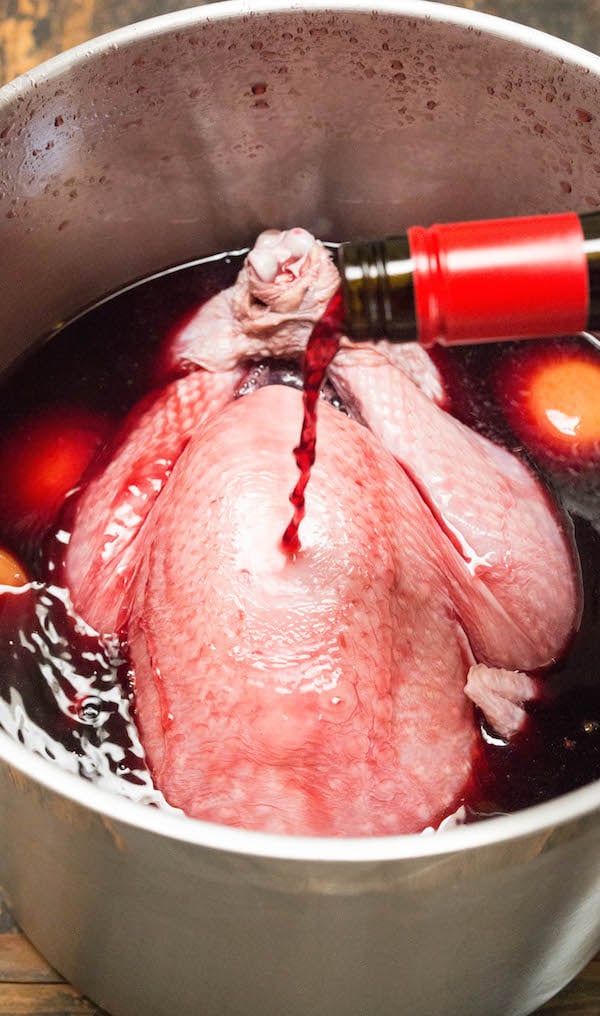 How To Cook Turkey With Crispy Skin
If you want to cook your turkey so that it has crispy skin, you've got to dry it out prior to cooking.
After the turkey has brined for 2 days, remove it from the brine solution and place it on a baking sheet (uncovered) in the refrigerator the night before cooking.
The next day, before you put it in the oven, thoroughly pat it dry. This will ensure your turkey's skin is nice and crispy rather than tough and chewy.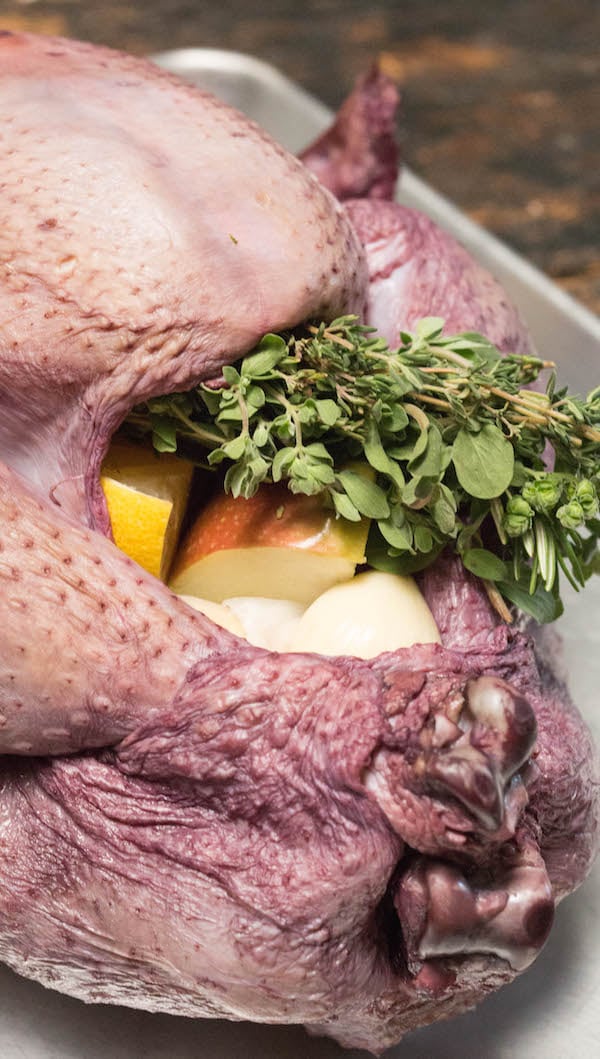 What should you stuff a turkey with?
Generally, you want to stuff the turkey's cavity with things that will help keep the meat moist and aromatics that will add subtle flavors. I chose to stuff this red wine turkey with apples, onions, lemons, garlic, and a blend of poultry herbs (rosemary, thyme, and marjoram).
What should you inject a turkey with?
You want to inject your turkey with something that will both tenderize the meat and add flavor. For this turkey, I chose a mix of white wine and soy sauce. Simple, yet effective.
How To Cook A Turkey In The Oven
To cook your turkey in the oven, you'll need a large pan. I have a roasting pan which is ideal, but you can also use any other large and deep pan or a disposable turkey pan.
Where to cook the turkey in the oven?
You want to cook your turkey directly in the middle of your oven for the best results. I usually remove one rack from my oven and place the other directly in the middle, then place my roasting pan there.
At which temperature should you cook the turkey?
A whole turkey should generally be cooked between 325 F and 350 F. I chose to cook this turkey at 350 F.
How long should you cook turkey per pound?
Whole turkeys should be cooked approximately 20 minutes per pound.
How do you know when the turkey is ready?
The turkey is ready when the skin is brown and crispy and the internal temperature is 165 F.
Where to stick the thermometer in the turkey?
To check to see if the turkey is done, you should stick the thermometer into the thickest part of the thigh.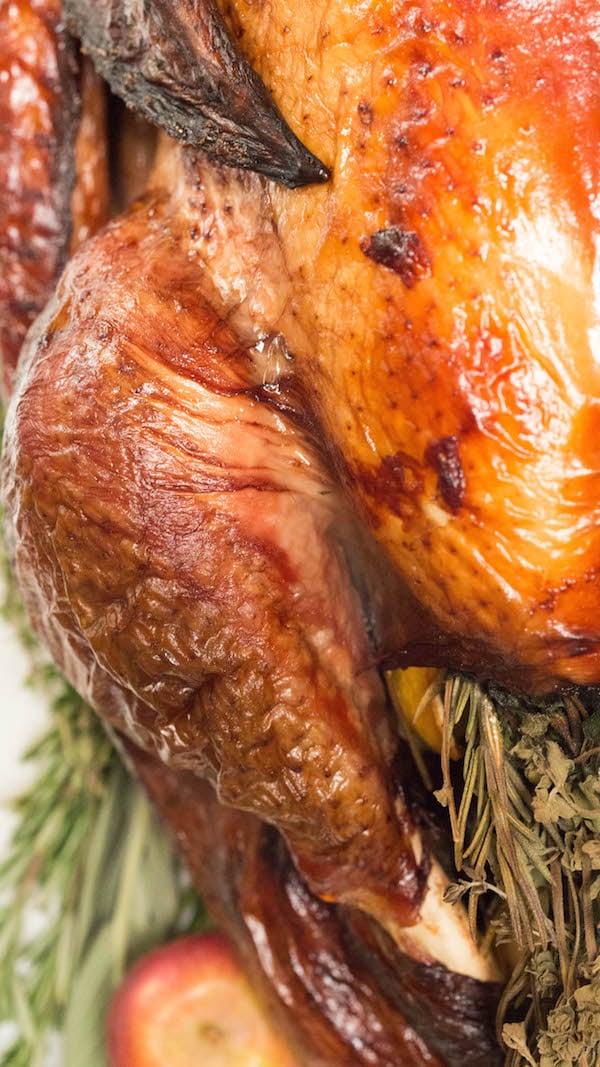 More Turkey Recipes
Other Thanksgiving Recipes
Recipes To Use Up Leftover Turkey
Print
Red Wine Turkey Brine Recipe
Author:
Prep Time: 48 hours
Cook Time: 3 hours
Total Time: 51 hours
Category: Entrée
Cuisine: American
Ingredients
Red Wine Turkey Brine Ingredients
12 Cups Water
3/4 Cup Salt
1/3 Cup Brown Sugar
2 Apples, quartered
2 Onions, quartered
3 Garlic Cloves, peeled & smashed
3/4 ounce (or one small bunch) Rosemary
3/4 ounce (or one small bunch) Thyme
3/4 ounce (or one small bunch) Sage
1 Tablespoon Peppercorns
2 Bottles of Red Wine
Turkey Ingredients
1 Turkey, completely thawed
1/2 Cup White Wine
1/4 Cup Soy Sauce
1 Apple, quartered
1 Onion, quartered
1 Lemon, quartered
2 Cloves Garlic
Poultry Herb Bundle (I used thyme, rosemary, and marjoram)
6 tablespoons of Butter, melted
Instructions
**If your turkey is frozen, be sure to put it in the fridge a few days in advance to thaw. (Turkeys take approximately 24 hours per 5lbs to thaw)**
Add all of the brine ingredients EXCEPT for the red wine to a large stockpot. Bring to a boil and allow to boil approximately 1 minute before turning off the heat. Allow brine to cool completely before moving on to the next step.
Once brine has cooled, place your turkey in the stockpot with it. Pour the two bottles of red wine in. If the turkey is not completely submerged by liquid, add more water until it is. Cover with the lid and place in the fridge for two days to brine.
The night before cooking, remove the turkey from the brine and place on a baking sheet. Put the baking sheet in the fridge and leave the turkey in there, uncovered, until time to cook.
When ready to cook, preheat the oven to 350 F, then prepare the marinade. Mix the soy sauce and white wine together, then inject it all over the turkey. Fill the turkey's cavity with the onions, apples, lemon, garlic, and herbs.
Pat the turkey's skin dry with a paper towel, then place in a roasting pan. Baste with melted butter, then place in the middle rack of your oven.
Your turkey will need to roast for approximately 20 minutes per pound. About 90 minutes into roasting, baste with more butter. Keep an eye on your turkey during cooking to ensure the skin isn't browning too much. If it is, place foil over the top to prevent it from burning.
Turkey is ready when the thickest part of the thigh has reached 165 F. Remove from the oven and allow to cool for at least 15 minutes before carving.