This fresh cranberry salsa is a delicious appetizer that has the perfect balance of tangy, sweet, and spicy. It's great for Thanksgiving, Christmas, and holiday parties!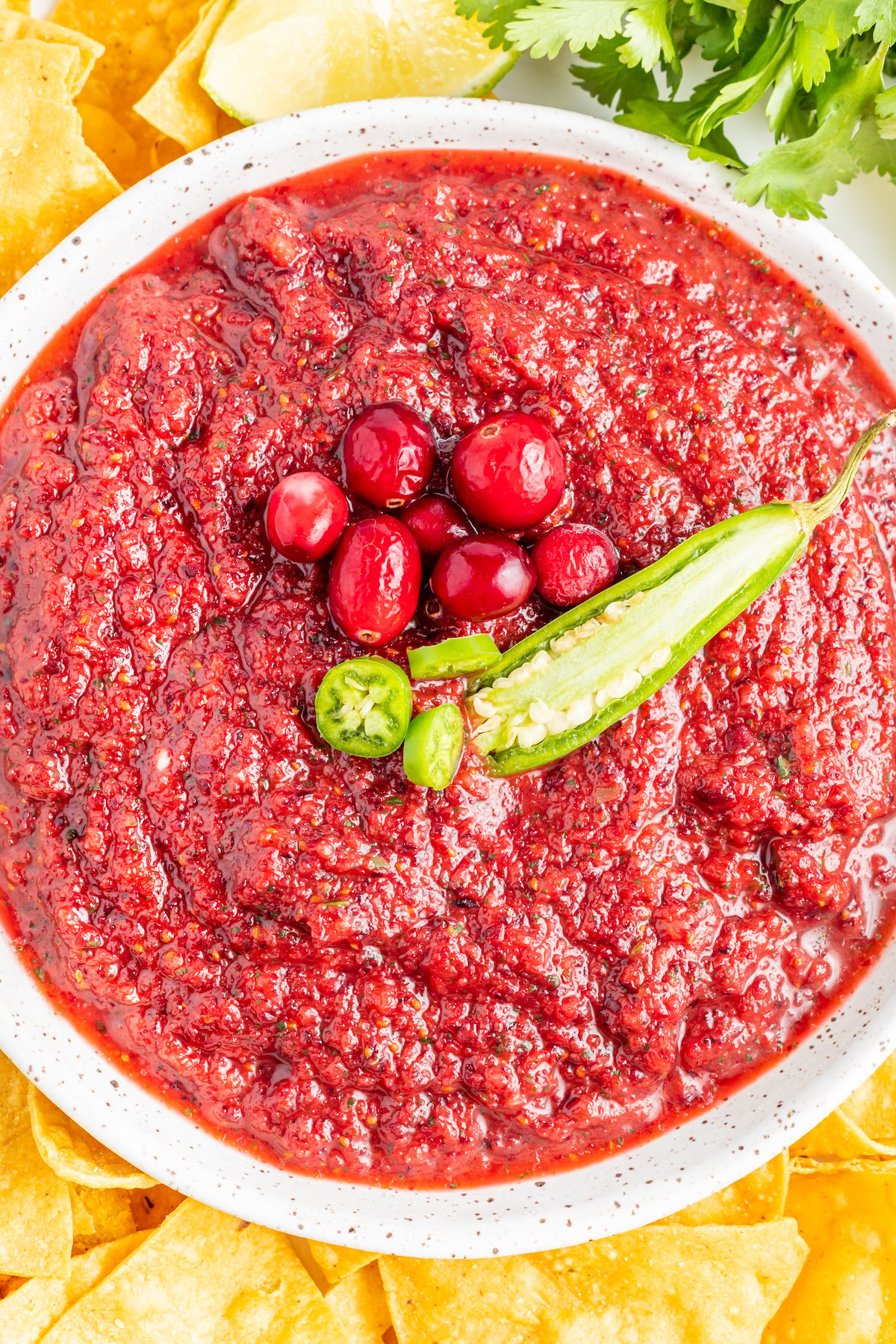 You guys are going to love this recipe so much! It's one of the quickest and easiest appetizers you can make – no cooking involved! It's always a welcome sight at holiday gatherings because it's filled with fresh, healthy ingredients.
I often serve it at "Friendsgiving" and on Christmas eve with other seasonal snacks. It's especially handy to have in the fridge ready to go on Thanksgiving day. That way everyone has something healthy and not too filling to snack on while waiting for the main event.
Since holiday time is so busy, I personally love this recipe not only because it comes together in about 5 minutes, but also because it tastes best when made ahead of time. One less thing to try and make room for in the kitchen on the big day!
Ingredients
This post contains affiliate links (when you buy we make a little money at no cost to you). See our disclosure for more information.
Cranberries – You can use fresh or thawed frozen cranberries for this recipe.
Agave Nectar – We need a little sweetness to balance out the tangy cranberries and spicy peppers. You can substitute honey if you'd prefer.
Onion – White onion is best, but a yellow or red onion can be substituted.
Serrano Peppers – I like the level of heat serrano peppers bring. For a mild version, use jalapeños instead.
Chipotle Peppers – These bring a delicious smokey, savory flavor to this dish. I use these canned chipotle peppers in adobe.
Cilantro – Fresh cilantro is a traditional salsa ingredient. If you don't like it, you can leave it out.
Lime – Be sure to use freshly squeezed lime juice. Bottled lime juice has preservatives that negatively alter the flavor.
Salt – I used medium grain sea salt. You can use table salt or any other kind you'd prefer, but if it is a different size grain you will want to adjust the amount to taste. I would start with half the amount if using table salt.
How To Make
I wasn't kidding about this being the easiest holiday appetizer ever.
All you need to do is add all the ingredients to your food processor. I like to give the onion and cilantro a quick rough chop before so everything fits.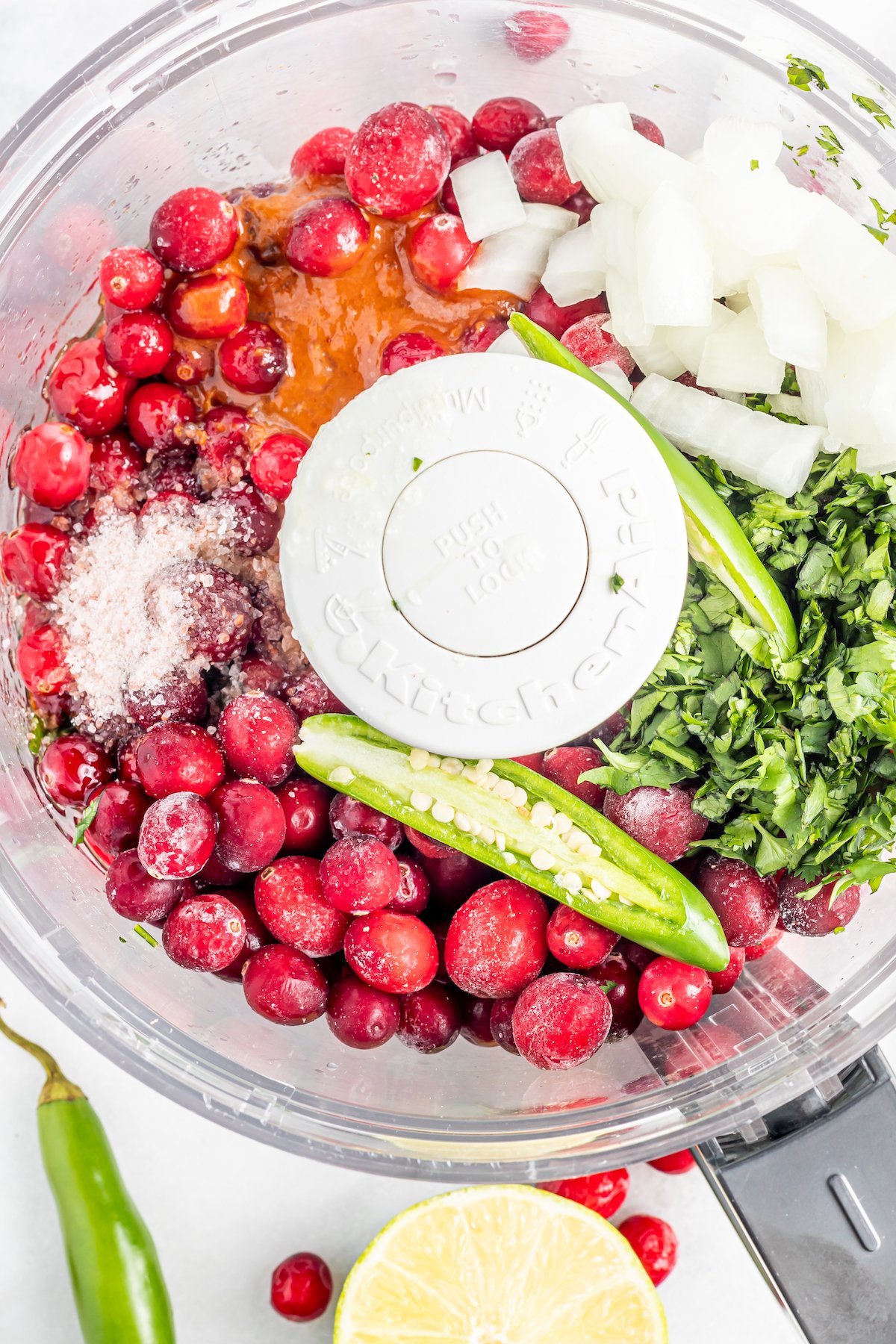 Once everything is in the food processor, run it until it reaches a smooth consistency. It should look like the photo below…
Tips
Cranberry salsa is especially delicious when served with sweet potato chips.
For a less spicy version, remove the seeds from your serrano or jalapeno peppers before adding to the food processor.
This recipe tastes best when all the flavors have a chance to meld together. I recommend making it at least a few hours in advance. I usually make mine the day before I'm planning to serve it.
Ways To Serve Cranberry Salsa
In a bowl with tortilla chips on the side.
Over a block of cream cheese with wheat thins.
With turkey or ham in lieu of traditional cranberry sauce.
As a condiment on a sandwich or wrap.
Over baked brie.
More Holiday Appetizers
Other Cranberry Recipes
Print
Cranberry Salsa
A holiday appetizer made with cranberries that's the perfect balance of sweet, spicy, and tangy.
Author: Jessica Pinney
Prep Time: 10 minutes
Total Time: 10 minutes
Yield: 8 1x
Category: Appetizer
Cuisine: American
Ingredients
14 Ounces Frozen Cranberries, thawed
1/4 Cup Agave Nectar
1 Chipotle Pepper in Adobo Sauce
1 Tablespoon Adobo Sauce (from the can of peppers)
1/4 Small White Onion
1 – 2 Serrano Peppers (depending on your heat preference)
1/4 Cup Fresh Cilantro
Juice of 1 Lime (about 2 Tablespoons)
1 Teaspoon Sea Salt
Instructions
Place all of the ingredients in a food processor and process until smooth.
If needed, add in a few tablespoons of water. Refrigerate in an airtight container for up to one week.
Nutrition
Serving Size: 1
Calories: 113
Sugar: 17.4 g
Sodium: 250 mg
Fat: 0.5 g
Carbohydrates: 25.6 g
Fiber: 5.4 g
Protein: 1 g