Classic Southern cornbread stuffing with smoked sausage will be the talk of your Thanksgiving dinner! Crisp on the outside, moist and flavorful on the inside.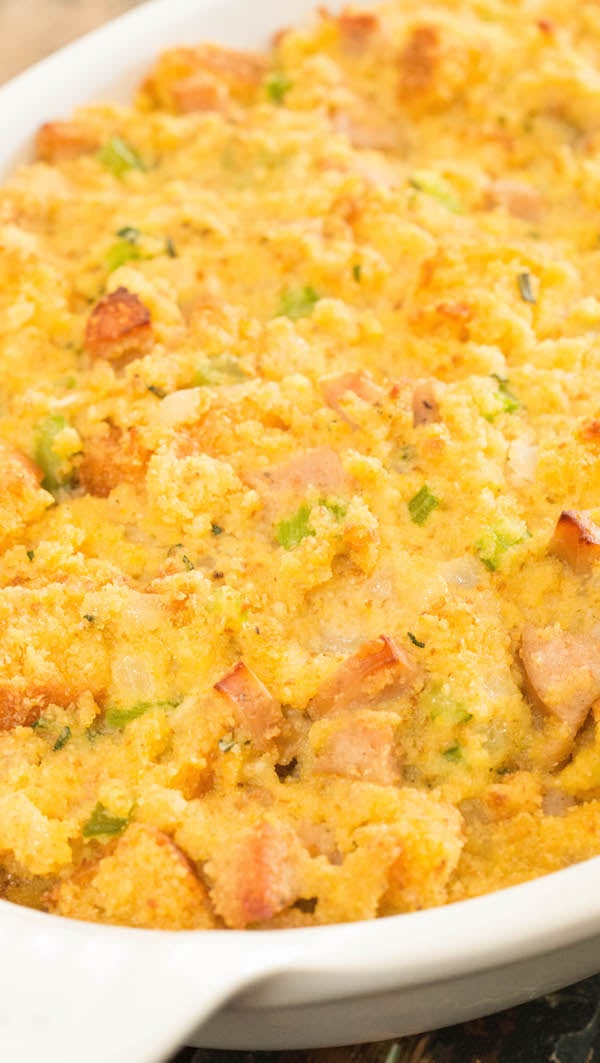 Once upon a time, I thought that I didn't like stuffing. Then this smoked sausage and cornbread stuffing came along and changed everything…
After you cook homemade stuffing for the first time, you'll never want the boxed stuff again! The consistency and flavor of homemade are unmatched. It's easier to make than you might think.
Stuffing vs Dressing
What's the difference between stuffing and dressing anyway? Technically, stuffing is cooked inside the turkey and dressing is what it's called when you bake it outside of the bird. However, in modern American language, the terms are used interchangeably.
Why Not Stuff The Turkey?
You may be wondering why people generally don't cook stuffing inside the turkey anymore. The answer is simple: there is a risk of food born illness and it has been linked to salmonella outbreaks in the past.
When you fill the turkey's cavity with stuffing, all of the juices run down into it. To cook those juices in the middle to a safe temperature, you would have to over-cook your bird. That's why it's best to cook the stuffing in a casserole dish.
Ingredients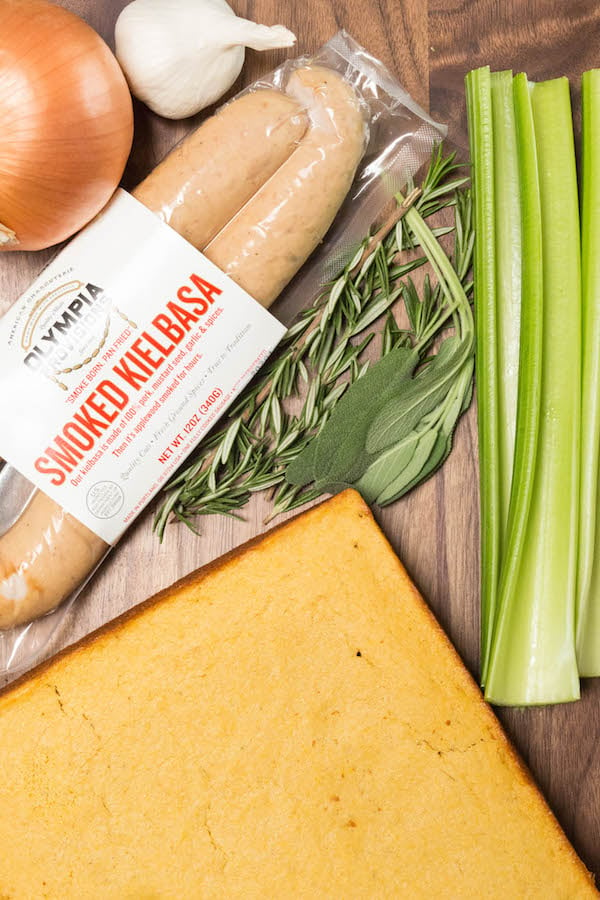 Stale Cornbread – You can use store-bought or homemade, just be sure to prepare it days in advance as you'll want it to be stale.
Sausage – You'll want some smoked kielbasa. I like to use Olympia Provisions or Conecuh sausage, but any brand will work.
Onion – A yellow onion works best in this recipe. You can substitute a white onion if that's what you have.
Garlic – Fresh garlic, minced is best but using a garlic press will work in a pinch.
Fresh herbs – Herbs are a key component in stuffing. I use fresh sage and rosemary. I do not recommend substituting dry herbs.
Celery – You'll want three medium-sized stalks of celery. The fresher the better.
Chicken Stock – Chicken stock helps to replicate the juices of the turkey in the stuffing.
Tips
The key to great stuffing is using bread that's really stale. I like to cut my cornbread up into cubes and leave it out to turn stale 4 days in advance.
Add the chicken stock a little at a time to achieve the right consistency. You don't want the stuffing to be soggy.
FAQs
Is it sweet?
Depending on what type of cornbread you use, the stuffing may have an element of sweetness. However, the broth and vegetables balance it out to be an overall savory dish.
Can it be made ahead of time?
Yes, there are two ways to safely make your stuffing ahead of time.
Prepare the wet and dry ingredients, but keep them separate until you are ready to bake the stuffing.
Cook the cornbread stuffing, wrap it up tightly with saran wrap or in a casserole dish with a lid, then use the reheating instructions right before you want to consume it.
Can it be frozen?
Yes, you can freeze cornbread stuffing. Be sure to put it in an air-tight, freezer-safe container.
How to reheat
To reheat your cornbread stuffing, first, take it out of the refrigerator and allow it to come to room temperature (this ensures that it will heat up evenly). Preheat your oven to 350F. Bake the casserole covered for about 20 minutes, then remove the covering and bake for another 10 minutes so that the top gets crispy.
What to serve it with
We recommend serving it with cajun turkey, Thanksgiving sweet potatoes, and copycat Cracker Barrel fried apples.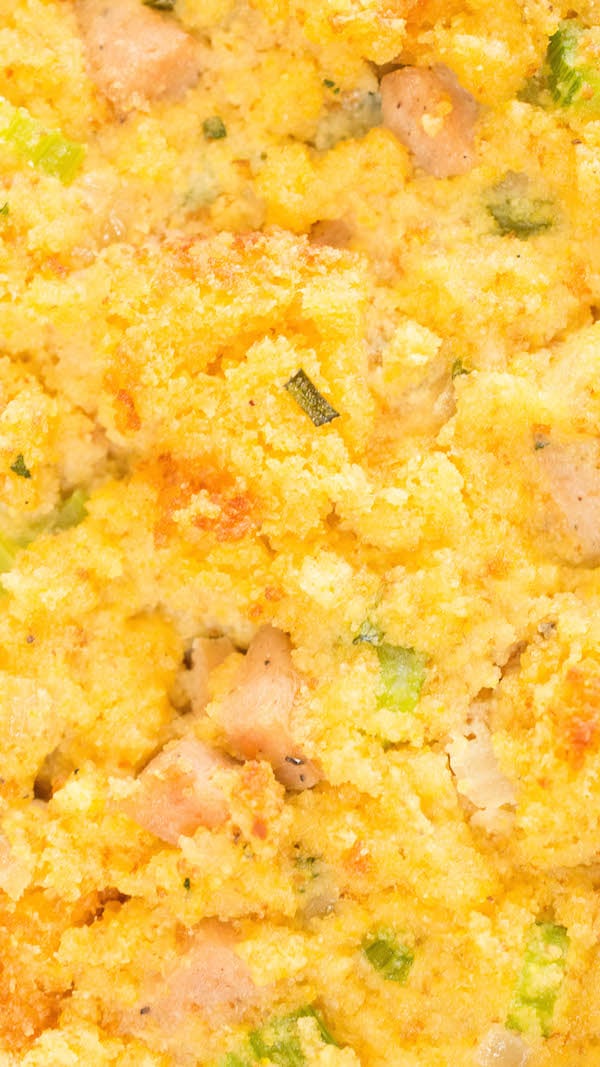 Print
Cornbread Stuffing with Sausage
Classic Southern cornbread stuffing with smoked sausage.
Author: Jessica Pinney
Prep Time: 15 minutes
Cook Time: 35 minutes
Total Time: 50 minutes
Yield: 10 1x
Category: Side Dishes
Cuisine: American
Ingredients
1 Tbsp Butter
1 Large Yellow Onion, diced
3 Stalks of Celery, diced
Salt
12 oz Smoked Kielbasa Sausage, diced
3 Cloves of Garlic, minced
6 Sage Leaves, minced
3 Sprigs of Rosemary, minced
8 Cups of Stale Cornbread (cut into cubes)
2 – 3 Cups of Chicken Stock
Instructions
Preheat your oven to 350F.
Add butter to a large skillet and melt over medium heat. Add the onions and celery along with a pinch of salt. Sauté for several minutes, until the vegetables are aromatic and are starting to soften.
Add the sausage and sauté until it begins to brown. Add the garlic and saute for one more minute. Add the herbs and cook for another 1-2 minutes. Remove from heat.
In a large mixing bowl, add the cubed cornbread and sautéed vegetable & sausage mix. Add 1.5 cups of the chicken stock and gently mix together. Add additional chicken stock in half cup increments until the desired consistency is reached (you want the bread to be wet, but not soggy).
Place in an oven-safe dish (I used this one) and bake for 30-35 minutes, until stuffing is cooked through and crispy on top.
Serve and enjoy!