This classic homemade butter toffee recipe tastes even better than Grandma's! Perfect for holiday gift-giving. No candy thermometer necessary.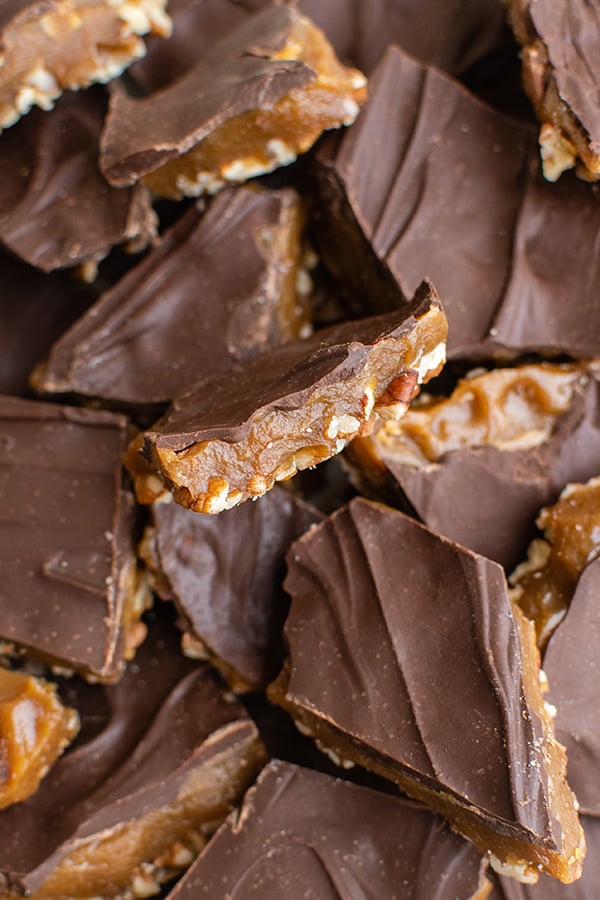 When December 1st rolls around, I immediately shift into treat and candy making mode. Nothing gets me in the holiday spirit faster than whipping up some treats to give out as gifts!
Butter toffee is a classic Christmas-time treat, so I thought I'd share my recipe with you.
If you're intimidated by making candy – don't be! I'm going to give you easy, step by step instructions so that you can successfully make homemade toffee!
Ingredients
Butter – Use salted butter to avoid separation.
Pecans – Pecan halves are used for the nuts in this toffee. You'll want to chop them up.
Brown Sugar – This recipe uses light brown sugar.
Chocolate Chips – You can use either semi-sweet or milk chocolate chips. I prefer semi-sweet. Milk chocolate will make your toffee sweeter.
Vanilla – A bit of vanilla extract gives this toffee's flavor a little more depth.
How To Make
To make the toffee, we'll start by putting the butter and brown sugar in a saucepan. Simmer it over low-medium heat. You'll need to stir it about every 30 seconds, so be sure to stay by the pan the entire time. (While you're making the toffee, be sure to preheat the oven and toast your pecans.)
You'll know the toffee is ready when it is goopy and bubbly (see photo below). This should take about 25-30 minutes. If you're using a candy thermometer, the mixture should be 290F.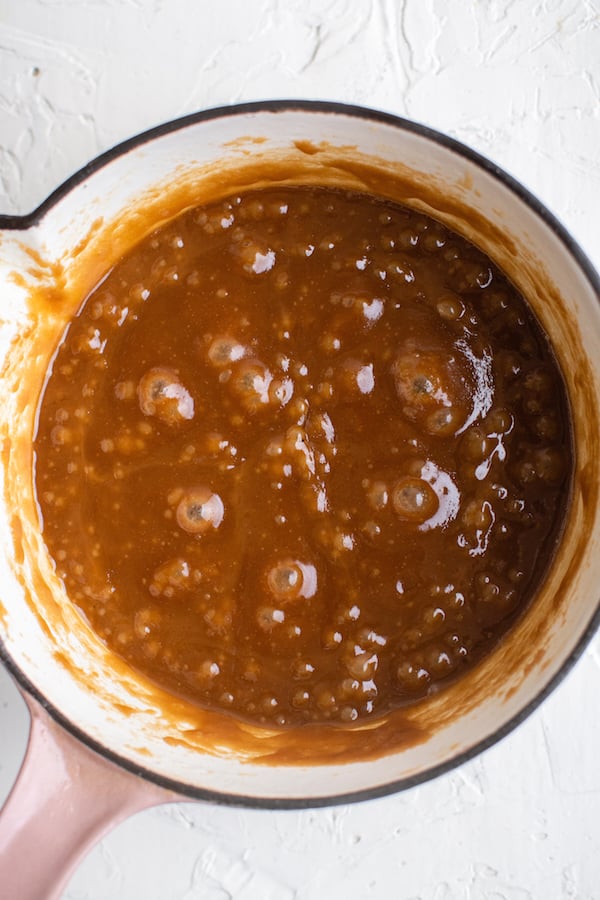 Prepare a 9×13 baking pan by coating it with non-stick spray, or lining it with parchment paper. Add the pecan halves and bake for 4 minutes, stir, then bake another 3-4 minutes until they're nice and toasted.
When the toffee is ready, pour it over the top of the pecan halves. Quickly spread it to cover the entire pan. (Be sure to move quickly because the toffee will harden fast.) The toffee mixture will be very hot, so be careful.
Sprinkle the chocolate chips over the top of the toffee. Let them sit there for about five minutes so that they become warm and soft.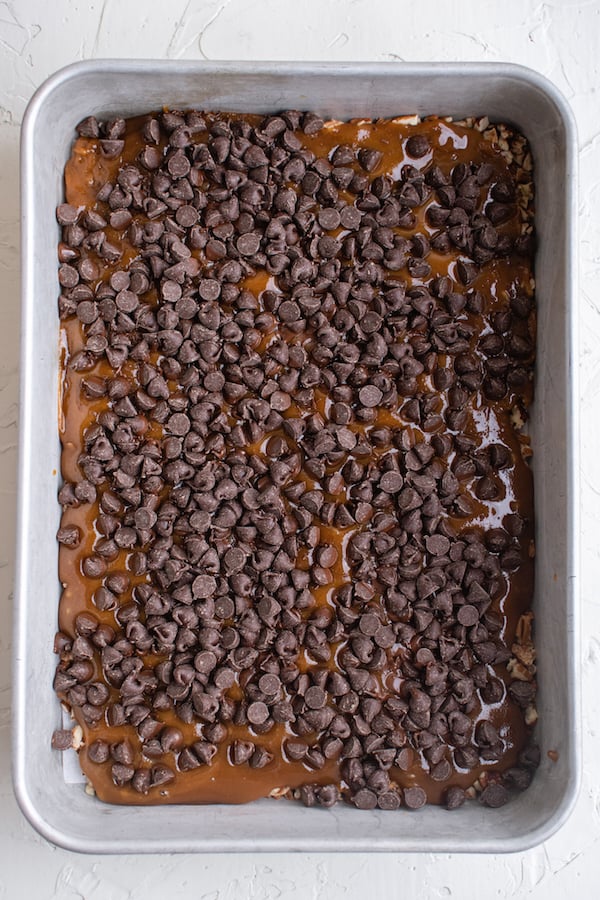 Use a non-stick spatula to spread the chocolate chips across the top of the toffee.
Allow the toffee to cool completely. This will take at least 5 hours, but I like to let mine sit overnight or for at least 8.
Once it has cooled, use a knife to break it apart into pieces. Store in an airtight container at room temperature for up to two weeks.
More Holiday Dessert Recipes
Print
Butter Toffee with Pecans
Classic homemade butter toffee – no candy thermometer necessary!
Author: Jessica Pinney
Prep Time: 5 Minutes
Cook Time: 30 minutes
Total Time: 35 minutes
Yield: 15 1x
Category: Dessert
Cuisine: American
Ingredients
1 ½ cup of pecan halves, chopped
1 ½ cup of salted butter
1 ½ cup of brown sugar
2 teaspoons of vanilla extract
2 cups of semi-sweet chocolate chips
Instructions
Preheat the oven to 325 degrees Fahrenheit and prepare a 9×13 baking pan with parchment paper or spray with non-stick spray.
Sprinkle the pecans in an even layer in the pan and bake for 4 minutes. Stir, then back again for another 3 minutes. Remove the pan from the oven and set it aside.
Add the butter to a large saucepan along with the brown sugar and vanilla extract. 
Simmer over low-medium heat and stir every thirty seconds to prevent burning.
Once the toffee mixture looks goopy and bubbly, it is ready (see photo in post above). This process will take 25-30 minutes, but don't rush it or the sugar will start to burn.
To check if the toffee is ready, add a drop of it to a glass of ice-cold water. Once cooled, it should be hard and crunchy instead of soft and chewy.
Once the toffee is ready, carefully pour it over the pecans and quickly spread it out as it will start to harden. (The toffee will be extremely hot so be careful.)
Sprinkle the chocolate chips over the toffee and let it sit for 5 minutes. Spread the melted chocolate out over the toffee then let it cool completely for 5 hours or overnight.
Once it has cooled completely and set up, break the toffee with a knife and serve.
Store in an airtight container for up to 2 weeks.