These seasonal shortbread cookie bars are topped with peppermint buttercream, white chocolate, and crushed candy canes.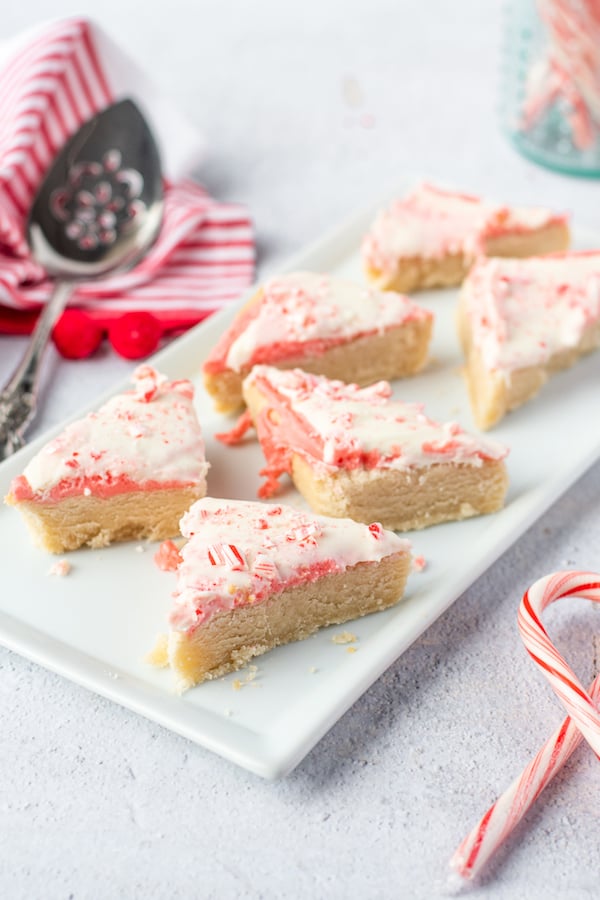 We wanted to add some new treats to our Christmas cookie box this year, so we got in the kitchen and started trying out a few new recipes.
These candy cane shortbread cookie bars have been our favorite so far! We firmly believe that any peppermint lover will feel the same.
The cookie bars are comprised of three different layers. The bottom layer is essentially a shortbread cookie that's been infused with peppermint flavor, that's topped with a peppermint buttercream, then a layer of white chocolate ganache and candy cane bits.
They're so festive and they look great on any Christmas dessert table! We'll be eating ours for this week's Christmas movie night.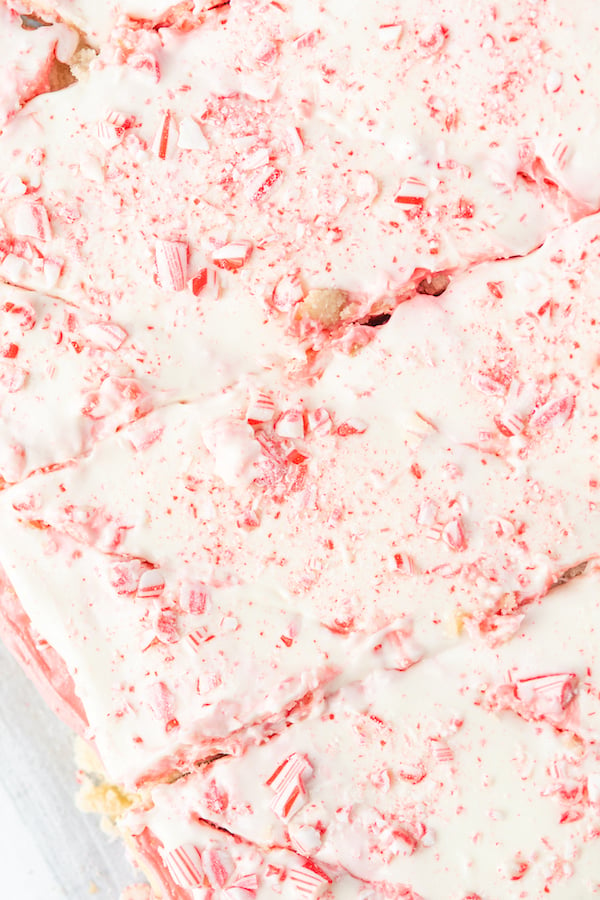 More Christmas Dessert Recipes
Print
Candy Cane Cookie Bars
Shortbread cookie bars topped with peppermint buttercream, white chocolate, and crushed candy canes.
Author: Jessica Pinney
Prep Time: 15 minutes
Cook Time: 45 minutes
Total Time: 1 hour
Yield: 15 1x
Category: Dessert
Cuisine: American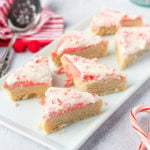 Ingredients
Shortbread
2 cups unsalted butter, room temp
1 cup sifted confectioners sugar
3 ⅓ cups all-purpose flour
⅓  cup cornstarch
1 ½ teaspoon peppermint extract
Peppermint Buttercream
2 cups confectioners sugar
4 Tablespoons butter, room temp
2 Tablespoons milk
½ teaspoon peppermint extract
2 drops red food coloring
Candy Cane Topping
10 ounces white baking chocolate
½ cup crushed candy cane
Instructions
Preheat oven to 350°.  Line a 9×13-in. pan with parchment paper or coat with nonstick spray.
In a large bowl, cream the butter and sugar until light and fluffy, then add the peppermint and mix.  Combine the flour and cornstarch and gradually add to the butter until well combined.
Press shortbread evenly in the pan, then pierce a few times with a fork. Place in the oven and bake until lightly browned, about 40-45 minutes. Cut while warm.  Cool completely before icing.
In a bowl, beat the confectioners sugar, butter, milk, peppermint and red food coloring until smooth.  Spread evenly over the shortbread.
Melt the white chocolate in the microwave for 1 ½ to 2 minutes.  Mix every 30 seconds until melted and smooth.  Pour over the buttercream and smooth out.
Sprinkle crushed candy cane over the white chocolate.  Let the chocolate harden before serving.
Store in an airtight container.