This easy, family-friendly dinner recipe combines the flavors of chicken cordon bleu and puts them in a delicious casserole. Can be made from start to finish in less than 45 minutes!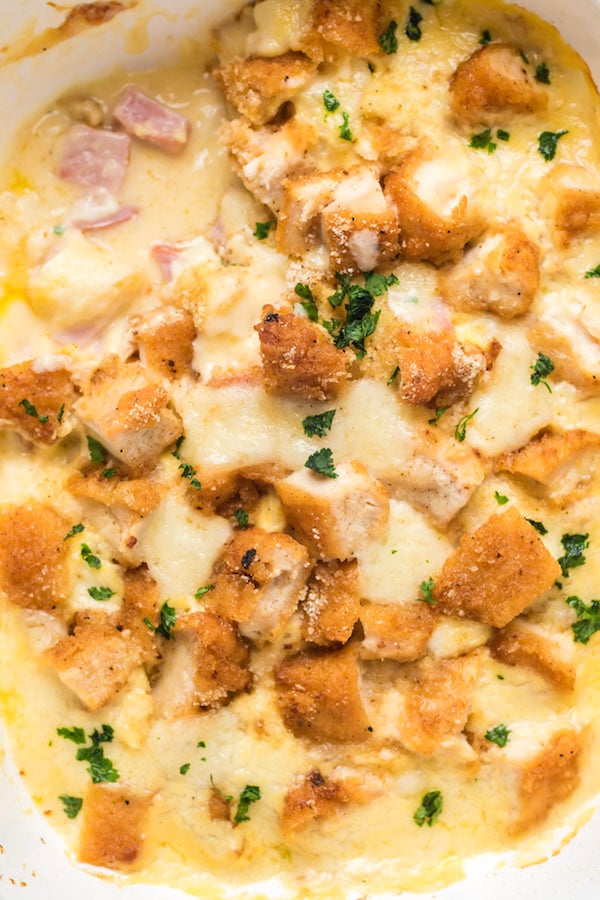 Who needs quick and easy dinner recipes to help get them through the rest of this year? 🙋
I know I do! And when you need a simple-to-make yet filling and comforting dinner what do you turn to? Casseroles!
The new favorite in our house is Chicken Cordon Bleu casserole. It has all the flavors of the classic dish: breaded chicken, ham, and swiss cheese.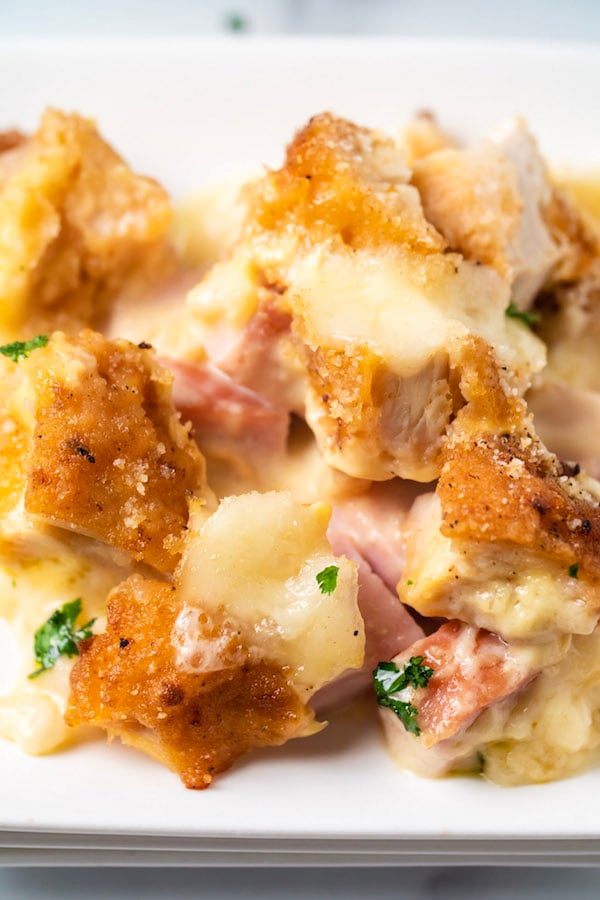 Ingredients
Frozen Breaded Chicken – Frozen chicken helps to make this recipe quick & easy. I've found that both Aldi's Red Bag and Tyson's Popcorn Chicken work great.
Ham – I generally use pre-packaged cubed ham for this recipe. If you have leftover ham, you could cube that and use it instead.
Swiss Cheese – You'll want to buy a block of swiss cheese so that you can cut it into cubes, roughly the same size as the cubed ham.
Cream of Chicken Soup – I use Campbell's Cream of Chicken Soup. It is essentially the base of the casserole and brings a lot of flavor.
Sour Cream – I like to use standard sour cream. You can use light instead if you'd prefer. I have not tested it with any dairy-free kinds.
Milk – Whole milk works best for this recipe. I do not recommend substituting it.
Breadcrumbs – I use plain breadcrumbs. Store-bought or homemade both work great.
Pepper – Standard black pepper is all that's needed to season this recipe since the breaded chicken, ham, and soup bring plenty of sodium.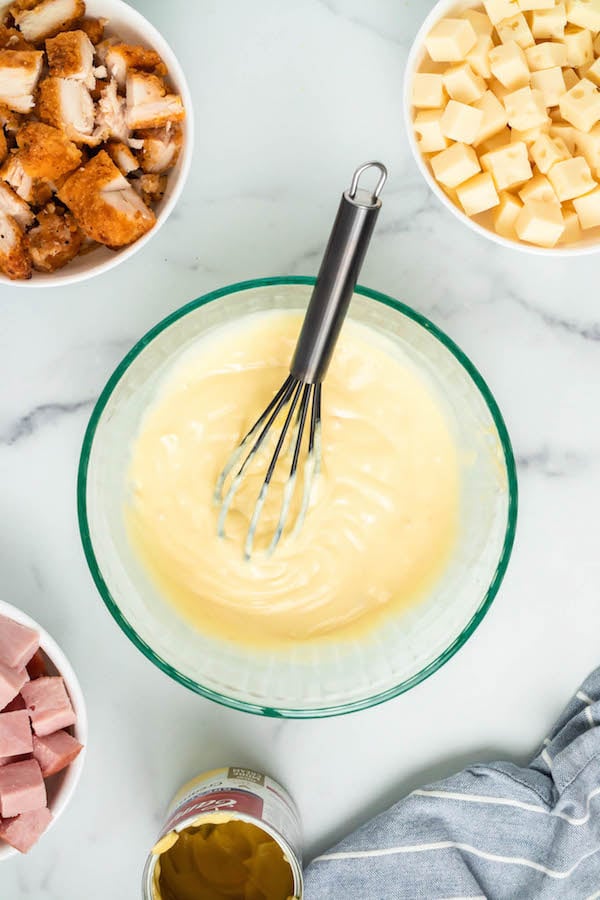 FAQs
Can you make it in the Crockpot?
Yes! This casserole can be made in the crockpot. I would recommend swapping out the popcorn chicken for boneless skinless chicken breast. Pour half the soup mixture into the bottom of your Crockpot, then layer the chicken, ham, and swiss cheese – in that order. Pour the rest of the soup over the top of that, then cover generously with breadcrumbs. Put the lid on and cook on low for 4-5 hours.
Can you freeze it?
Yes, you can freeze chicken cordon bleu casserole. Be sure it is in a freezer-safe dish, then cover it with a lid, or tightly with plastic wrap. It will stay good in the freezer for about three months.
Can you make it ahead of time?
It is possible to make this ahead of time, then reheat it.
Can you use Ritz crackers instead of breadcrumbs?
Yes! To make this casserole extra delicious, you can use Ritz crackers instead of the breadcrumbs. I like to toss them in a little butter before baking.
Should it be baked covered or uncovered?
This casserole is best when baked covered for the first 20 minutes, then uncovered for the last 10 minutes.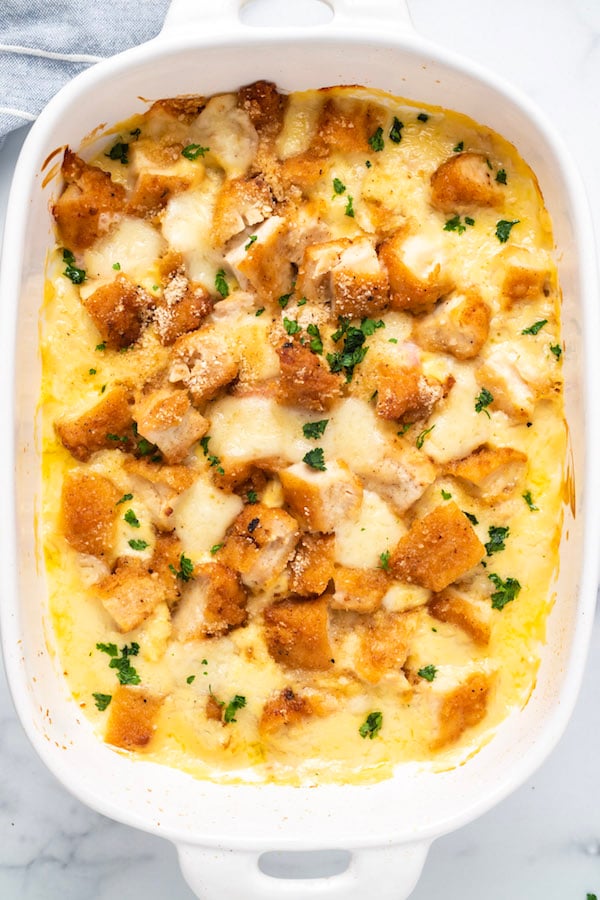 More Family-Friendly Dinner Recipes
More Casserole Recipes
Print
Chicken Cordon Bleu Casserole
This easy, family-friendly dinner recipe puts all the flavors of chicken cordon bleu in a delicious casserole.
Author: Jessica Pinney
Prep Time: 10 minutes
Cook Time: 30 minutes
Total Time: 40 minutes
Yield: 5
Category: Main Dish
Cuisine: American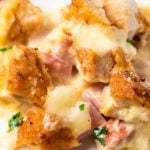 Ingredients
1 lb Frozen Breaded Chicken
8 oz Cubed Ham
8 oz Cubed Swiss cheese
1 10.5oz Can Cream of Chicken Soup
⅛ cup Sour Cream
½ cup Whole milk
½ tsp Pepper
⅛ cup Bread Crumbs
Instructions
Preheat oven to 350°F. 
Cut chicken, ham, and Swiss cheese into ½" cubes. 
Spray a casserole dish with non-stick spray. Add ham and cheese to the dish.
In a small bowl, whisk to combine soup, sour cream, milk, and pepper. Pour on top of ham and cheese
Top with breaded chicken and evenly sprinkle bread crumbs. Cover with foil and place in the oven for 20 minutes. Remove foil and bake for 10 more minutes.
Remove from heat. Let cool for 5 minutes, then serve and enjoy!