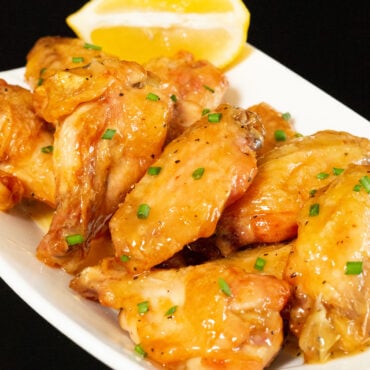 Ingredients
Wings
2 lbs Chicken Wings
1 tsp Salt
Oil
Glaze
1/4 Cup Honey
1.5 Tablespoons Butter
2 Tablespoons Lemon Juice
1 Tablespoon Lemon Pepper Seasoning
Instructions
Baked
Preheat the oven to 425 F.
Pat the chicken wings with a paper towel to dry them. In a large bowl, toss them with the salt and 1 tablespoon of oil.
Place them skin side up on a metal wire cooling rack on top of a baking sheet. Bake in the oven for 35-45 minutes – until skin has browned and is crispy.
Remove from the oven and follow the glaze instructions below.
Fried
Pat the chicken wings dry with a paper towel then season on both sides with the salt.
Preheat your oil to 375F. Once it's ready, fry the chicken wings for 8-10 minutes until they have browned and are crispy. Remove from the oil and set aside.
Glaze
Add all of the glaze ingredients to a saucepan and bring to a boil for 2 minutes, then remove from heat.
Once the wings are cooked, place them in a mixing bowl and toss with the glaze.
Plate, then serve and enjoy.