If you don't love a good food mashup, then this is not the food blog for you.
We live for mashups and thought this time we would combine our favorite sandwich (all hail the BLT!) with America's favorite side, french fries.
I decided to use waffle fries as the base for two reasons:
Waffle Fries are undeniably the best type of french fry.
They have the structure and surface area to handle all the toppings. No fork necessary!
You may think that waffle fries are tricky to cut, but they're actually pretty simple. You will need a mandolin slicer that has a criss cut blade. Just take your potato and make a cut. Then turn the potato 90 degrees and slice again.
Ta-da! A waffle cut potato will magically appear.
If you've never made french fries before, there is a two-step frying process. First, you fry the potato at a lower temperature, cooking it. You then turn up the heat and fry again to make them crispy.
Fries without cheese are worthless, so even though a traditional BLT does not have cheese, I covered the waffle fries in a layer of mozzarella. You pop that in the oven to get that mozzarella cheese all beautiful and melty.
When it comes out, top it with the bacon, shredded lettuce, tomato, and drizzle on a little ranch.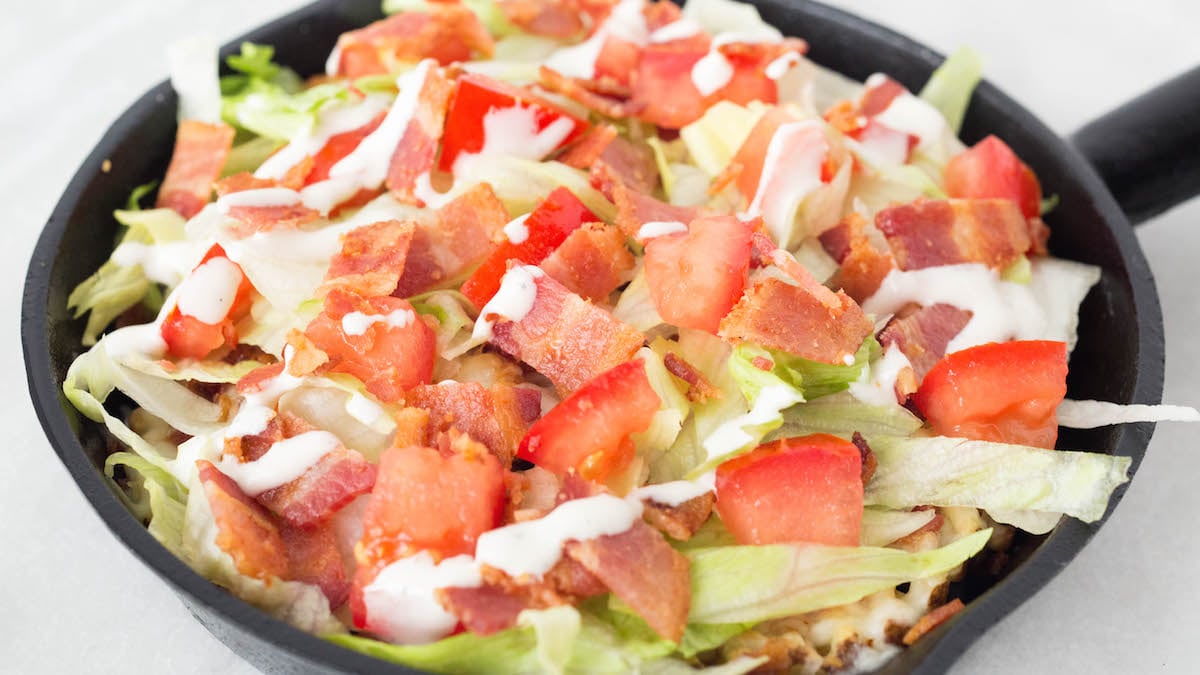 And there you have it: delicious, indulgent BLT Waffle Fries. Worth every calorie!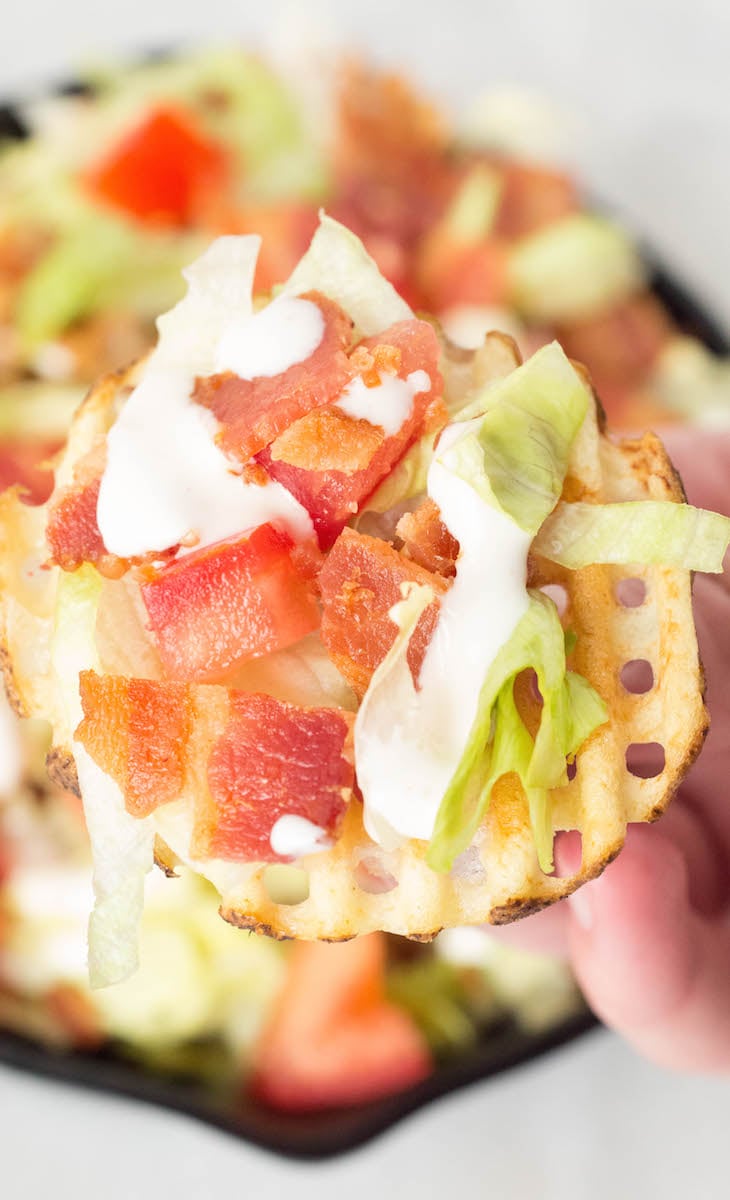 Print
BLT Waffle Fries Recipe
Homemade waffle fries covered in bacon, lettuce, tomato then drizzled with ranch.
Author: Jessica Pinney
Prep Time: 15 mins
Cook Time: 40 mins
Total Time: 55 mins
Yield: 4 1x
Category: Side Dishes
Cuisine: American
Ingredients
2 Russet Potatoes
3–4 oz Mozzarella, sliced or shredded
4 Slices of Bacon, cooked and chopped
1 Cup Iceberg Lettuce, shredded
3/4 Cup Tomatoes, diced
Ranch
Instructions
Wash your potatoes thoroughly.
Using a mandolin slicer with a fluted blade, slice your potato, then turn it 90 degrees and slice it again. This is how the waffle cut is achieved. Repeat until you have sliced your potatoes. You can set the cut potato slices in a bowl of water to keep them from oxidizing until you are ready to fry.
In a cast iron skillet, heat an inch or two of oil to 320 degrees. In batches, fry the potatoes for 4-5 minutes. Drain on a paper towel lined plate.
Increase oil temperature to 375 degrees. Fry the fries in batches, just 2 minutes this time. We are giving them their golden brown color and making them crispy. Drain on a paper towel lined plate again.
Place the waffle fries in a small baking dish or stone. (For easy serving & clean up, use a disposable pie plate). Cover evenly with the mozzarella cheese and place in the oven. Broil just until the cheese has melted and is bubbly.
Remove from oven and top with bacon, tomatoes, and lettuce. Drizzle with ranch. Serve immediately.