Crispy chicken wings covered in a mouthwatering honey lemon pepper glaze. They're the perfect balance of savory, sweet, and tangy!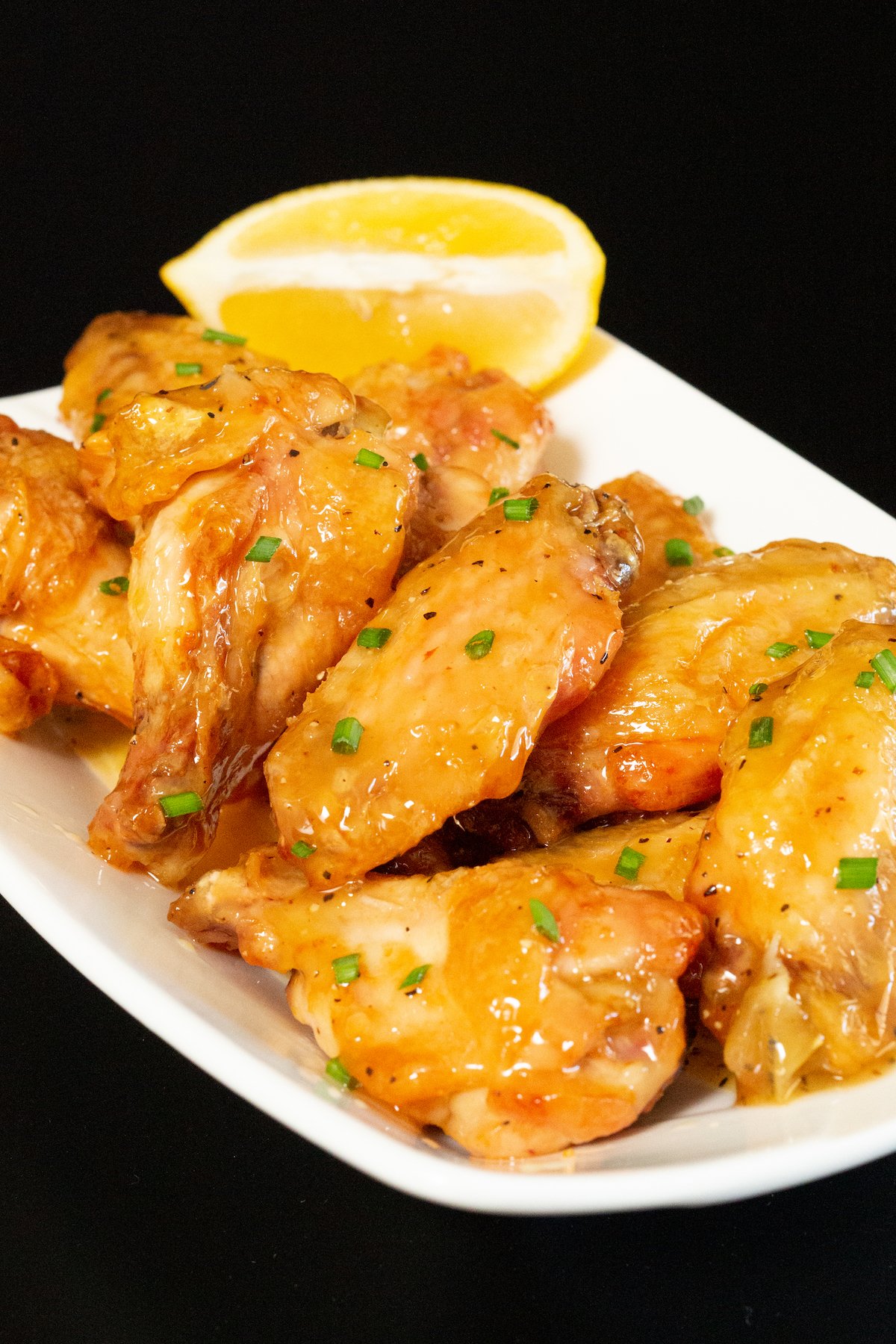 Honey lemon pepper wings are going to be your newest obsession! Or maybe you're here because they already are.
I firmly believe there are two kinds of people in this world – those who are obsessed with honey lemon pepper wings and those who haven't had them yet!
Whichever you are, you're in the right place. I'm going to share my personal recipe for crispy chicken wings that are covered in a sweet, slightly tangy, and a a little bit savory glaze.
You can serve them as an appetizer, I often do when we have people over to watch football. It's a wonderful option for those who can't handle a spicy sauce.
They can also be served as a main dish. They work well when paired with BLT waffle fries, Instant Pot mac & cheese, and smoked corn.
Ingredients
This post contains affiliate links (when you buy we make a little money at no cost to you). See our disclosure for more information.
Chicken Wings – You'll need fresh chicken wings or frozen wings that have been thawed.
Lemon Pepper Seasoning – This helps season the glaze. I use this brand.
Salt – A little bit of extra salt helps to season the wings and bring out the lemon pepper flavor in the glaze.
Lemon Juice – Fresh squeezed lemon juice is best. Store-bought has preservatives that negatively alters the flavor.
Butter – I used unsalted butter. If you use salted, adjust the amount of added salt to taste.
Honey – Any honey you have on hand will work. I used a clover honey.
Oil – If you are frying these wings you'll need a lot of oil – however much your deep fryer requires. I like to use canola or peanut oil. If you're baking them you'll only need a few tablespoons.
Baked vs Fried
You can make delicious wings by deep frying or baking them. But each way has its own advantages.
Deep Fried
Deep frying chicken wings produces the crispiest possible skin. It is my preferred method.
One disadvantage to frying – consumer deep fryers are small and if you add too many wings at once, you'll lower the oil temperature too quickly which won't allow your skin to get to it's crispiest potential. This means you'll have to fry in batches which can take a long time if you need to make a lot of wings.
I use this deep fryer, but you can also use a deep pot like a dutch oven.
Baked
When using the oven, you can bake two large pans of wings at once. This makes it, in my opinion, the best way to serve wings to a crowd.
Even though I think wings get the crispiest when deep fried, you can still get crispy skin in the oven. Be sure to pat the skin dry really well before seasoning. Then toss them in oil (I use canola) before baking.
You'll want to cook them on a rack (like a metal cooling rack) on top of a baking sheet. This keeps them out of cooking in their own fat, which can make the skin soggy.
Tips
Be sure to accurately measure out the honey, butter, and lemon juice. If the ratio of honey to other liquids is off you'll wind up with a runny sauce instead of a glaze.
If you like garlic, add 1-2 tablespoons of freshly minced garlic to the glaze before you boil it.
If you're looking for more chicken wing recipes, try our smoked chicken wings, Nashville Hot chicken wings, or honey sriracha lime chicken wings.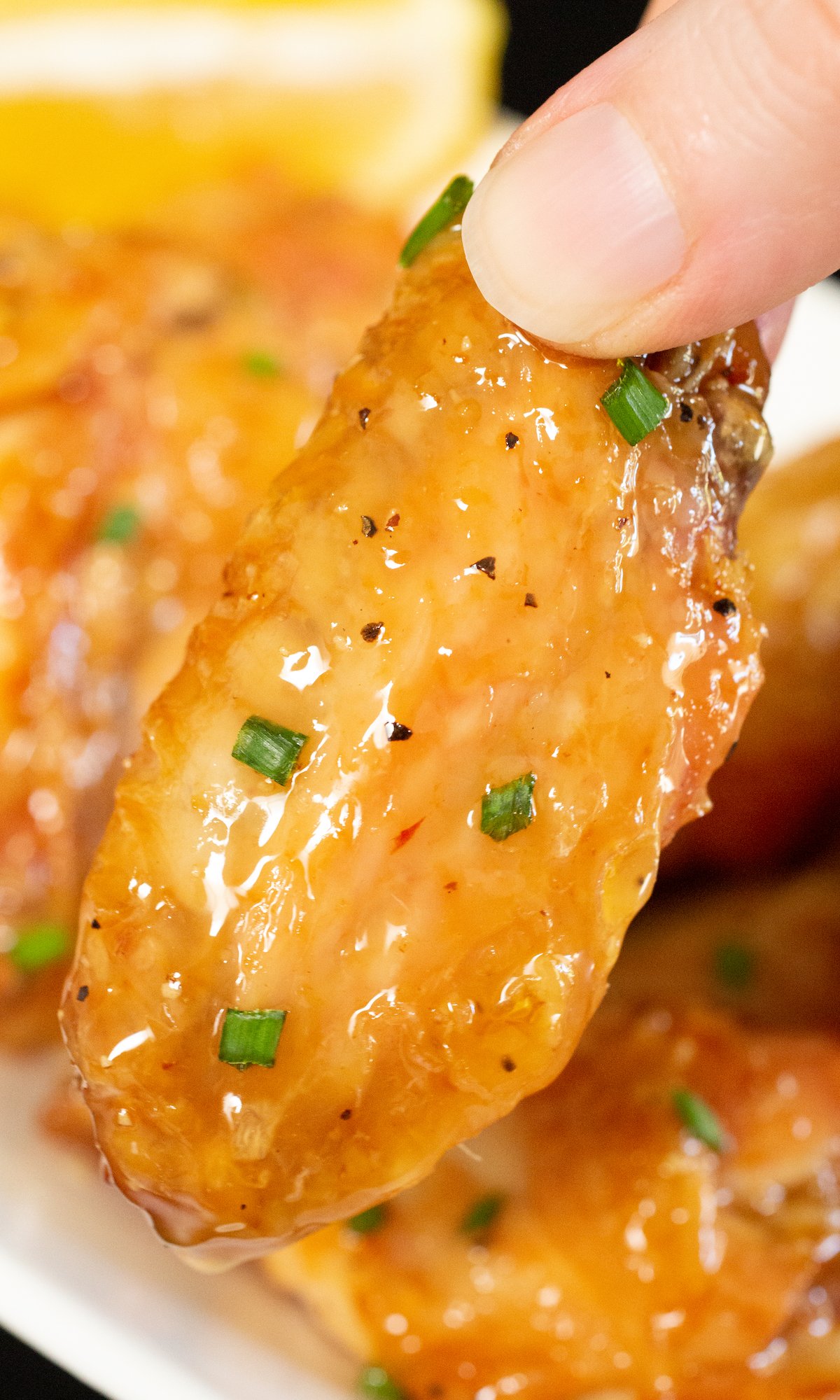 More Appetizer Recipes
Print
Honey Lemon Pepper Wings
Crispy chicken wings covered in a honey lemon pepper glaze.
Author: Jessica Pinney
Prep Time: 10 minutes
Cook Time: 10 minutes
Total Time: 20 minutes
Yield: 4 1x
Category: Appetizer
Cuisine: American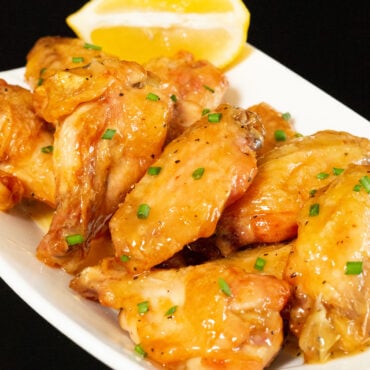 Ingredients
Wings
2 lbs Chicken Wings
1 tsp Salt
Oil
Glaze
1/4 Cup Honey
1.5 Tablespoons Butter
2 Tablespoons Lemon Juice
1 Tablespoon Lemon Pepper Seasoning
Instructions
Baked
Preheat the oven to 425 F.
Pat the chicken wings with a paper towel to dry them. In a large bowl, toss them with the salt and 1 tablespoon of oil.
Place them skin side up on a metal wire cooling rack on top of a baking sheet. Bake in the oven for 35-45 minutes – until skin has browned and is crispy.
Remove from the oven and follow the glaze instructions below.
Fried
Pat the chicken wings dry with a paper towel then season on both sides with the salt.
Preheat your oil to 375F. Once it's ready, fry the chicken wings for 8-10 minutes until they have browned and are crispy. Remove from the oil and set aside.
Glaze
Add all of the glaze ingredients to a saucepan and bring to a boil for 2 minutes, then remove from heat.
Once the wings are cooked, place them in a mixing bowl and toss with the glaze.
Plate, then serve and enjoy.