Make apple butter quick and easy in the Instant Pot with this recipe! All the flavors of fall in a delicious, spreadable treat.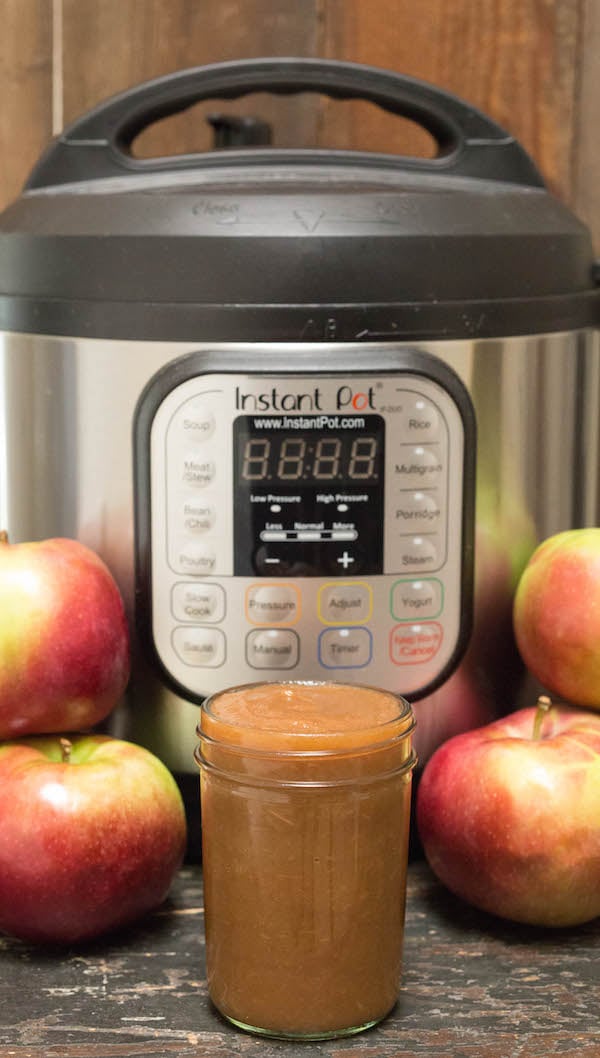 My grocery store has had an amazing selection of apples lately and I just haven't been able to resist buying and cooking with them! I used the latest batch I picked up to make this delicious apple butter in the Instant Pot.
One of the advantages of using Instant Pot is how quick it is. You may be familiar with my crockpot pumpkin apple butter, which tastes amazing but takes over 12 hours to cook. With the Instant Pot, you can make it in about an hour. Talk about a time saver!
Ingredients
Apples
Apple Cider or Juice
Brown Sugar
Cinnamon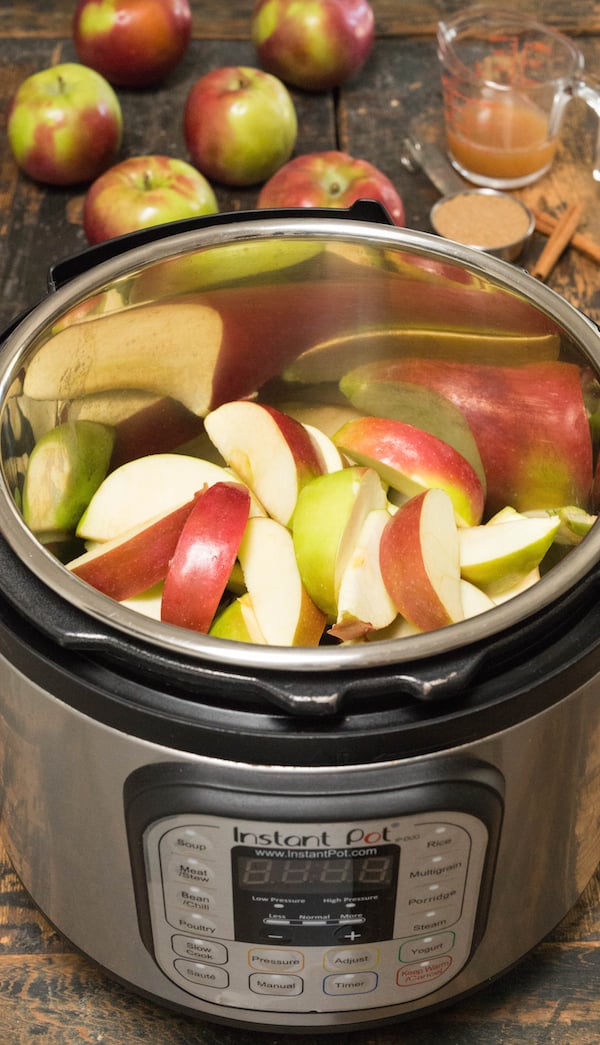 Which apples make the best apple butter?
You can use any kind of apples you'd like. I used the McIntosh variety because I had several pounds leftover from making my Red Wine Brined Turkey.
In the past, I have used Honeycrisp, Braeburn, and Fiji with great success.
Can it be made without sugar?
Yes, you can make it without any added sugar. Leave out the brown sugar this recipe calls for and substitute water for the apple cider. Depending on what kind of apple you use, you may find the apple butter to be a little tart without the added sugar.
This post contains affiliate links (when you buy we make a little money at no cost to you). See our disclosure for more information.
How To Make
First, the apples need to be sliced and cored. The easiest way to do this is with an apple cutter. If you don't have one, just use a pairing knife.
Place the apple slices in your Instant Pot, then add the apple cider, brown sugar, and cinnamon. Gently toss to coat apples all over, then seal and pressure cook for 15 minutes.
After you release the pressure, you'll need to puree what's left of the apples and their peels. You can use an immersion blender and accomplish this right in the pot, or use a blender then return the apple puree to the pot for the next step.
Once the pressure cooked apples have been pureed, sauté it in the pot until it has reduced and turned a golden brown color. Make sure you stir it regularly during this process.
When finished, allow to cool then place in airtight containers (I used two of these mason jars) and store in the refrigerator.
FAQs
Does it need to be refrigerated?
Yes, apple butter needs to be refrigerated. We keep ours in a sealed mason jar in the door of the fridge.
Does it go bad?
Yes, it will eventually go bad. It lasts for about a month in the refrigerator and up to a year in the freezer.
Can it be frozen?
Yes. It should be good for 6 months – 1 year when stored in the freezer.
Does it thicken as it cools?
Yes, it will thicken as it cools and become even thicker after refrigeration.
What can it be used for?
We mostly use apple butter for spreading on rolls and toast, but there are lots of other ways to use it too. It is also very good in oatmeal, on pancakes and waffles, baked into desserts like cupcakes, cooked with pork chops, and even in cocktails.
Other Instant Pot Recipes
More Apple Recipes
Print
Instant Pot Apple Butter
Cook apples down into a spreadable "butter" quickly in the Instant Pot.
Author: Jessica Pinney
Prep Time: 5 minutes
Cook Time: 45 minutes
Total Time: 50 minutes
Yield: 32 1x
Category: Condiment
Method: Pressure Cooking
Cuisine: American
Ingredients
5lbs Apples, cored and sliced
1/3 Cup Apple Cider or Juice
1/4 Cup Brown Sugar
1 Tsp Cinnamon 
Instructions
Place apple slices in the Instant Pot.
Sprinkle the brown sugar and cinnamon all over the apples, then pour in the apple cider. Gently toss to coat the apples.
Seal instant pot and cook on high pressure for 15 minutes. Once cooking has completed, do a quick release of the pressure.
Puree the pressure cooked apples. You can use an immersion blender to do this right in the pot, or place the apples in a blender, then return to the Instant Pot for the next step.
After the apples have been pureed, sauté them in the Instant Pot on the "less" setting for 15-45 minutes, until the puree has turned a brown color and been reduced to your liking. Be sure to stir regularly during this time.
Allow to cool, then place in an airtight container (I used two of these mason jars) and store in the refrigerator until ready to eat.
Notes
*I ended up with about 16oz of apple butter which gave me 32 1tbsp servings.
Nutrition
Calories: 43
Sugar: 1.4
Sodium: 1.1
Fat: 0
Carbohydrates: 11.4
Fiber: 1.5
Protein: 0