Looking for a fun cocktail to sip on at the beach or by the pool? Try sand bucket drinks! They're loaded with liquor, seltzer, mixers, fruit, and candy.
The New York Times recently said that the Dirty Shirley was the cocktail of the summer. While it's a great drink, I have to respectfully disagree with them.
Why? Because Sand Bucket drinks are, without a doubt, the best thing you could be sipping on in the sun!
They're loaded with fun – liquor, hard seltzers, soda, lemonade, juice, fresh fruit, and candy…
There's an endless number of combinations you could make – so you can easily adjust this recipe to suit your personal tastes.
I'm sharing my four favorite variations below, but be sure to come up with new ones on your own and drop your best in the comment section!
Ingredients
Liquor– My favorite liquors to use in these buckets are vodka, tequila, and rum. You can build a tasty one with any alcohol you'd like.
Fruit – You can add citrus slices, cubed fruit like watermelon and mango, or sliced berries.
Candy – I like to use gummy candies. My favorites are watermelon sour patch, green apple rings, and Swedish fish.
Mixers – Fruit juice, fruit punch, coconut water, soft drinks, and lemonade are all great choices for mixers.
Seltzer – Top each sand bucket with a hard seltzer like White Claw or with a beer.
This post contains affiliate links (when you buy we make a little money at no cost to you). See our disclosure for more information.
Variations
Tropical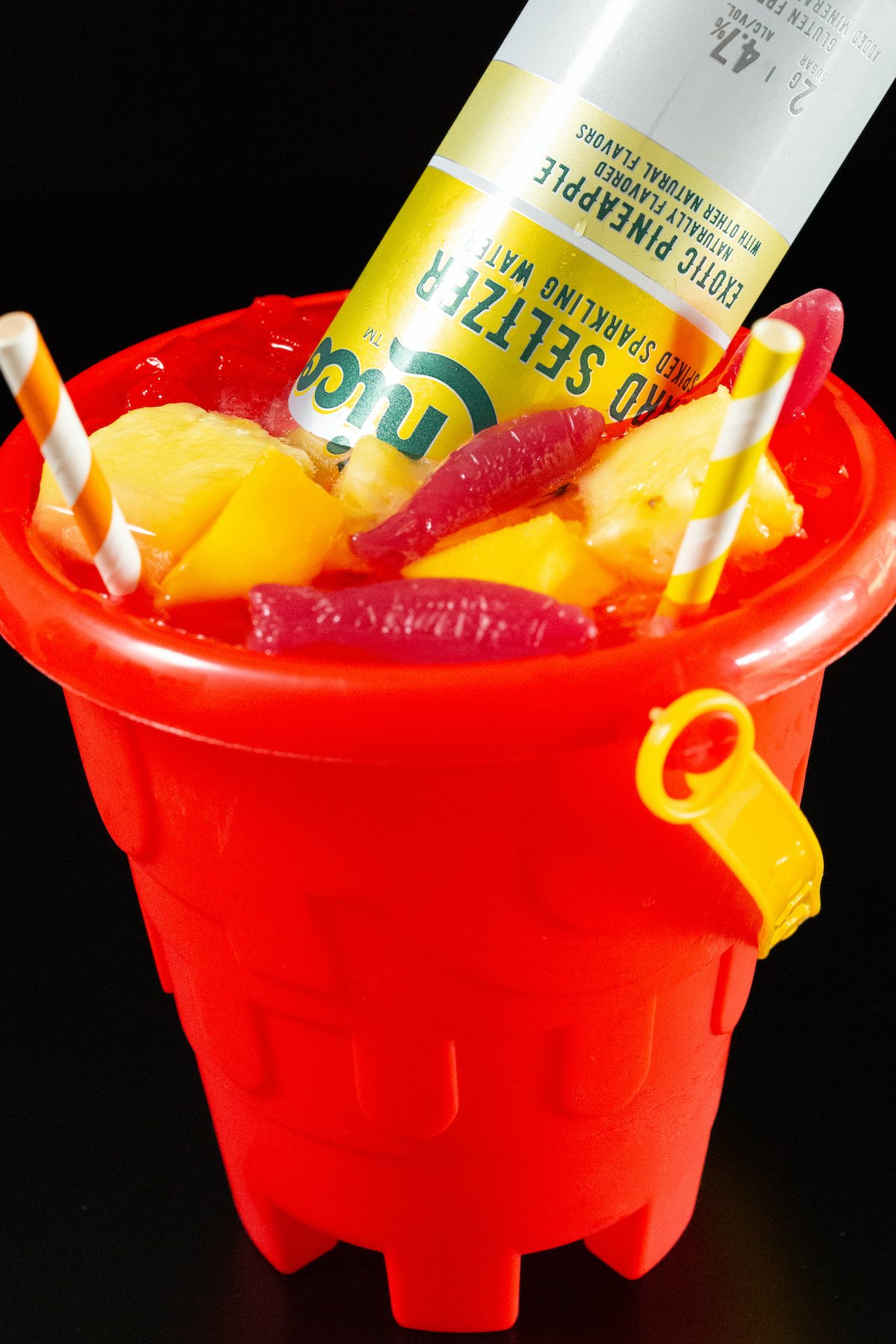 Vodka
Fruit Punch
Chunks of fresh pineapple and mango
Swedish Fish
Seltzer
Strawberry Kiwi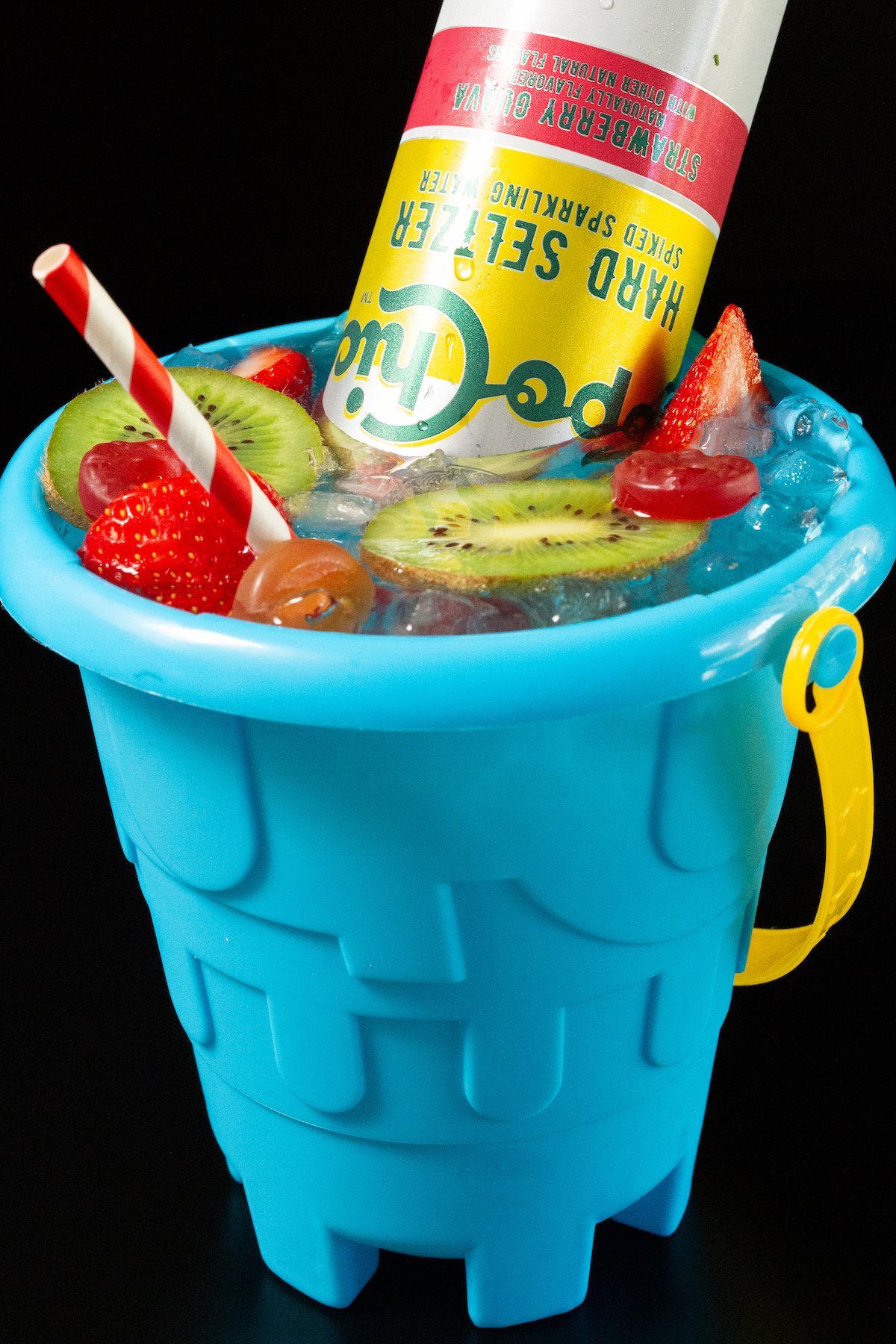 Vodka
Lemonade
Strawberry & Kiwi Slices
Gummy Lifesavers
Seltzer
Margarita
Tequila
Limeade
Lime Slices
Green Apple Rings
Beer
Watermelon & Berry
Rum
Watermelon Juice & Coconut Water
Seltzer
Watermelon Chunks & Fresh Berries
Watermelon Sour Patch
More Summer Cocktails
Print
Sand Bucket Drinks
Loaded cocktails with fresh fruit and candy served in sand buckets.
Author: Jessica Pinney
Prep Time: 5 minutes
Total Time: 5 minutes
Yield: 1 1x
Category: Cocktails
Cuisine: American
Ingredients
Ice
1/2 Cup Fresh Fruit
1/8 Cup Candy
4 oz Alcohol
8 oz Mixer
1 12oz Hard Seltzer or Beer
Instructions
Fill a clean sand bucket with ice.
Add the fresh fruit and candy to the top.
Slowly pour in the alcohol, then the mixer.
Crack open the hard seltzer or beer and quickly flip over and put in the drink.
Add a straw and enjoy!