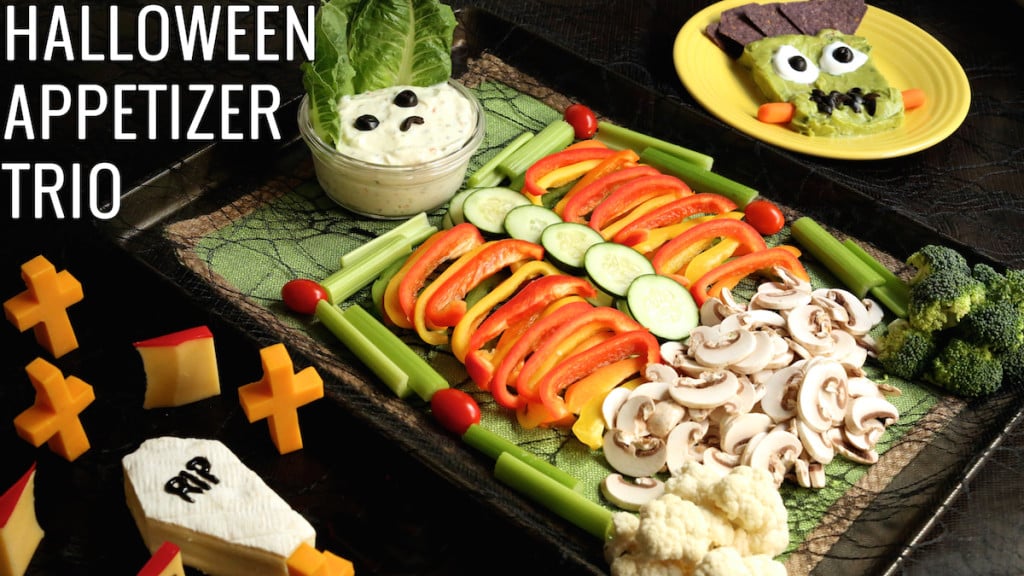 The fact that I haven't already uploaded a veggie tray masterpiece to our website before this, is kind of an embarrassment. I believe that the staple to every party is a veggie tray and if you don't have one, you should be ashamed.
Before Pinterest came along, I just bought the prepackaged veggie trays from the local grocery store. But then when I was introduced to themed veggie trays, I may have lost my mind a little bit…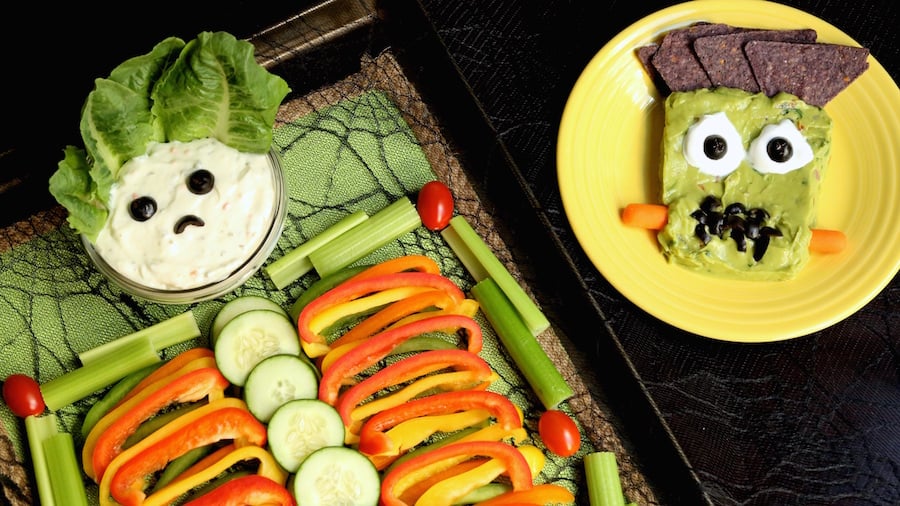 With each holiday, I was buying up the veggies to make a veggie tray in the shape of a Thanksgiving Turkey, or a Christmas Tree, or one bringing in the New Year.
No holiday is too small and no veggie tray is too big! And honestly, they never included just veggies. You always have to have some cheese and who knows, maybe even some fruit!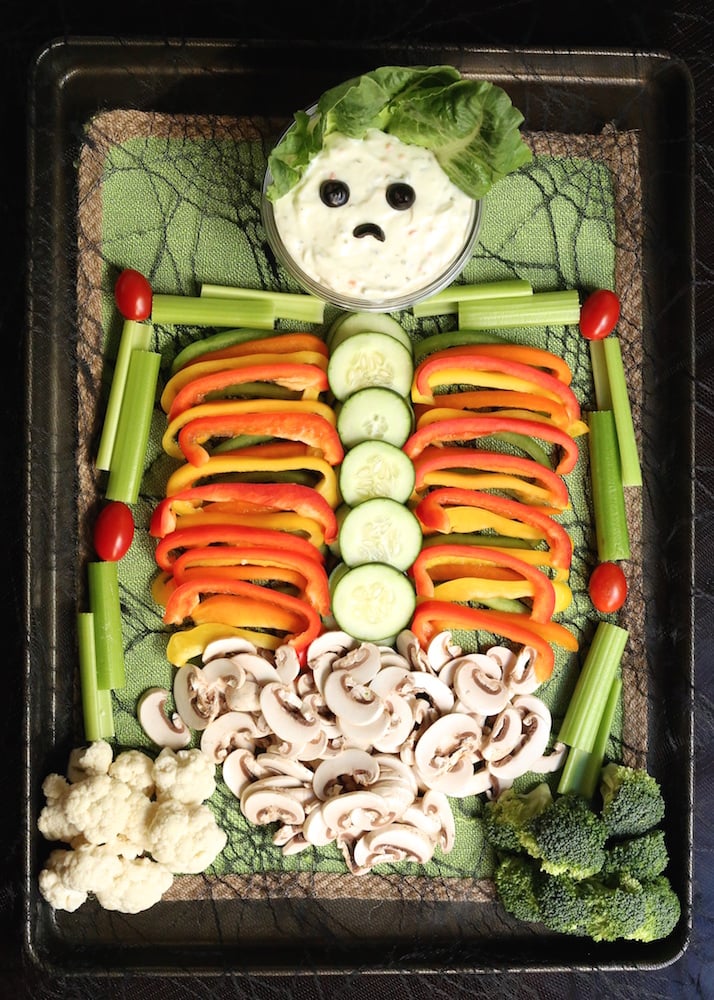 They'll make you feel so creative because you can customize and shape them into anything you want!
These are the veggies I used but feel free to put your own spin on things and substitute in what you like! Also, you wouldn't have to use the same amount of each ingredient. Load it up!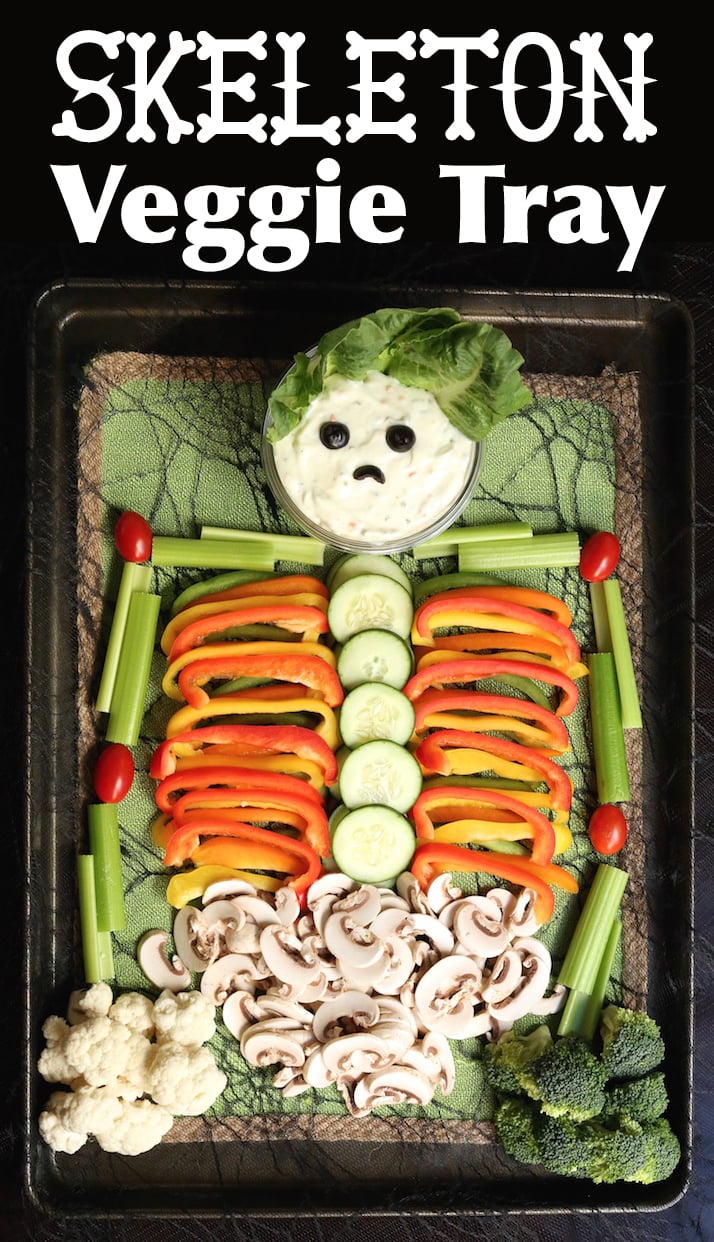 Other Halloween Recipes
This post contains affiliate links (when you buy we make a little money at no cost to you). See our disclosure for more information.
Print
Halloween Veggie Tray Appetizer Trio Recipe
Three Halloween party appetizers – including a skeleton veggie tray and frankenstein guacamole.
Author: Jessica Pinney
Prep Time: 30 min
Cook Time: 0 mins
Total Time: 30 minutes
Yield: 15 1x
Category: Appetizer
Cuisine: American
Ingredients
Skeleton Veggie Tray:
½ Green Pepper
½ Red Pepper
½ Orange Pepper
½ Yellow Pepper
3 stalks of Celery, cut up into pieces
1 Cucumber, sliced
1 8oz package of White Mushrooms, sliced
2 cups of Cauliflower
2 cups of Broccoli
4 Cherry Tomatoes
Veggie Dip
Olives
Romaine Lettuce Leaves
Cheese Graveyard:
1 wedge of Brie
1 wedge of Gouda with red wax
1 8 oz block of Cheddar cheese
Frankenstein Guacamole:
1 cup of Guacamole
Olives
2 baby Carrots
Sour cream
Instructions
Skeleton Veggie Tray:
Place the container of veggie dip at the top of your dish/platter. Insert a few pieces of Romaine Lettuce leaves as hair and olives as the eyes and nose.
Place the slices of cucumber in rows on top of each other as the spine.
For the ribs, cut all four colors of the peppers in slices from top to bottom and stack on top of one another on either side of the cucumber spine.
Place the sliced mushrooms under the ribs as the pelvis.
Lay out the celery as shoulders and arms, connecting both with a cherry tomato as the joint.
The broccoli and cauliflower are the hands.
Cheese Graveyard:
Cut the brie wedge into the shape of a coffin by cutting of the top, part of the sides, and bottom point.
Cut the Gouda into squares/rectangles like headstones and leave the red wax on top.
Cut the Cheddar cheese block in half long ways, and then in shapes of crosses.
Use the black gel icing to write RIP on the brie and headstones if you wish!
Frankenstein Guacamole:
Place the guacamole on a plate and shape into a rectangle.
Use a dollop of sour cream for each eye and place an olive on top of each dollop.
Cut some olive slices in half and insert haphazardly as the mouth.
Take two baby carrots and insert into the sides of the 'head'.
Gently press blue tortilla chips into the top of the 'head'.