These jello shots are bursting with peach flavor thanks to peach gelatin and Crown Peach whisky. Don't forget to top with a peach gummy ring!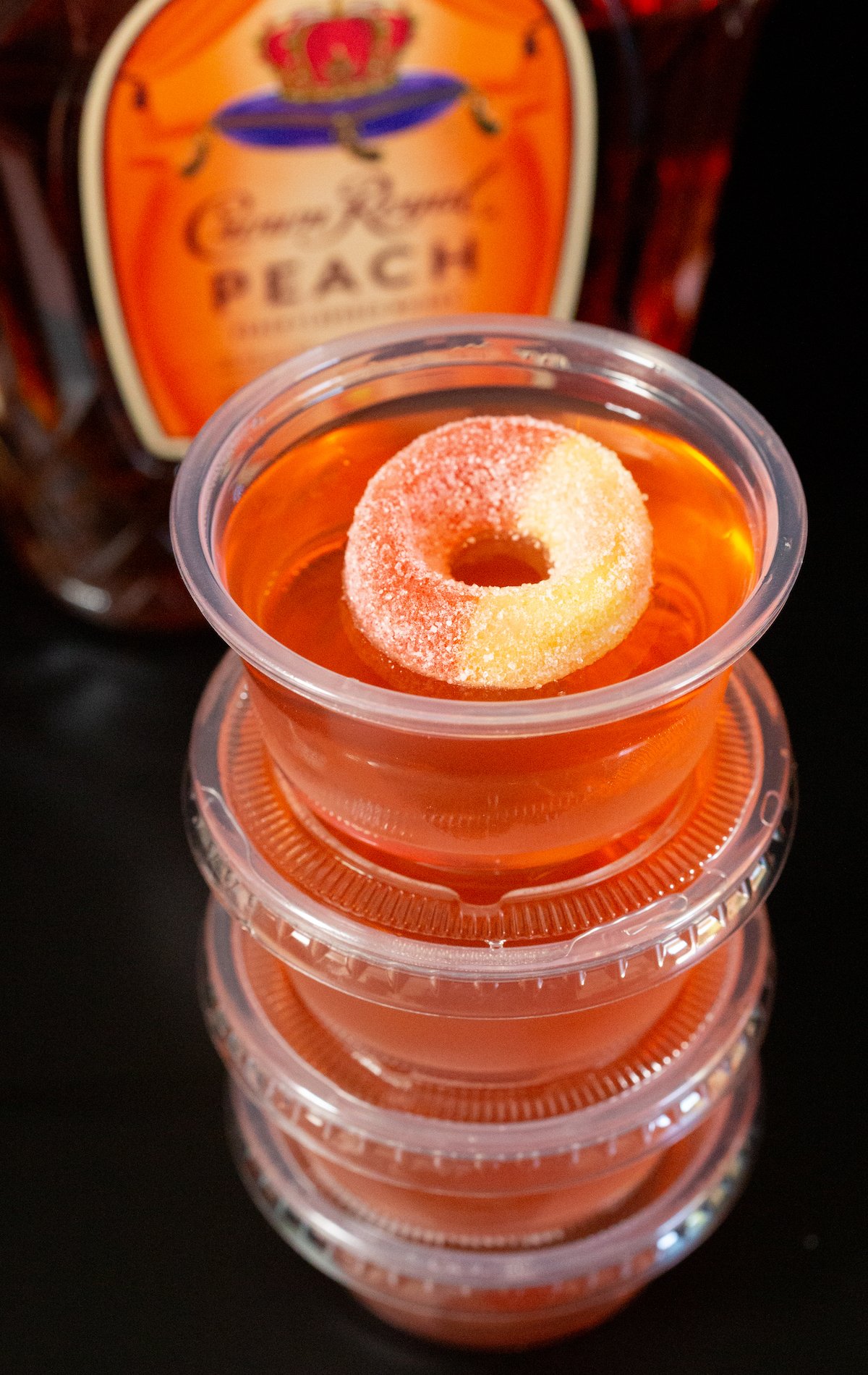 An abundance of fresh peaches and jello shots are two of the things I most look forward to summer for, so I knew these peach jello shots would immediately become a favorite recipe of mine.
To make them extra peachy-keen, I used Crown Royal Peach for the alcohol and topped each of them with a gummy peach ring.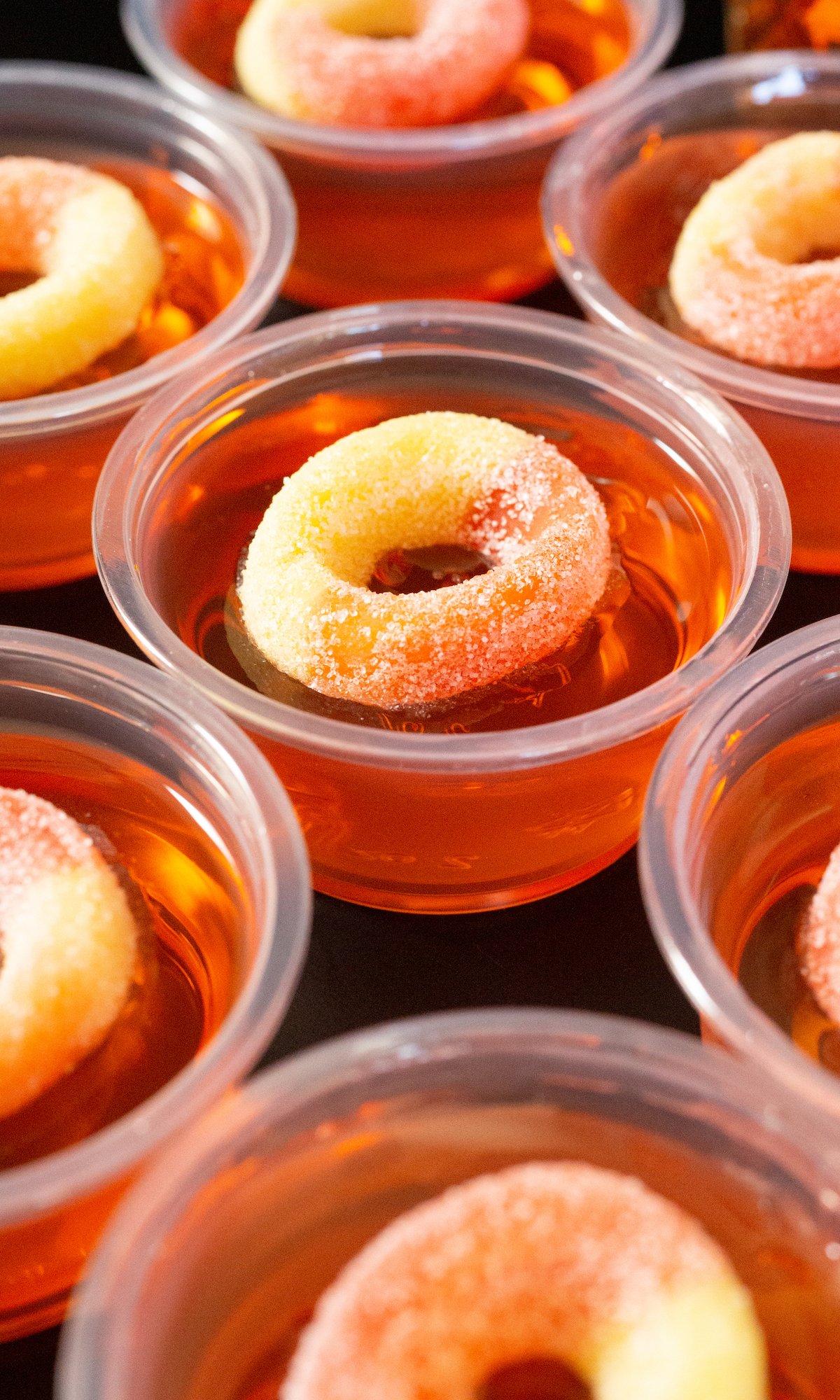 Honestly, I think they're even better than the Green Apple jello shots that I made with Crown Apple!
Why not whip up a batch of each for your next backyard barbecue or pool party and let your guests decide which flavor they like best?
Ingredients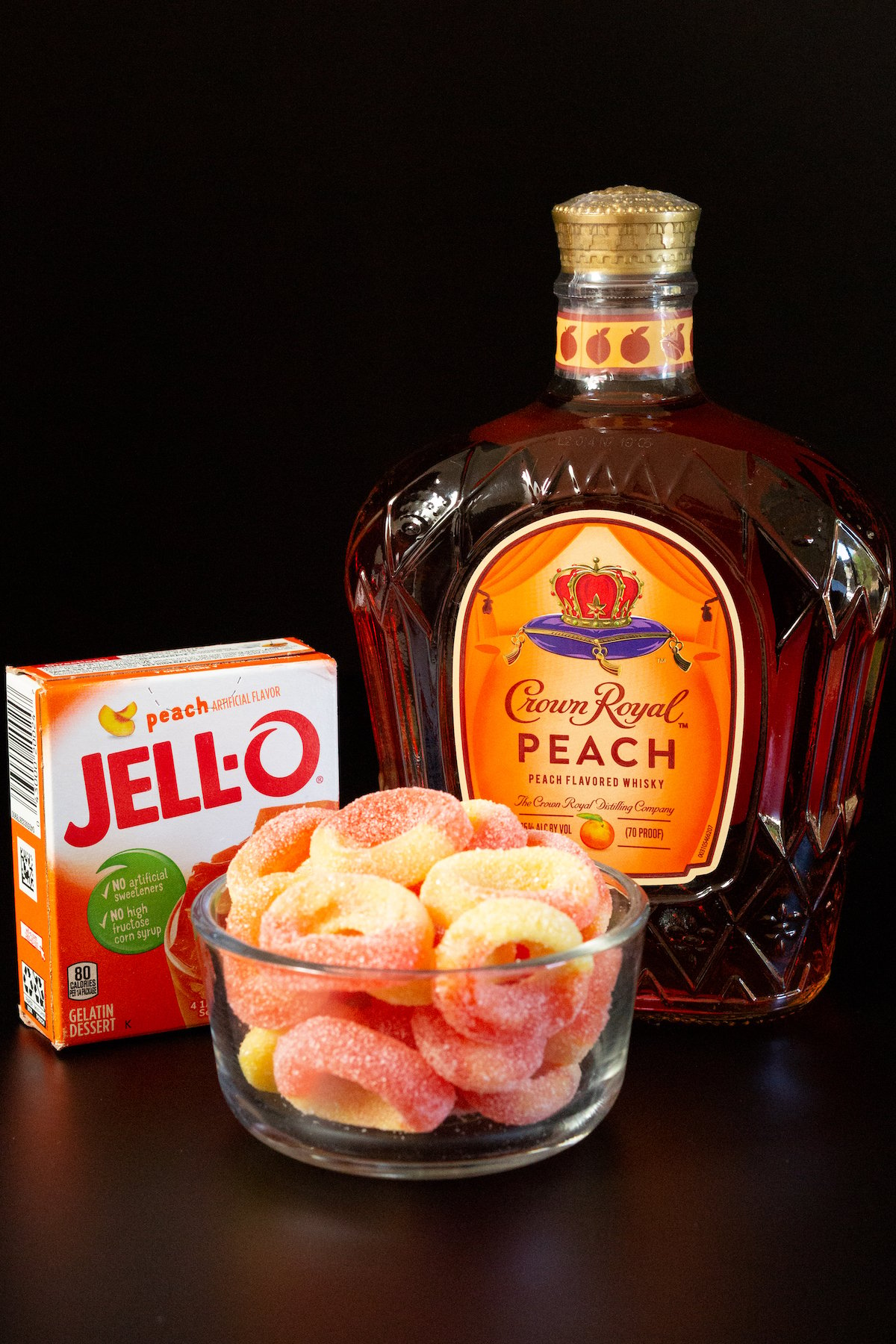 Gelatin – Use Jello Peach mix for the base of these shots.
Water – Very hot or boiling water is needed to dissolve the gelatin. I use my electric kettle to make it quickly and easily.
Crown Peach – This peach flavored whisky adds extra fruit flavor. Feel free to substitute with another alcohol you'd prefer, like peach schnapps or vodka.
Gummy Rings – These are optional, but topping them with peach gummy rings seems to be a big hit among my guests.
This post contains affiliate links (when you buy we make a little money at no cost to you). See our disclosure for more information.
How To Make
Step 1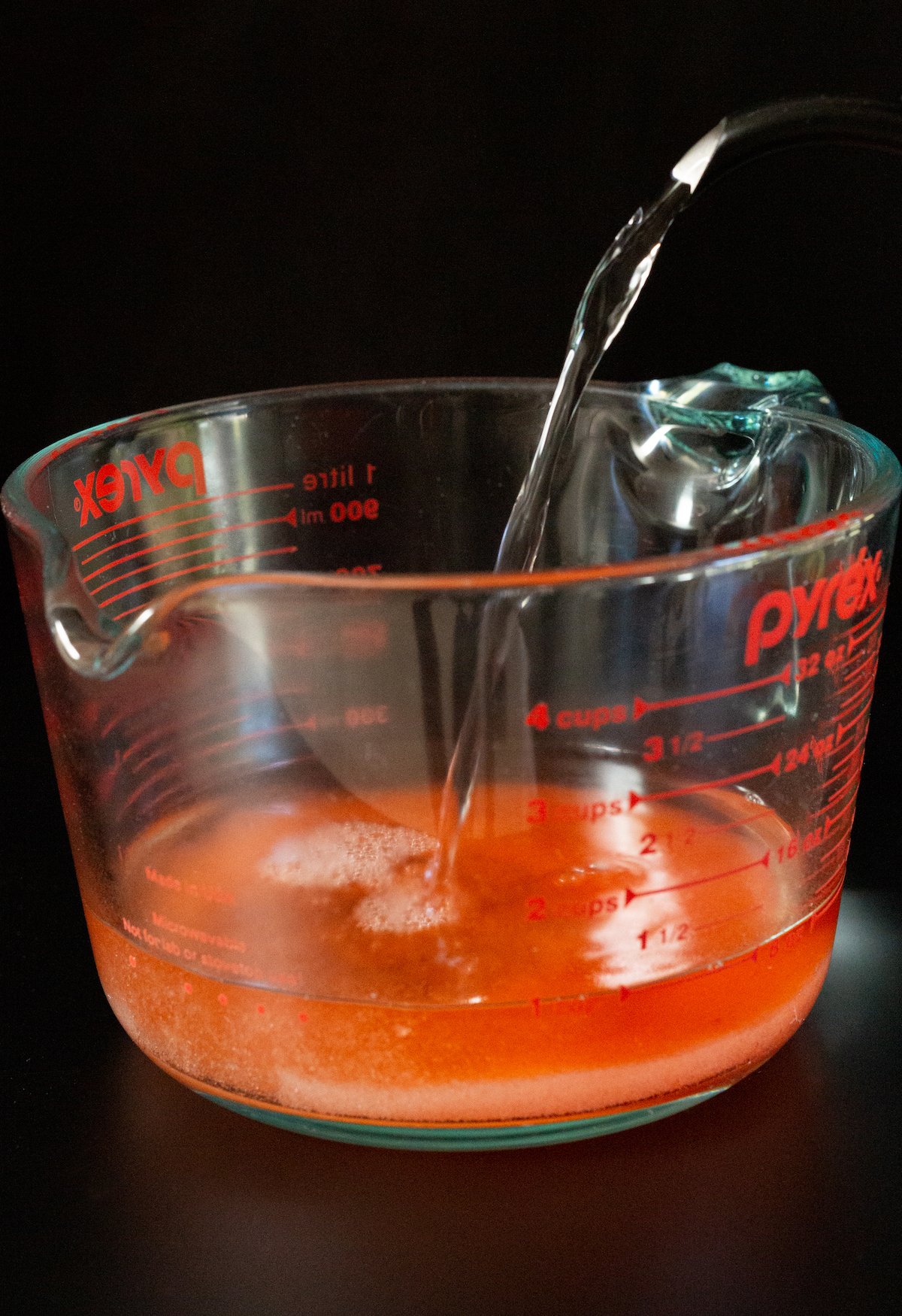 Add the jello and hot water to a mixing bowl or large pyrex cup. Stir until the gelatin is dissolved.
Step 2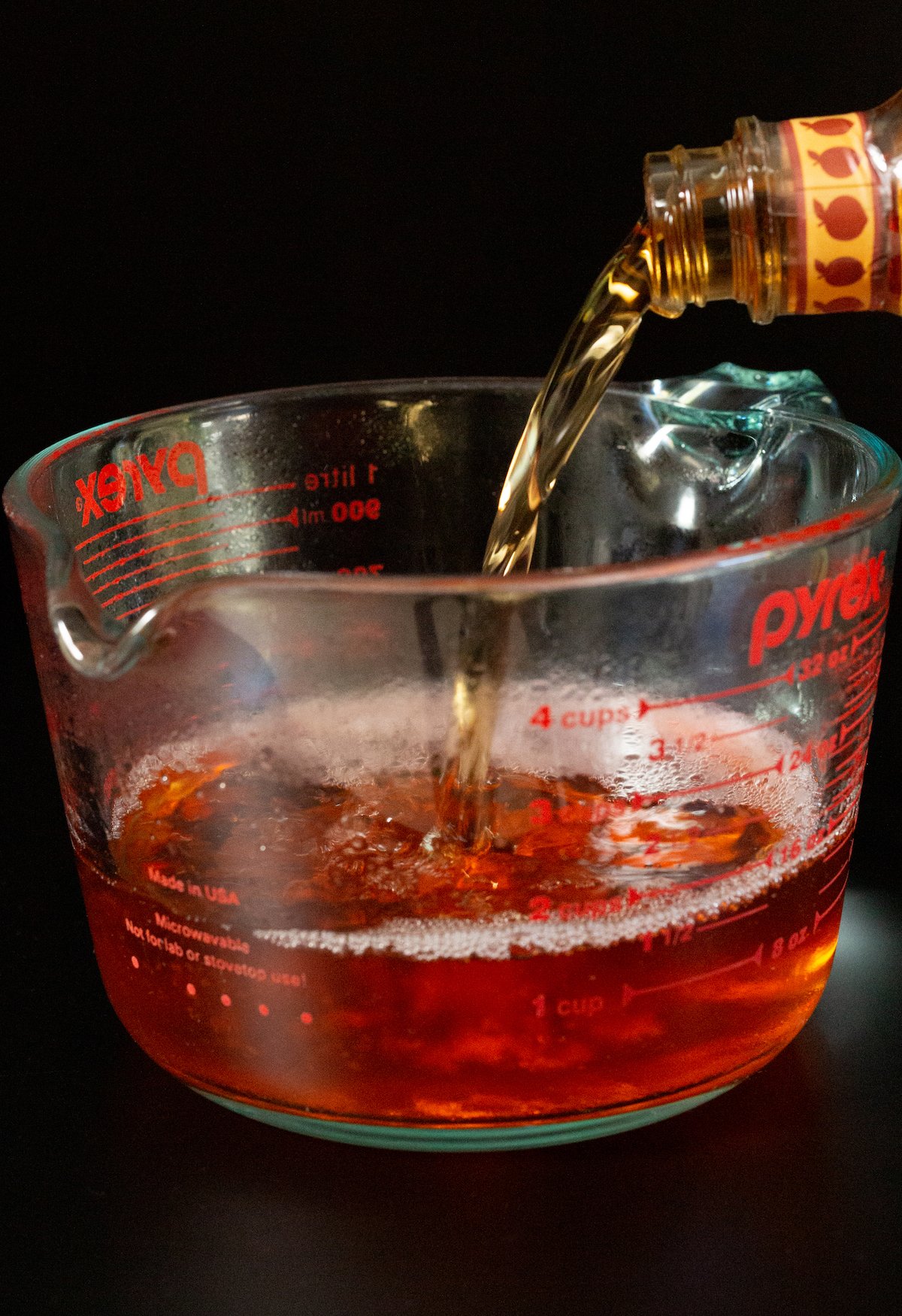 Allow the jello mixture to cook slightly, about 2-3 minutes. Add the Crown Peach and stir until combined.
Step 3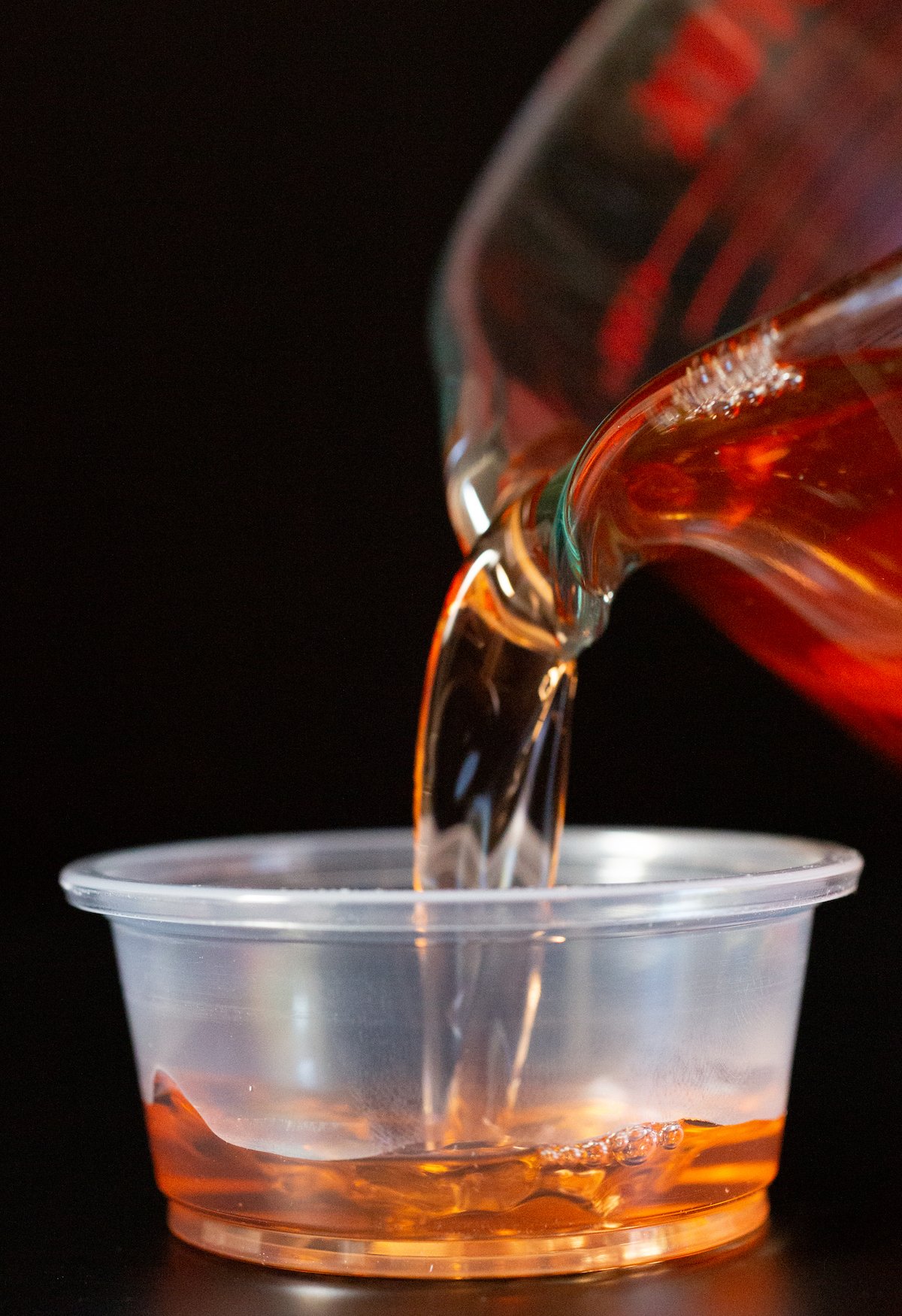 Divide the mixture evenly among 12 2 oz jello shot cups. Place in the fridge until set, 2-3 hours.
Tips
Want weaker shots? Replace part of the Crown Peach with more water or sweet tea for a delicious twist.
Use hot water to dissolve the gelatin. To ensure that the gelatin dissolves properly and doesn't clump, use hot water when mixing it. This will help it dissolve quickly & evenly, resulting in a smoother texture for your shots.
Plan ahead. These jello shots need a few hours in the fridge to properly set up, so make sure you make them in advance so they'll have time to chill before serving.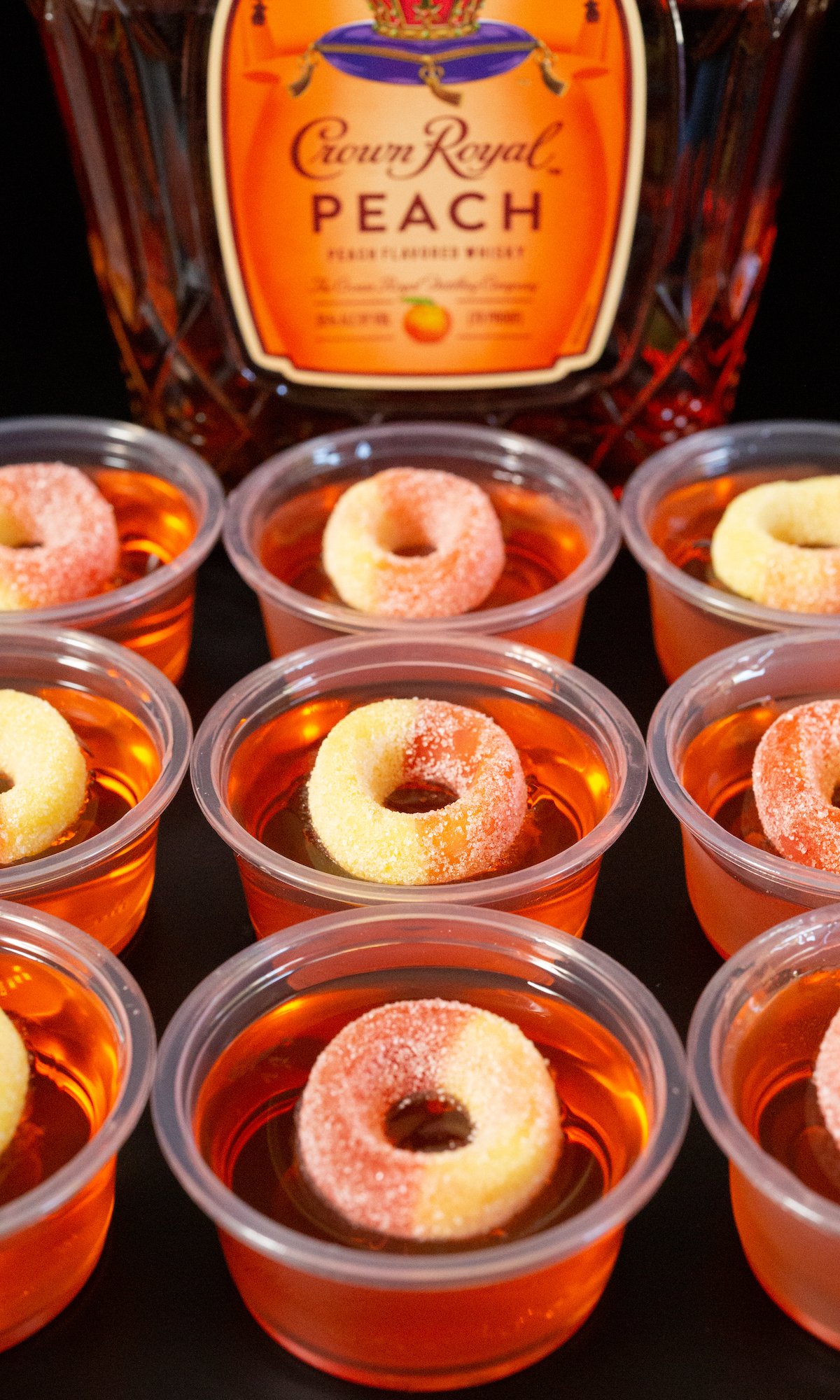 Craving more boozy peach recipes? Try my peach old fashioned if you're feeling classy or a blended peach daiquiri that's perfect for a more laid back vibe.
Print
Peach Jello Shots
Boozy peach flavored jello shots featuring Crown Royal Peach whisky.
Author: Jessica Pinney
Prep Time: 10 Minutes
Chill Time: 2 Hours
Total Time: 2 hours 10 minutes
Yield: 12 1x
Category: Shots
Cuisine: American
Ingredients
1 3oz Package Peach Jello
1 Cup Boiling Water
1 Cup Crown Royal Peach
12 Peach Candy Rings
Instructions
Place 12 jello shot cups on a baking sheet or in a baking dish for easy carrying to the fridge. Set aside.
Add peach jello powder to a mixing bowl.
Add the boiling water and stir until the jello is dissolved.
Wait a few minutes until the mixture has cooled slightly, then add the Crown Peach. Stir to combine.
Distribute among your jello shot cups, then seal each with a lid. Place in the fridge for at least 2 hours or until the gelatin is set.
When ready to serve, garnish with a peach ring and serve. Enjoy responsibly!