Green apple jello shots made with Crown Apple are a delicious way to enjoy whisky. Perfect make ahead shot for easy serving at parties.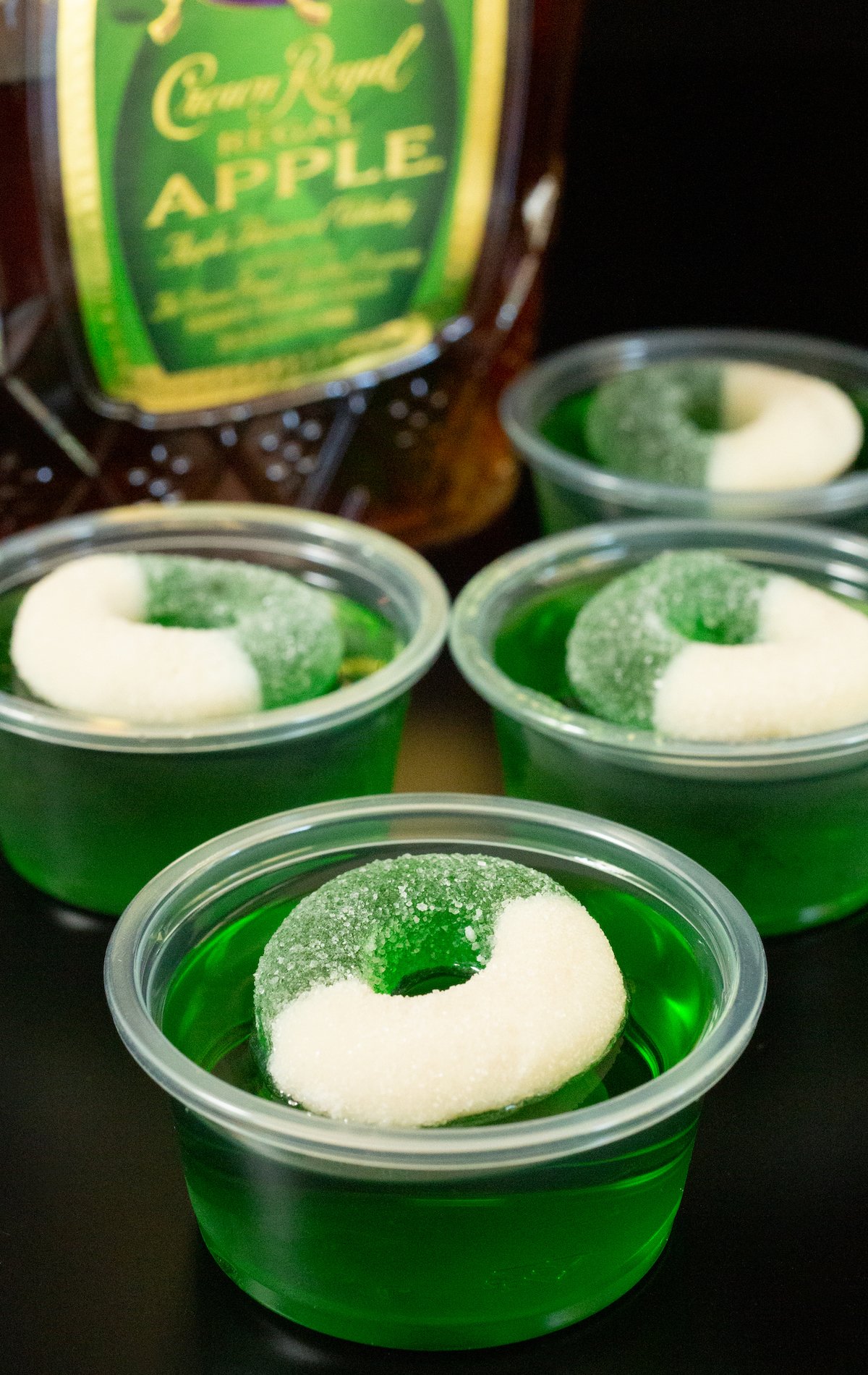 Where are all my green apple lovers at?!?!
If you're like me and it's your favorite flavor when it comes to candy and snow cones, you absolutely must try these jello shots made with green apple gelatin and Crown Royal Apple whisky.
They're a sweet and boozy treat that's going to be your "go-to" for pre-gaming!
I love using them as a no-stress shot to serve at parties. Just make a big batch the day before and have in the fridge ready to shoot. Or, throw them in the cooler and take them to the beach or a cookout.
They're so simple to make – you'll need some hot water, your choice of jello, Crown Apple, and these little jello shot cups.
Ingredients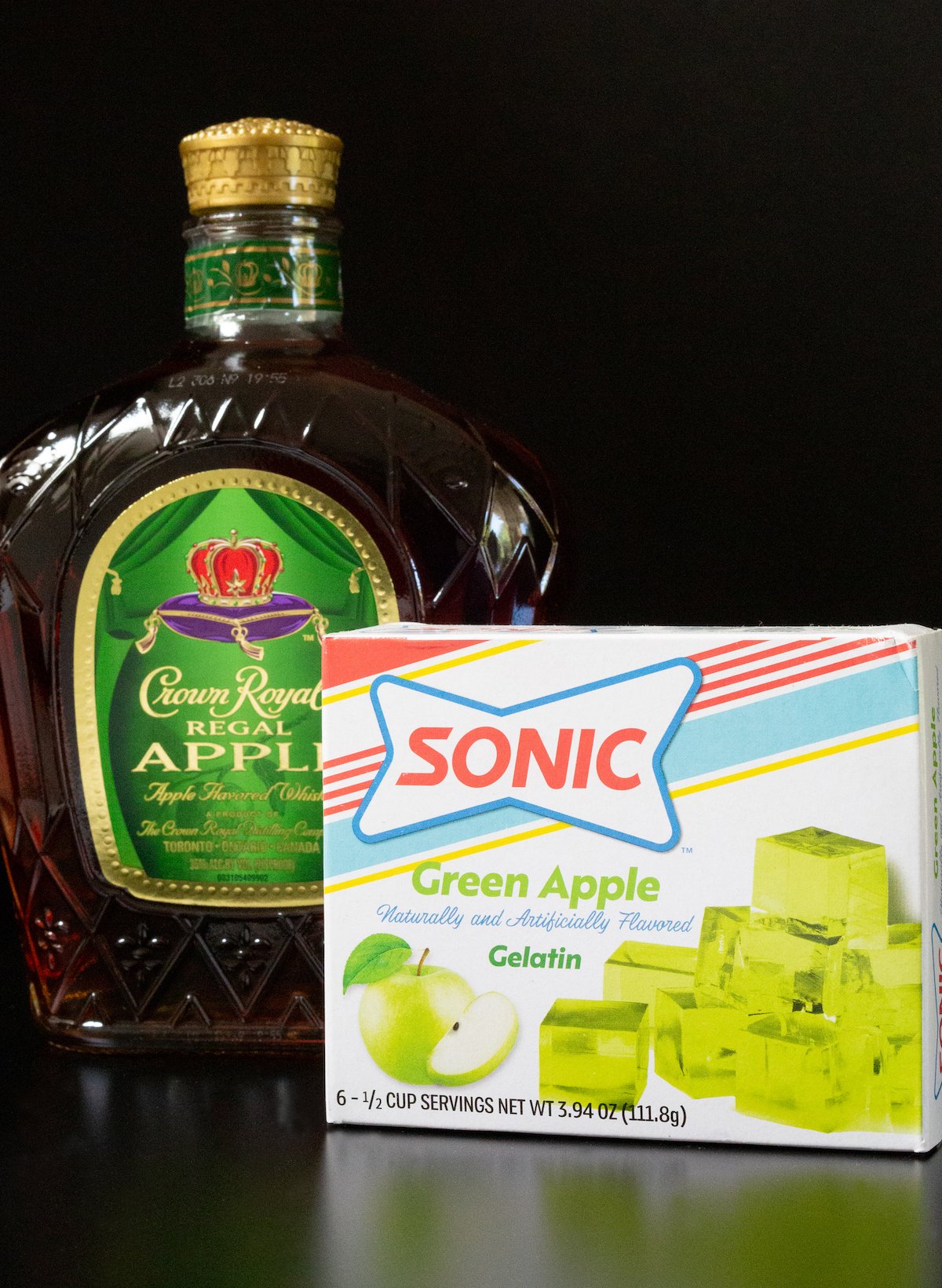 Gelatin Mix – You can use any kind you want in this recipe. My favorite is the Sonic green apple flavor.
Crown Apple – This apple flavored whisky that has a sweet and slightly tart taste with a crisp finish.
Water – Jello won't set if you use all alcohol, so we'll be using some water as well as the Crown. I use my electric kettle to make it hot quickly and easily.
Green Apple Rings – They are optional, but I always use candy green apple rings as a garnish on these jello shots.
This post contains affiliate links (when you buy we make a little money at no cost to you). See our disclosure for more information.
How To Make
Step 1
Add gelatin powder to a mixing bowl or large pyrex cup. Next, add 1.5 cups hot water and stir with a whisk or a fork until gelatin has completely dissolved.
Step 2
Wait about 5 minutes for the gelatin mixture to cool a bit. Then add 1.5 cups of Crown Apple and stir together until combined.
Step 3
Pour the mixture into 2 oz portion cups, seal each with a lid, then place in the refrigerator for 2 hours until they are set.
Tips
Get creative with toppings. Adding caramel to the top makes it a caramel apple jello shot. Whipped cream and maraschino cherries are also great choices.
Experiment with different jello. Instead of apple on apple, how about using grape or pineapple jello instead? Or, perhaps, a citrus flavor such as lime?
Use hot water to dissolve the gelatin. To ensure that the gelatin dissolves properly and doesn't clump, use hot water when mixing it. This will help it dissolve quickly & evenly, resulting in a smoother texture for your shots.
Plan ahead. These jello shots need a few hours in the fridge to properly set up, so make sure you make them in advance so they'll have time to chill before serving.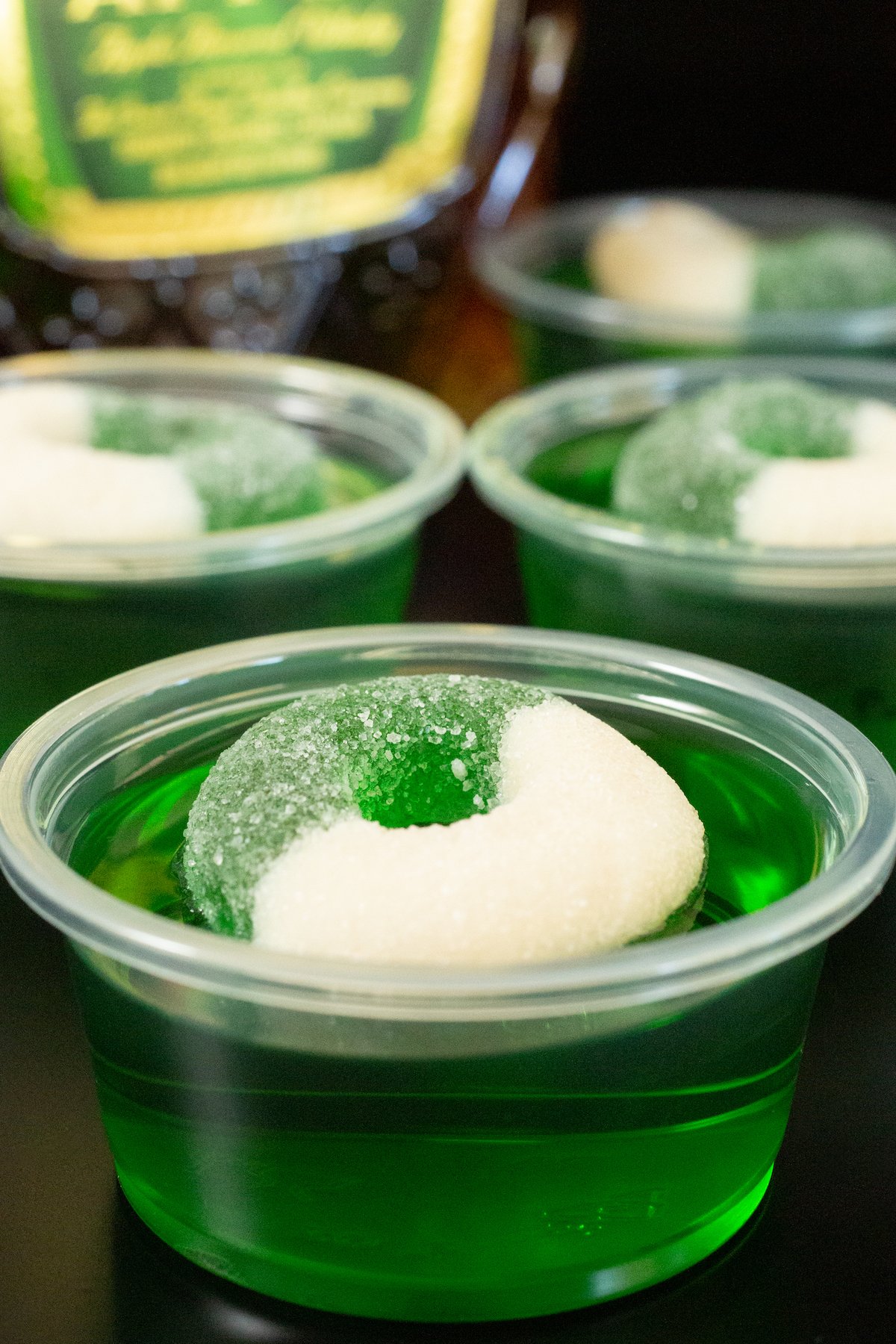 Print
Crown Apple Jello Shots
Green apple jello shots infused with Crown Apple whisky.
Author: Jessica Pinney
Prep Time: 10 minutes
Chill Time: 2 hours
Total Time: 2 hours 10 minutes
Yield: 18 1x
Category: Shots
Cuisine: Canadian
Ingredients
1 3.94 oz package Green Apple Gelatin
1 1/2 Cups Hot Water
1 1/2 Cups Crown Apple
Green Apple Rings (optional garnish)
Instructions
Place 18 jello shot cups on a baking sheet or in a baking dish for easy carrying to the fridge. Set aside.
Add gelatin powder and hot water to a mixing bowl or to a 4-cup measuring cup. Stir until dissolved. Allow to cool for 5 minutes before moving on to the next step.
Once the gelatin mixture has cooled a bit, add the Crown Apple. Stir until combined.
Pour into the jello shot cups, then seal each with a lid. Place in the fridge for at least 2 hours or until the gelatin is set.
When ready to serve, garnish with a green apple ring and serve. Enjoy responsibly!