A tangy, spicy green salsa made with fresh hatch chiles. Serve with tortilla chips as an appetizer or add to any dish for a powerful kick of zesty flavor.
The very first thing I do every summer after receiving my case of hatch chiles is to make green chile salsa.
I've favored green over red salsa my entire life and I firmly believe that hatch has the absolute best flavor of any green chile. So, in my opinion, there's no better tasting salsa you could make than this one!
Though it will stay good for a few weeks in the fridge, it never lasts that long in our house.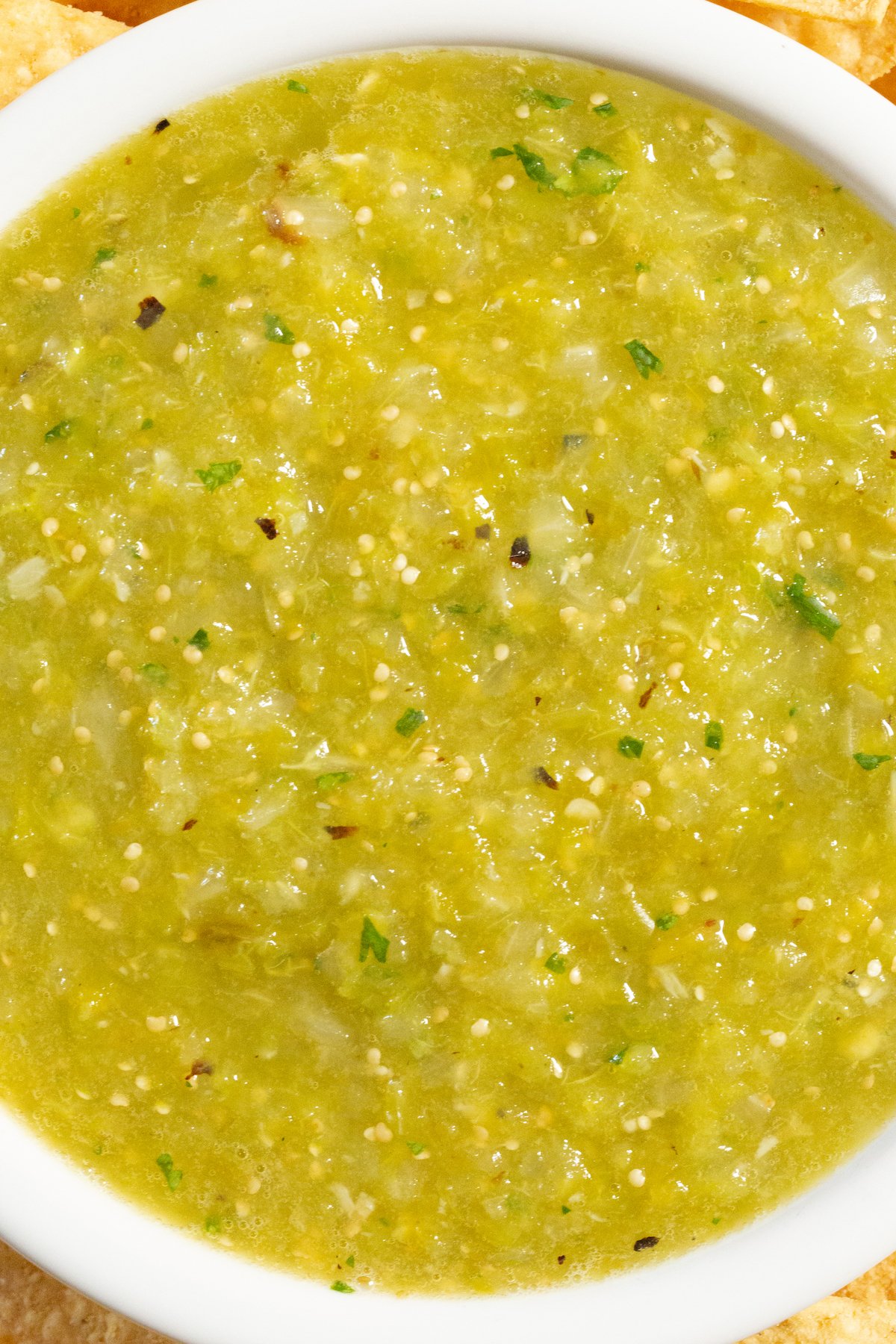 We put it on all the usual suspects – tacos, quesadillas, burritos and nachos but also cheesy fiesta potatoes, grilled meats, and eggs.
Of course it's also great when simply served with tortilla chips as a snack or appetizer.
Ingredients
Hatch Chiles – These Green Chiles are only available fresh from July – September. They grow in the Hatch Valley in New Mexico. You can substitute poblano or Anaheim chiles if Hatch are not available.
Tomatillos – This unique fruit that is also native to New Mexico is an essential ingredient of salsa verde.
Onion – White onion has the ideal flavor and acidity for this salsa, though you can substitute a yellow onion if you'd prefer.
Garlic – Fresh garlic cloves are a key ingredient to making fresh salsa. I do not recommend substituting with jarred garlic.
Cilantro – If you aren't a fan of cilantro, you can reduce the amount or leave it out entirely.
Lime – Fresh squeezed lime juice brightens up this salsa with it's acidity. Avoid using bottled citrus juice as it contains preservatives that negatively alter the flavor.
Salt – Use Kosher salt, like Diamond Crystal. If you're using table salt, reduce the amount by half.
You'll also need a blender or food processor.
This post contains affiliate links (when you buy we make a little money at no cost to you). See our disclosure for more information.
How To Make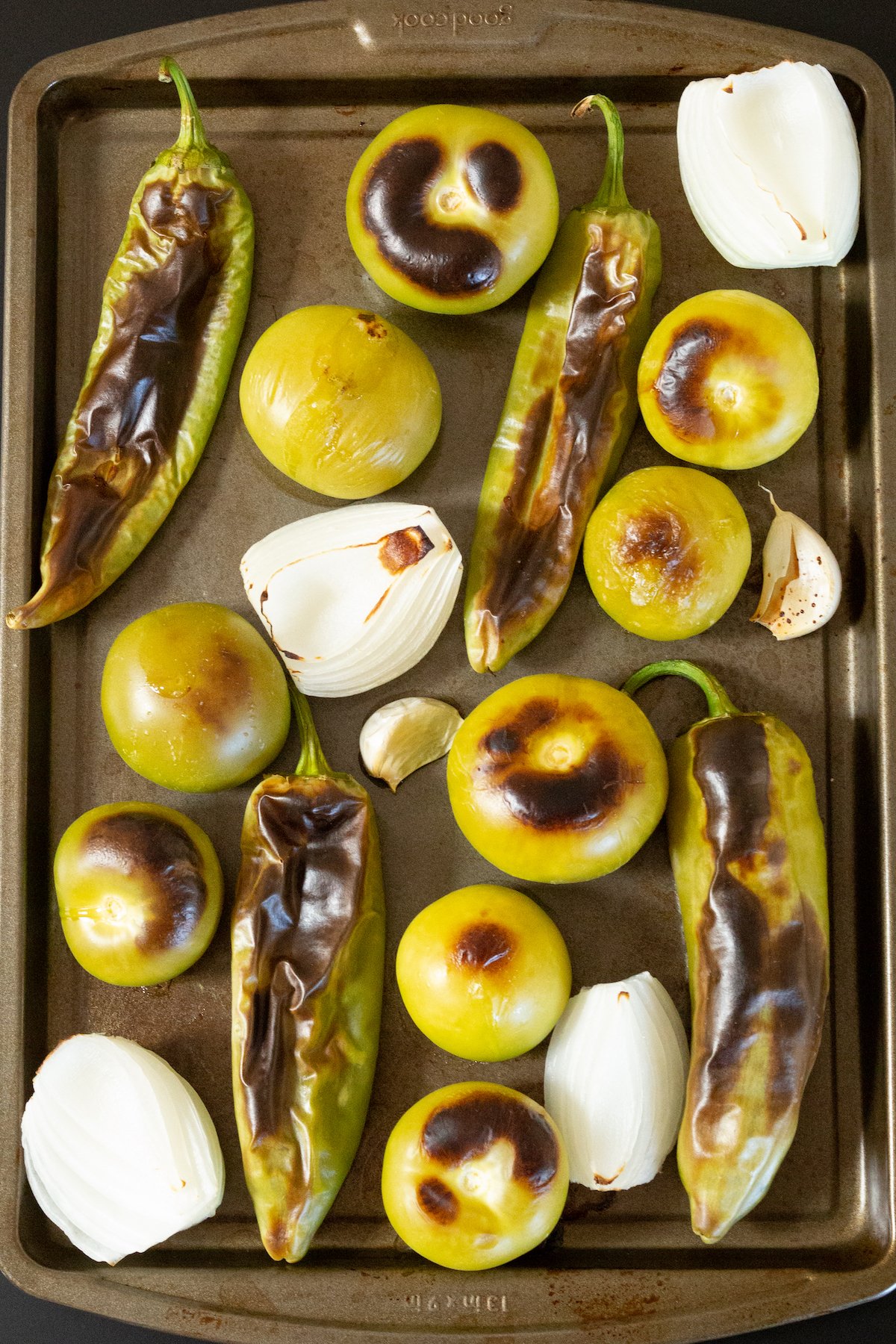 Remove the husks from the tomatillos and quarter the onion.
Next, roast the hatch chiles, tomatillos, onion and garlic on a baking sheet. Broil for about 5 minutes until the skins have started to brown, then flip and broil another 4-5 minutes.
Remove baking sheet from oven. Once cool enough to handle, remove the peel from the chiles and garlic.
Add all the ingredients to a blender. Pulse until desired texture is reached.
Tips
Instead of roasting you can slice the peppers and tomatillos in half, place them in a saucepan, cover with water, and boil for about 10 minutes.
Hatch chiles are available in different heat levels, be sure to pick the right one for your personal taste. I buy the "hot" level from the Hatch Chile store. Use mild or medium for a less spicy salsa.
For even less heat, be sure to de-seed your peppers. I leave about half the seeds on mine for extra heat.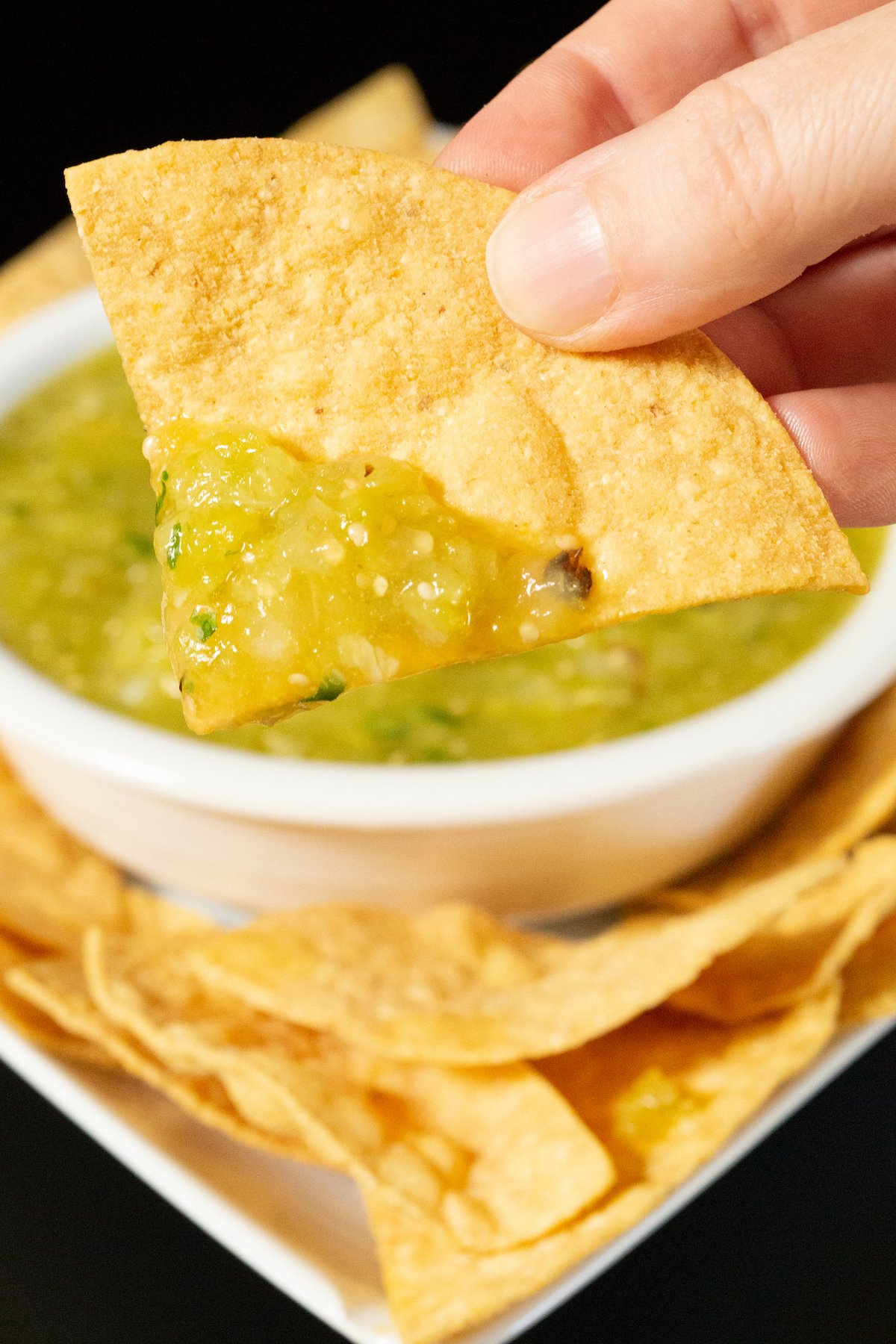 How To Store
Store this hatch salsa in an airtight container in the fridge for up to two weeks or in the freezer up to 3 months.
Print
Green Chile Salsa
A fresh, zesty green salsa made with Hatch chiles.
Author: Jessica Pinney
Prep Time: 5 minutes
Cook Time: 10 minutes
Total Time: 15 minutes
Category: Appetizer
Cuisine: Mexican
Ingredients
4 Hatch Chiles
1.5 lbs Tomatillos
1 Medium White Onion, quartered
2 Garlic Cloves
Juice of 1 Lime, freshly squeezed
1/3 Cup Cilantro
Instructions
Turn your oven's broiler on.
Remove the husks from the tomatillos. Place the tomatillos, hatch chiles, white onion, and garlic cloves on a baking sheet.
Place under the broiler and cook for 5 minutes, until pepper skins have started turning black. Flip everything broil another 4-5 minutes.
Remove from the oven. Allow the peppers to cool enough to handle, then remove the skins. Remove the peel from the garlic.
Place all the ingredients in a blender or food processor. Pulse until the desired texture of salsa is achieved.
Serve immediately or store in an airtight container in the fridge up to 2 weeks.