Make Taco Bell's cheesy fiesta potatoes in the comfort of your own home with this easy copycat recipe. This stress-free taco night side dish can be made in the air fryer or oven.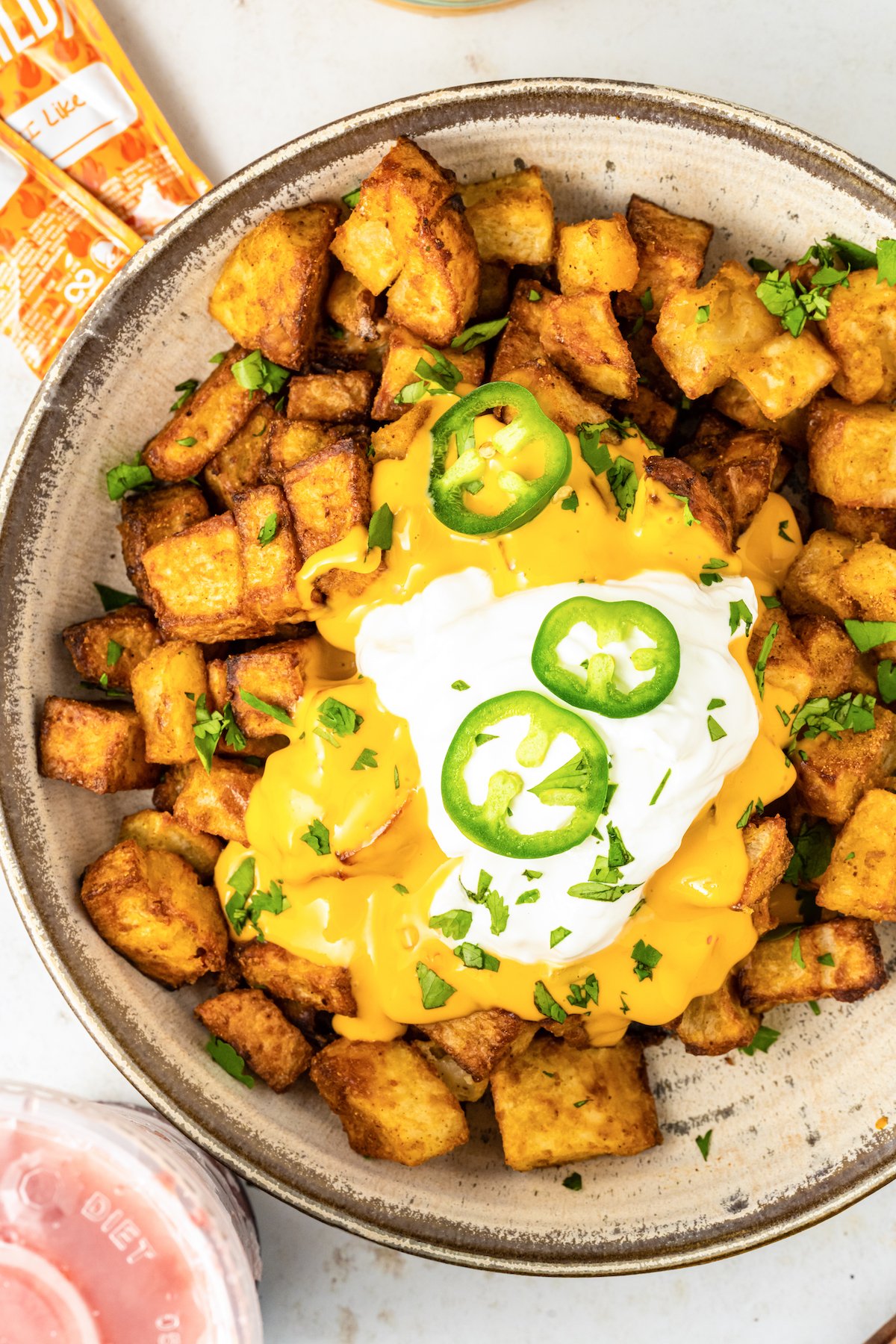 If you've been a reader long at all, you know we love fast food copycat recipes and that we're particularly fond of Taco Bell.
Previously, we've shown you our homemade versions of the Crunchwrap supreme and the chicken quesadilla. Now, we're going to re-create one of our favorite side dishes from there – cheesy fiesta potatoes.
In this beloved side dish, crispy-on-the-outside, tender-on-the-inside potatoes are smothered in a creamy cheese sauce and sour cream. They are the perfect taco night side dish or late night snack to satisfy your drive-thru cravings.
For ultimate convenience, we cook them in the air fryer. This makes it a virtually fool-proof and stress-free recipe! All you have to do is toss the potatoes in oil and seasoning, then throw them in your air fryer basket.
If you don't have an air fryer or prefer not to use it, we're also including instructions to cook them in your oven on a baking sheet.
Ingredients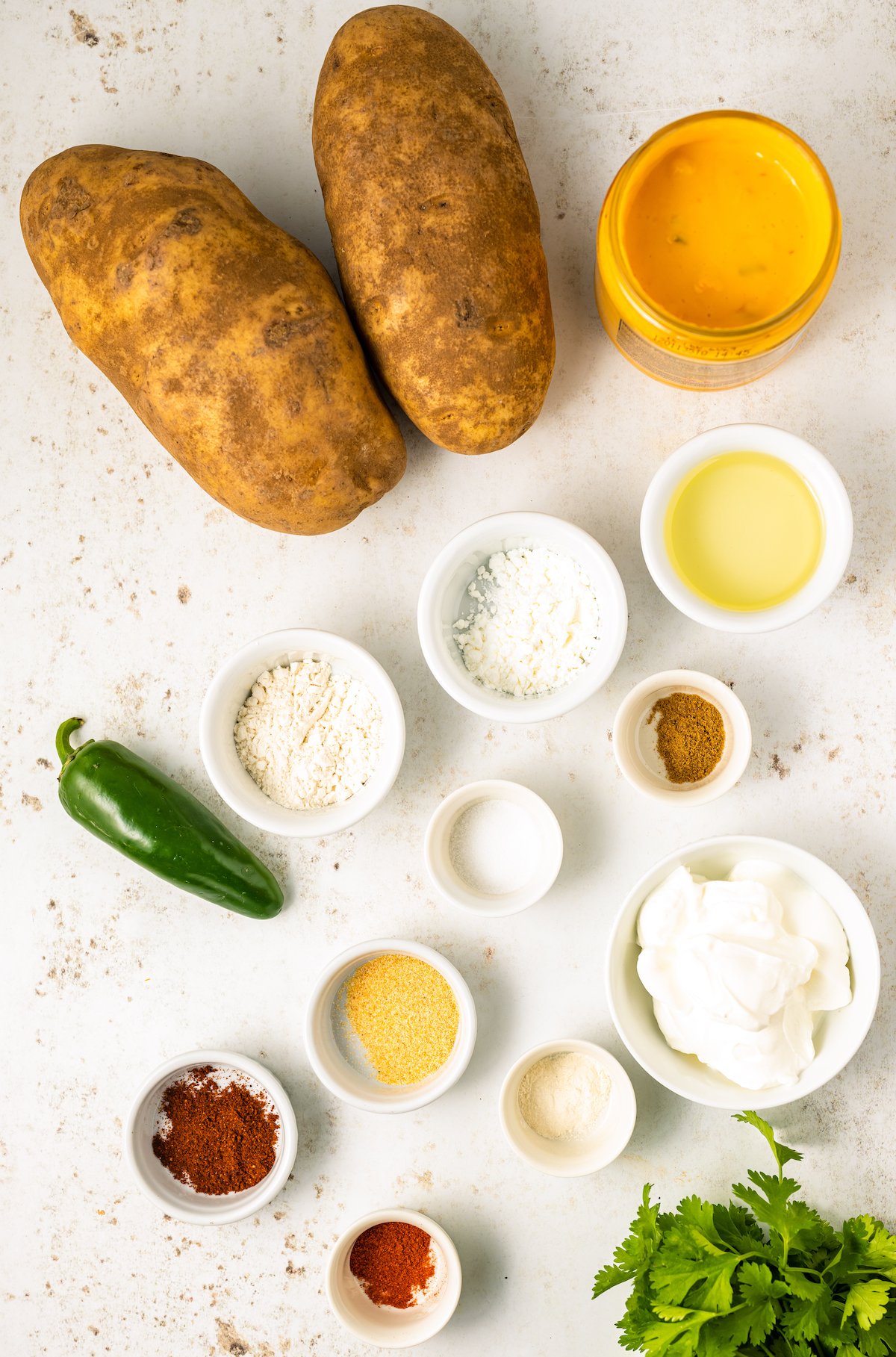 Potatoes – I used Yukon Gold potatoes.
Oil – Vegetable, olive, and avocado oils all work great.
Flour – Use all-purpose flour.
Cornstarch – This helps give the potatoes the crispy exterior.
Seasonings – Chili powder, garlic powder, onion powder, cumin, paprika, and salt.
Nacho Cheese – You can use store-bought nacho cheese or make copycat Taco Bell cheese.
Sour Cream – Use full-fat sour cream for best flavor.
How To Make
To make the cheesy fiesta potatoes, grab a cutting board, a knife, and the ingredients. If you are opting for the oven method, line a baking sheet with foil.
Step 1
Peel the potatoes, then chop them.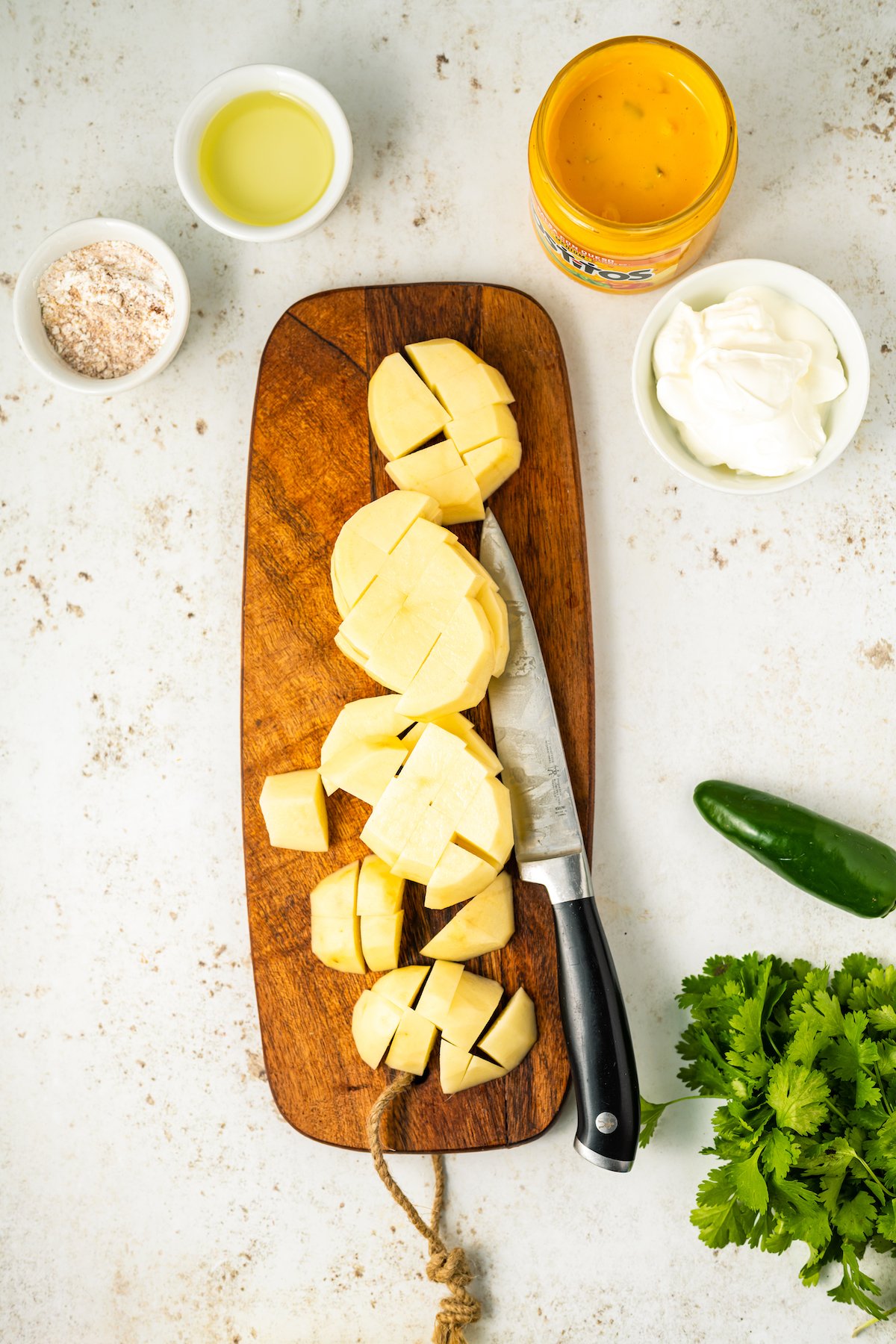 Step 2
Mix the flour, cornstarch and spices together.
Add the chopped potatoes to a Ziploc bag then add the oil. Seal the bag and toss until potatoes are well coated. Add the seasoning mixture, seal the bag, and toss again until evenly coated.
Step 3
Place the coated potatoes in your air fryer basket and cook for 6 minutes at 400 F. Turn the potatoes and cook another 6-8 minutes. They are ready when they are brown and crispy on the outside. (See notes in recipe card for oven instructions.)
Step 4
Place cooked potatoes in a bowl and top with nacho cheese, sour cream, and any other desired toppings.
Tips
For an even easier version, grab a bag of diced potatoes from the freezer section. Thaw, then season and cook.
Don't skimp on the seasoning! Taco Bell's Cheesy Fiesta Potatoes are known for their bold flavors. Generously coat your potatoes for an authentic taste.
Be sure to add your favorite toppings and get creative with your own twist! Salsa, hot sauce, green onions, and pickled jalapeños are some of our favorites.
Leftovers
Store
To store your Cheesy Fiesta Potatoes, allow them to cool completely, then transfer them to an airtight container. They can be refrigerated for up to three days.
Reheat
To reheat, simply pop them in the oven at 350°F for about 10 minutes or until warmed through. Alternatively, you can use an air fryer at 400F for 6-7 minutes.
Print
Taco Bell Fiesta Potatoes
Homemade version of Taco Bell's seasoned fiesta potatoes covered in nacho cheese and sour cream.
Ingredients
2 large Yukon Gold potatoes, peeled and chopped
3 tablespoons oil
1 tablespoon all-purpose flour
1 tablespoon cornstarch
1 teaspoon chili powder
1 teaspoon garlic powder
1 teaspoon salt
1/2 teaspoon onion powder
1/2 teaspoon cumin
1/2 teaspoon paprika
1/3 cup nacho cheese sauce
2–3 tablespoons sour cream
cilantro, chopped, optional
Instructions
Place the potatoes in a ziplock bag, then pour the oil over the potatoes and toss to coat.
Combine the flour, cornstarch and the spices, then sprinkle over the potatoes and toss until well coated.
Spray the air fryer basket with cooking spray, then add the potatoes to the basket and set at 400° for 6 minutes. Turn the potatoes and continue frying for another 6-8 minutes.  The potatoes should be crispy.
Heat the cheese dip, then spoon over the potatoes.  Add some sour cream and any other desired toppings.
Notes
Oven Instructions:  Heat the oven to 425° and spray a cookie sheet with cooking spray.  Spread the potatoes evenly over the pan and place in the oven.  Bake until crispy about 40 minutes.  Flip the potatoes once or twice.