Make "poor man's burnt ends" using hot dogs instead of brisket. The result is delicious, tender wieners in a sweet and tangy sauce that are a hit at every barbecue!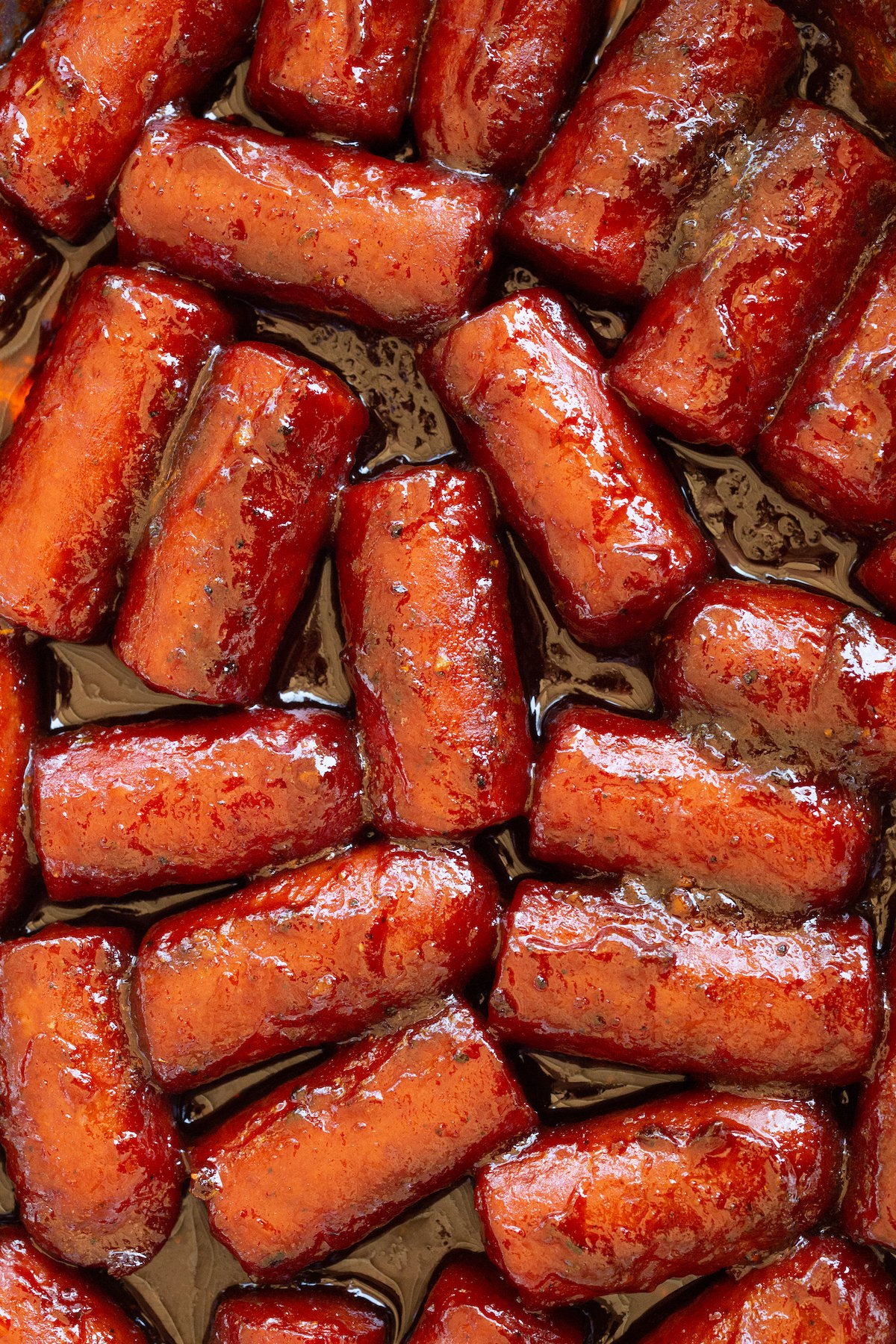 Once you get a smoker, you get "the bug" and just want to smoke anything and everything. Recently, I've been trying out a few different takes on burnt ends.
I love burnt ends, but can't always justify spending the money on brisket. So when I found out hot dog burnt ends were a thing, I was head over heels! I tried them and immediately fell in love.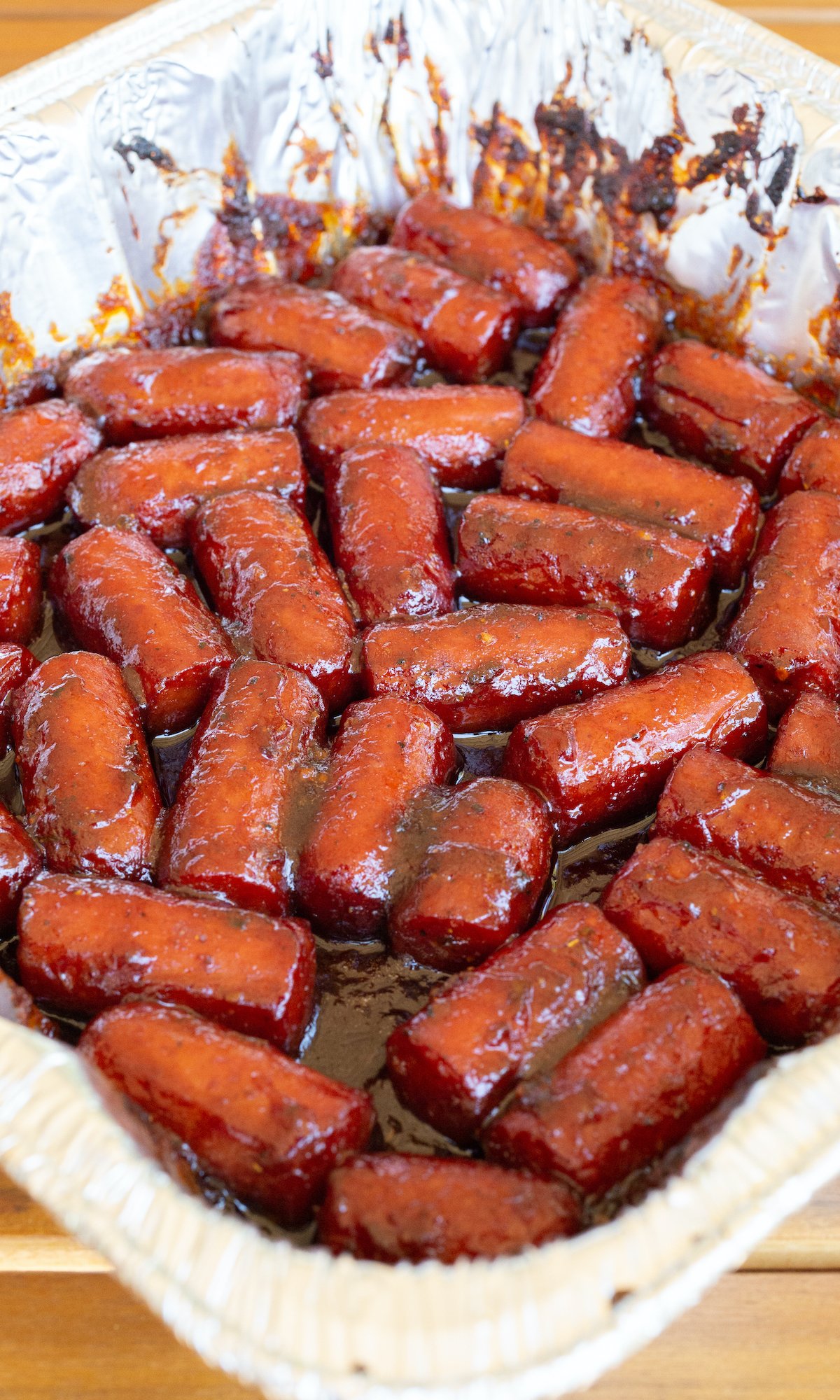 They've quickly become my "go-to" budget-friendly bbq appetizer. Just two packs of dogs make enough for everyone to get their fill! If you have a really large crowd, you can easily double or triple the recipe.
What are burnt ends?
Traditional burnt ends are pieces of smoked point end brisket that are then smoked again in butter, barbecue sauce, and sugar.
The result is succulent, tender morsels of meat covered in flavorful sweet & tangy bbq sauce. They literally melt in your mouth!
In this variation, were'e going to substitute smoked hot dogs for brisket for similar results at a cheaper price point.
Ingredients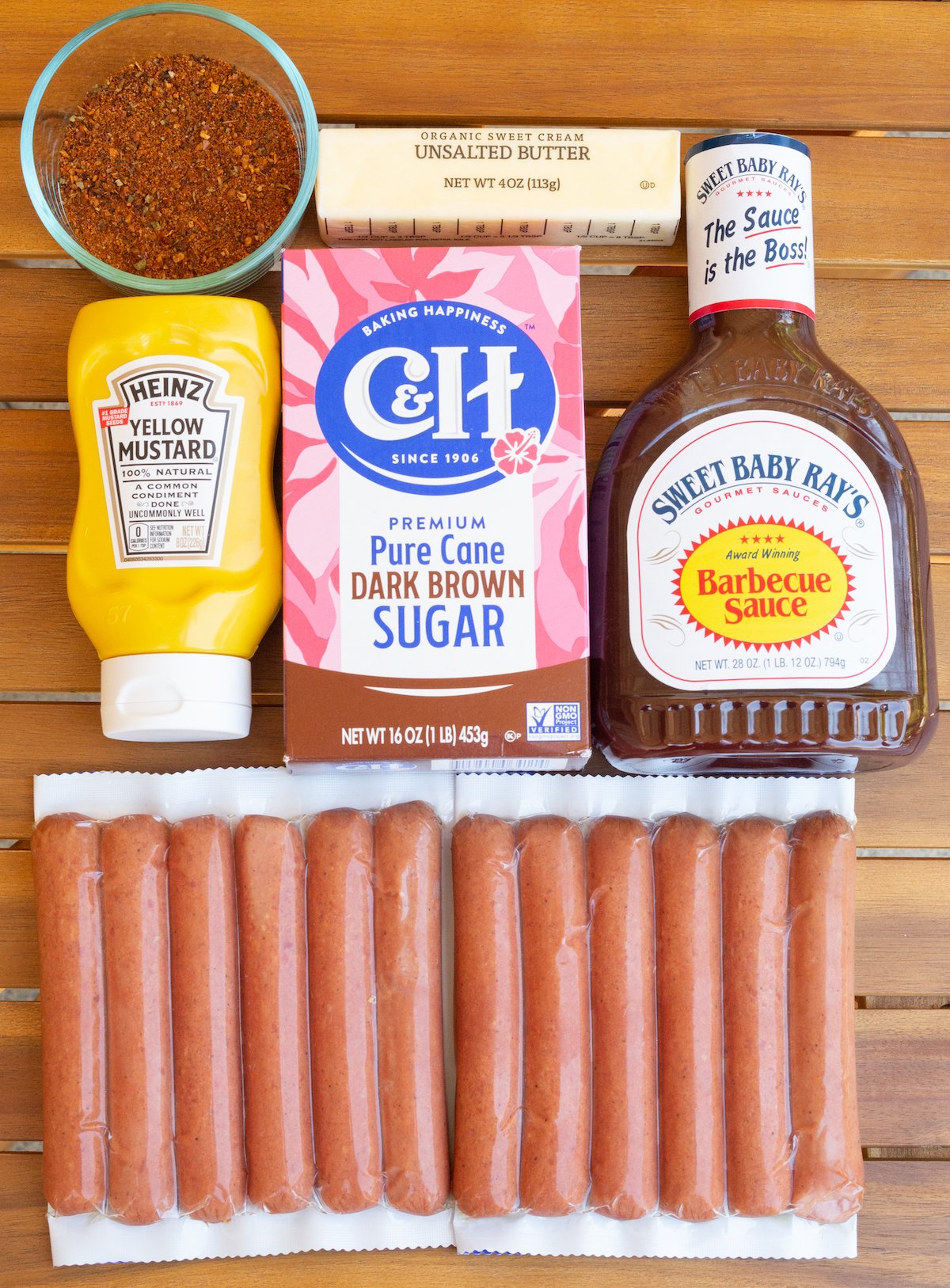 Hot Dogs – Use your favorite brand of hot dog. I use 1/4lb all-beef dogs.
Mustard – Yellow mustard helps the rub adhere to the dogs.
BBQ Rub – You can use store-bought or homemade BBQ rub.
BBQ Sauce – Any BBQ sauce you like will work in this recipe.
Butter – Use unsalted butter as there is already plenty of sodium.
Brown Sugar – I think dark brown sugar yields the best flavor, but light can be substituted.
Wood Chips – Any wood can be used, but since it's a short smoke I recommend hickory or oak for maximum flavor.
How To Make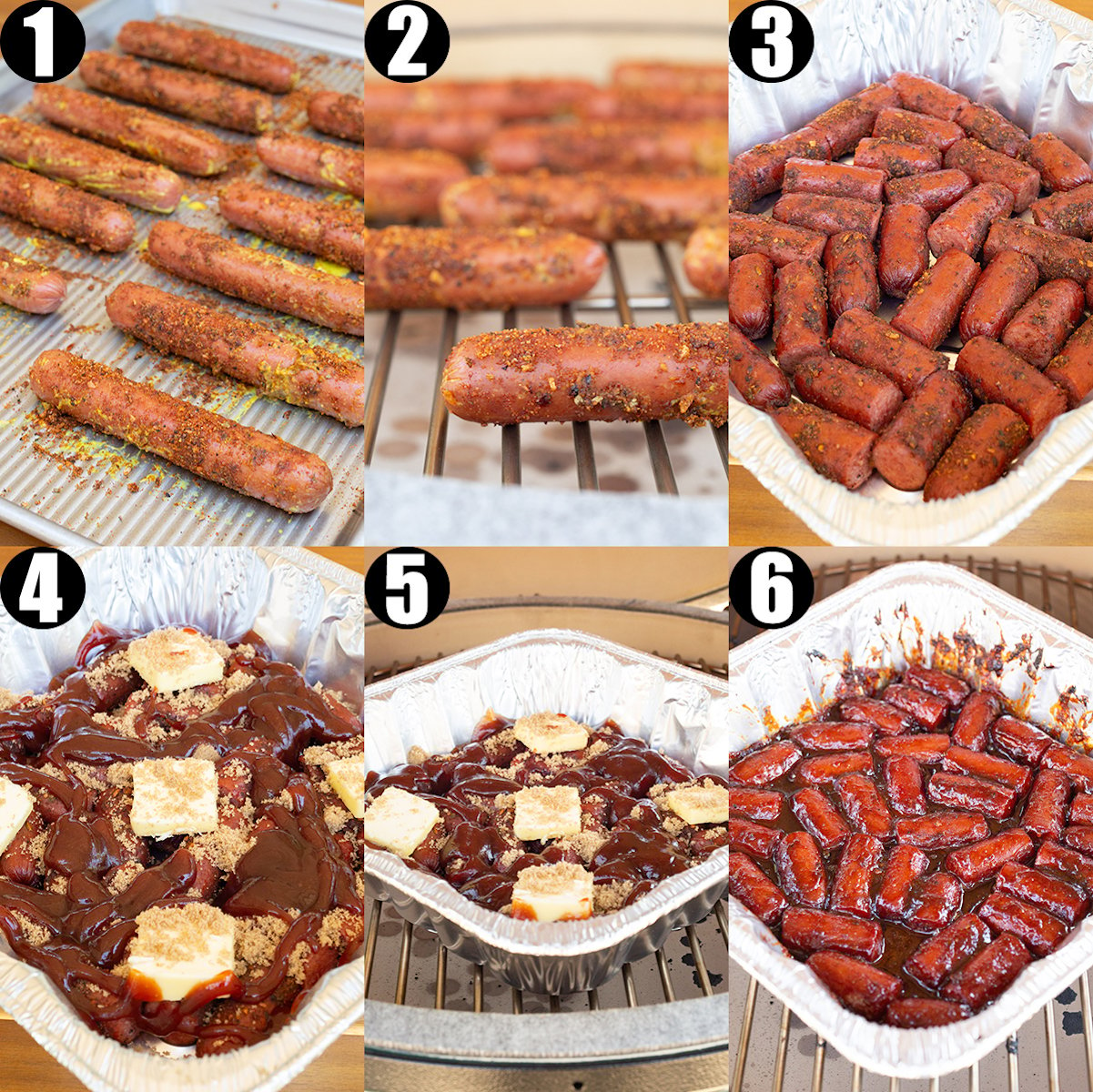 Coat hot dogs in mustard & bbq rub.
Smoke at 225F for 1 hour.
Slice & add to a pan.
Cover in bbq sauce, brown sugar, and pats of butter.
Smoke at 400F 30-45 minutes, stirring often.
When the sugar has caramelized and sauce has thickened, they are ready.
This post contains affiliate links (when you buy we make a little money at no cost to you). See our disclosure for more information.
Tips
When cutting the hot dogs, try to make them all a uniform size. This ensures they cook evenly.
Don't be afraid to experiment with the sauces and seasonings. Try honey or hot honey instead of brown sugar and experiment with different rubs, like Nashville Hot, to see what tastes best to you!
Serve them with toothpicks as an appetizer, or put them in French rolls to make a delicious sandwiches.
Once you start dipping them in smoked queso, you won't be able to stop!
Leftovers
How to store
After they have completely cooled, place any leftovers in an airtight container and store in the refrigerator for up to 3 days.
How to reheat
To reheat, simply place the hot dog burnt ends on a baking sheet and cook in the oven at 350F for 7-10 minutes, until warmed through.
Or, place them in an air fryer basket and cook at 350F for 4 minutes.
Print
Hot Dog Burnt Ends
Smoked hot dogs cooked in bbq sauce, brown sugar, and butter.
Author: Jessica Pinney
Prep Time: 10 minutes
Cook Time: 90 minutes
Total Time: 1 hour 40 minutes
Yield: 12 1x
Category: Appetizer
Cuisine: American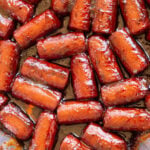 Ingredients
12 Hot Dogs
2 Tablespoons Yellow Mustard
1/4 Cup BBQ Rub
1/3 Cup Brown Sugar
1/2 Cup BBQ Sauce
4 Tablespoons Unsalted Butter, sliced
Instructions
Preheat your smoker to 225F.
Cover hot dogs with yellow mustard, then the bbq rub.
Smoke for 1 hour.
Remove from the smoker. Increase temperature to 400F.
Cut each hot dog into three even pieces.
Place in a disposable pan and top with the brown sugar, bbq sauce, and pats of butter.
Put back in the smoker for 30-45 minutes, stirring often. Burnt ends are ready when the sugar has caramelized and the sauce has thickened.