The whole family will love this creamy chicken casserole topped with crispy onions. It can be prepped in minutes and only requires a handful of ingredients.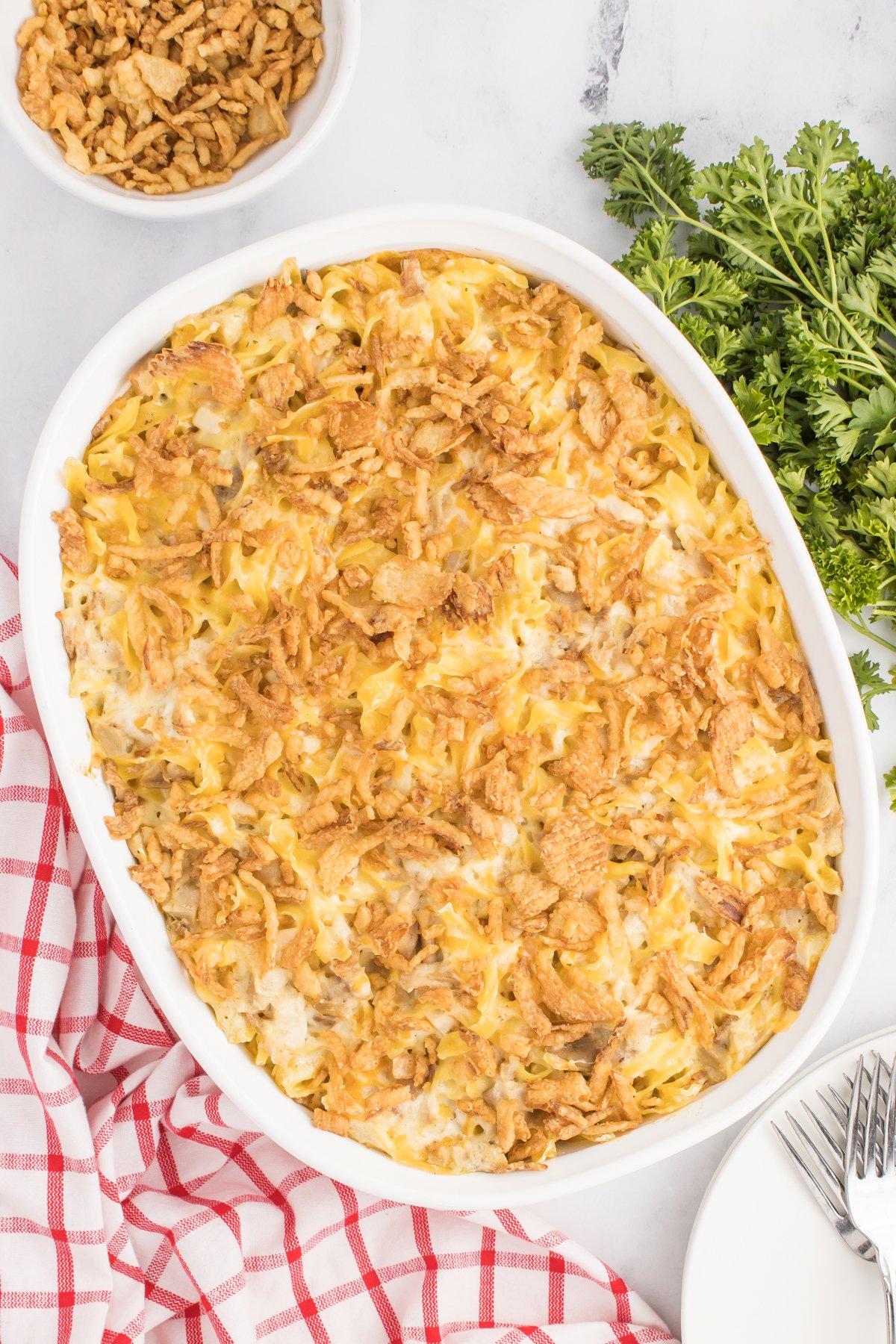 All my favorite casseroles are cheesy and can be made with minimal prep. This French onion chicken casserole checks both of those boxes and has the additional bonus of having French's crispy onions both mixed in and on top of it.
That's right, everyone's favorite Thanksgiving green bean topping is the cherry on top of this casserole. If you only pull them out of the pantry during the holidays, you're missing out. They are excellent on all kinds of dishes!
To make this casserole extra delicious, it uses French onion dip as part of the creamy base. An ingredient that must make the Midwest proud!
If you need more dinner casserole ideas, try my turkey stuffing casserole or make a biscuit pizza casserole. For a fresh taco night recipe, check out this hearty John Wayne casserole filled with taco seasoned ground beef.
Ingredients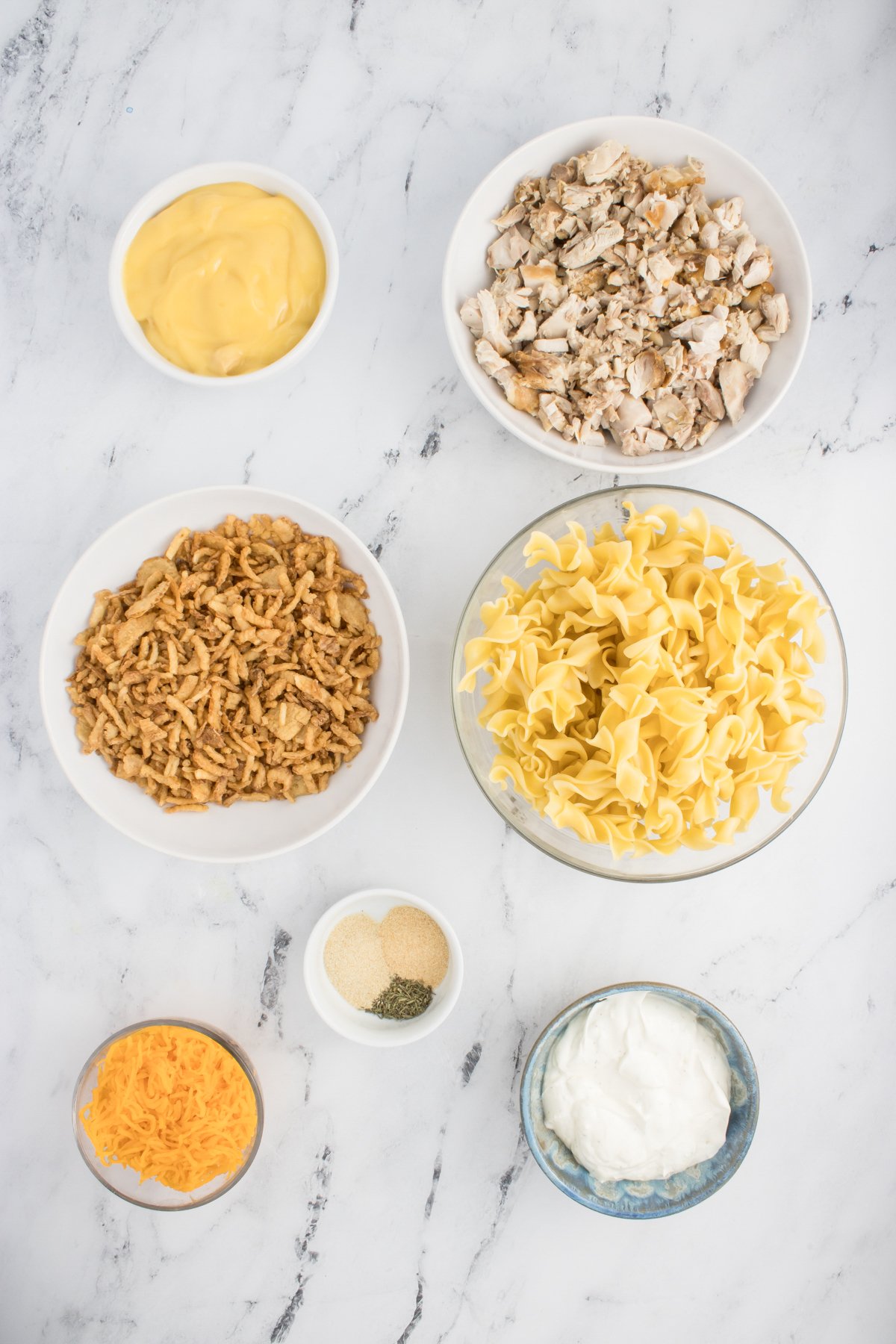 Chicken – Use store-bought rotisserie chicken for quick prep. You can also use cooked and shredded chicken breasts or thighs. 
Egg noodles – I used egg noodles, but you can substitute your favorite pasta.
Cheddar cheese – I like cheddar best in this recipe, but feel free to use parmesan, Swiss, mozzarella, provolone cheese, etc.
Cream of chicken soup – Cream of mushroom soup or cream of celery soup can be used as substitutes.
French's crispy fried onions – Crushed Ritz crackers, breadcrumbs, or crushed potato chips could be used instead.
French onion dip –  Make sure to use a sour cream based refrigerated dip. Kraft and Dean's are my favorite brands. Plain sour cream with caramelized onions or onion soup mix could be used instead.
Spices – You'll need onion powder, garlic powder, and thyme. 
This post contains affiliate links (when you buy we make a little money at no cost to you). See our disclosure for more information.
How To Make
Add all the ingredients to a mixing bowl (reserve half the fried onions for topping).
Mix until well combined.
Add to a baking dish and cook at 350°F for 25 minutes.
Remove from the oven, top with the remaining fried onions and bake another 5 minutes until the top is golden brown.
Tips
Prep it ahead of time. Assemble the casserole, wrap it so it is airtight, then store it in the refrigerator for up to 24 hours. When ready to bake, unwrap it and follow the cooking instructions in the recipe.
Make it vegetarian. Substitute tofu for the chicken to make this dish vegetarian friendly. You can also toss in vegetables – like green beans and peas.
Leftovers
How To Store
Allow any leftovers you desire to keep to cool completely, then seal them in an airtight container. You can store in the refrigerator for up to 3 days or in the freezer up to 6 months.
How To Reheat
To reheat, bake in the oven at 350° F for 8-10 minutes, until warmed through.
If you wish to reheat from frozen, thaw the French onion chicken casserole in the refrigerator the day before.
Print
French Onion Chicken Casserole
A creamy chicken casserole made with French onion dip and French's crispy fried onions.
Author: Jessica Pinney
Prep Time: 10 minutes
Cook Time: 25 minutes
Total Time: 35 minutes
Yield: 6 1x
Category: Main Dish
Cuisine: American
Ingredients
3 cups cooked chicken breasts chopped
8oz egg noodles, cooked
1 cup cheddar cheese (shredded)
1 can cream of chicken soup
6 oz French's crispy fried onions, divided
2 cups sour cream French onion dip
1 teaspoon onion powder
1 teaspoon garlic powder
1/2 teaspoon thyme
Instructions
Preheat your oven to 350°F and lightly grease or spray a 9×13-inch casserole dish with cooking spray.
In a large bowl, combine the cooked tender chicken breasts, tender egg noodles, shredded cheese, a can of cream of chicken soup, half of the French's fried onions (reserve the remaining crispy onions for topping), sour cream French onion dip, onion powder, garlic powder, and thyme. Mix them all until they are well combined.
Transfer the chicken mixture to the baking dish and spread it out evenly. Bake it in the preheated oven for 20-25 minutes, or until the casserole is heated through and the melted cheese is bubbly.
Remove the casserole from the oven and sprinkle the delicious French fried onions you reserved on top.
Return the casserole to the oven and bake for an additional 5 minutes, or until the onions are crispy and golden brown.
Allow the creamy chicken casserole to cool for a few minutes before serving.