This three ingredient shot is reminiscent of an oatmeal cookie. If you love Fireball, this shot recipe is for you!
I was looking for new recipes to make with Fireball when I remembered a delicious shot I had at a bar years ago – the oatmeal cookie shot.
It's a dessert shot, which you know I love! Thankfully it only takes three ingredients to make and I had all of them on hand.
While it doesn't taste exactly like an oatmeal cookie, it really does have a similar flavor profile.
The Fireball obviously brings cinnamon, while butterscotch schnapps and Irish cream work together to mimic a rich cookie taste.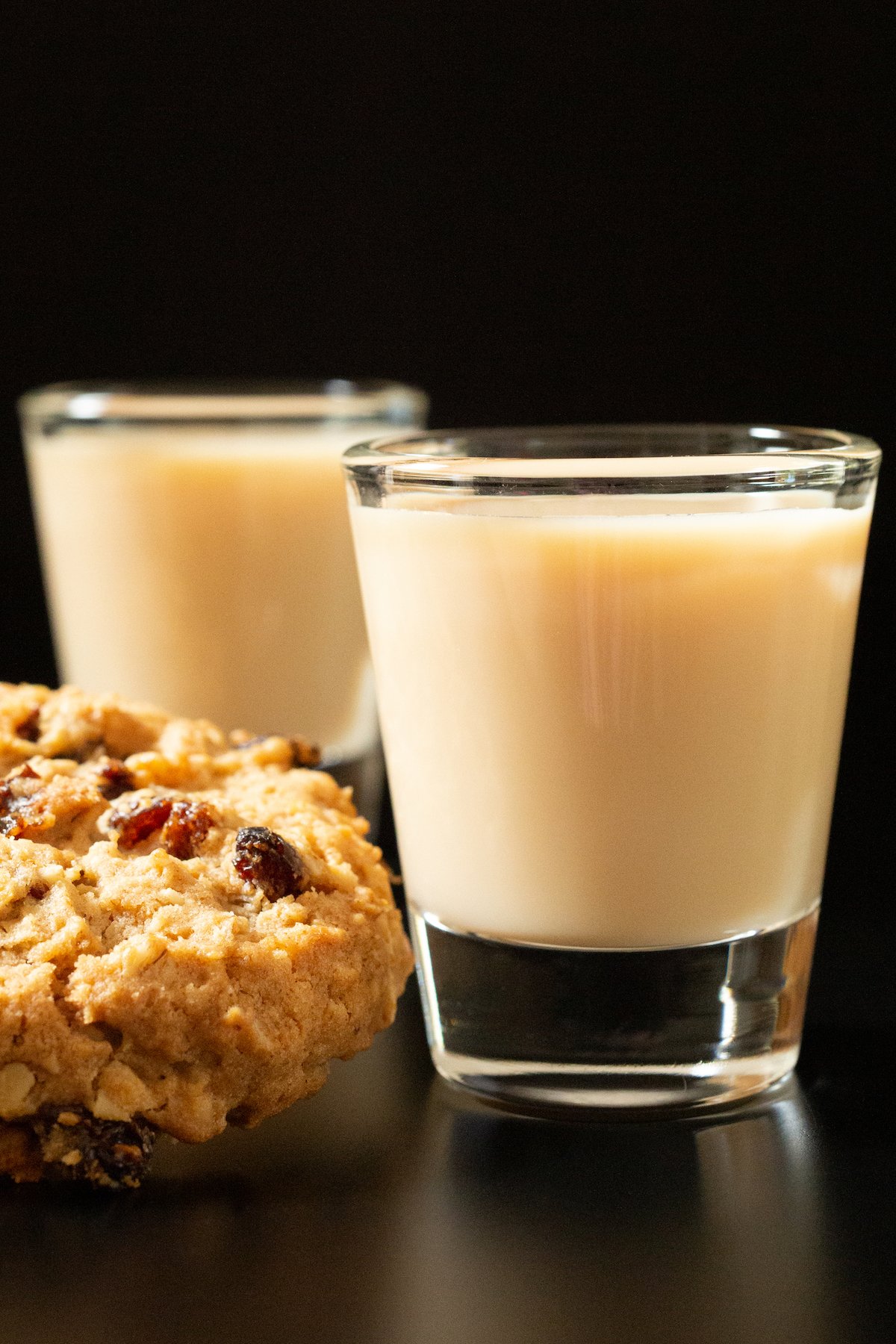 For more creamy dessert shots, try a Cinnamon Toast Crunch shot (which also has Fireball) or a beautiful layered Snickers shot that tastes remarkably similar to the candy bar.
Ingredients
Cinnamon Whisky – I recommend Fireball, but feel free to substitute your favorite.
Irish Cream – Bailey's is my go-to, but another Irish cream could work as well.
Butterscotch Schnapps – Use "buttershots" or any butterscotch schnapps.
How to make
Add all the ingredients to a cocktail shaker with a few cubes of ice. Shake about 15 seconds until well combined.
Strain into a shot glass.
Tips
This shot tastes extra delicious and smooth when served cold. Be sure to shake with ice and you can even chill the alcohol bottles beforehand.
If you have extra Fireball after making these, be sure to try a Fireball and Dr. Pepper. It's so much better than a Jack & coke!
Want a cocktail instead of a shot? Pour the contents of the shaker over a lowball glass with ice instead of into two shot glasses.
Variations
Like most shots, the Oatmeal cookie shot has a few different variations. So if you order it out at a bar, you might be served up something slightly different.
Common variations include adding a splash of Jagermeister or Goldschlagger, using cinnamon schnapps instead of Fireball, or adding Kahlua.
Print
Oatmeal Cookie Shots
A creamy & sweet alcohol shot that tastes like an oatmeal cookie.
Author: Jessica Pinney
Prep Time: 2 minutes
Total Time: 2 minutes
Yield: 2 1x
Category: Shots
Cuisine: American
Ingredients
1 oz Fireball
1 oz Bailey's Irish Cream
1 oz Butterscotch Schnapps
Instructions
Add the Fireball, Irish cream, and butterscotch schnapps to a cocktail shaker along with a few cubes of ice.
Shake about 15 seconds until the ingredients are well combined.
Strain into two shot glasses.
Cheers & enjoy responsibly!