This simple, 2-ingredient cocktail combines Fireball with Dr. Pepper to make a flavorful cinnamon whisky drink.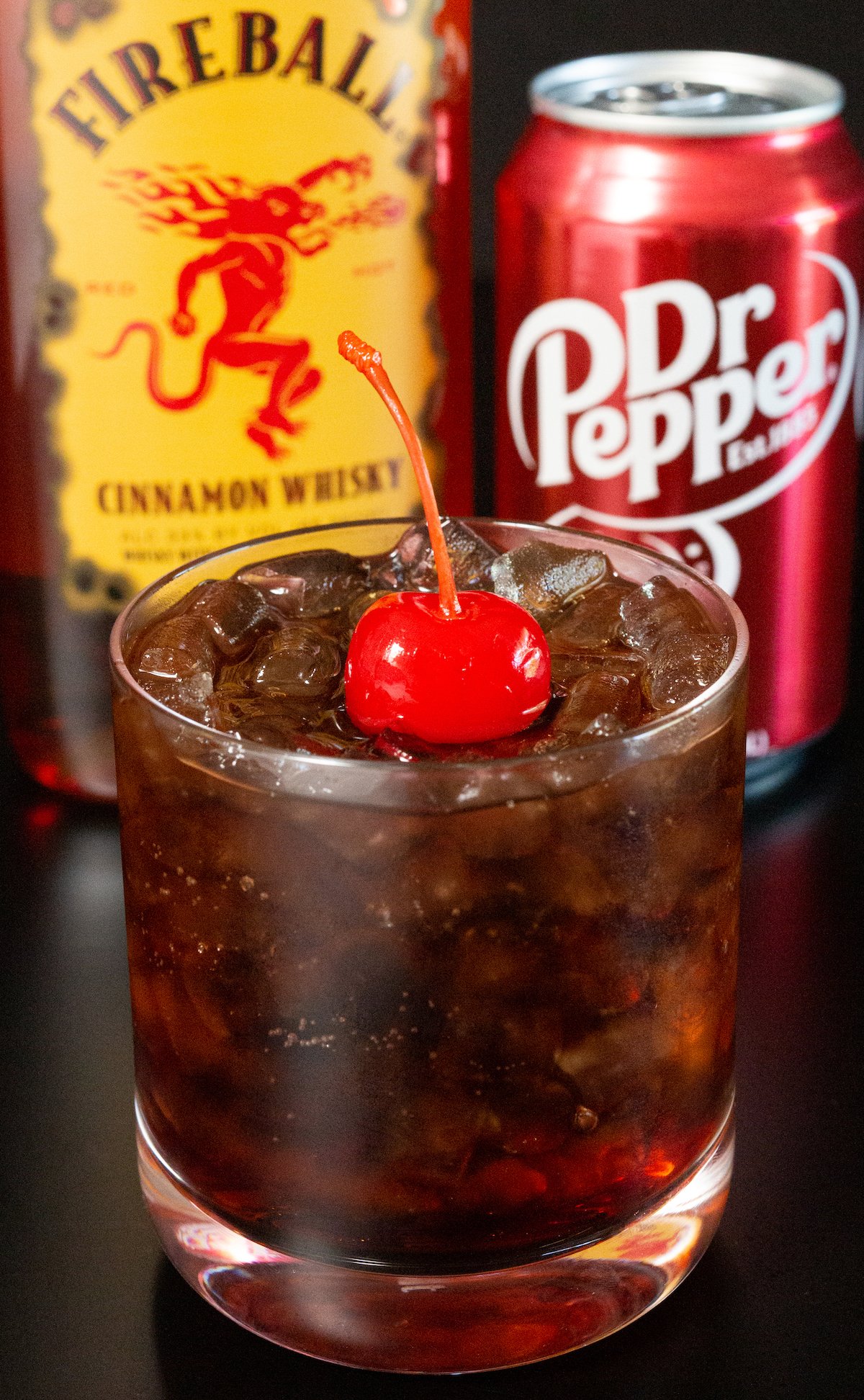 Soda and whisky has always been a staple in the cocktail world because the two are a great pairing.
Why? The sweetness of the soda balances out the smokiness and strong flavors of the whisky.
If you're a jack and coke fan looking to try something new, try Dr. Pepper and Fireball.
Ingredients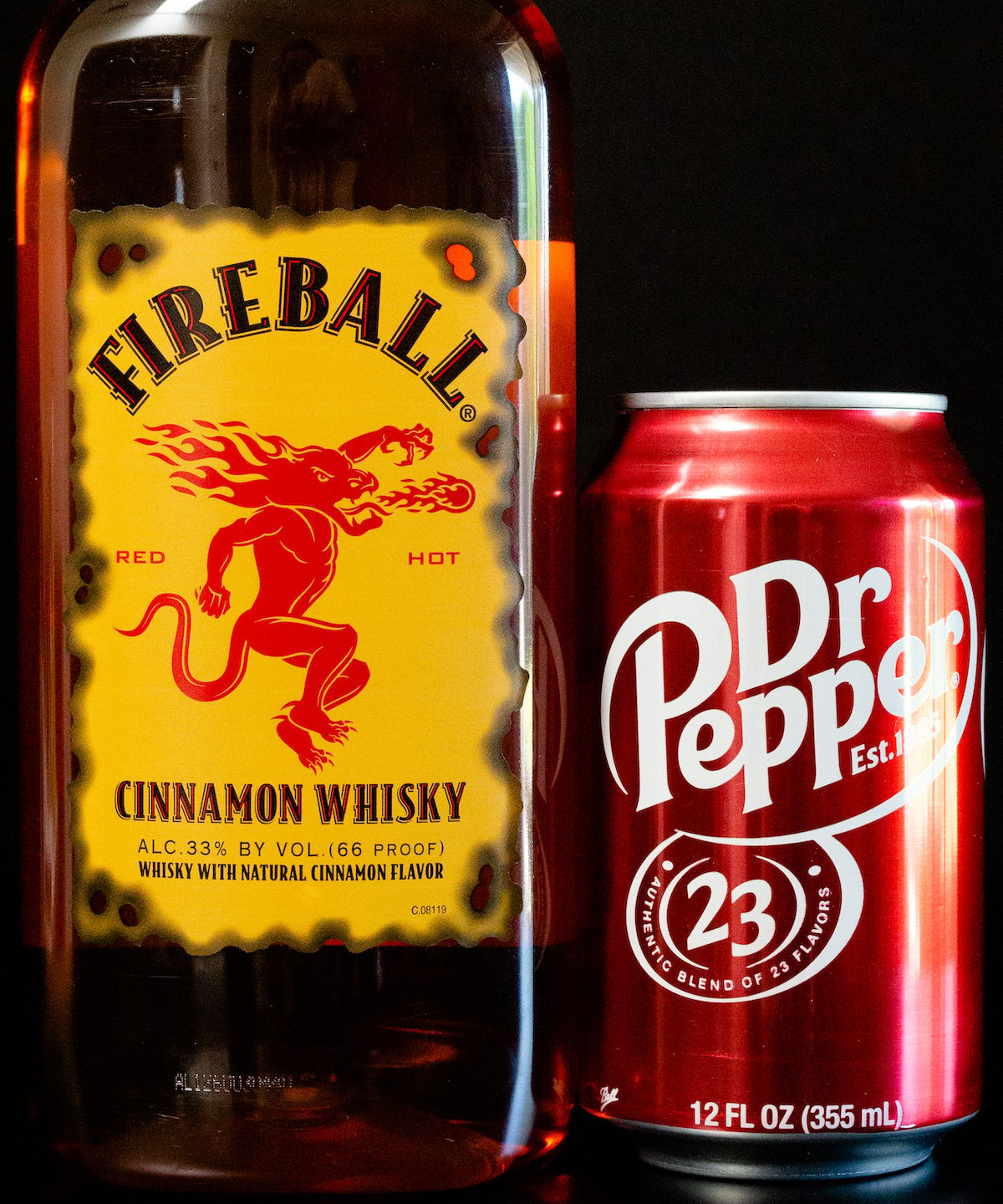 Fireball – You'll need Fireball or another cinnamon liquor. Goldschlager works too.
Dr. Pepper – I stock my home bar with cans of Dr. Pepper. You can also substitute another dark soda, if you'd prefer. Cherry coke is a great choice.
Ice – Any ice works. I make pebble ice with this ice machine.
Garnish – I never turn down a cherry on top, so I always opt for a maraschino cherry. This is totally optional.
This post contains affiliate links (when you buy we make a little money at no cost to you). See our disclosure for more information.
How To Make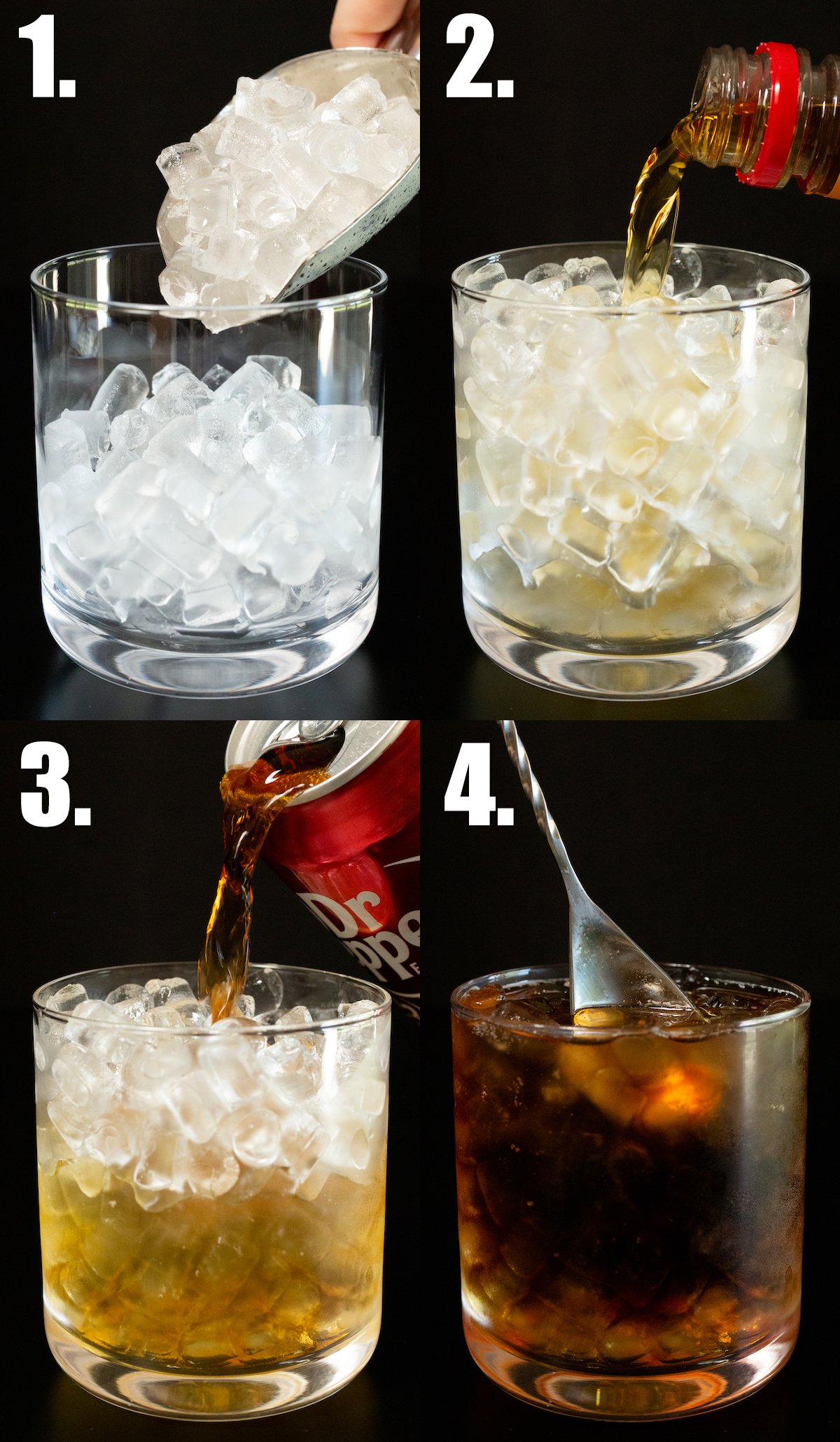 Add ice to a rocks glass.
Add Fireball whisky.
Fill with Dr. Pepper.
Stir with bar spoon.
Soda to Whisky Ratio
You can easily adjust the strength of this cocktail to your preferred level.
For a strong drink, do a 1:1 ratio – equal amounts of liquor and mixer.
For a lighter drink, do a 1:2 ratio – double the amount of mixer as liquor.
Tips
Instead of ice, pour the fireball and Dr. Pepper over a scoop of vanilla ice cream to make a boozy float.
Brighten it up with a squeeze of citrus – I like to use a lime wedge.
Experiment with adding liqueurs, like amaretto, for different flavor variations.
More Easy Cocktails
Other Whisky Drinks
Print
Fireball and Dr. Pepper
Cinnamon whisky and soda cocktail.
Author: Jessica Pinney
Prep Time: 2 minutes
Total Time: 2 minutes
Yield: 1 1x
Category: Cocktails
Cuisine: American
Ingredients
Ice
3 oz Fireball Whisky
3 oz Dr. Pepper
Maraschino Cherry (optional)
Instructions
Fill a rocks glass with ice.
Add the whisky, then fill to the top with Dr. Pepper.
Garnish with a cherry, if desired, and enjoy!