This no-bake dessert is one of the easiest pie recipes you'll ever make! A graham cracker crust filled with a rich pistachio pudding then topped with whipped cream and cherries.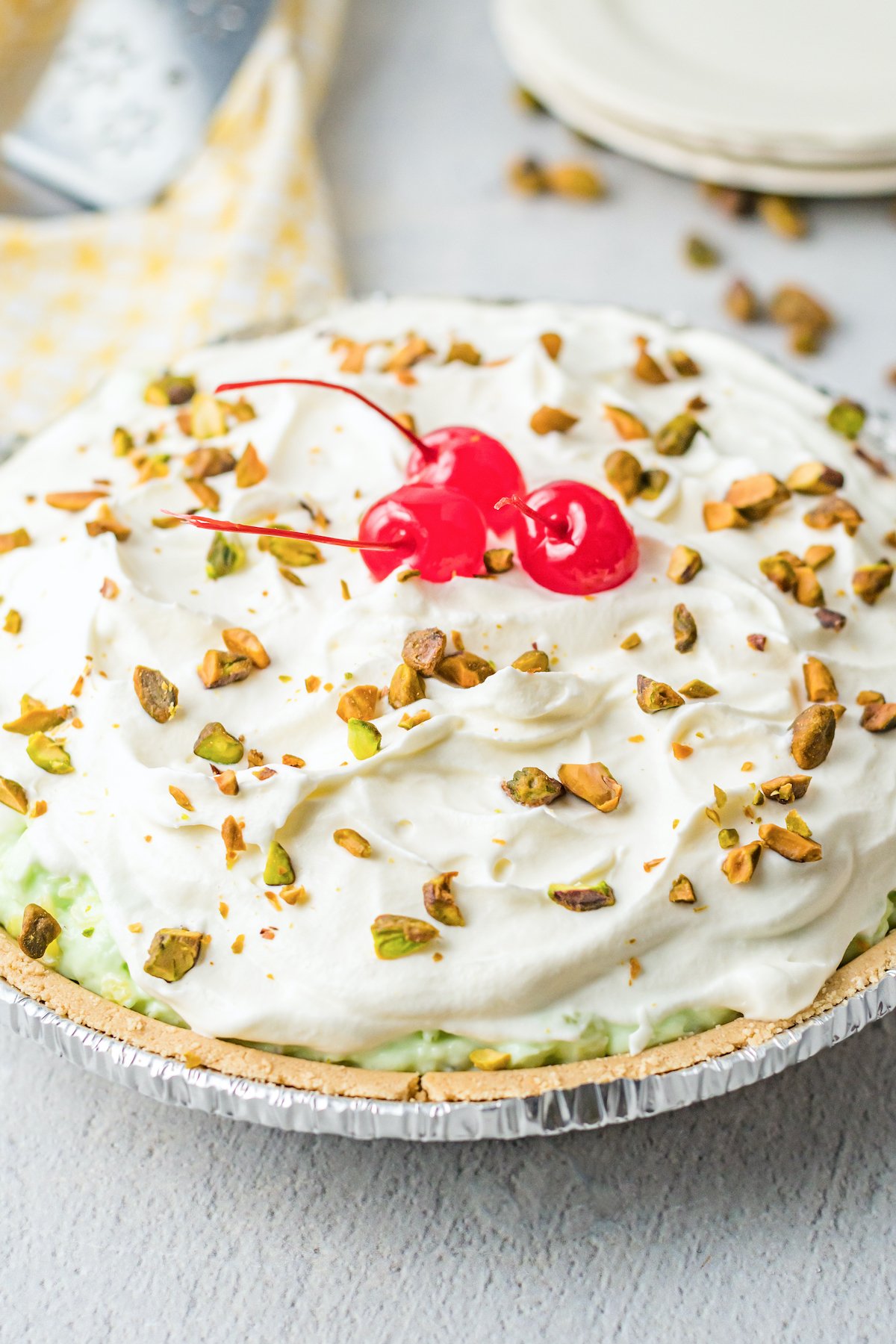 During the spring & summer I always find myself in need of easy dessert recipes that I whip up quickly to take to gatherings and events. If it's a no-bake recipe that's even better, because who really wants to turn the oven on when it's 100 degrees out?!
I recently shared my no-bake cookies & cream pie with you and it seems you guys liked it as much as I did, so I figured I'd share my next favorite one with you – this pistachio cream pie. I'm taking it with us to all the BBQs and picnics this year!
Why You Should Make This Recipe
It's the perfect make-ahead dessert you can keep in the freezer until you're ready to serve it.
You only need a handful of ingredients.
Kids and adults love it.
It travels well, so it's perfect to take to dinner parties and other social gatherings.
You don't even need to turn your oven on!
Ingredients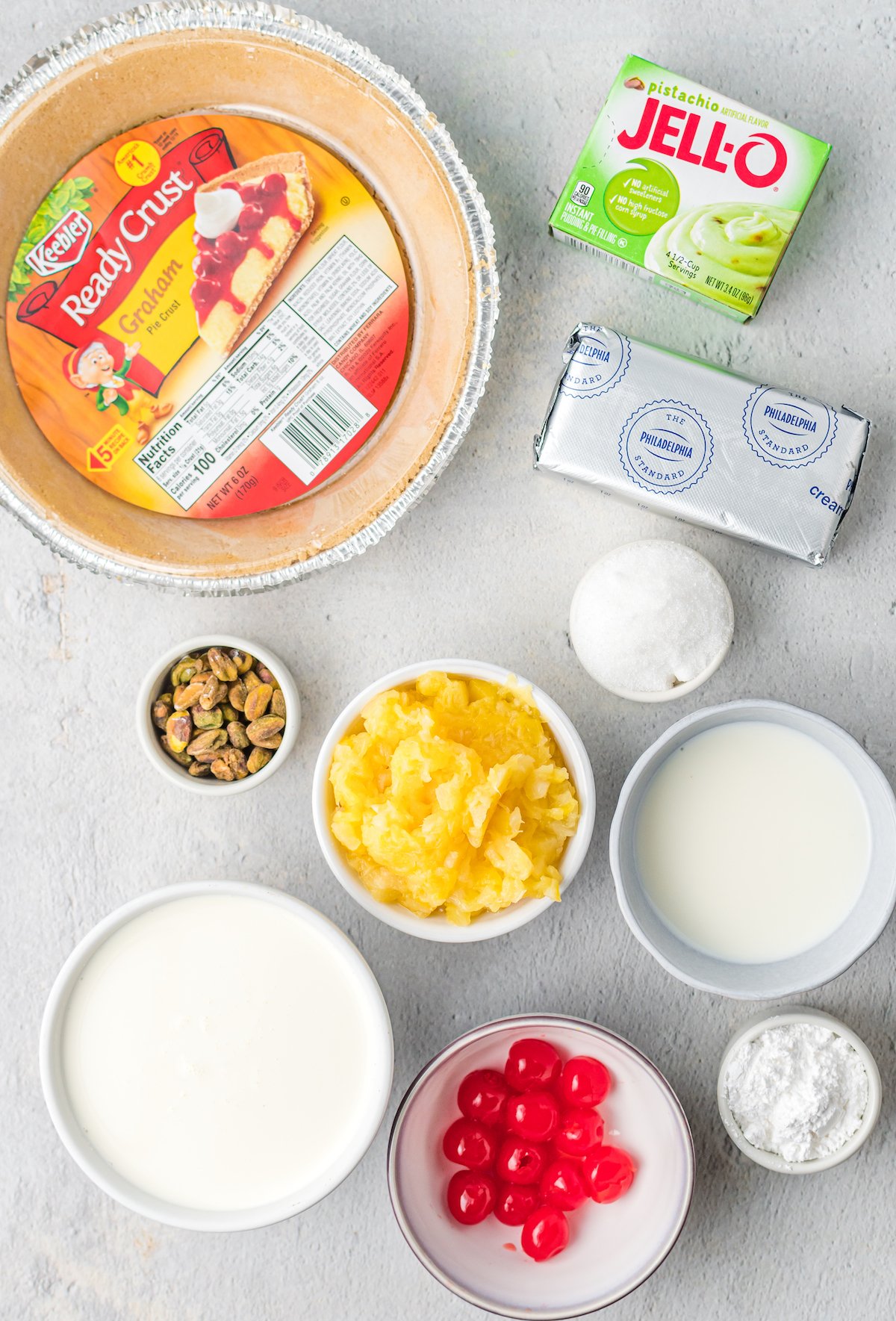 Graham Cracker Crust – To keep this recipe quick & easy, I purchase a ready-made graham cracker crust. Homemade can be substituted, if you'd prefer.
Cream Cheese – I recommend using full-fat cream cheese for optimal flavor, but you can substitute reduced fat.
Pistachio Pudding – The filling is made from Jello Pistachio Pudding mix. I don't recommend substituting this.
Heavy Cream – This will go in the pie filling to help make it set up. It will also be used to make the whipped topping. It can not be substituted.
Milk – The milk works with the heavy cream to help the filling set up. I recommend using whole milk.
Sugar & Powdered Sugar – For best results, sift both your sugar and powdered sugar (separately) to remove any clumps.
Pistachios – I use unsalted pistachios and buy them already shelled.
Crushed Pineapple – Canned crushed pineapple adds a bit of acidity and tang to this recipe that helps the pistachio "pop". You can leave it out if you'd prefer.
Maraschino Cherries – You can use stem on or off maraschino cherries. They can also be left out entirely, but I think they make a great eye catching garnish on this pie.
This post contains affiliate links (when you buy we make a little money at no cost to you). See our disclosure for more information.
Tips
Use Cool Whip to top the pie instead of making the homemade whipped cream to make this recipe even easier.
Make sure to drain your crushed pineapple very well. If there's too much liquid the pie will be soupy.
Want to make chocolate pistachio pie? Use a store-bought Oreo crust instead of the recommended graham cracker one.
Try mixing in other flavors. Some chopped mandarin oranges and coconut essentially make this an ambrosia pie!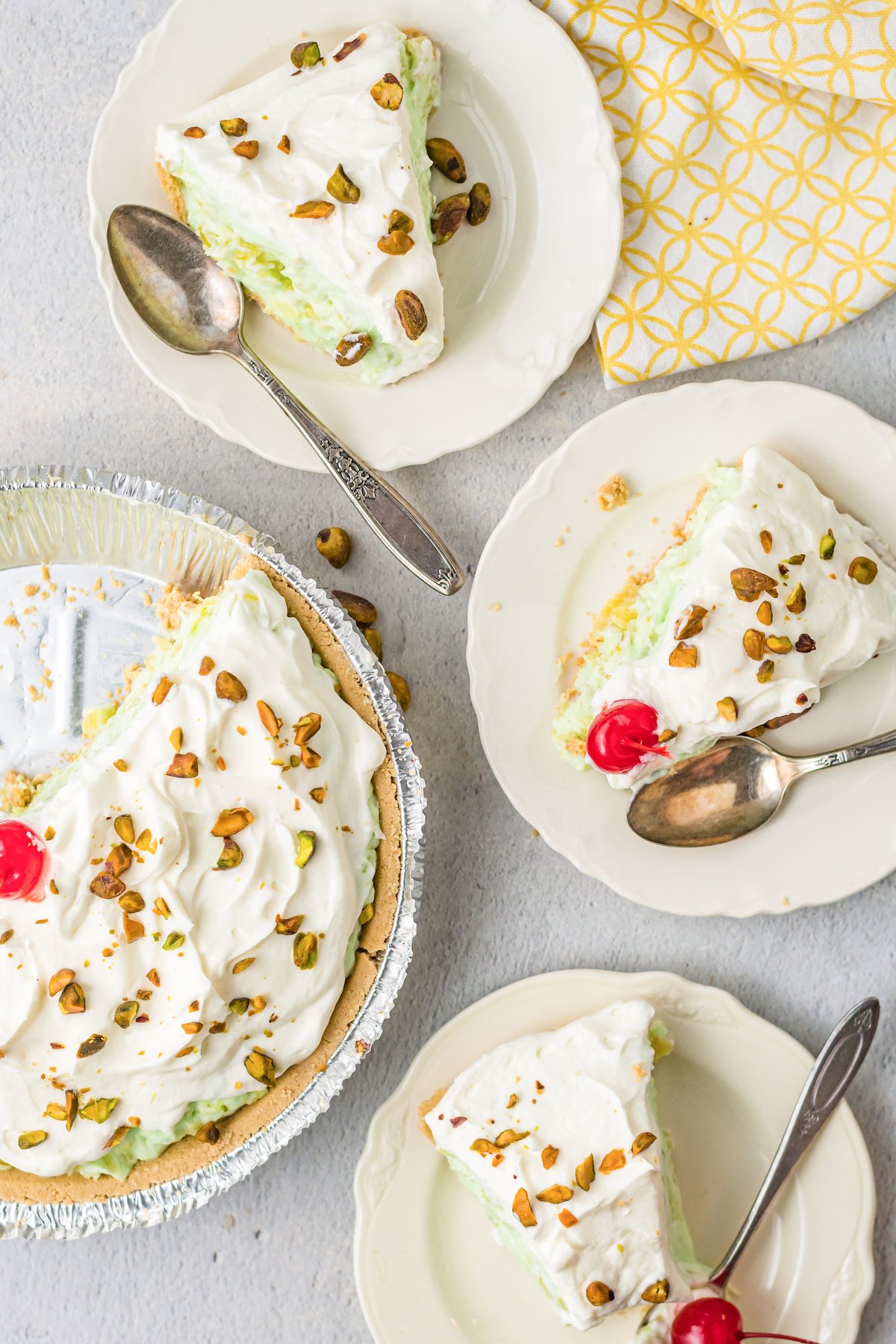 How To Store
Store this pie in either an airtight container or covered with saran wrap in the refrigerator for up to five days, or in the freezer for up to six months.
FAQs
How long will this pie last in the fridge?
When covered, pistachio pie will last in the refrigerator up to 5 days.
Can I freeze pistachio pie?
Yes, the pie can be tightly covered with saran wrap and kept in the freezer for up to 6 months.
Can I make it ahead?
Yes, the pie can be tightly covered with saran wrap and kept in the freezer for up to 6 months.
Can I use a different pie crust?
Absolutely. You can use any kind of pie crust you'd like – Oreo and shortbread are both great choices.
Related Dessert Recipes
Print
Pistachio Pie
A no-bake pie that features a graham cracker crust and a rich & creamy pistachio pudding filling.
Author: Jessica Pinney
Prep Time: 20 minutes
Refridgerate: 60 minutes
Total Time: 1 hour 20 minutes
Yield: 8 1x
Category: Dessert
Cuisine: American
Ingredients
1 8 ounce Cream Cheese
1 3.4 ounce Pistachio Pudding Mix
½ cup Milk
2 cups Heavy Whipping Cream
4 Tablespoons Granulated Sugar
1 8 ounce can Crushed Pineapple, drained
3 Tablespoons Powdered Sugar
2 Tablespoons Pistachios, chopped
12 Maraschino Cherries
Instructions
In a mixing bowl, whip the cream cheese, milk, and ½ cup heavy cream until combined and softened.
Add the pistachio pudding and granulated sugar and mix until well combined and thickened. Fold in the crushed pineapple.
Pour pudding mix into the pie shell and smooth out.
In a separate mixing bowl, pour the cup and a half of cream and the powdered sugar and whip till peaks form. Pour over the pudding and smooth out.
Decorate with maraschino cherries and sprinkle with pistachios.
Store in the refrigerator at least one hour, preferably overnight to achieve the best consistency.
Nutrition
Serving Size: 1
Calories: 378