I'm not usually a big pie eater, but I'd happily make an exception for a Pop-Tart pie!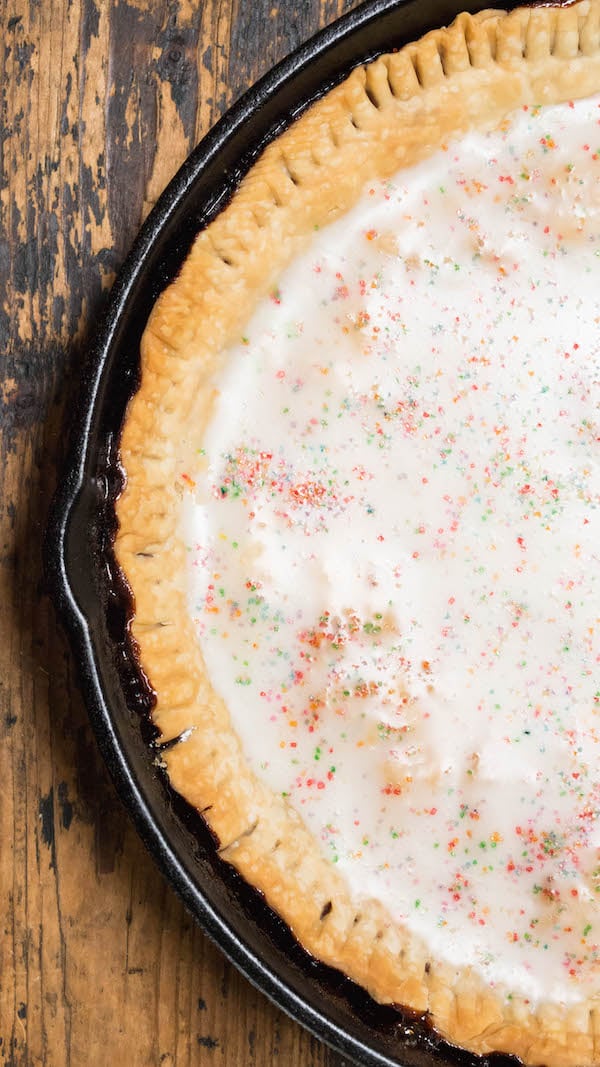 Strawberry Pop-Tarts were definitely my favorite Saturday morning breakfast as a kid. Sugar on sugar! I was hooked.
We rarely buy them now, because neither Janette nor I can handle ourselves when they're in the house. It only takes a few days for the whole box to disappear…
I love so many Pop-Tart flavors, but strawberry is my classic go-to.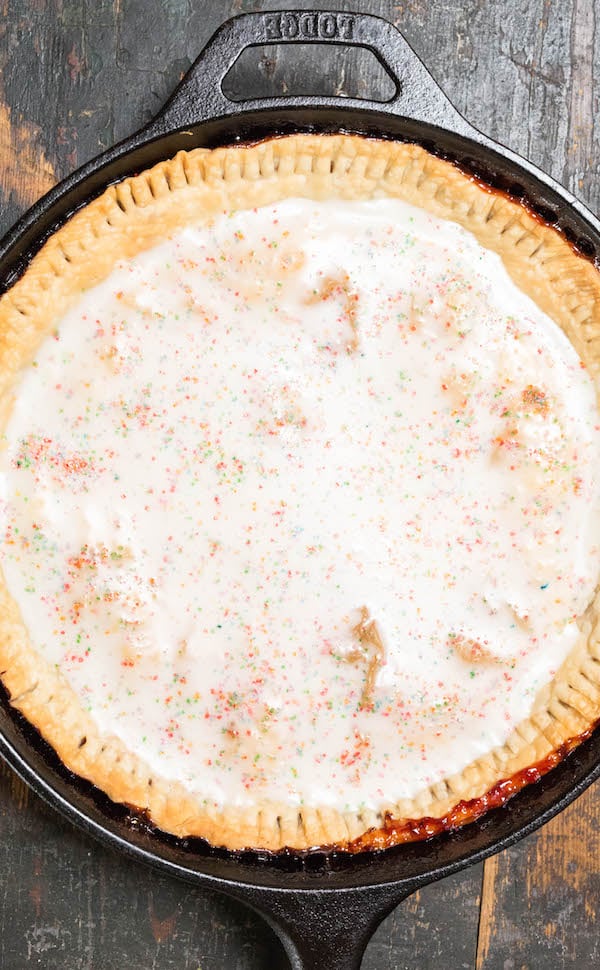 Pop-Tart Pie Ingredients:
Pie Crust
Strawberries
Sugar
Cornstarch
Milk
Powdered Sugar
Vanilla
Sprinkles
I didn't want to go to the trouble of making a pie crust from scratch, so I just grabbed a pack of Pillsbury crust at the store. Feel free to substitute a pie crust recipe of your choice and adjust the bake time accordingly.
I don't think Pop-Tart's strawberry filling is too complex, so I kept it simple relying on the flavor of fresh strawberries and a little sugar. I used a cornstarch slurry to thicken it slightly.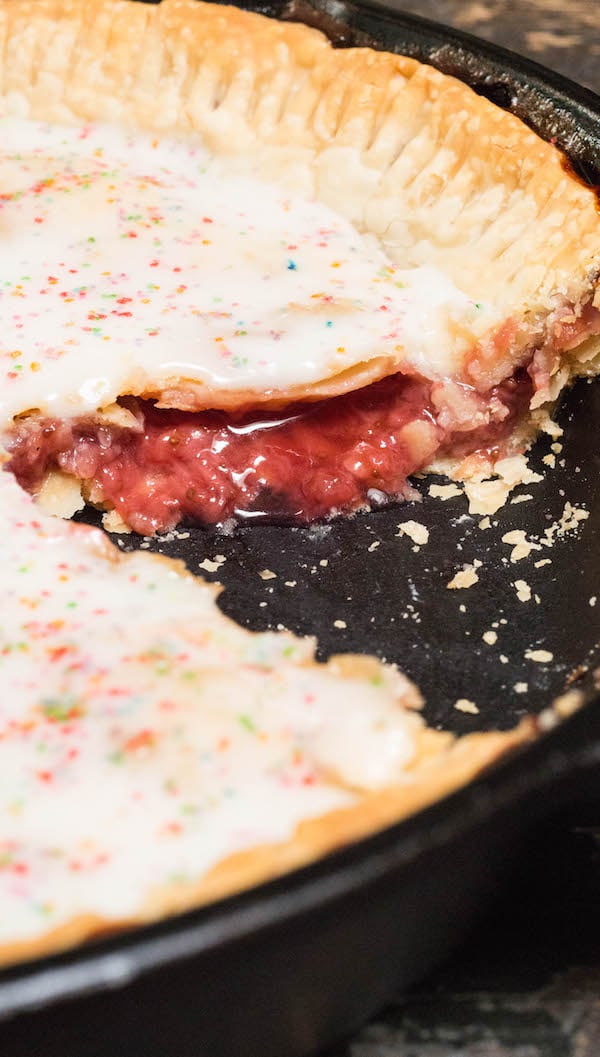 This post contains affiliate links (when you buy we make a little money at no cost to you). See our disclosure for more information.
The glaze is a simple powdered sugar and milk mixture. I searched high and low for sprinkles that looked like the ones on a real Pop-Tart. This rainbow sanding sugar was the closest I found. You could also use traditional rainbow sprinkles or rainbow nonpareils.
I baked this in my cast iron skillet, but you could also use a 10″ pie plate.
Print
Strawberry Pop-Tart Pie Recipe
This giant pie version of classic Strawberry Pop-Tarts is a must-make dessert recipe.
Author: Jessica Pinney
Prep Time: 40 minutes
Cook Time: 40 minutes
Total Time: 1 hour 20 minutes
Category: Dessert
Cuisine: American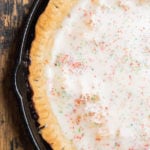 Ingredients
Pie
5 Cups Strawberries, sliced
1/2 Cup Sugar
Pinch of Salt
2 Tbsp Water
1 Tbsp Cornstarch
Non-stick spray
Pillsbury Pie Crust
Glaze
1 Cup Powdered Sugar
2 Tablespoons Milk
1/8 Tsp Vanilla Extract
Sprinkles (I used these)
Instructions
Pie
Add the sliced strawberries to a saucepan and sprinkle the sugar & salt evenly over the top. Let sit for 15 minutes while strawberries macerate.
Turn the burner on medium heat and allow the strawberries to simmer in their juices for about 15 minutes.
While it is cooking, make your cornstarch slurry. Add 1 Tbsp cornstarch to 2 Tbsp of water in a small bowl. Whisk together with a fork until smooth, slowly pour into the strawberry mixture while stirring constantly. Continue stirring for about 5 minutes, until the filling has thickened. Turn off the burner, remove from heat, and set aside to cool slightly. Preheat oven to 375 F.
Spray your cast iron skillet or pie plate with non-stick spray. Unpackage and unroll one of the Pillsbury pie crusts and lay on the bottom of the pan. After the filling has cooled for about 10 minutes, place it on top of the crust in the pie dish. Use a spatula to make sure it is evenly spread. Add the other pie crust over the top and use a fork to seal at the edges. Cut a small "X" in the middle of the pie so it can vent.
Bake in the oven for 30-40 minutes, until the crust is golden and filling is bubbly and thick. Allow to cool for at least two hours.
Glaze
Add powdered sugar, milk, and vanilla to a small bowl. Whisk together with a fork until smooth. Drizzle evenly over the top of the pie. Add sprinkles. Allow glaze to set for 10-15 minutes before cutting and serving.