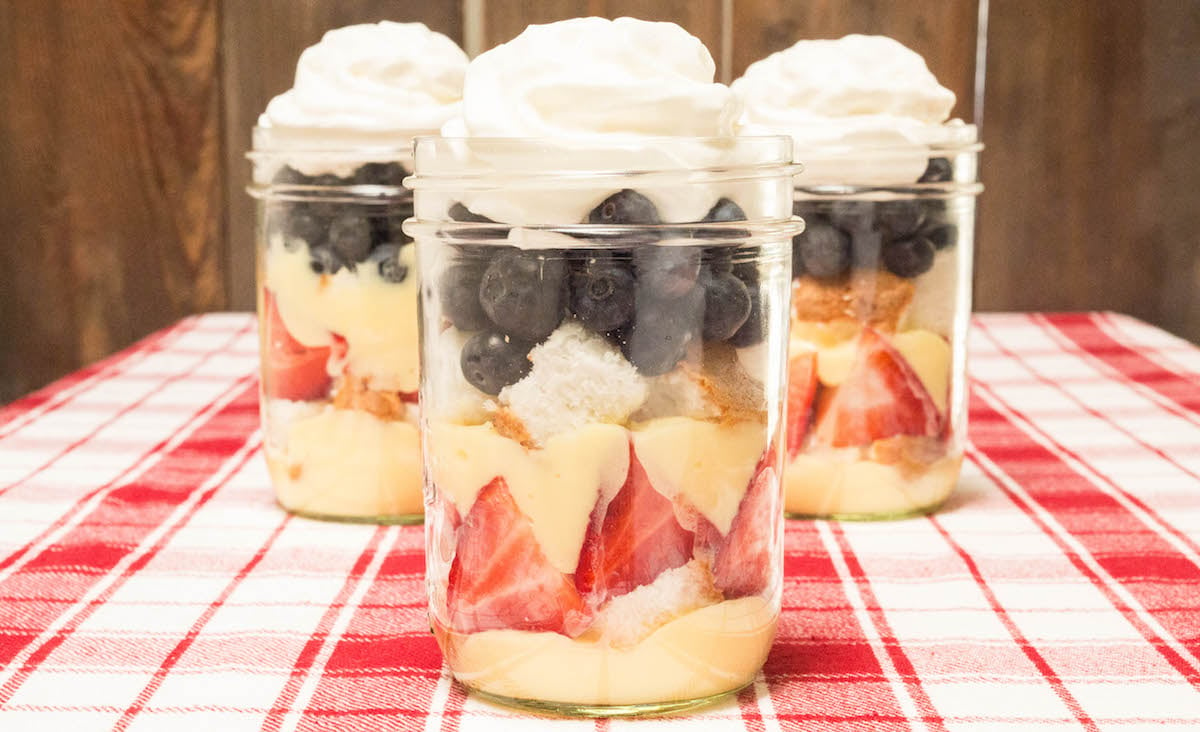 July 4th is one of my most favorite holidays.
It's all about grilling with friends and family, cracking open a cold one, and stuffing your face with some sort of berry filled dessert.
Oh, and there's usually a pool involved. Definitely necessary in the Southern California summer heat.
As much as I enjoy spending time with my loved ones, I'm going to be honest and cop to the fact that the berry filled dessert is my favorite part of the day.
I love classic Angel Food cake July 4th trifles, but those are soooo big! I'm just having a small get together and am not trying to challenge anyone to get diabetes. I decided to create a mini version.
The natural choice was to put Angel Food Cake Trifles in mason jars. They look adorable and travel easily. You can even get really cute with it and tie some festive red, white, and blue ribbons to the jar.
This post contains affiliate links (when you buy we make a little money at no cost to you). See our disclosure for more information.
Print
Mason Jar July 4th Angel Food Cake Trifles
Adorable mini July 4th Angel Food Cake Trifles served in mason jars. 
Author: Jessica Pinney
Prep Time: 20
Total Time: 20 minutes
Yield: 5 1x
Category: Dessert
Cuisine: American
Ingredients
1 Pre-made Angel Food Cake (you can also make your own with box mix)
3.4 oz Box Vanilla Pudding
2 Cups Milk
1 Cup Strawberries, washed & dried
1 Cup Blueberries. washed & dried
Whipped Cream
Instructions
Use the milk to make instant pudding according to directions. Set aside.
Cut Angel Food Cake into bite-sized squares.
Slice strawberries in half.
Place a layer of pudding in the mason jar (I used these). Add a layer of Angel Food Cake squares, then strawberries, more pudding, another layer of Angel Food Cake, then the blueberries, and top it off with whipped cream.
Serve immediately or refrigerate until ready to consume.