This recipe is sponsored by Farm Rich. All opinions are mine alone.
You know we like to get a little crazy around here and bring you recipes that are a bit "extra".
We're appetizer fanatics, so this time we started brainstorming different things we could do with our beloved Farm Rich Mozzarella Sticks.
If you haven't had Farm Rich Mozzarella Sticks here's what you need to know: they are delicious and oh-so-easy to make. The breading and seasoning on them is ?.
You can find the Farm Rich Mozzarella Sticks in the freezer section of your grocery store. Pop 'em in the oven anytime you want an easy appetizer, quick lunch, or my personal favorite – a late night binge!
Next to appetizers, our favorite food is probably tacos. I know everyone likes to celebrate Taco Tuesday, but in our house, it's more like Taco Tuesday, Taco Wednesday, Taco Thursday and sometimes Taco Friday. (I'm not even kidding!)
Tacos are pretty close to being a perfect food, but could we kick them up a notch? I thought so!
But how? With a glorious Mozzarella Stick shell, of course! ?
We decided to take those beautiful Farm Rich Mozzarella Sticks and waffle 'em to make a taco shell.
It's soooo incredibly easy to do and your friends and family are gonna think you're so flippin' cool when you serve it to them.
We left our mozzarella stick waffle whole, so it was like an XL taco. Bigger is always better, right?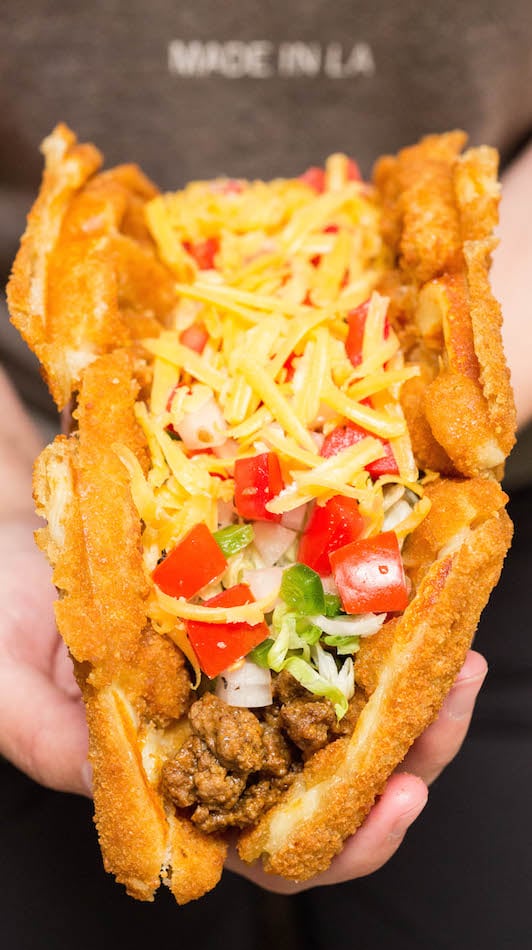 If you don't agree, you could definitely cut the waffle in half and make a more "reasonable" and not-nearly-as-fun sized taco.
We like to bake the cheese sticks, then butterfly them and then stack them on the waffle maker. If you put them in whole, you may find that your taco has a few holes in it.
We filled our Mozzarella Stick tacos with seasoned ground beef, lettuce, homemade pico de gallo, and more cheese.? (Get more recipe details below!)
I'd also love to try a chicken version with sauteed peppers and onions. Yum!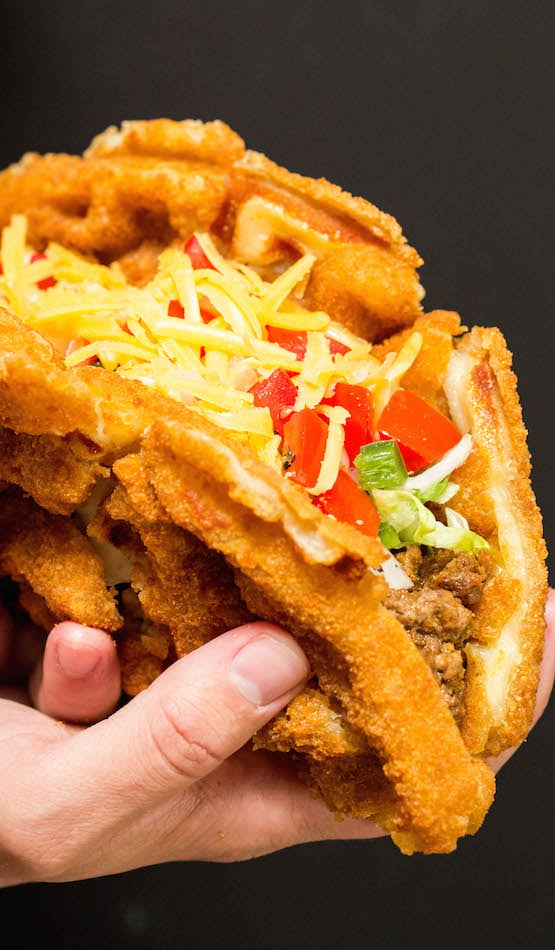 If you're making your own Mozzarella Stick Taco, what are you filling it with? Let us know so we can try it next time!
Print
Waffled Mozzarella Stick Tacos Recipe
A giant taco made using a waffled mozzarella stick taco shell. 
Author: Jessica Pinney
Prep Time: 5
Cook Time: 15
Total Time: 20 minutes
Yield: 1 1x
Category: Dinner
Cuisine: American
Ingredients
1 24 oz Box Farm Rich Mozzarella Sticks
1/3 lb Ground Beef (cooked with Taco seasoning)
Toppings (optional):
Lettuce
Pico De Gallo
Cheese (we used Monterey Jack & Cheddar)
Instructions
1.Place Farm Rich Mozzarella Sticks on a baking sheet. Bake at 450 degrees F for 10-11 minutes. Remove from oven and allow to cool for a few minutes.
2. Butterfly the Mozzarella Sticks by slicing in half long ways almost all the way through, but still leaving the two halves attached.
3. Lay the butterflied Sticks cheese side up around the waffle maker end to end, making sure to fill as much of the space as possible. Once full, lay more Mozzarella Sticks on top this time, cheese side down, so that once pressed, all the cheese will melt together and help hold the waffle form. This time, try laying the Sticks opposite of how you laid the first layer and in a circular configuration.
4. Press down and close your waffle maker. Cook the Mozzarella Sticks for 4-6 minutes. When Mozzarella Stick waffle is golden brown and sizzling, it is ready.
5. Carefully remove from your waffle maker and lay on cooling rack for a minute or two, until cool enough to handle.
6. Fill the Mozzarella Stick Taco shell with your seasoned beef, lettuce, pico de gallo, cheese, or other toppings.
7. Enjoy immediately.