This is a sponsored post written by me on behalf of Farmer John California Natural Fresh Pork. All opinions are 100% mine.
It's summertime and the living's easy!
We've been really enjoying soaking up the sun in our new backyard.
One of our favorite ways to spend an afternoon off is to grill on the patio while we play fetch with the dogs.
I was looking for something a little different than our usual grilled chicken, so I thought of doing something with Farmer John Fresh Pork, which I picked up at my local Smart & Final.
The "West Coast Original since 1931," Farmer John is a really great brand based right here in California. Their pork products are 100% natural with no added ingredients. We've been eating their thick-cut bacon and smoking their pork shoulders for years! This time I decided to go with their Boneless Fresh Pork Loin.
Pork loin is often cooked whole, but slicing it up and grilling is my personal favorite way to prepare it. When you slice, dice, or cube it into smaller pieces – it's so easy to grill, roast, sauté, and more – the possibilities are endless! It only takes about 10-15 minutes on a hot grill, so it's perfect for a quick summer lunch or dinner.
I like to sprinkle a little salt & pepper on both sides of the pork loin then slather it in BBQ sauce. You can marinate it in the bbq sauce if you want to, but I don't.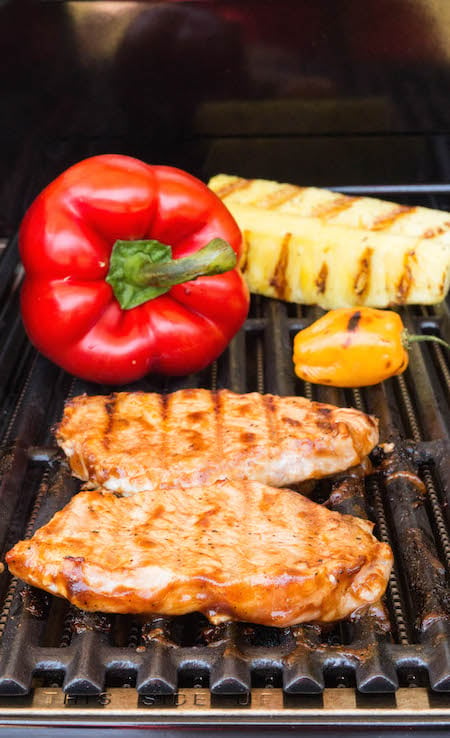 What makes these pork sliders really special is my grilled spicy pineapple slaw recipe. I throw a habanero, sliced pineapple, and red bell pepper on the grill to give them a nice sear and bring out flavor. All of those go in with the shredded cabbage and everything is tossed in a very light island-style dressing.
The flavor of the grilled slaw combined with juicy, bbq pork loin slices is "Mmmazing"! I love the little bit of heat the habanero gives it and the slight sweetness from the pineapple. Delish!
Grilled Pork Loin Sliders with Spicy Pineapple Slaw Recipe
Ingredients
1 Farmer John Boneless Fresh Pork Loin
1 Bottle BBQ Sauce
1 Pineapple (Peeled, Cored, & cut into wedges)
1 Head of Cabbage, shredded
1-2 Habaneros (depending on how spicy you want it)
1 Red Bell Pepper
1/3 Cup Mayo
1 Tablespoon Brown Sugar
1.5 Tablespoons Lime Juice
Pinch of Salt
1 Package of Hawaiian Rolls
Directions
Cut the Farmer John Boneless Fresh Pork Loin into 1" slices. Place slices face down on a cutting board and sprinkle each side with salt and pepper. Brush the top with bbq sauce.
Preheat the grill for 5-10 minutes on high heat.
Place pineapple wedges, habaneros, and the red bell pepper on the grill. Grill 5-8 minutes on each side until all items have a nice char or grill marks all the way around. Remove from the grill and set aside to cool enough to handle.
While waiting for those to cool, put your pork loin slices on the grill, bbq sauce side down. Baste some bbq on the naked side. Grill for 6-9 minutes on each side, until pork loin reaches an internal temperature of 145 -160 degrees F.
Chop the pineapple, habanero, and red bell pepper from earlier. Remove seeds. Place in a large bowl with the shredded cabbage. Add mayo, brown sugar, salt and lime juice. Stir together until well combined. (Note: slaw will get spicier and the flavors will blend best after it has been marinating 12-24 hours. You can make this in advance.)
Place cooked bbq pork loin slice on your Hawaiian roll. Top with the pineapple slaw. Enjoy immediately.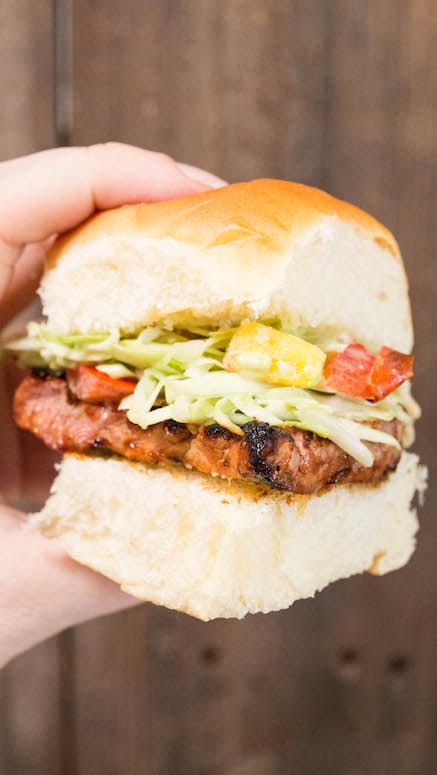 You can find Farmer John California Natural Fresh Pork at your local Smart & Final, as well as a variety of local grocery stores including Ralphs, Vons, Food 4 Less, Winco, and more. Visit www.FarmerJohn.com/where-to-buy for a full list of retailers near you.
For more product information and recipe inspiration, visit www.FarmerJohn.com.