Lemon chive mayo is a refreshing condiment that pairs well with seafood. It also makes a delicious dipping sauce for vegetables like french fries and steamed artichoke.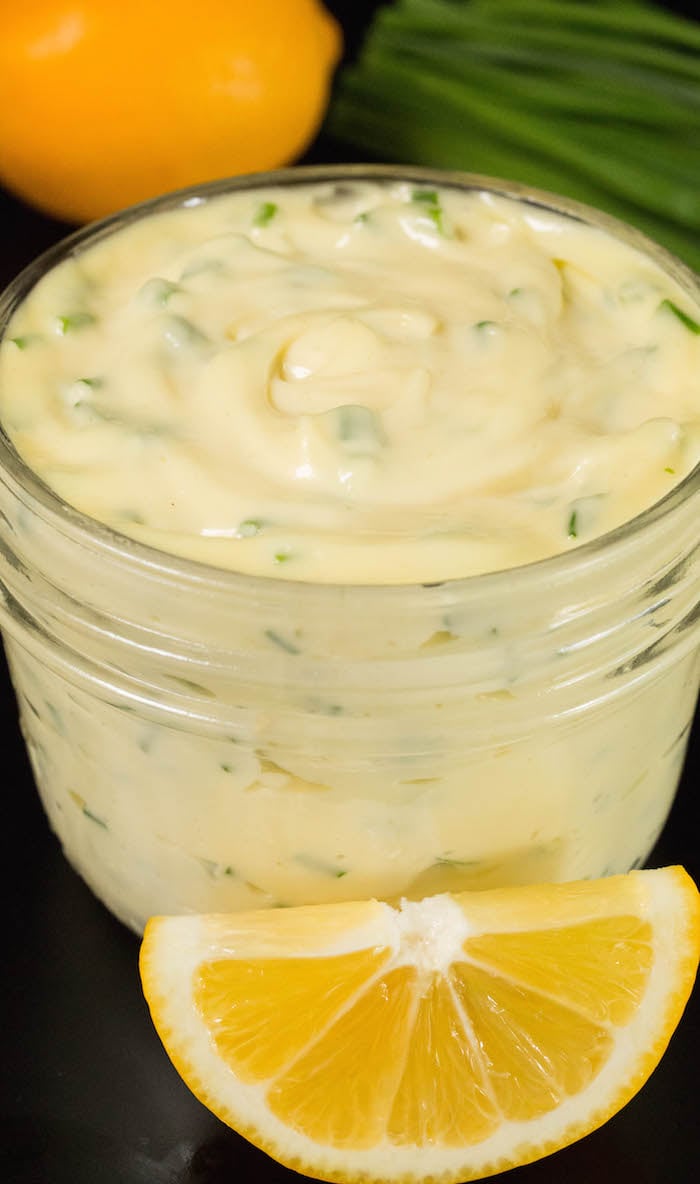 I've brought you guys a lot of Meyer lemon recipes because I have a giant tree in my backyard that produces an absurd amount of fruit. With so many lemons, I end up getting creative and making food that you may not typically think of being lemon "flavored". This homemade lemon chive mayo is a great example of that!
We really love dipping our fries in aioli, so at first, that is what we used it for. Recently, we tried it with some lobster rolls and OMG – it was heavenly! We plan on trying it with other seafood, like salmon and crab cakes, very soon.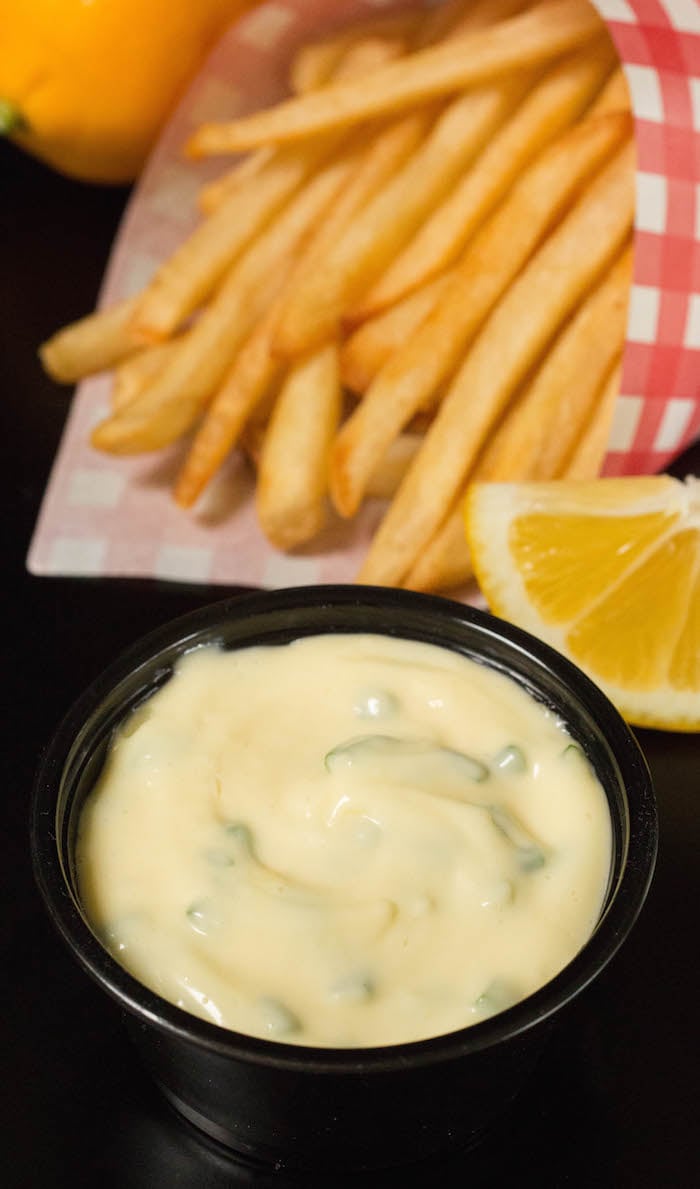 Ingredients
Lemon Juice – You'll want to use freshly squeezed lemon juice. I use Meyer lemons, but you can substitute standard grocery store lemons.
Egg – Mayo is largely comprised of egg. Fresh eggs are best. Make sure to leave the egg you're going to use out ahead of time so that it is at room temperature.
Oil – Oil is the other main ingredient in mayonnaise. Olive oil & vegetable oil are the most commonly used. If you use olive oil, make sure that it is real olive oil and not "extra-virgin". Avocado oil and sunflower oil are also good choices.
Mustard – Homemade mayonnaise often includes mustard because it helps to stabilize the condiment. I use dijon mustard because I think it's flavor adds a little desired "oomph".
Chives – Fresh chives complement and help bring out the lemon flavor. I have found that the thinner they are sliced, the better.
If you haven't tried to prepare homemade mayonnaise yet, don't be intimidated! It's actually quite easy to do and once you try it you'll never want to go back to store-bought. The consistency is far superior and the flavor is much richer.
Luckily, making mayonnaise only takes a few minutes and doesn't require any fancy tools.
Tools You'll Need
More Lemon Recipes
Print
Meyer Lemon Chive Mayo Recipe
Lemon chive mayo is a refreshing condiment that pairs well with seafood & french fries.
Author: Jessica Pinney
Prep Time: 10 minutes
Cook Time: 0 minutes
Total Time: 10 minutes
Yield: 16 1x
Category: Condiments
Cuisine: American
Ingredients
1 Egg, room-temperature
2 Tablespoons Lemon juice
1 Teaspoon Dijon Mustard
Pinch of Salt
3/4 Cup Oil
2 Teaspoons Chives, sliced thin
Instructions
Add the egg, lemon juice, mustard, and salt to your food processor. Process for about 10-20 seconds, until it is creamy.
Now we're going to add the oil. Start the food processor and pour the oil in a very slow, steady stream. This is the most important part when making mayo. After all the oil has been incorporated, stop the food processor.
Use a spatula to mix in the sliced chives. Store in the refrigerator in an airtight container until ready to use.
Notes
This recipe makes approximately 16 (1) Tablespoon servings.
Nutrition
Serving Size: 1
Calories: 95
Sodium: 12 mg
Fat: 11 g
Protein: .5 g
Cholesterol: 11.6 g