This thick & creamy lemon curd made with Meyer lemons and vanilla bean is a delicious citrus treat! Perfect for spreading on toast or using in desserts.
We're fortunate enough to have a Meyer Lemon tree in our backyard and this year it is loaded with hundreds of lemons. It is both a blessing and a curse – we love lemon, especially in desserts, but our tree is producing such an insane amount! How many things can I possibly create with them and what to make first?!?
After taking a break and a step back, I realized the logical thing to start with is lemon curd. It can be used in many different recipes. Some of my personal favorites are pastries, doughnuts, and cheesecakes.
I like to add vanilla bean paste to give my Meyer lemon curd a little "oomph". You could scrape out a vanilla bean instead if you have those on hand. You can also leave it out entirely if you'd prefer.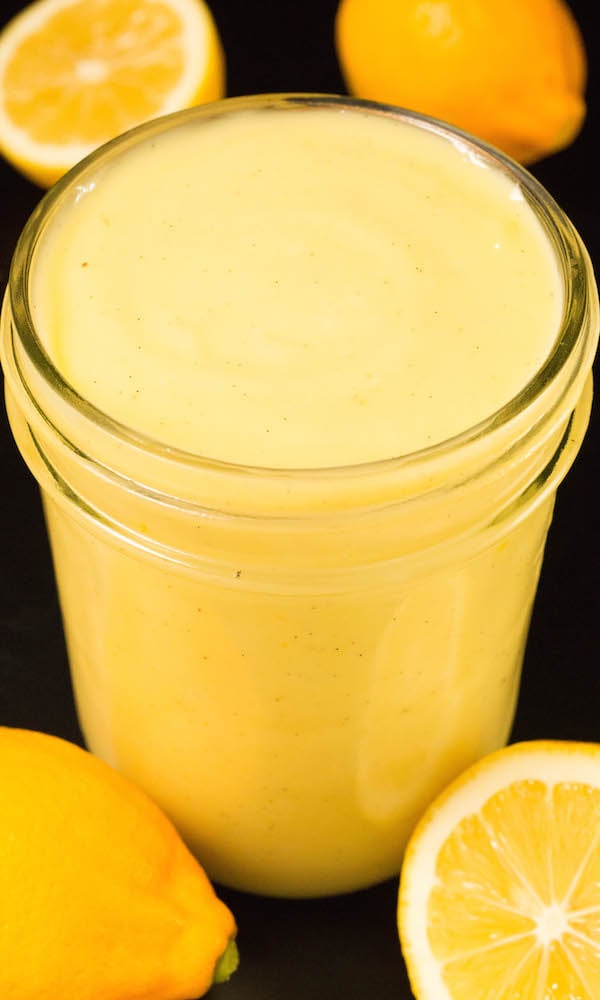 Ingredients
Meyer Lemon Juice
Eggs
Sugar
Butter
Vanilla Bean
How It Is Made
To make lemon curd, you'll need a double boiler. You can easily make one by using a saucepan with a glass bowl on top.
The idea is to put a few inches of water in the saucepan (a small enough amount that it does not touch the bottom of the glass bowl), then the water will steam and gently cook the lemon curd in the bowl.
FAQs
Can lemon curd be frozen?
Yes, it can be frozen. You can store it in the freezer for up to 1 year. Simply move it to the refrigerator to thaw out 48 hours before you intend to use it.
Can lemon curd be made ahead of time?
Yes, in fact, it is best after it has been refrigerated for at least a few hours.
How long does it last?
Lemon curd will last about 3-4 weeks when properly sealed and stored in the refrigerator. It can last even longer in the freezer.
Will lit thicken as it cools?
Yes. The curd should be thick enough to coat the back of a spoon immediately after cooking. It will continue to thicken as it cools.
More Meyer Lemon Recipes
Print
Meyer Lemon Curd
Lemon curd made with Meyer lemons and vanilla bean. Perfect for spreading on toast or using in desserts like cupcakes and donuts.
Author: Jessica Pinney
Prep Time: 10 minutes
Cook Time: 15 minutes
Total Time: 25 minutes
Yield: 12 1x
Category: Dessert
Cuisine: English
Ingredients
1 Cup Meyer Lemon Juice, freshly squeezed
3/4 Cup of Sugar
4 Large Eggs
4 Large Egg Yolks
10 Tablespoons Butter, cubed
1 Tablespoon Vanilla Bean Paste
Instructions
Add lemon juice, sugar, eggs, and egg yolks to a medium heat-proof bowl (I use glass pyrex). Whisk until combined.
Place the bowl over a sauce-pan with steaming water to make a double-boiler. Whisk until it is thick and reaches 160F (use an instant read thermometer to check). Add the cubed butter and whisk until well combined. Whisk in the vanilla bean paste.
Remove from heat & cover the Meyer lemon curd with plastic wrap, ensuring that the wrap is directly on top of the curd's surface. Transfer to your refrigerator and wait until completely cool before using.