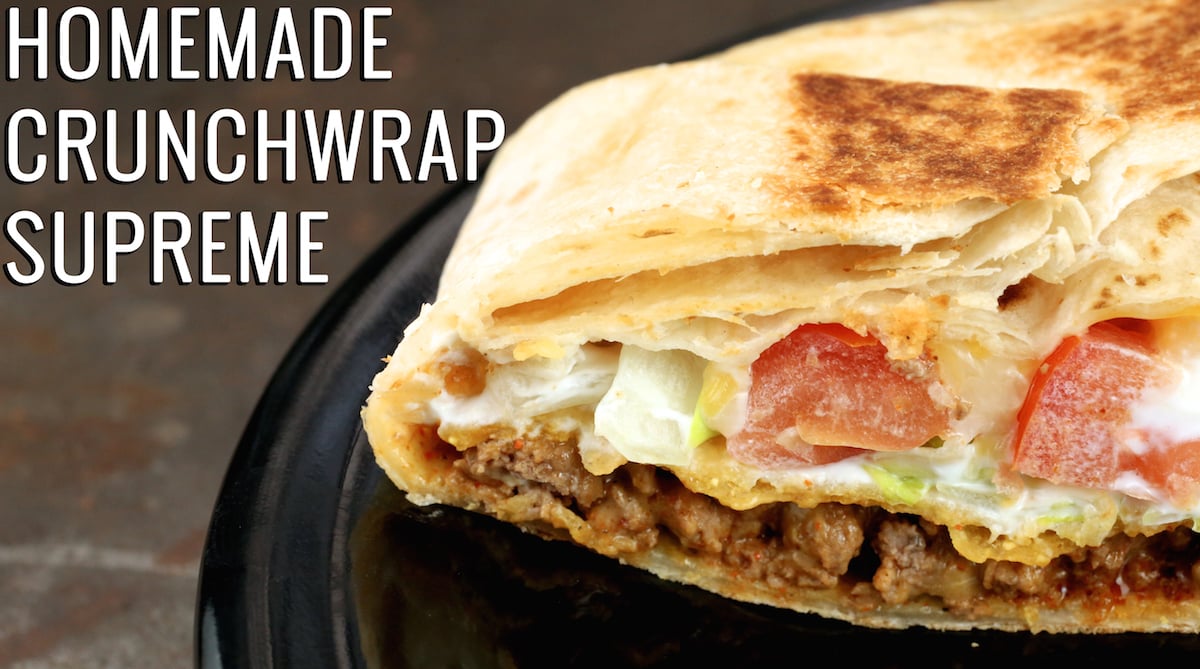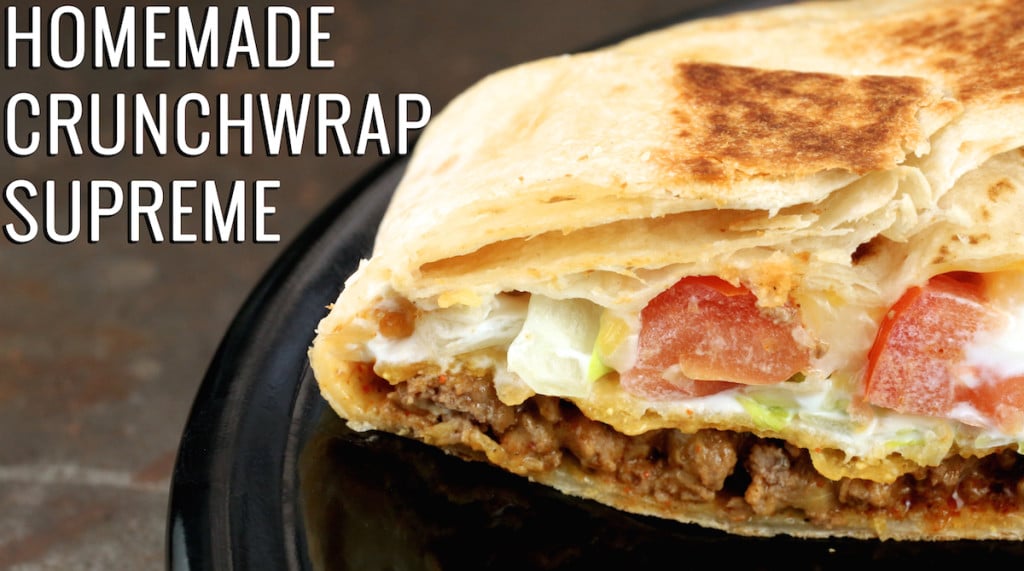 You can now make everyone's favorite Taco Bell item, the Crunchwrap Supreme, at home with this easy to follow recipe. Just like the fast-food version, this homemade Crunchwrap Supreme is packed with all the toppings!
Jess and I have been talking about making a homemade Crunchwrap Supreme for over a year now. We are proud to announce that it has finally happened!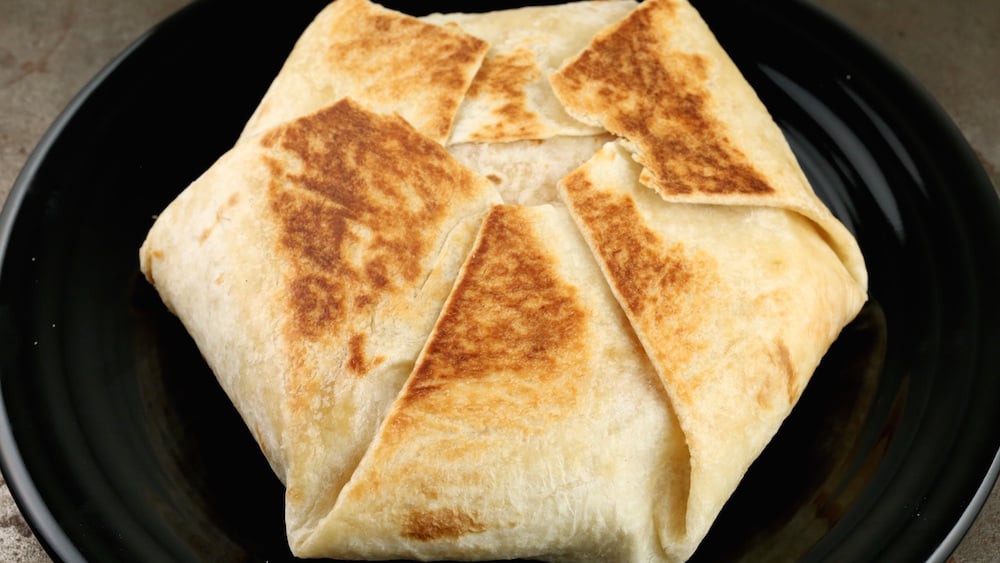 We were so excited about the accomplishment we ate one for lunch AND for dinner 😉 (hey, we shared).
We do try and stay away from eating fast food as much as possible, but once in a while, it's necessary to indulge. It's even better when you can make it at home with high-quality meat and fresh veggies from your local grocery store.
I won't lie though, I still slathered my share with leftover fire sauce from a previous visit to Taco Bell. ?
This was super easy to make and, I'll say it, better than the original! You guys seem to really love it too because it has become the most popular recipe on our site receiving millions of views!
We get comments and e-mails daily for readers telling us how much they and their families enjoy this homemade version of the crunchwrap supreme. Some have even tweaked it to their liking or made it fit their diet by creating a vegetarian/vegan version. Be sure to scroll down and read the comments to find those!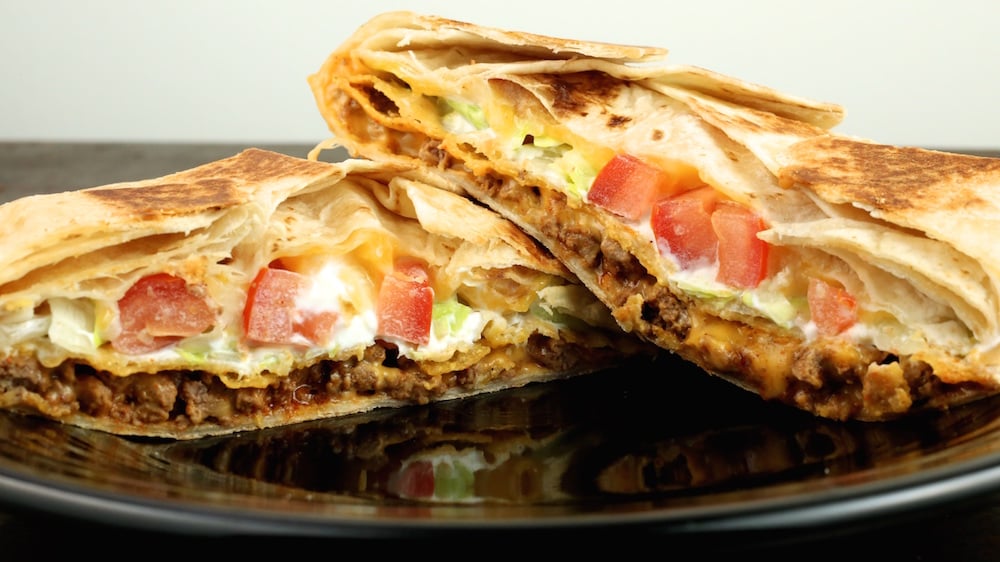 Wondering what all goes in a Crunchwrap Supreme? The answer is a lot. I think that's why everyone likes it so much. It's the ultimate taco bell treat!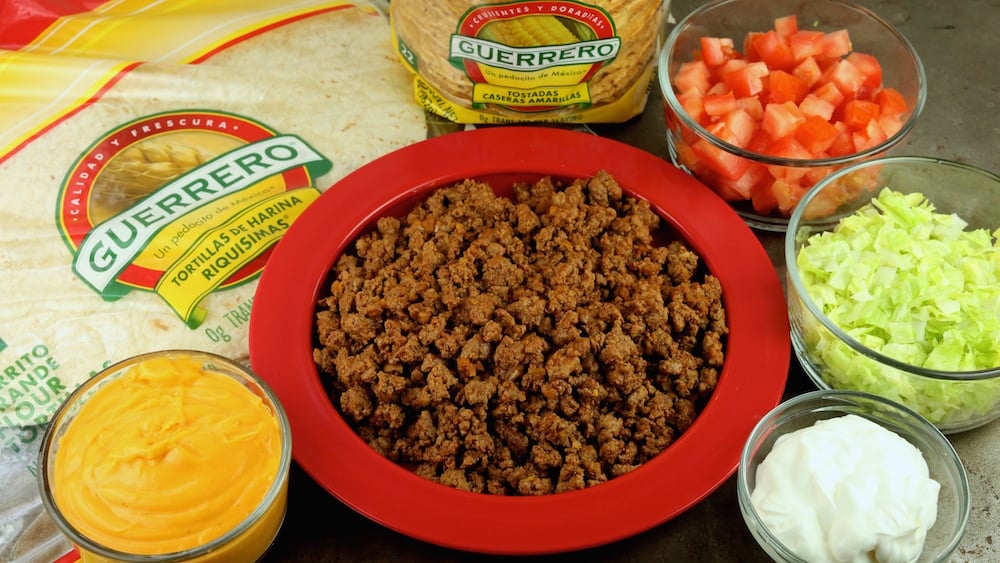 This post contains affiliate links (when you buy we make a little money at no cost to you). See our disclosure for more information.
Crunchwrap Supreme Ingredients:
Taco Meat
Sour Cream
Shredded Lettuce
Diced Tomato
Shredded Cheese


Other Homemade Taco Bell Recipes:
More Copycat Recipes:
Print
Homemade Crunchwrap Supreme Recipe
Make Taco Bell's famous Crunchwrap Supreme at home with this easy recipe. 
Author: Jessica Pinney
Prep Time: 10 mins
Cook Time: 15 mins
Total Time: 25 mins
Yield: 6 1x
Category: Dinner
Cuisine: American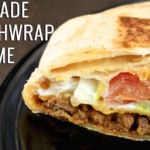 Ingredients
1 lb ground meat
1 packet taco seasoning mix
6 burrito size flour tortillas
1 cup of sour cream
2 cups of shredded lettuce
1 diced tomato
1 cup shredded Mexican cheese blend
Instructions
In a skillet or large cooking pan, cook and crumble the ground beef over medium-high heat. When it is no longer pink, drain the grease.
Place meat back into the pan and stir the taco seasoning mix as well as the water it calls for on the packet. Cook according to the package instructions.
Warm up the nacho cheese sauce in the microwave and set aside.
Place the flour tortillas on a plate and warm in the microwave for about 20 seconds.
Lay one tortilla on a flat surface. Spread a couple of tablespoons of nacho cheese in the middle of the tortilla.
Place ½ cup of taco meat on top of the nacho cheese.
Next, add the tostada shell, a thin layer of sour cream, lettuce, tomato, and lastly, the shredded Mexican cheese.
To fold into the actual crunchwrap, start with the bottom of the tortilla and fold the edge up to the center of the fillings. Keep doing that, folding as tight as possible, as you work your way around the tortilla.
Spray another skillet or cooking pan with cooking spray and heat over medium heat. Place the crunchwrap supreme, seam-side down, onto the skillet. Cook for 2-3 min., or until golden brown.
Flip over and cook the other side for another 2-3 min or until golden brown.
Cook the rest of your crunchwraps and eat immediately.