This quick and easy breakfast recipe uses an air fryer to cook toast filled with yogurt custard. Fresh fruit, chocolate, and other toppings can be used to customize it.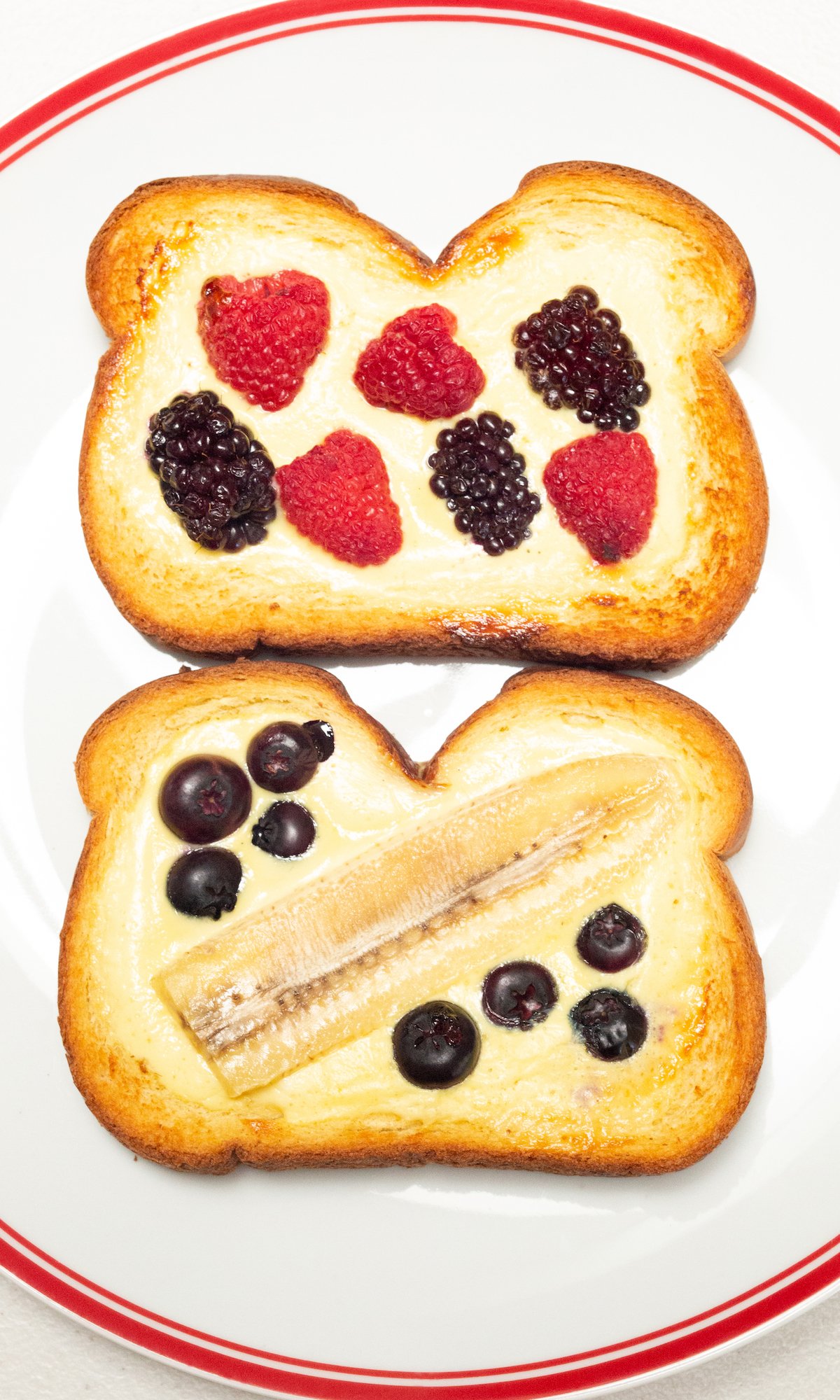 I don't know about you, but I use my air fryer to make breakfast more than anything else. It's the quick and easiest way to make a fresh, hot breakfast with the least amount of clean up.
When I saw this air fryer custard toast trending all over TikTok, I knew I had to try it. Not only did it sound delicious, but I almost always have the 3-4 ingredients you need to make it on hand.
If you don't have an air fryer but still want to try it out, I'm including instructions on how to bake it in your oven. It'll take a little longer, but it's still worth it!
Ingredients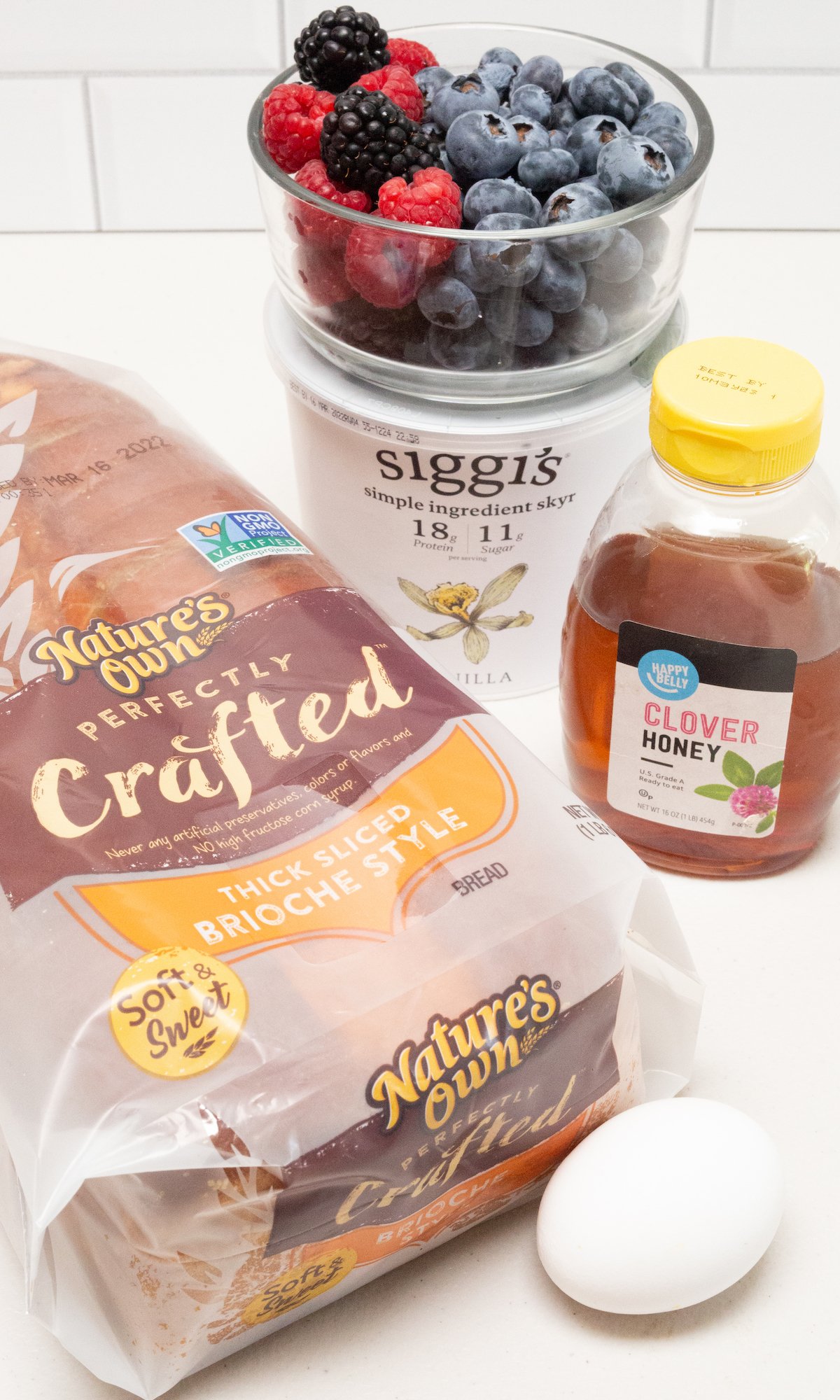 Bread – You'll want to use bread that is fairly soft so it is easy to make a well for the custard. I like brioche or a crusty French loaf.
Yogurt – A thick yogurt like Greek or Icelandic Skyr works best.
Egg – I used a large egg, but you should be able to substitute a medium sized if that's what you have on hand.
Sweetener – The custard mixture needs a bit of sweetness added. I prefer honey or maple syrup.
Fruit – You can use any kind of fresh fruit that you'd prefer. I like berries and bananas.
How To Make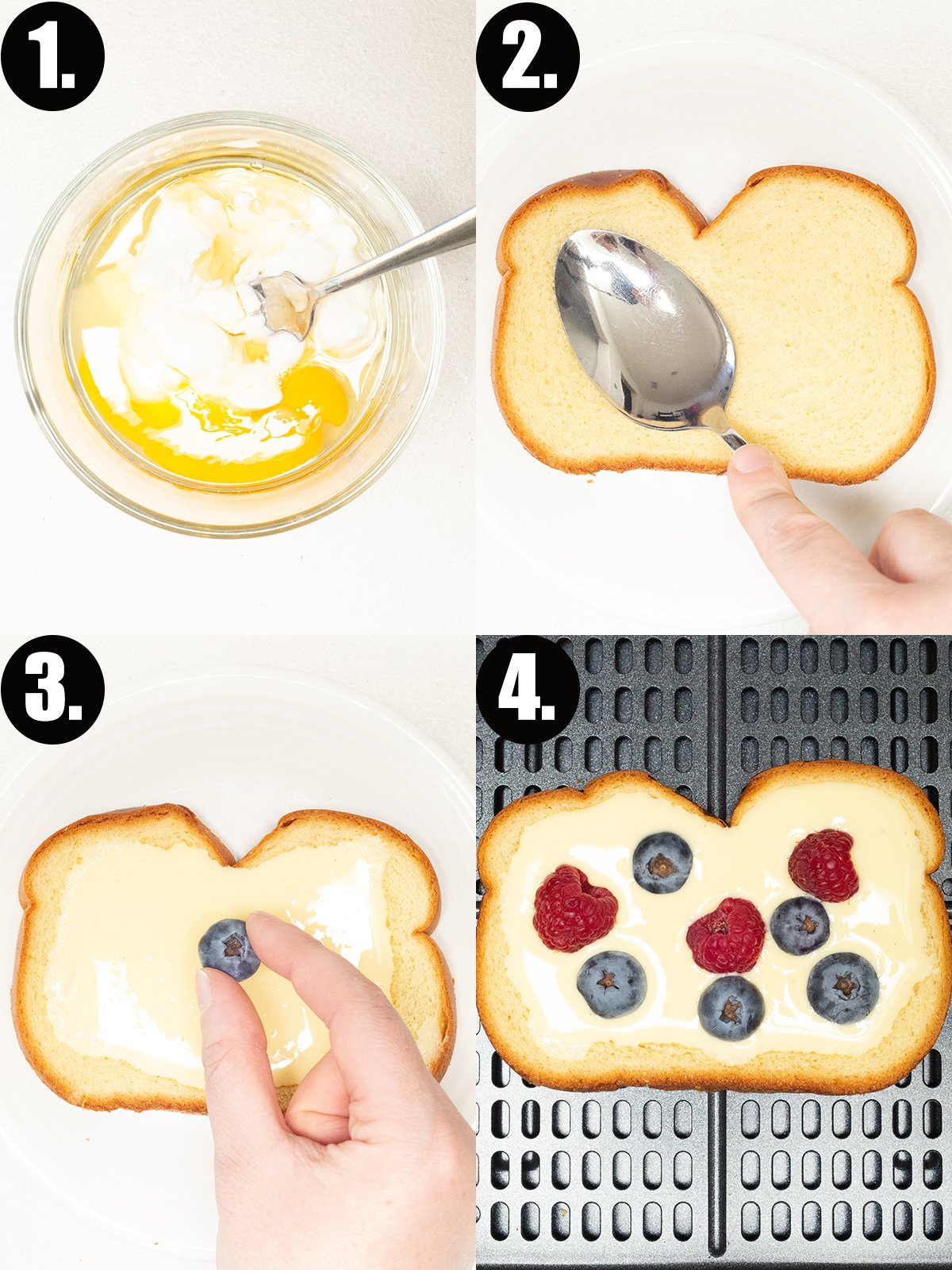 Mix egg, yogurt, and honey or syrup together.
Use a spoon or your fingers to press down the middle of your bread and make a well.
Fill the well with custard mixture & top with fruit.
Air fry on 375F for 8-10 minutes, until toast is brown and custard begins to caramelize around the edges.
Custard Toast without Air Fryer
This recipe cooks the fastest in an air fryer, but you can also cook it in your oven. Simply preheat to 400F, then bake the toast on a baking sheet for 10-15 minutes, until custard starts to caramelize.
Tips
Need more flavor? Experiment with different add-ins like vanilla bean paste, chocolate, citrus zest, and cinnamon.
Want to make it ahead of time? Cook this yogurt toast the night before then store it in the fridge. Enjoy it chilled the next morning.
Feeding a crowd? Make big batches of these by filling up a sheet pan of toast and baking it via the oven method.
More Breakfast Recipes
Print
Custard Toast (Yogurt Toast)
Toast filled with yogurt custard & fresh fruit, then cooked in an air fryer.
Author: Jessica Pinney
Prep Time: 5 minutes
Cook Time: 5 minutes
Total Time: 10 minutes
Yield: 1 1x
Category: Breakfast
Cuisine: American
Ingredients
2 Slices of Bread
1/4 Cup Greek Yogurt
1 Egg
1 Tablespoon Honey
Toppings (fruit, chocolate, cinnamon, etc)
Instructions
Pre heat your air fryer to 375F.
In a small bowl, whisk together the egg, yogurt, and honey.
Take a piece of bread and press down the middle with a spoon or your fingers to make a well.
Fill the well with your custard mixture and add desired toppings.
Place the toast in your air fryer and bake for 8 minutes at 375F. Check the toast at the end of the 8 minutes. If it hasn't started to brown and caramelize on the edges, put it back in for another minute or two.
Serve and enjoy!