Savory, salty pretzel bites made in the air fryer are going to be your new favorite snack! Perfect for movie nights at home.
We've been finding ourselves having more and more "Netflix and chill" date nights. That means we're constantly trying to resist the urge to waste money on delivery food! One easy way we've found to accomplish that is planning a fun cooking project to make a snack of our own.
Lately, our favorite has been these little pretzel bites. They're mini-bite sized versions of soft pretzels with a slightly crispier exterior. If you're craving something salty, crispy, and savory – they'll hit the spot every time!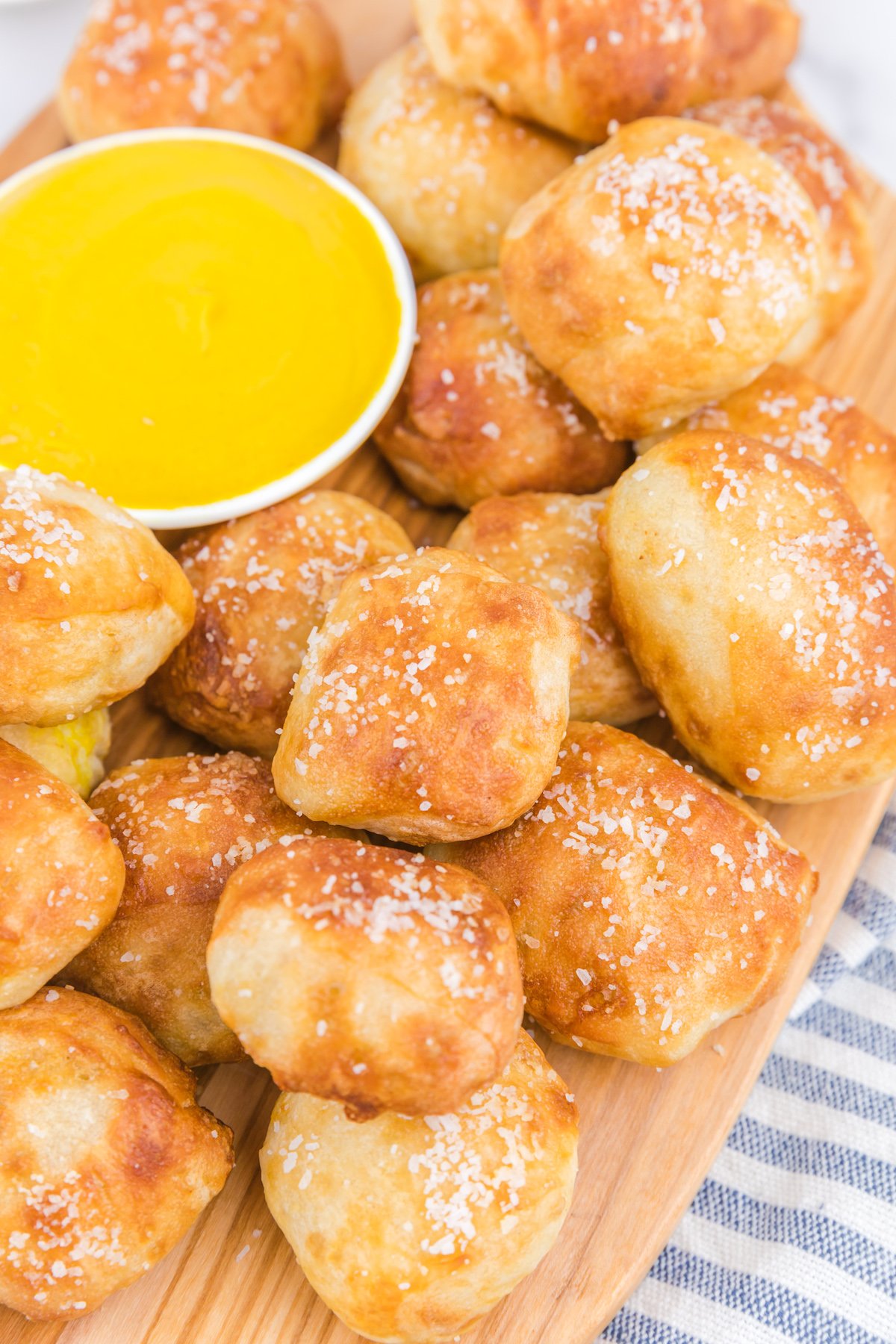 The best part? You don't even have to turn the oven on because these guys bake right in the air fryer!
That makes them ideal for the summer time when you don't want to warm the house up. Or for when your oven is already occupied and you want to make a quick appetizer.
So, no matter if you're binge-watching your favorite show or entertaining a crowd on game day, these air fryer pretzel bites are sure to be a crowd pleaser!
Ingredients
Yeast – I used dry yeast in this recipe.
Flour – Be sure to use all-purpose flour.
Sugar – Standard granulated white sugar works best in this recipe.
Salt – Use table salt in the dough and coarse sea salt to top the pretzels.
Baking Soda – Make sure you use baking soda, not baking powder.
Butter – Use unsalted butter. Otherwise your pretzels might be too salty.
This post contains affiliate links (when you buy we make a little money at no cost to you). See our disclosure for more information.
How To Make
Dough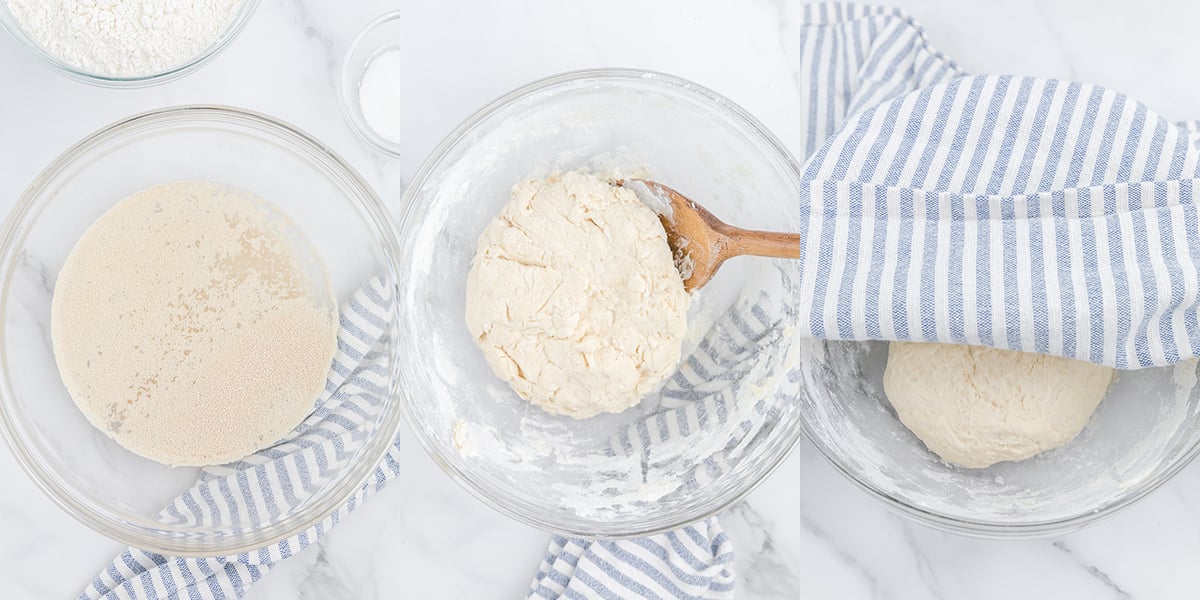 Start by making the dough. We'll add the yeast to lukewarm water and let it proof, then add it to a mixing bowl with the flour, sugar and salt.
After it's mixed into a dough, place it on a flat, clean surface and knead for a few minutes. Place it in a clean mixing bowl with a dish towel over the top. Allow it to rise in a warm place for about 30 minutes.
Pretzels
While the dough is resting, prepare the baking soda bath. Add the baking soda to the remaining water in a microwave safe dish. Microwave for 2-3 minutes, until it comes to a boil. Very carefully remove it from the microwave and stir so that the baking soda dissolves. Allow to cool to room temperature.
Once the dough has risen, remove it from the bowl and knead for a few more minutes. Then use a sharp knife to cut it into 6 equal sections.
Roll each section into a snake, then use a sharp knife or kitchen shears to cut it into 1″ pieces.
Working in batches, quickly dunk each piece in the water bath, then place it on a cooling rack.
Bake
Preheat your air fryer to 400F & coat with non-stick spray.
Brush each pretzel bite with melted butter and top with sea salt.
Working in batches again, place pretzel bites in the air fryer. Ensure that none of them are touching.
Bake for 4-5 minutes, until golden brown.
Tips
Don't overcrowd the air fryer basket. You want to give the pretzel bites plenty of space to cook evenly and get crispy on all sides.
Make sure the pretzel bites are evenly sized. This will ensure they cook evenly in the air fryer and have a consistent texture throughout.
Experiment with different seasonings and dipping sauces. While classic pretzel bites are delicious on their own, you can also add your own twist by sprinkling on some savory seasoning mix (my favorite vs Janette's favorite) or cinnamon sugar, or serving them with a spicy cheese dip like smoked queso.
Serve immediately for best results. They are best enjoyed fresh out of the air fryer, while they're still warm and crispy. If you need to reheat them, try popping them back in the air fryer for a few minutes to restore their crunch.
Looking for more ways to use your air fryer? How about making custard toast or air fryer BBQ chicken?
Print
Air Fryer Pretzel Bites
Savory, salty mini soft pretzel bites cooked in the air fryer.
Author: Jessica Pinney
Prep Time: 50 minutes
Cook Time: 5 minutes
Total Time: 55 minutes
Yield: 6 1x
Category: Appetizers
Cuisine: American
Ingredients
2¼ teaspoon dry yeast
1 cup room temperature water
2½ cups all purpose flour
2 teaspoons sugar
1 teaspoon salt
4 cups water
¼ cup baking soda
3 tablespoons melted butter
Coarse sea salt
Instructions
In a large mixing bowl, add yeast to room temperature water and stir. Cover with a clean kitchen towel and allow it to sit for 5 minutes.
Add in flour, sugar, and salt and mix for 1-2 minutes until a dough-like mixture forms.
Remove from the bowl and add to a floured surface. Knead the dough for about 5 minutes. Then return to the bowl, cover with a kitchen towel and allow it to rest for about 30 minutes.
While the dough is resting, add baking soda to the remaining water. Microwave for about 3 minutes or until the water comes to a boil. After boiling, remove from the microwave, stir, and allow it to rest and come to room temperature.
Remove dough from bowl and knead again. Using a sharp knife, cut the dough into 6 even sections.
Roll each section into a snake. Using a sharp knife or a pair of kitchen shears, cut about 1 inch pieces from each snake.
Working in batches, dunk each dough piece into the water/baking soda bath only long enough to get wet. Remove and place on a cooling rack.
Preheat the air fryer to 400F and spray the bottom of the basket with non-stick cooking spray.
Gently brush each dough piece with melted butter and top with coarse salt.
Place the bites inside the air fryer working in batches (be sure they don't touch) and bake for 4-5 minutes or until golden brown.
Serve with mustard.
Notes
You will have left over butter and water bath.
Be sure to use coarse salt to top the pretzels.