This recipe takes the classic sloppy Joe sandwich and serves it open-face style on Texas toast for a southern twist. Perfect for serving a crowd!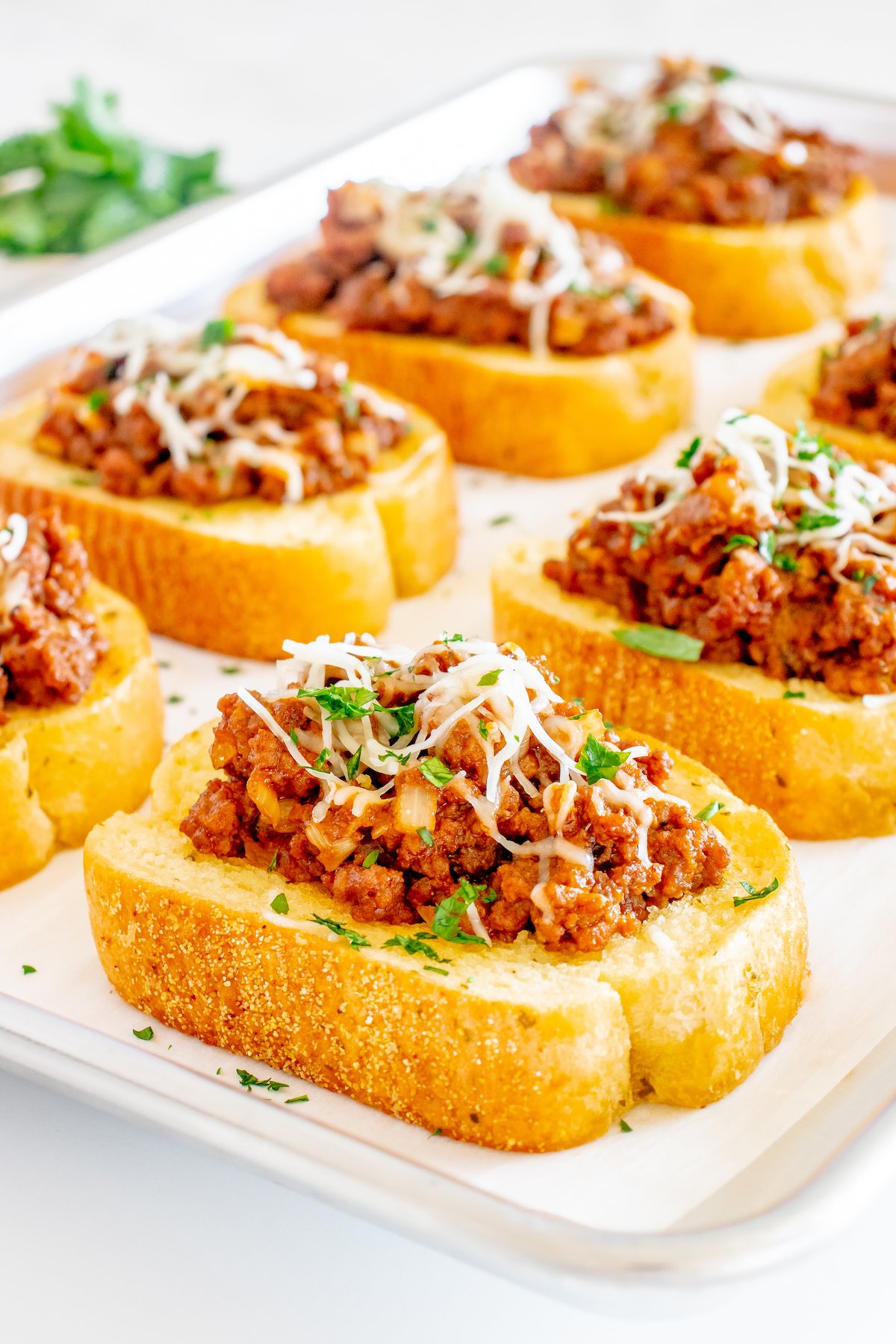 Imagine this: everything you love about a saucy, savory sloppy Joe but served on thick, garlicky, buttery Texas toast instead of a boring ol' hamburger bun.
Well, you don't have to dream it anymore because it's become a reality with this easy recipe!
Ground beef, onions, sauce, and spices, all piled high on slices of garlic bread Texas toast. It's comfort food at its finest! It's sure to satisfy even the heartiest of appetite!
If you're not familiar with the concept of sloppy Joes, you've been missing out! The dish is a classic American comfort food, and it's been around for over 80 years.
Commonly served at family dinners and school cafeterias, it's always a hit with kids and adults alike. Perfect for serving any crowd on a budget.
My favorite part? It takes less than 30 minutes from the start until it's on the table feeding the whole family!
Ingredients
Texas Toast – I used the Texas Toast garlic bread found in the freezer section at grocery stores.
Ground beef – Lean ground beef is ideal. I usually buy 85-90%.
Butter – I used unsalted butter. If you use salted, reduce the amount of salt you add with the spices.
Yellow onion – I prefer mellow flavor of a yellow onion for this recipe, but a white or sweet onion could be substituted.
Seasonings – A mix of Italian seasoning, garlic powder, onion powder, salt, and black pepper.
Brown sugar – A touch of brown sugar balances out the acidity in this dish.
Yellow mustard – Part of the sauce base in Sloppy Joe's. I don't recommend substituting with another mustard.
Ketchup – Another part of the sauce. I don't recommend substituting with tomato paste.
Worcestershire sauce – This adds a bit of umami flavor to the sauce.
Mozzarella cheese – Feel free to substitute another cheese. We also like Pepper Jack and cheddar.
How To Make
Brown the ground beef in a skillet.
Add the butter & onions and cook for a few minutes then add your sauces and spices.
Stir, then simmer until it thickens.
Bake Texas toast in oven.
Add sloppy joe mixture to the top of each Texas toast.
Place cheese on top. Return to oven for a few minutes to melt, if desired.
Tips
Don't overcook the ground beef. You want it to be cooked through, but still tender and juicy.
Don't be afraid to add some extra seasoning. Sloppy Joes are all about bold flavors, so don't be shy with the salt, pepper, and other spices.
These are best served immediately. The toast can become soggy if they sit out too long with the sloppy Joe's mixture on top.
Short on time? Don't have time to make the sloppy Joe's mixture? Using a canned mix, such as Manwich, would be delicious.
How to Store and Reheat
I recommend storing the sloppy Joe mixture and the Texas toast separately. Otherwise the bread gets soggy.
Store any leftover meat mixture in an airtight container in the refrigerator for up to 3-4 days.
To reheat, simply microwave the meat mixture until heated through or in a skillet over medium heat. Then toast the Texas toast slices until they're crispy and warm.
What to serve with it
French fries or sweet potato fries are a classic choice. Funeral potatoes and mac and cheese are our favorites.
You could also serve it with a side salad or some roasted veggies for a healthier option.
FAQs
Can I use a different type of bread?
While Texas Toast adds a delicious buttery flavor and texture to the sandwich, you can certainly use a different type of bread if you prefer.
Can I make this recipe ahead of time?
Yes! You can cook the sloppy Joe mixture ahead of time and store it in the fridge until you're ready to serve.
Can I freeze the sloppy Joe mixture?
Yes, you can freeze the mixture for up to three months. To thaw, simply let it defrost in the refrigerator overnight.
Print
Texas Toast Sloppy Joes
Ground beef sloppy Joes served on Texas toast garlic bread.
Author: Jessica Pinney
Prep Time: 5 minutes
Cook Time: 25 minutes
Total Time: 30 minutes
Yield: 4 1x
Category: Main Dish
Cuisine: American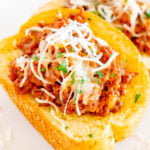 Ingredients
8 slices frozen Texas Toast garlic bread
1 pound ground beef
2 tablespoons unsalted butter
½ cup yellow onion, diced
½ teaspoon Kosher salt, plus more to taste
¼ teaspoon black pepper, plus more to taste
2 tablespoons brown sugar
2 tablespoons yellow mustard
½ cup ketchup
2 tablespoons Worcestershire sauce
1 teaspoon garlic powder
½ teaspoon onion powder
1 teaspoon Italian seasoning
1 cup shredded mozzarella cheese
Fresh parsley, chopped for garnish
Instructions
Preheat oven to 425°F. Line a large rimmed baking sheet with parchment paper. Set aside.
Heat a large skillet over medium-high heat. Add the ground beef, and cook until no longer pink, about 4 to 5 minutes. Drain the excess grease from the skillet.
Add the butter, onions, salt, and pepper to the skillet and saute for 2 to 3 minutes or until the onions are soft and translucent.
Stir in the brown sugar, yellow mustard, ketchup, Worcestershire sauce, garlic powder, onion powder, and Italian seasoning. Cook for 3 to 4 minutes, or until the sauce has thickened.
While the sauce is cooking, place the frozen Texas Toast onto the prepared baking sheet. Bake in preheated oven for 6 minutes.
Remove the baking sheet from the oven and evenly distribute the sloppy Joe mixture on top of the Texas Toast.
Top each toast with shredded mozzarella cheese, about 1/8 cup each. Place the baking sheet back into the oven for 3 to 4 minutes or until the cheese has melted.
Garnish with chopped parsley and serve immediately.