In my life, easy-to-make, light lunch recipes are key. Of course, because I'm a food blogger, they also have to be delicious. This Prosciutto, Melon, and Burrata Salad definitely fits the bill and is one of the few meals I make on the regular.
I have been a member of the prosciutto fan club for a long time now, but burrata is relatively new in my life. I've had it here and there, but on a recent trip to San Diego I went to a restaurant that was serving a mozzarella flight. Whaaaat?! A cheese flight! I am in!
Tasting all of the different mozzarella, one after the other, made me realize that burrata is perfection. Seriously. It is made by mixing mozzarella with cream, so it is especially light and…well….creamy. I absolutely love it and it is the perfect compliment to the sweet melon and salty prosciutto in this recipe.
This salad is really more about the toppings than the lettuce, so you can choose whatever, but I used arugula. Arugula has really grown on me since becoming an Angeleno. It's so popular that it is commonly served as a breakfast side. It's very low in calories, yet still packed with nutrients, and its taste has a nice bite to it.
Print
Prosciutto, Melon, and Burrata Salad Recipe
Sweet melon & salty prosciutto pair perfectly with creamy burrata to make a light a refreshing lunch dish. 
Author: Jessica Pinney
Prep Time: 10 mins
Cook Time: 0 mins
Total Time: 10 mins
Yield: 2 1x
Category: Salad
Cuisine: American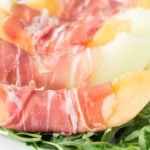 Ingredients
1/2 of a Cantaloupe
1/2 of a Honeydew Melon
1/4 lb Prosciutto
1 Cup Arugula
Fresh Burrata
Instructions
Cut the rind off both of the melons, then cut into wedges.
Line a plate with arugula or your greens of choice.
Wrap each of the melon wedges with a slice of prosciutto, then place on top of the lettuce.
Place dollop of burrata on top of each melon slice.
Serve immediately.