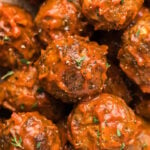 Ingredients
Bison Meatballs
1 lb ground bison
1 tsp salt
½ tsp oregano
1 tsp thyme leaves
½ white onion, chopped
1 tsp garlic paste
½ tbsp horseradish
1 egg
½ cup panko bread crumbs
Bbq sauce
½ cup ketchup
2 tbsp brown mustard
¼ cup apple cider vinegar
2 tbsp brown sugar
1 tsp smoked paprika
½ tsp white pepper
1 tsp dried minced onion
Instructions
Preheat the oven to 400°F.
Combine meatball ingredients in a bowl and thoroughly mix.
Use a 1" cookie or ice cream scoop to scoop uniform balls and place onto a wire rack lined baking sheet as you work. Aim for golf ball sized balls.
Place into the oven on the center rack and bake for 25 minutes.
Meanwhile prepare the barbecue sauce. Add all ingredients to a sauce pan and whisk. Cover and cook over medium heat. Once simmering, lower heat and cook for 10 minutes uncovered.
Toss meatballs in BBQ sauce and enjoy!