Once you try tender and moist bison meatballs you'll never go back to using beef! This easy dinner recipe will have the whole family hooked.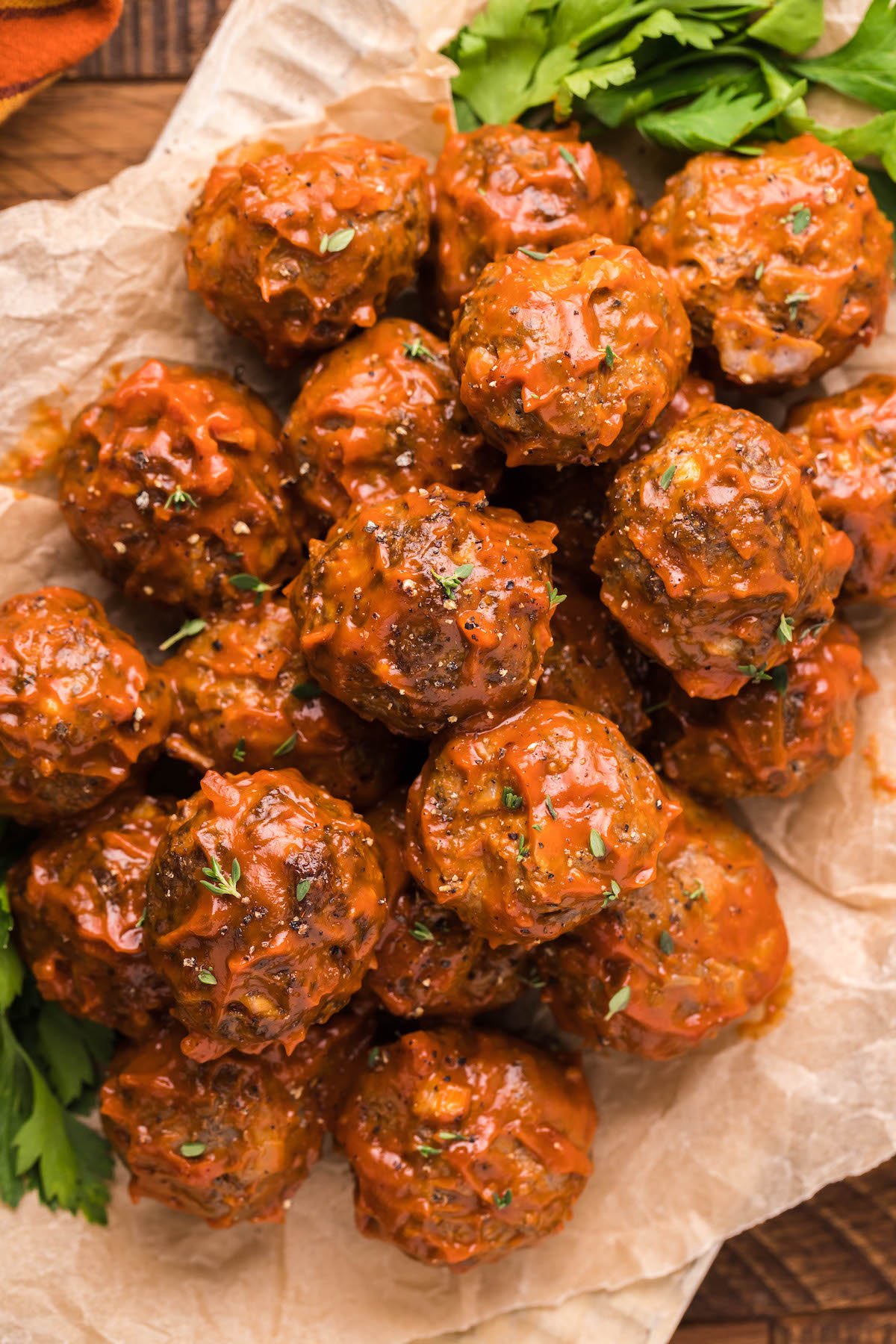 Have you tried Bison meat yet? We got hooked on it a few years ago.
We prefer it over beef for several reasons. First of all, it is leaner than beef. It has about 25% fewer calories and a lower amount of fat. Because of the low fat content, it has finer marbling which results in a softer, more tender meat. (Source.)
While we love making bison steaks and bison burgers, it's bison meatballs that have really stolen our hearts! Every time we make them we are pleasantly surprised at how soft and flavorful they are.
Today, we're sharing our favorite way to cook them – with homemade BBQ sauce. You can, however, follow the same instructions but use another sauce that you'd prefer. Marinara is a great choice!
These meatballs can be served as an appetizer or as an entree. We like to pair them with french fries, Instant Twice Baked Potato casserole, or Instant Pot Mac & cheese to make a complete meal.
Ingredients
Meatballs
Ground Bison – Most of the grocery stores around us have started carrying ground bison. If you can't find it at yours, try higher-end stores like Whole Foods.
Salt – I used sea salt.
Herbs – I used dried oregano and thyme. If you use fresh herbs, you'll want to adjust the measurements accordingly.
Onion – Fresh chopped white or yellow onion yields the best flavor for this recipe.
Garlic Paste – If you'd prefer, you can substitute 1-2 cloves of freshly minced garlic.
Horseradish – Horseradish gives these meatballs a little kick, but you can leave it out.
Egg – I used 1 large egg.
Panko – These are my preferred breadcrumbs for meatballs. They act as a binder to help hold the balls together.
This post contains affiliate links (when you buy we make a little money at no cost to you). See our disclosure for more information.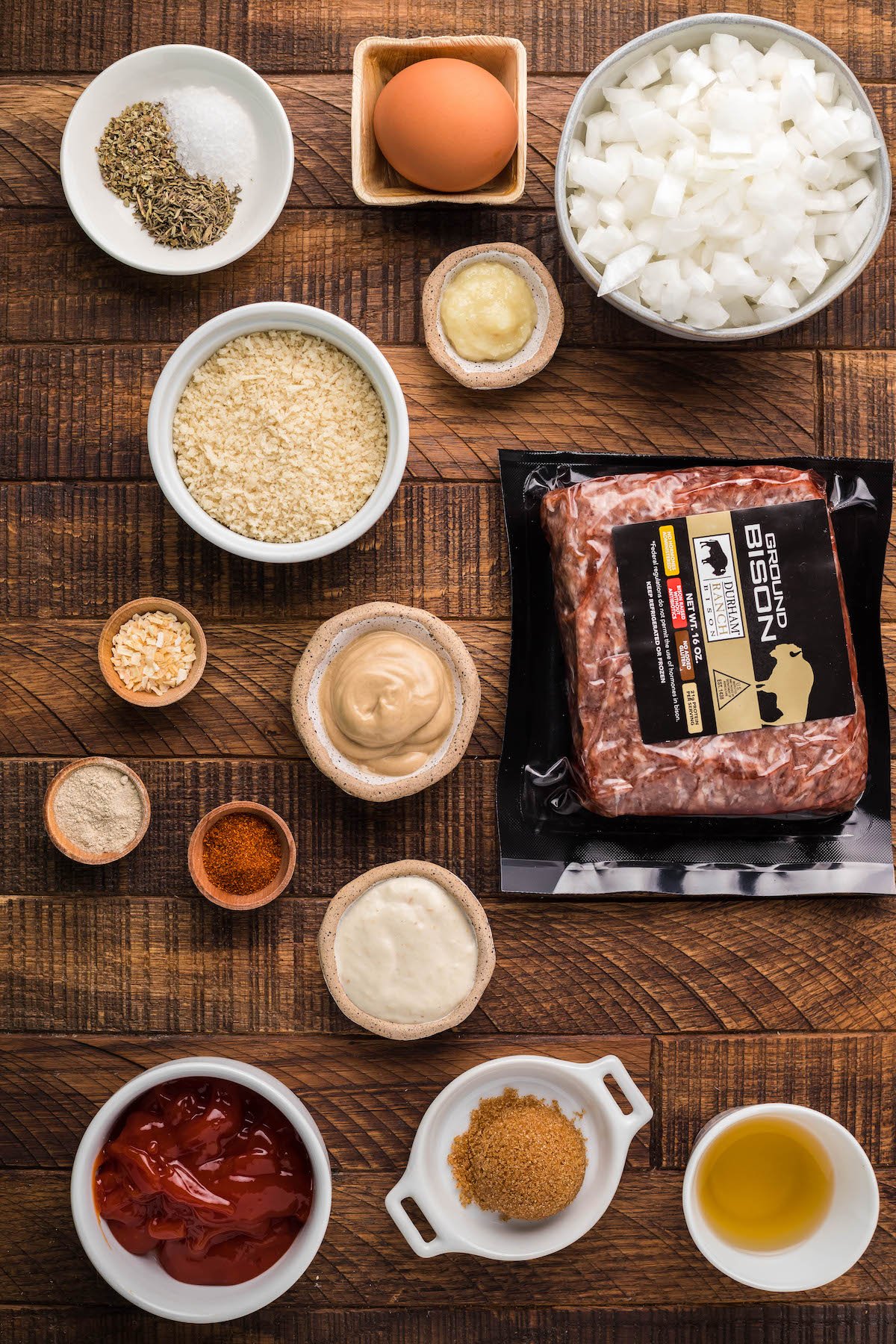 BBQ Sauce
This homemade BBQ sauce is easy to make and adds a lot of flavor. However, you can use store-bought BBQ sauce, or another sauce altogether.
Ketchup
Brown Mustard
Apple Cider Vinegar
Brown Sugar
Smoked Paprika
White Pepper
Dehydrated Minced Onion
How To Make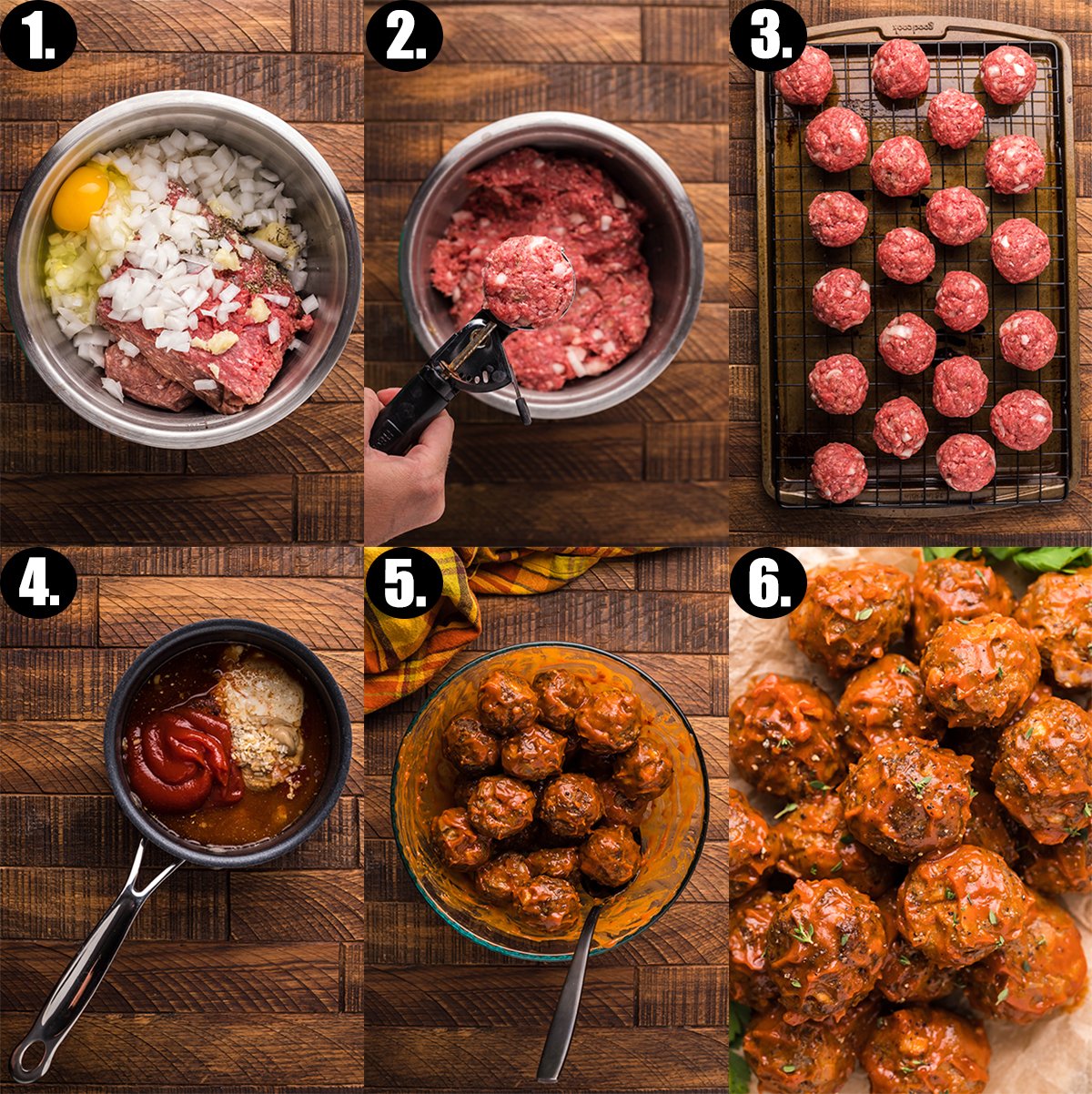 Combine meatball ingredients in a mixing bowl.
Scoop the meatball mixture and form into golfball sized balls.
Place on an oven safe cooling rack on a baking sheet. Cook at 400F in the oven for 25 minutes.
While they're cooking, prepare the BBQ sauce by adding all the ingredients to a saucepan. Bring to a simmer, then reduce to low heat and cook for 10 minutes.
Toss meatballs in the BBQ sauce.
Serve.
Tips
When rolling the meatballs, take care not to compact them too much. This will result in a chewy, tough meatball.
It's easiest to roll the balls while the meat is still cold. If your mixture gets warm, put it pack in the fridge for 15 minutes, then roll.
Need a simple dessert to go with this meal? How about homemade pistachio pie or German chocolate fudge?
Bison Meatballs
Tender and flavorful meatballs made with ground bison.
Print Recipe
Ingredients
Bison Meatballs
1 lb ground bison
1 tsp salt
½ tsp oregano
1 tsp thyme leaves
½ white onion (chopped)
1 tsp garlic paste
½ tbsp horseradish
1 egg
½ cup panko bread crumbs
Bbq sauce
½ cup ketchup
2 tbsp brown mustard
¼ cup apple cider vinegar
2 tbsp brown sugar
1 tsp smoked paprika
½ tsp white pepper
1 tsp dried minced onion
Instructions
Preheat the oven to 400°F.

Combine meatball ingredients in a bowl and thoroughly mix.

Use a 1" cookie or ice cream scoop to scoop uniform balls and place onto a wire rack lined baking sheet as you work. Aim for golf ball sized balls.

Place into the oven on the center rack and bake for 25 minutes.

Meanwhile prepare the barbecue sauce. Add all ingredients to a sauce pan and whisk. Cover and cook over medium heat. Once simmering, lower heat and cook for 10 minutes uncovered.

Toss meatballs in BBQ sauce and enjoy!