This twist on meatloaf flavors the classic American dish with sweet and tangy BBQ sauce. It's a delicious weeknight family dinner that everyone loves!
Meatloaf is a staple in our dinner menu rotation. To keep it from getting repetitive, I'm always looking for new ways to spin it.
Earlier this year, we were hooked on Mexican Meatloaf, which is infused with taco flavors.
Lately, I've been really into replacing the ketchup with barbecue sauce to make this BBQ version. It's perfect for the people in your family that don't care for tomato based sauces.
We like to serve it with Instant Pot mac & cheese, smoked corn on the cob, Cracker Barrel fried apples, and Instant Pot twice baked potato casserole.
Ingredients
Beef – I recommend using 80/20 ground beef. Because meatloaf cooks for a long time in the oven, you don't want to use a leaner version that will dry out quickly.
Bacon – Any brand of bacon will do. I generally use center cut for this recipe.
Onion – I believe white onion has the best flavor for this dish, but yellow onion could be substituted.
Serrano Peppers – I like to use Serranos because of the heat level they bring, but you can substitute jalapeno for a more mild heat or bell pepper for no heat.
Egg – I used a large egg.
Worcestershire – This adds umami flavor to the meatloaf. I do not recommend leaving it out or substituting.
Liquid Smoke – This adds a hint of smokiness that brings a lot to this dish, but it can be left out if you'd prefer.
Panko – Bread crumbs are a binder that helps the meatloaf stay together and hold its shape.
BBQ Sauce – Use your preferred brand of BBQ sauce. I like to use Sweet Baby Ray's or Famous Dave's Sweet & Zesty.
Ancho Chili Powder – This is a mild chili powder made from dried poblanos. If you need to substitute it, I recommend a chipotle chili powder.
Smoked Paprika – This brings a woody, smoky flavor to the meatloaf. In a pinch, you could substitute sweet paprika, though it does not bring the same flavor.
Black Pepper – Fresh cracked black pepper always yields the best flavor.
This post contains affiliate links (when you buy we make a little money at no cost to you). See our disclosure for more information.
How To Make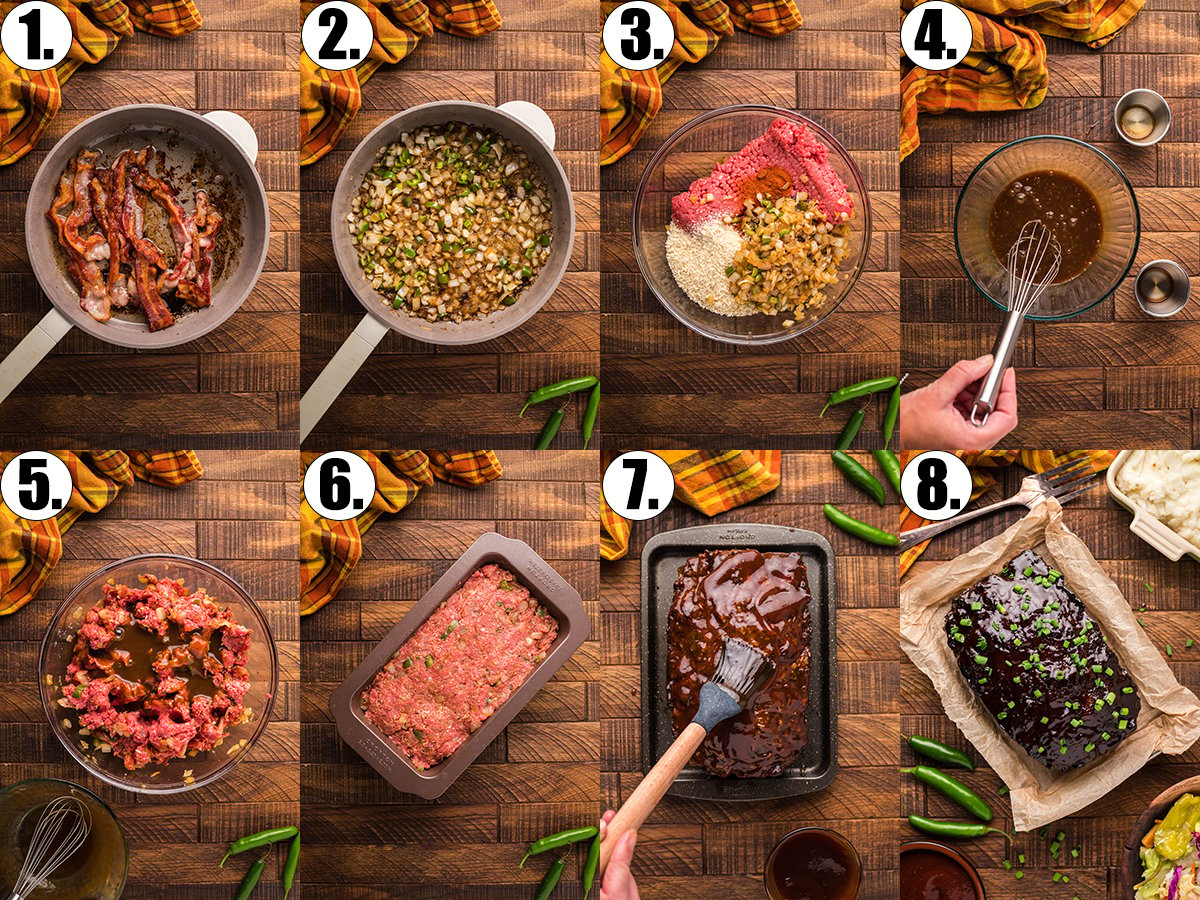 Cook bacon in a frying pan. Once cooked, remove from pan onto a paper towel lined plate. Leave grease in the pan.
Add chopped onions and serrano peppers. Sauté for 10 minutes. Chop the bacon in the meantime.
Add bacon, onions, peppers, ground beef, bread crumbs, and seasonings to a mixing bowl. Mix with your hands until combined.
Add 1/4 cup of the BBQ sauce, egg, Worcestershire, and liquid smoke to a small mixing bowl. Whisk to combine.
Pour sauce mixture into the ground beef mixture and gently combine.
Lightly spray a bread pan with non-stick oil, then add the meatloaf mixture to the pan. Bake for 40 minutes at 375F.
Remove pan from the oven and brush the rest of the BBQ sauce onto the meatloaf. Bake another 20 minutes.
Remove from the oven and top with sliced green onions. Slice meatloaf, then serve.
Need a dessert to go with it? Try this easy, no-bake cookies and cream pie.
Print
BBQ Meatloaf
Tender meatloaf flavored with sweet and tangy bbq sauce.
Author: Jessica Pinney
Prep Time: 15 minutes
Cook Time: 60 minutes
Total Time: 1 hour 15 minutes
Yield: 8 1x
Category: Main Dish
Cuisine: American
Ingredients
2 lbs Ground beef
8 slices Bacon
1 White onion, diced
2 Serrano peppers, diced
1 Egg
1 tbsp Worcestershire
½ tbsp Liquid smoke
1 cup Panko
1 ¼  cups BBQ sauce
1 tsp Ancho Chili powder
1 tsp coarse Black pepper
½ tsp Smoked paprika
Green onions, chopped (optional)
Instructions
Preheat the oven to 375F.
Heat a frying pan over medium-high heat.
Cook the bacon until crispy. Remove and set onto a paper towel lined plate. Keep the bacon grease in the pan.
Add the chopped onions and Serrano pepper to the pan. Sauté for 10 minutes to soften. Roughly chop the bacon in the meantime.
Combine ground beef, bacon, onion, Serrano pepper, Panko, pepper, paprika, and chili powder in a large mixing bowl. Mix well.
In a small mixing bowl, combine the egg, ¼ cup bbq sauce, Worcestershire, and liquid smoke. Whisk. Pour into the ground beef mixture and mix until thoroughly combined.
Lightly spray a loaf pan with non-stick cooking spray. Add the meat to the pan.
Place into the oven on the center rack. Bake for 40 minutes.
Remove from the oven. Take the meatloaf out of the loaf pan and place onto a baking sheet. Brush the top and sides of the meatloaf with bbq sauce. Place back into the oven for 20 minutes.
Garnish with chopped green onions and enjoy!