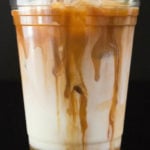 Ingredients
1 Tablespoon Vanilla Syrup
1/2 Cup Ice Cubes (approximately), divided
1/3 Cup Cold Milk
2 Shots Espresso (or about 1/4 cup coffee)
1 Tablespoon Caramel Sauce
Instructions
Add vanilla syrup to the bottom of a 16 oz cup.
Add ice cubes until the glass is about half-full. Slowly pour the milk over the ice cubes.
Add more ice until it almost reaches the top of the cup (if using a lid I would leave at least 1″ of space so it doesn't overflow). Slowly pour espresso over the top. Drizzle the caramel evenly over the top layer.
Swirl drink to combine ingredients before drinking. Enjoy!