Pizza is for sure one of my top 5 most favorite foods. If I was deserted on an island and could choose only one thing to eat every day, it would be pizza. The dough, the cheese, the toppings….there's just so many good things that all happen in one slice!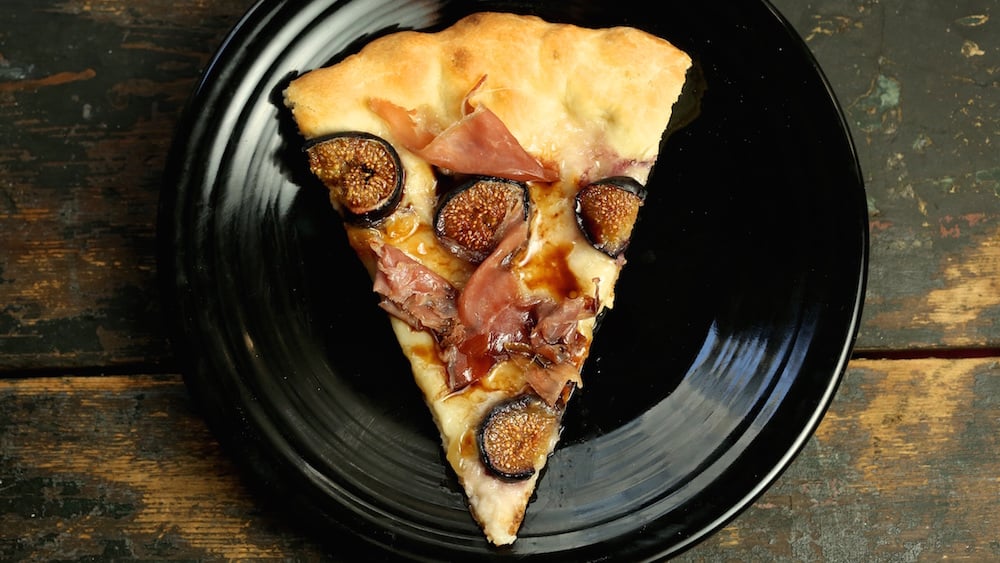 I ran across this recipe on Pinterest from Spache the Spatula and thanked my lucky stars it's fig season. I didn't get introduced to figs until recent years but immediately fell in love. The idea of pairing them with fresh mozzarella and prosciutto got my taste buds tingling. And they weren't disappointed. Everything complimented each other so well. I didn't use the balsamic glaze on the whole pizza, just tried it on one slice and liked it a lot, but even if you don't use the glaze, the pizza stands well on its own.
The dough recipe is very basic and tastes great. I like my dough a little less crispy so next time I would probably decrease the temperature of the oven but other then that, I was highly satisfied with this recipe and hope I can make another one before the figs disappear until next year!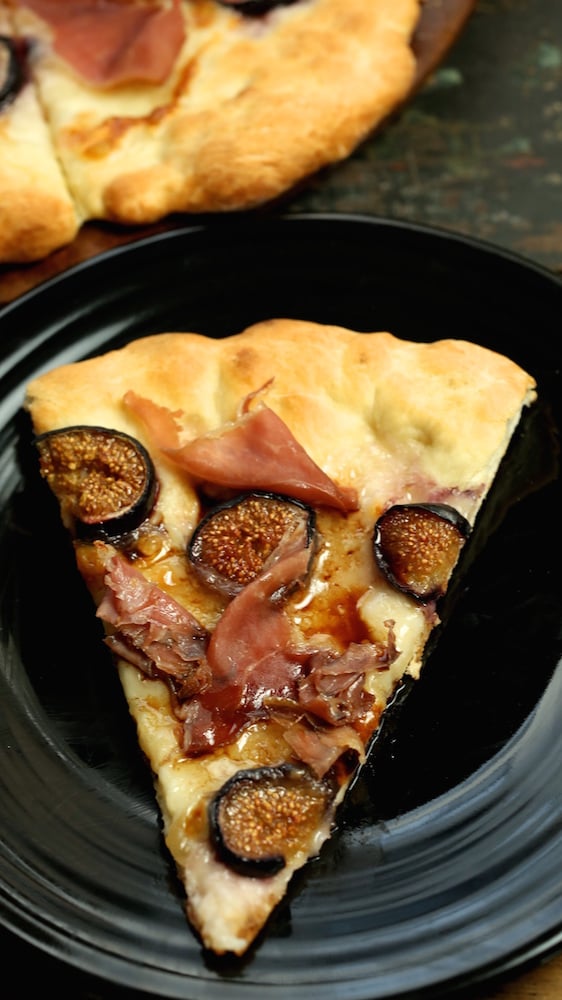 This post contains affiliate links (when you buy we make a little money at no cost to you). See our disclosure for more information.
Print
Prosciutto and Fig Pizza Recipe
This pizza topped with prosciutto and figs is the perfect combination of sweet & salty.
Author: Jessica Pinney
Prep Time: 1 hour 20 minutes
Cook Time: 15 minutes
Total Time: 1 hour 35 minutes
Category: Main Course
Cuisine: Italian
Ingredients
Pizza Dough: (yields 2 pizza rounds)
1 ½ cups warm water
2 ½ tsp active dry yeast
1 tsp sugar
2 tsp salt
2 tbsp olive oil
4 cups bread flour
Toppings: (for 1 pizza)
2 tbsp olive oil
8 –10 ounces fresh mozzarella, 1/4" to 1/2" slices
5–6 figs, sliced into 1/4" slices
salt and pepper to taste
4–5 very thin slices of Prosciutto di Parma (or any prosciutto you prefer)
Optional Balsamic vinegar glaze:
1/3 or ½ cup of balsamic vinegar
1 tbsp port wine
1 tbsp sugar
Instructions
In the bowl of a stand mixer, combine the water, yeast, sugar, salt, and olive oil. Let sit for 10 min.
With dough hook attached, add in flour and mix on low. Once mixed thoroughly, increase speed to high and knead the dough for 10 min., until the dough pulls away from the sides of the bowl and forms a ball on the hook.
Place the dough in a bowl and coat in olive oil. Cover and place in a warm place to rise for about an hour. It should double in size.
After the hour, punch the dough down and divide in half. If you aren't making two pizzas, refrigerate one ball to use within a few days or freeze it for a month.
If you have a pizza stone, place it in the oven and preheat to 500 degrees. Once it reaches temperature, keep it on for 30 min before putting the pizza inside.
Pat or roll out the dough on a well-floured surface into about an 8in round. Then, stretch it out over your knuckles, trying to keep it round, until it reaches a 14in diameter (this can take a bit of time. The dough is very elastic and easy to get holes in it, but I just took dough from the crust and mended them).
Coat the dough with olive oil and lay out the slices of mozzarella so they are not quite touching each other.
Place the fig slices between the cheese and sprinkle with salt and pepper.
Slide the pizza onto your pizza stone and bake for 10-15min, until the dough is golden brown.
Top the pizza with prosciutto (torn into pieces ) once you've removed it from the oven, right before serving.
Reduce the balsamic vinegar, wine, and sugar into a glaze and drizzle on top of the pizza if you so choose.