Keep it fun & simple with these No-Bake Halloween treats. Plenty of easy dessert recipes that are sure to please all the ghosts and ghouls out there!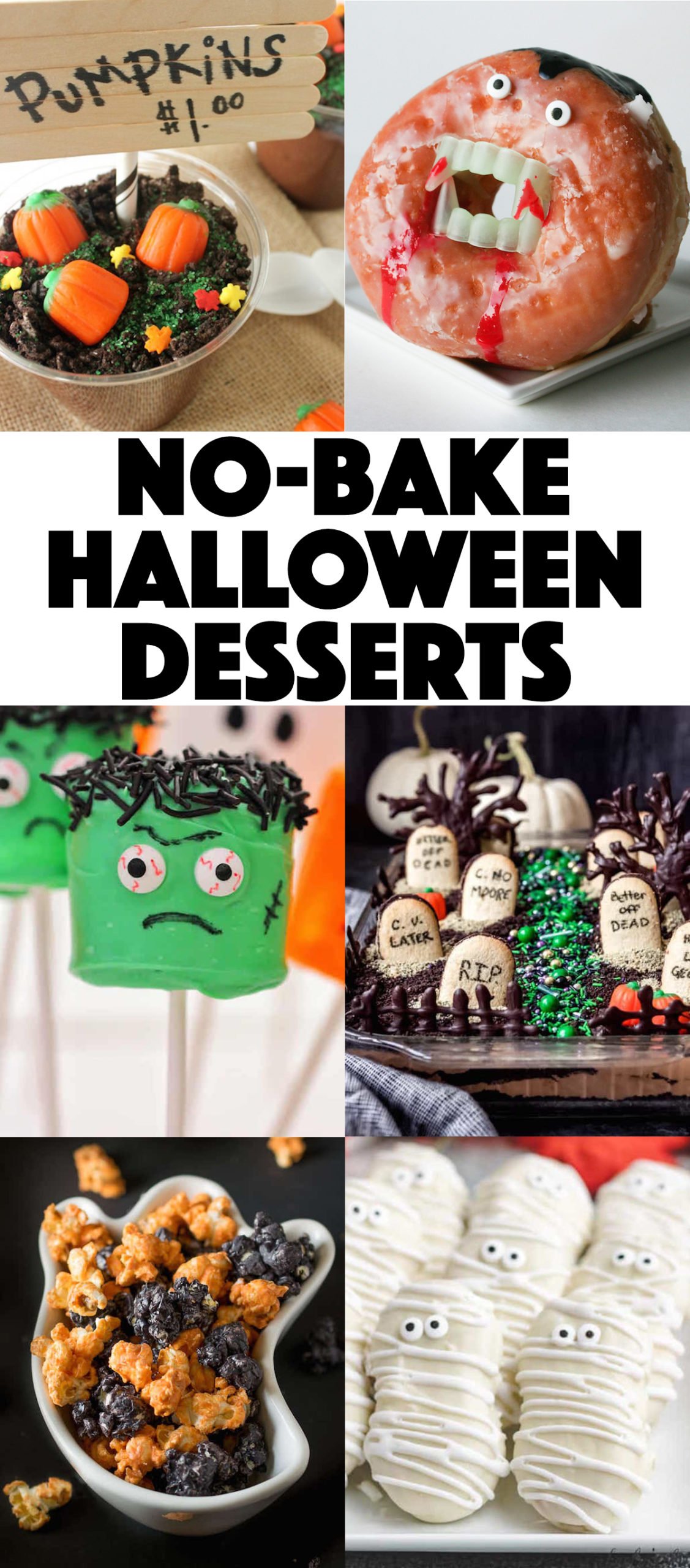 No-Bake Halloween Desserts
When the question is "trick or treat", my answer is always "treat"!
Because this time of year can be one of the busiest, I figured I'd share some of my favorite no-bake Halloween desserts. These seasonal treats can be whipped up in a jiffy, without turning the oven on.
I noticed that a lot of these desserts use the same ingredients. It might be a good idea to stock up on candy eyes, candy melts, and edible gel before beginning your Halloween treat making!
#1 – Nutter Butter Mummy Cookies
These adorable Nutter Butter mummy cookies are so easy to make. All you need are some candy decorations, frosting, and white chocolate!
#2 – Pumpkin Patch Pudding Cups
Kids will love helping to put together these adorable pudding cups that look like pumpkin patches. The straw used for the sign can even be used for drinking the pudding mixture!
#3 – No-Bake Halloween Popcorn
This spooky orange and black popcorn can be easily made with candy melts. The orange kernels use pumpkin spice melts for maximum fall flavor!
#4 – Donut Hole Eyeballs
We make these donut hole eyeballs every year because they are so quick and easy to put together. You just need a bag of donut holes, some edible gel, and candy eyes.
#5 – Vampire Donuts
This idea to use vampire teeth in donuts is genius! The dripping blood and chocolate hair really take it to the next level. Don't you vant to eat them?
#6 – Halloween Marshmallows
You can turn marshmallows into three recognizable Halloween characters with this easy recipe. Kids will love helping to decorate the Frankenstein, jack-o-lantern, and ghost faces.
#7 – Halloween Candy Bark
The best thing to do with all that leftover Halloween candy? Make bark! Adding sprinkles and candy eyes makes it extra fun!
#8 – Spiderweb Oreos
These candy-coated spiderweb Oreos are a showstopper! The best part? They're way easier to make than you might think.
#9 – Frankenstein Fruit Cups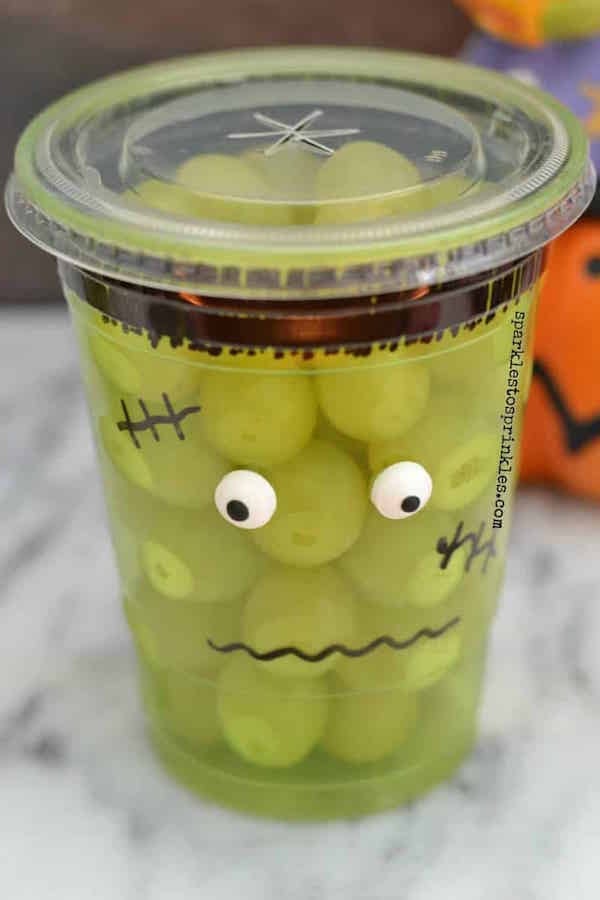 Green grapes, candy eyes, plastic cups, and a sharpie are all you need to make this school-approved Halloween treat. A nice break from all the candy!
#10 – Halloween Snack Mix
You just can't have Halloween movie night without a snack mix to munch on! This is my personal recipe. It's packed to the brim with fall flavor, but you can easily customize to suit your own tastes.
#11 – Spooky Halloween Graham Crackers
These Spooky Graham Crackers aren't truly spooky – they're actually rather cute! The chocolate-covered Grahams are more likely to cause smiles than screams.
#12 – Pumpkin Rice Krispie Treats
Making Rice Krispie treats into little pumpkins is super fun – kids will love to help! You can customize them by using a variety of different candies for the stem.
#13 – Marshmallow Ghosts
Have you ever seen ghosts this adorably spooky?!? They'll delight all the boys and ghouls this Halloween! They can be used for hot cocoa or spooky s'mores.
#14 – Graveyard Dirt Cake
Spooky Chocolate Graveyard Dirt Cake is a classic Halloween dessert beloved by kids and adults alike. Customizing the gravestones is so much fun!
#15 – Pumpkin Caramel Chocolate Skulls
If you're looking for something unique, try these Pumpkin Caramel Chocolates. Dark chocolate candy skulls filled with pumpkin coconut caramel – yum!
#16 – Monster Sherbet
We really love how this Halloween treat is unique by being colorful! If you want a truly no-fuss dessert, this one is a great choice! All you need is some store-bought sherbet and candy eyes.
#17 – Strawberry Margarita Gummy Worms
Need a Halloween treat for the adults? Look no further than these boozy gummy worms! They get bonus points for being low-carb.
#18 – Easy Ghost Mini Muffins
With just some fondant and store-bought mini muffins, you can make these adorable little ghosts. They're so simple that you can whip up a whole batch in about 10 minutes!
#19 – Spider Rice Cakes
For little ones who love a food fright – why not try these spooky Halloween rice cakes, decorated with blackberries & grapes to look like spiders on a spider's web?
#20 – Candy Corn Milkshake
Rich vanilla ice cream and tangy orange sherbet come together in this fun and easy milkshake that looks like candy corn. Can be made in just 5 minutes!