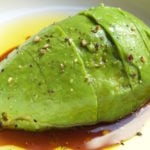 Ingredients
1 Avocado
2 Tablespoons Olive Oil
2 Tablespoons Soy Sauce (I prefer Tamari Organic)
1 Tablespoon Lemon Juice
Coarse Pepper
Instructions
Mix the oil and soy sauce together in a small dish. Peel avocado and place both sides next to each other in a bowl. Slice.
Equally spread the tops with the lemon juice. Then pour the olive oil/soy mixture on each.
Coarsely grind some black pepper or the top. Cover & refrigerate for 12-24 hours then enjoy.