Soup season is here and we want to share our favorite hack to make it a breeze – an electric pressure cooker!
Say goodbye to hours of stovetop simmering and hello to effortless, flavorful soups made in a fraction of the time with the Instant Pot.
Whether you're in the mood for a classic chicken noodle, a hearty beef stew, or a veggie-packed minestrone – we've got you covered.
So, break out your trusty pressure cooker and let's dive into the world of Instant Pot soups!
All the delicious flavors of an enchilada are in this satisfying soup. Tender chicken combines with corn, black beans, tomatoes, and a delicious broth for an easy meal any time.
There's nothing more comforting than potatoes. That's why this soup is always our go-to on cold and dreary winter days. It's everything you'd want from a loaded baked potato in a convenient, slurp-able form.
You'll love the deep, rich flavor in this tomato soup made with fresh tomatoes, garlic, basil and red bell pepper. It's a great way to use up extra produce from the garden.
You'll never reach for the canned stuff again after trying this homemade chicken noodle soup that's loaded with egg noodles, chicken, and fresh herbs. Self-care in a bowl!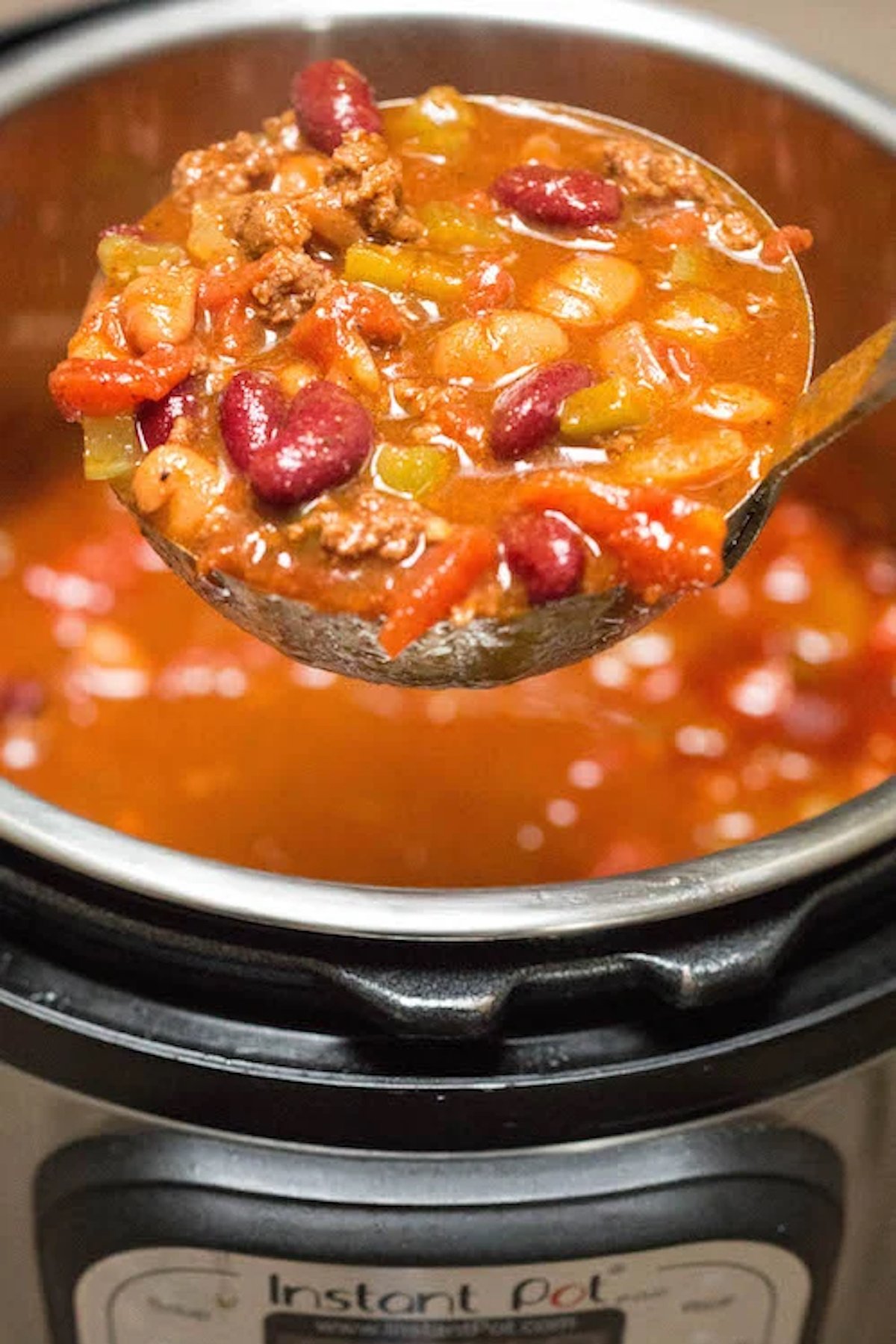 Recreate the fast food cult classic, Wendy's Chili, in your Instant Pot. This recipe is quick and easy thanks to it's use of canned ingredients and tastes remarkably close to the real thing!
This hearty and satisfying soup features Italian sausage and kale in addition to cheese tortellini. It has a creamy broth with rich, savory flavor thanks to garlic, Italian herbs, and a touch of marinara sauce and cream.
This recipe for borscht shows you how to make it just like cafes in Hong Kong do. Instead of beetroot (like in the traditional Russian version), it uses tomatoes and tomatoe paste.
Looking for something healthy? This pressure cooked minestrone fits the bill! It's loaded with veggies, fiber-filled beans, and tender pasta in a light and delicious tomato-based broth.
In search of a thick and satisfying soup that will keep you full for hours? Try this creamy chicken soup that features wild rice, mushrooms, carrots, and celery.
This lovely soup version of hamburger and fries is always a big hit with adults and kids! It features ground beef, potatoes, veggies, and a rich tomato broth.
Creamy ham and potato soup has been an American classic for decades. This recipe helps you make it from start to finish in about 30 minutes thanks to the Instant Pot.
This velvety smooth carrot soup is subtly flavored with ginger and orange and has a hint of sweetness from apples. It's dairy-free, gluten-free, vegan and paleo so it fits in with virtually any diet. Perfect to make ahead and freeze!
This soup tastes just like stuffed peppers, but is even easier to make! It's filled with bell peppers, ground beef (or turkey), rice and beans. A satisfying one-pot family meal!
Have some leftover turkey that you want to use up in a creative way? This is it! Soup made with leftover turkey meat, broth from the bones, lots of veggies and herbs, and noodles. Customize with what you have on hand.
Using the Instant Pot is a great shortcut to making Irish Stew. The end result is a melt in your mouth soup that features tender lamb, potatoes, carrots, and onions in a savory broth that's seasoned with herbs and spices.
This light, silky smooth celery soup is so delicious you'd never guess that it's keto and low carb! It has loads of flavor thanks to onions and leeks. The "ham croutons" and fried celery leaf garnishes really elevate this dish.
Everything you love about lasagna is incorporated into a warm, delicious bowl of soup. This recipe will be a family-favorite the very first time you serve it!
This vegan version of red pozole has all the flavor of the traditional recipe, but without the meat! Thanks to the Instant Pot, it can be made in about an hour instead of having to simmer all day long.
We love this vegetarian tortilla soup because it's so easy to throw together at a moment's notice. Why? The ingredients are essentially made up of pantry staples. Perfect for lunch, dinner, and meal prep!
Most of us could use more veggies in our diet and this soup is a great way to do it! It's a favorite of ours to make on "fridge cleaning" days, so that we can use up the fresh produce that we have on hand.