Make smoked turkey legs at home that taste just like the ones at Disney! The secret to the recipe is the special 24-hour brine.
One of the most iconic foods at Disney is their smoked turkey legs. They're so popular that they've developed a cult following – with plenty of myths and conspiracy theories about them! (Some people erroneously claim that they're emu legs.)
We too are obsessed with Disney's turkey legs and get one (or two!) every visit. Since Disneyland has been closed this year and we've been missing out, we thought we'd try making our own in our electric smoker. It was so fun to research and learn about their process and rewarding to find out how easy they are to make ourselves.
How are Disney turkey legs so big? Where do they come from?
Disney's turkey legs are bigger than the ones from your average bird. This is because they are from a special variety of turkey called a "tom" turkey. They can grow to be as large as 50lbs! Disney purchases them from Uncle John's Pride.
Why do they taste like ham?
People always say that Disney turkey legs taste like ham and there's a good reason for that – they are brined in a solution that is typically used on hams.
How many calories are in them?
The turkey legs at Disney parks are said to contain approximately 700 calories! While that's a staggering number, Disney claims that they're meant to be shared and also that guests burn an average of over 700 calories walking in the park each day.
If you make this homemade version, your legs will likely be smaller and have less calories.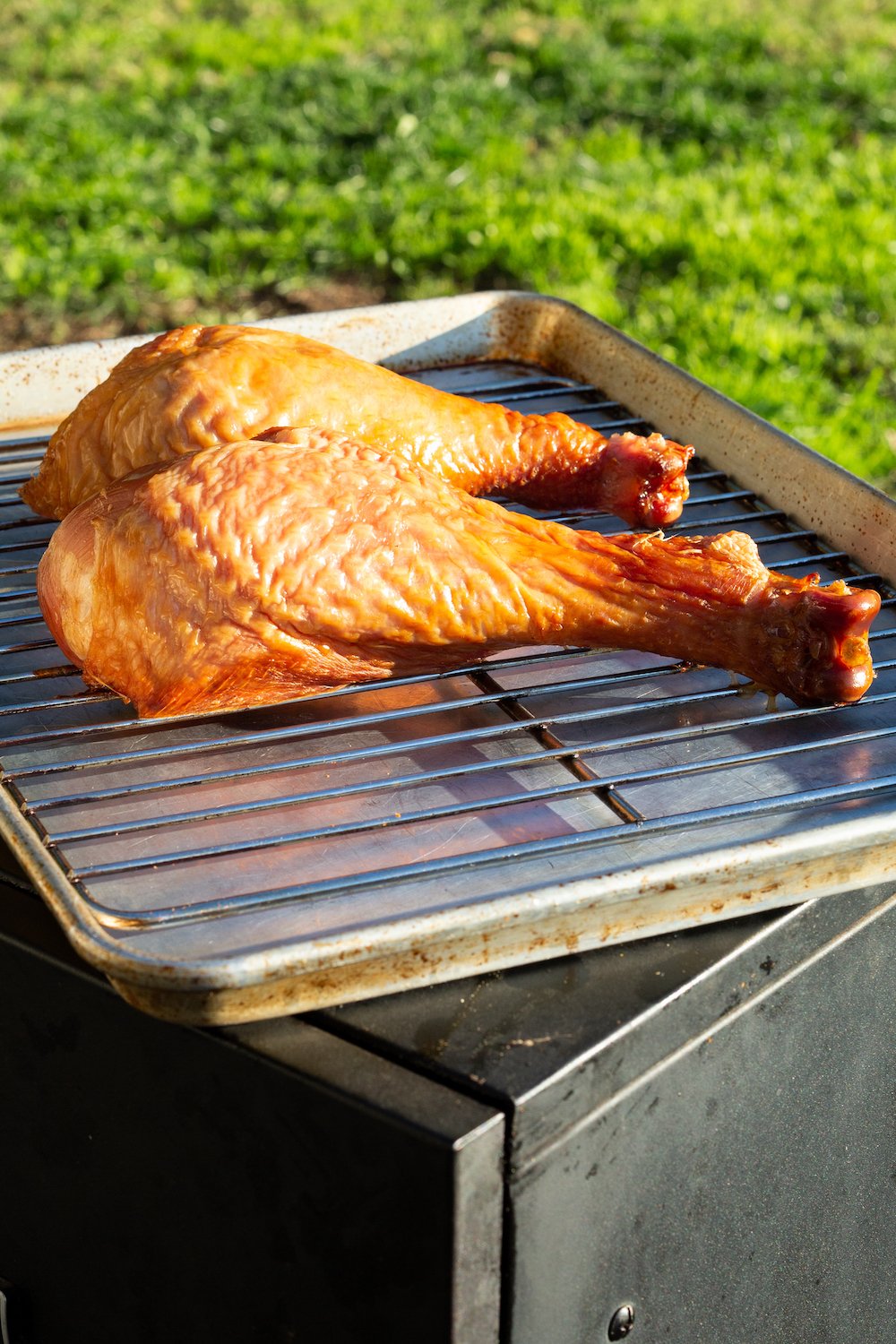 Ingredients
Turkey Legs – Obviously, you need a few turkey legs. Supermarkets tend to carry them around the holidays and the rest of the year you can generally get them from a butcher (be sure to phone ahead as they may need to be ordered in advance).
Prague Powder #1 – This is the secret to making the brine for the turkey legs. It's generally used for curing ham. I purchased mine on amazon.
Salt – I use regular ol' table salt for the brine in this recipe.
Brown Sugar – Light or dark brown sugar are both fine to use.
Bay Leaves – I used dried bay leaves. If you use fresh bay leaves you can use half the amount.
Distilled Water – It's best to used distilled water when brining because tap water could contain bacteria that could lead to a food borne illness.
How To Make
Brine
The first thing to do is make the brine. Use a large mixing bowl to dissolve the sugar, salt, and Prague powder into the distilled water.
Place the turkey legs in a gallon ziplock bag, then pour the brine in. Add the bay leaves and seal the bag.
Allow the legs to brine for 24 hours in your refrigerator. At the end of the 24 hours, remove them from the brine and give them a quick rinse. Pat dry with a paper towel before placing in your smoker.
Turkey Leg
Preheat your smoker to 300F. (I used cherry & apple wood chips)
Place the turkey legs on one of the smoker racks and cook for approximately 60-90 minutes, until the thickest part of the turkey leg is 160F. How long this takes will depend on the size of your turkey legs.
Once the legs reach 160F, remove from the smoker and serve immediately!
Sides To Serve with Turkey Legs
More Smoker Recipes
Print
Copycat Disney Turkey Leg Recipe
Homemade smoked turkey legs that taste just like the ones at Disney.
Author: Jessica Pinney
Prep Time: 24 Hours
Cook Time: 90 minutes
Total Time: 25 hours 30 minutes
Yield: 2 1x
Category: Main Dish
Cuisine: American
Ingredients
2 Turkey Legs
1/2 tsp Prague Powder #1
1 Tablespoon Salt
1/4 Cup Brown Sugar
2 Bay Leaves
1 Cup Distilled Water
Instructions
In a large mixing bowl, stir to dissolve the Prague powder, salt, and brown sugar in the distilled water.
Add the turkey legs to a gallon ziplock bag. Carefully pour in the brine and add the bay leaves. Seal the bag shut and refrigerate for 24 hours.
When ready to cook, preheat your smoker to 300F.
Remove the turkey legs from the brine and give them a quick rinse. Pat them dry with a paper towel. Place them on a rack in your smoker and cook until the thickest part of the leg reaches 160F. Depending on the thickness of your legs, this should take anywhere from 60-90 minutes.
Remove from the smoker and serve immediately!