Save money and time by making this copycat version of the Chow Mein from Panda Express that comes together in less than 20 minutes.
If Panda Express is a guilty pleasure of yours, this recipe is for you!
While it's always nice to grab takeout, doing it often can hurt your wallet and hold you back from your health goals.
That's why I started learning how to make my favorite restaurant dishes at home. For example, I've saved tons of money by making a copycat Starbucks matcha latte almost every morning for years!
Recently, I've been tackling some of my fast casual favorites. Panda Express is a guilty pleasure for myself and a bunch of my friends. So, I decided to start with one of my favorite items from there – the chow mein.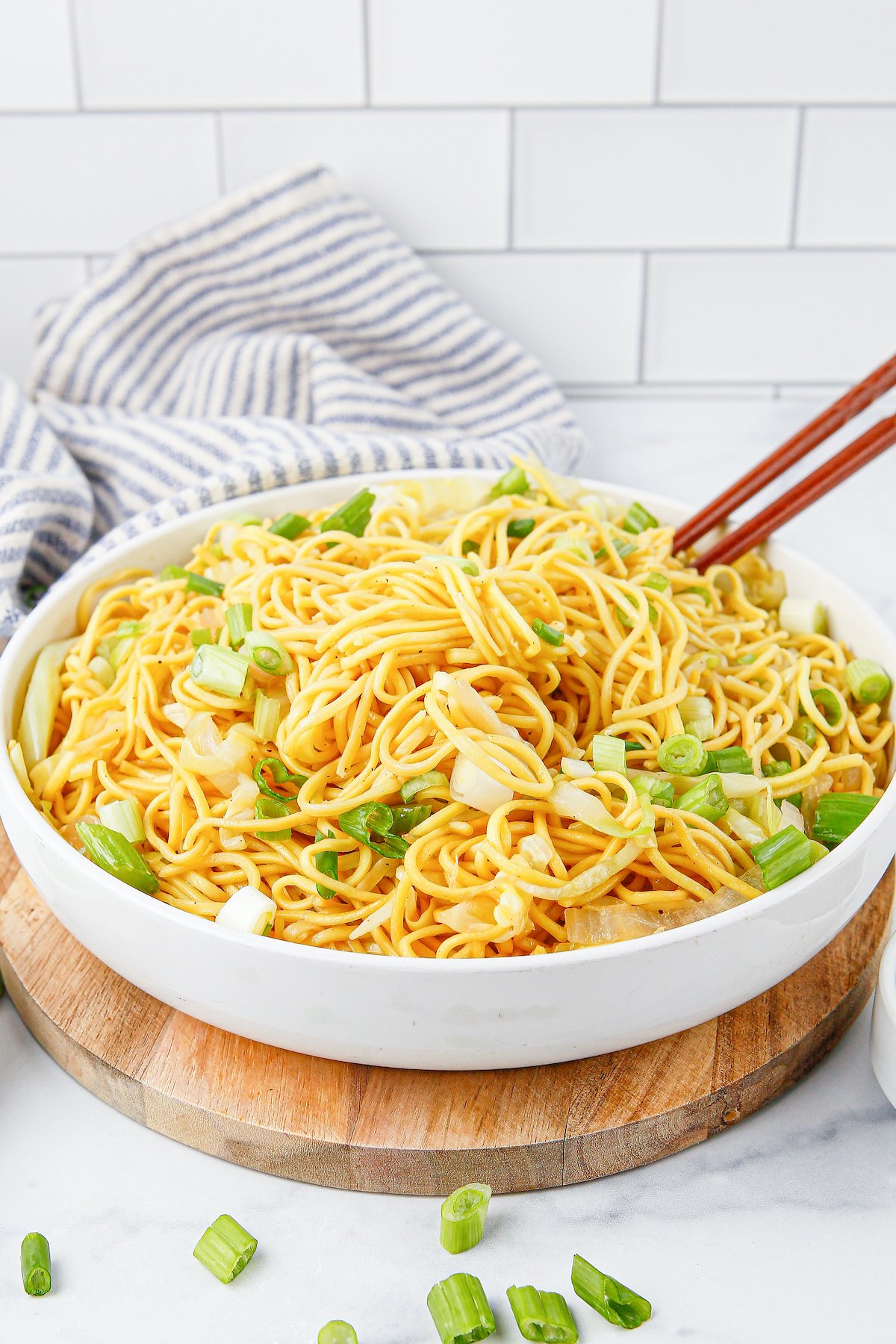 It's a simple stir-fried dish made with noodles and vegetables. It's served as a side in combo plates at Panda Express, but you can easily pair it with a protein to turn it into a main dish.
If you haven't tried it before, I would say that the sauce is savory with a hint of sweetness from the brown sugar that is balanced with the saltiness of the soy sauce. The noodles have a soft and slightly oily texture and the cabbage and celery bring a little bit of crunch.
I love it because it comes together quickly and is essentially fool-proof. If you need to feed a large family or crowd, it's a very budget-friendly option.
Ingredients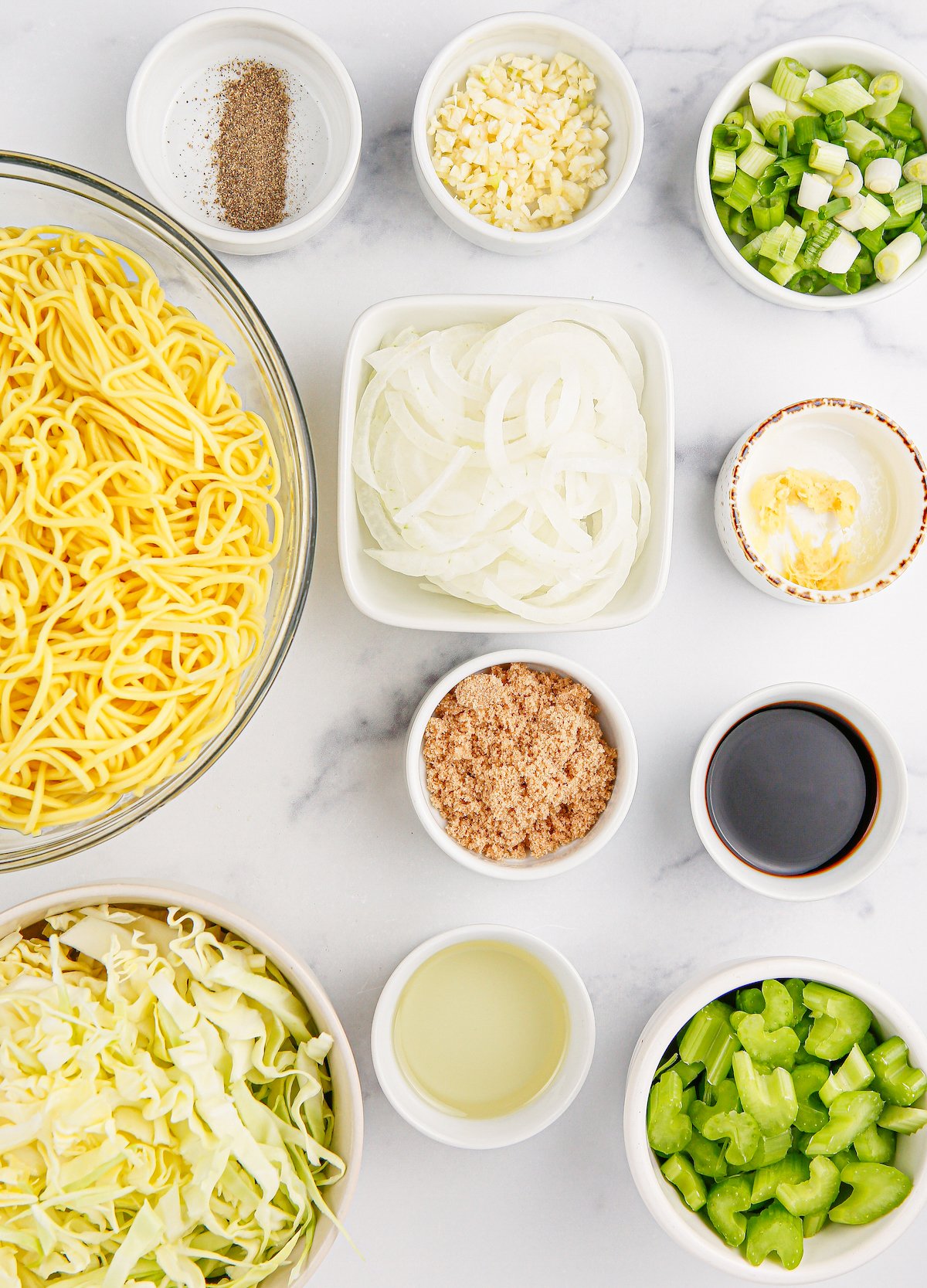 Noodles – I used Soba Chow Mein Noodles. Be sure to prepare your noodles according to the package before starting this recipe.
Garlic – Use freshly minced garlic for the best flavor.
Ginger – I used fresh ginger, but you can substitute ginger paste.
Soy Sauce – I used Kikkoman's less sodium version.
Brown Sugar – This balances out the salt ingredients and adds a subtle hint of sweetness.
Pepper – Finely ground black pepper works best in this recipe.
Oil – Canola oil or vegetable oil are both fine. I've also used avocado oil and sesame oil with good results.
Cabbage – You'll need about a 1/4 of a head of green cabbage.
Onion – I prefer a yellow onion, however, white can be substituted.
Celery – Chop your celery stalks into pieces that are about the same size so it cooks evenly.
Green Onions – These are mostly garnish, so you can leave them out if you don't have any on hand.
This post contains affiliate links (when you buy we make a little money at no cost to you). See our disclosure for more information.
How To Make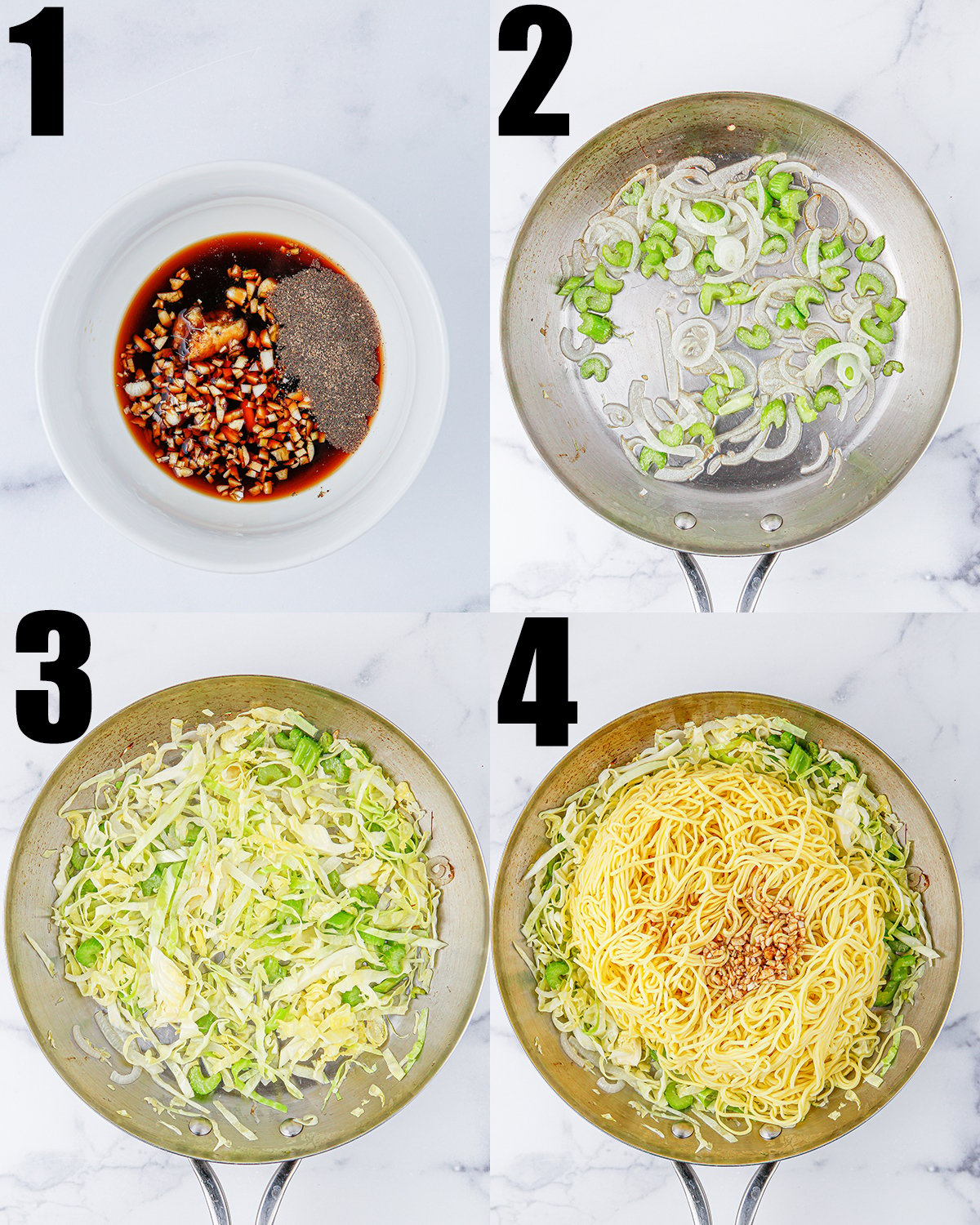 Whisk together the soy sauce, brown sugar, garlic, ginger and black pepper. Set aside.
Sauté the celery and onions in a skillet with the oil.
Add the cabbage and cook another few minutes until it is wilted.
Add the cooked noodles and sauce you whisked together into the pan. Toss together until all the noodles are evenly coated.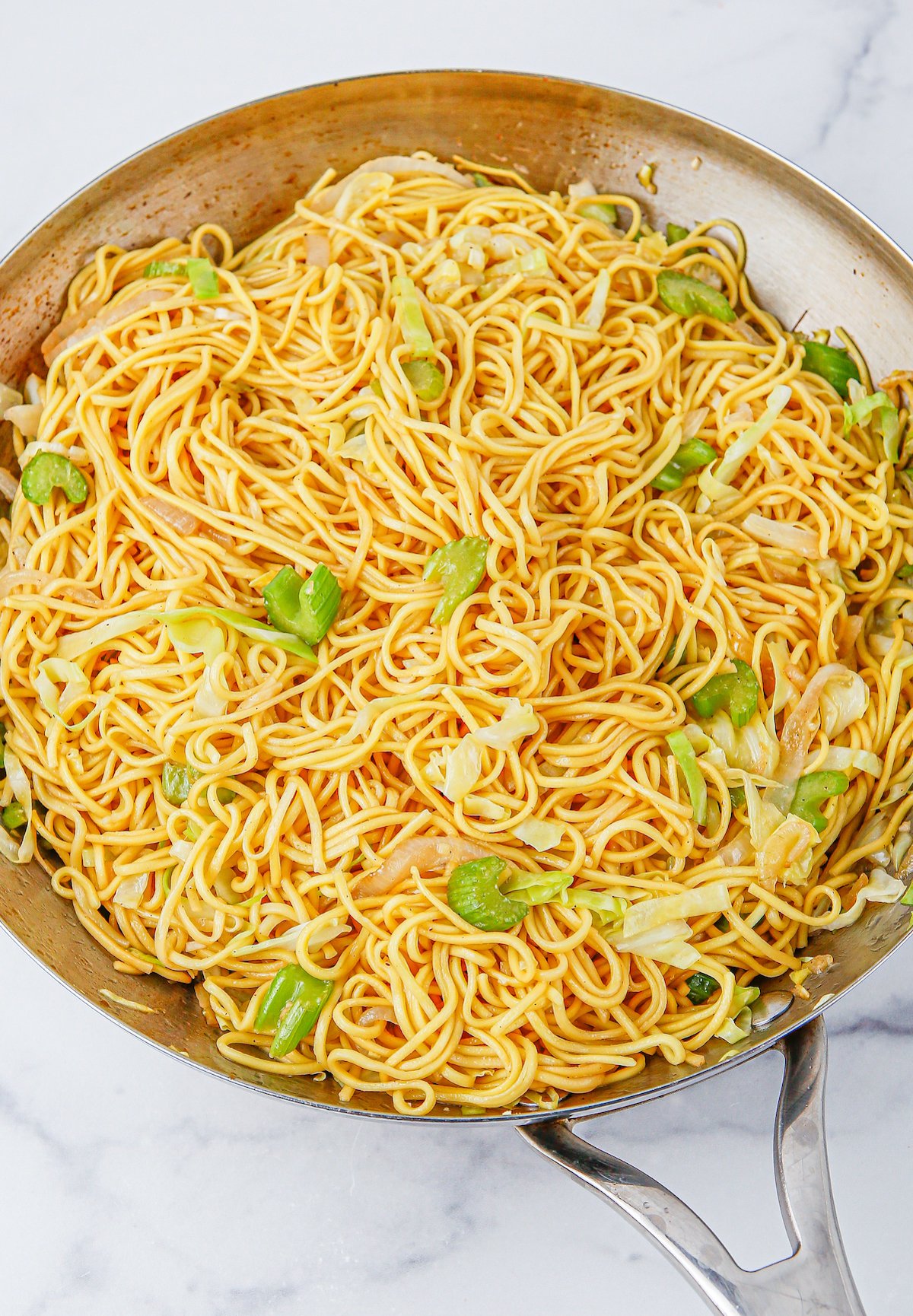 Tips
You can easily customize this dish to your families liking. Add additional veggies like snow peas, baby corn, broccoli and carrots. You could also make it extra saucy, or add some spice with hot sauce or chili crunch.
Want to add protein? These noodles are great with hibachi shrimp, chicken, beef, and even a fried egg or tofu.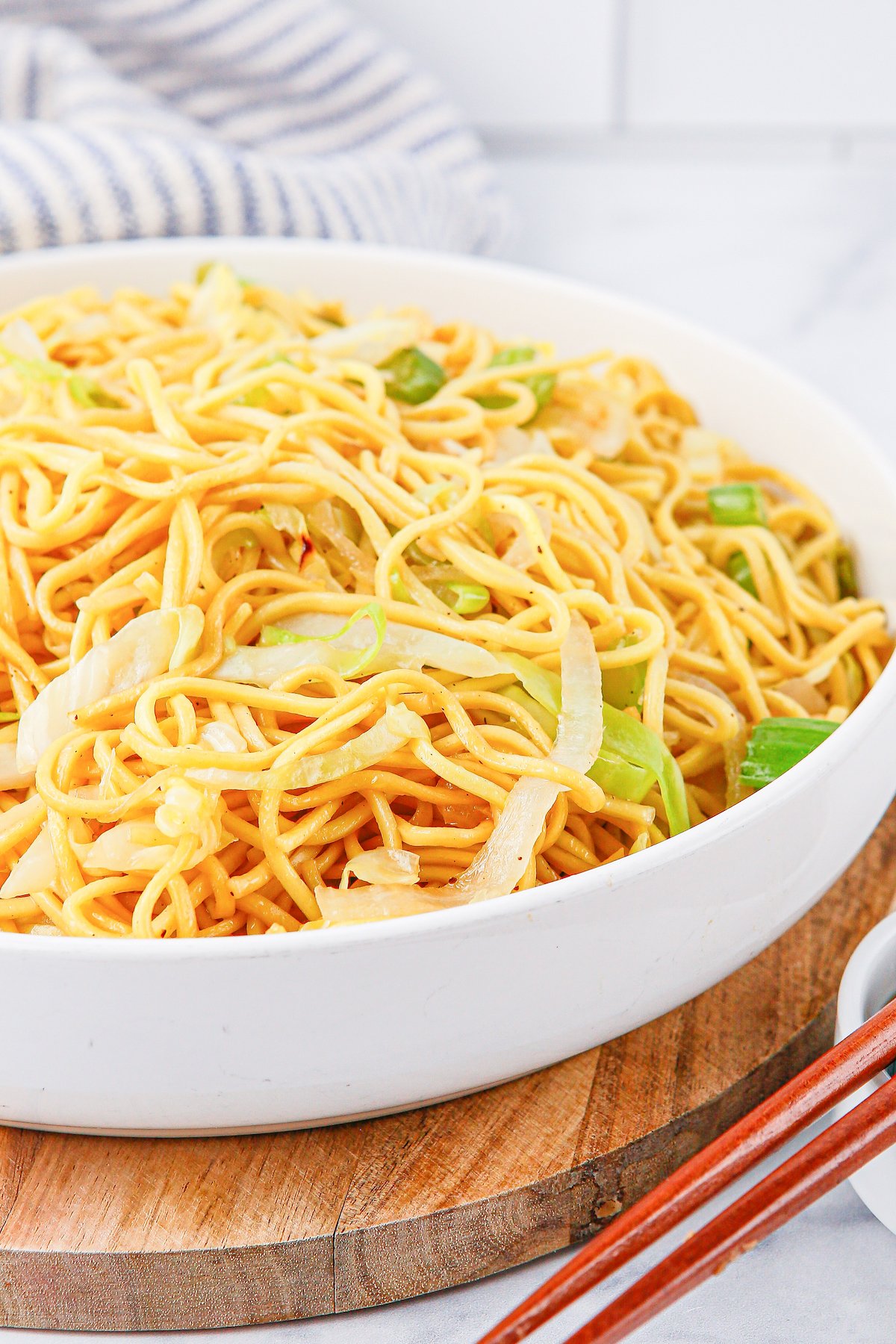 Looking for more copycat recipe ideas? Other readers love our Zax sauce and Crunchwrap Supreme.
Leftovers
Storage
Store leftovers in an airtight container in the refrigerator for up to 3-4 days.
Reheat
Heat a skillet over medium-high heat with a little bit of oil. Add the chow mein and cook 2-3 minutes, stirring often.
Print
Panda Express Chow Mein
Copycat version of Panda Express' oil fried Chow Mein noodles with vegetables.
Author: Jessica Pinney
Prep Time: 10 minutes
Cook Time: 10 minutes
Total Time: 20 minutes
Yield: 4 1x
Category: Side Dish
Cuisine: Chinese-American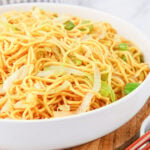 Ingredients
12 oz chow mein noodles
2 garlic cloves, minced
1 teaspoon grated fresh ginger
3 tablespoons low sodium soy sauce
1 tablespoon brown sugar
½ teaspoon ground black pepper
3 tablespoons canola or olive oil
2 cups cabbage, thinly sliced
1 medium yellow onion, thinly sliced
3 celery stalks, thinly sliced
2 green onions, sliced
Instructions
Cook chow mein noodles according to package, drain and set aside.
Whisk together the soy sauce, brown sugar, garlic, ginger, and black pepper in a small bowl and set aside.
Heat oil in a large skillet and saute the onions and celery until softened.
Add the sliced cabbage and cook for 3-4 minutes until wilted.
Place the cooked noodles and sauce into the pan and toss to evenly coat. Remove from heat.
Garnish with the sliced green onions and serve immediately, enjoy!