Crispy, fried shrimp covered in a classic tangy and spicy buffalo sauce. This bar favorite appetizer makes a memorable game day dish or a unique seafood dinner.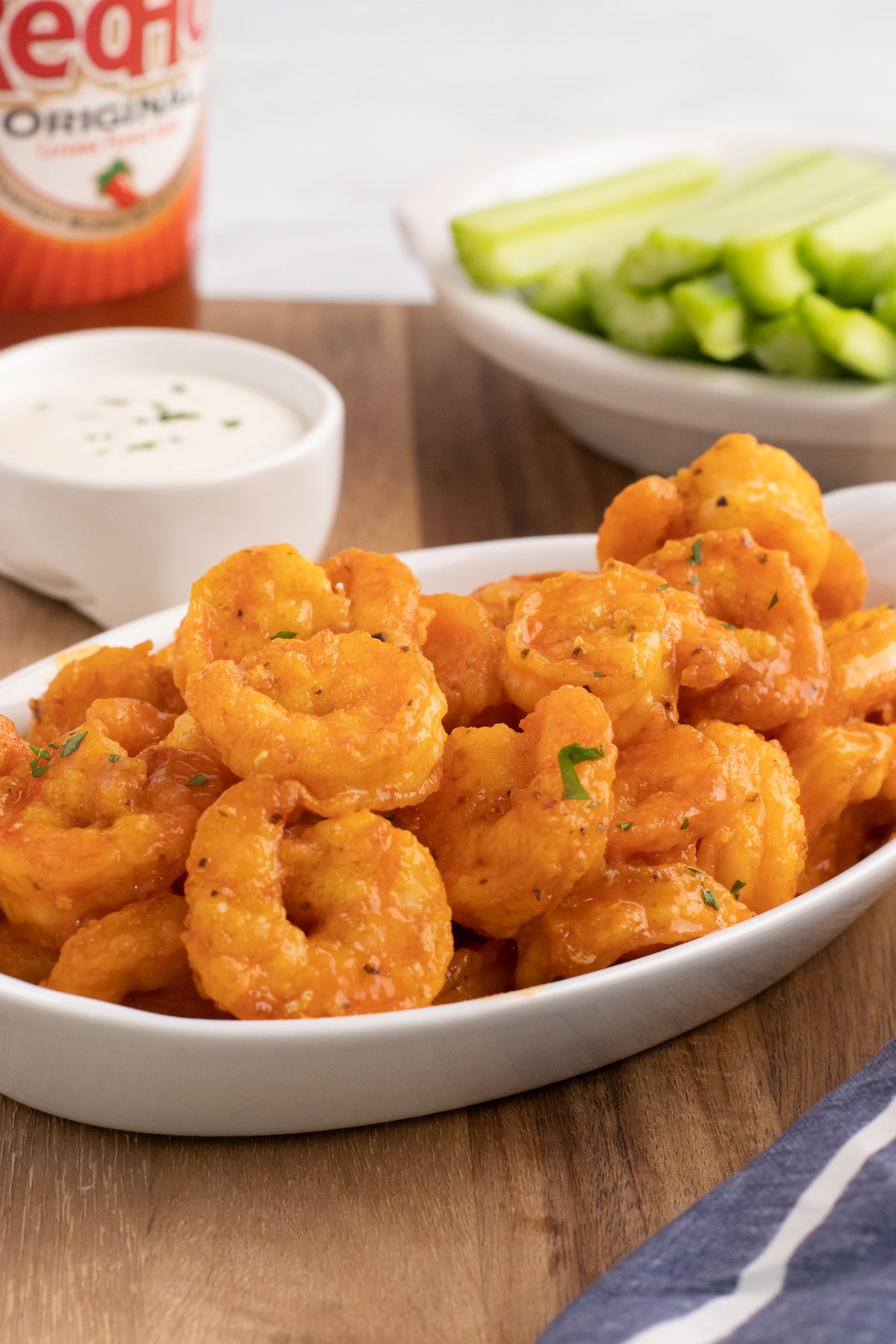 If you're a fan of buffalo wings and seafood, you absolutely have to try buffalo shrimp.
Instead of wings, this recipe takes crispy, bite-sized, succulent shrimp and coats them in a zesty, buttery hot sauce that has a hint of sweetness.
Dip them in a side of ranch or blue cheese dressing to cool it down!
These shrimp make a great addition to any party menu. We especially love to serve them at football parties and for the Super Bowl. They hold their own against any wing and guests seem to appreciate having something a little less traditional.
You can adjust heat levels to your liking by adding more hot sauce. When we want it really spicy, I add a little heartbeat habanero hot sauce to the mix. 🔥
This post contains affiliate links (when you buy we make a little money at no cost to you). See our disclosure for more information.
Ingredients
Shrimp – Use extra large shrimp that is peeled and deveined.
Cornstarch – This gives the shrimp a crispy coating and helps the sauce stick.
Seasonings – You'll need salt, pepper, and cayenne.
Oil – Use peanut oil or canola oil to fry the shrimp.
Butter – Be sure to use unsalted butter, otherwise the dish may be too salty.
Hot Sauce – Frank's is the go-to for buffalo sauce.
Brown Sugar – A bit of brown sugar adds a touch of sweetness. You can leave it out if you'd prefer.
How To Make
Step 1
Add cornstarch and seasonings to a mixing bowl. Use a whisk or fork to combine.
Step 2
Add your peeled and deveined shrimp to the cornstarch mixture. Use a rubber spatula to mix & gently coat the shrimp pieces.
Step 3
Fry the shrimp in batches of 6 in oil that's 350F for about 1 minute on each side.
Step 4
Add melted butter, brown sugar, and hot sauce to a mixing bowl. Whisk until sugar is melted and sauce is combined.
Step 5
Add the shrimp and toss.
Step 6
Remove shrimp from the mixing bowl and serve with ranch or blue cheese dressing and celery sticks.
Tips
Oil temperature matters. Maintain a consistent oil temperature around 350°F for perfectly crispy shrimp. Using a deep fryer is the easiest way to accomplish this.
Don't crowd the pan. Adding too many shrimp at once will cause the oil temperature to drop, resulting in soggy shrimp. To avoid this, don't fry more than 6 at a time.
Make it spicier. Add extra Frank's, some cayenne seasoning, or even a bit of another spicier hot sauce (we like Heartbeat and Yellowbird).
Serve immediately. Buffalo shrimp is at its best when it's hot and crispy. Don't let it sit too long before serving.
Leftovers
How to store
If you somehow manage to have leftovers (which is rare because these are so darn tasty), store them in an airtight container in the refrigerator for up to two days.
How to reheat
To reheat, pop them in a 350°F oven for about 10 minutes until they are crispy again. Avoid the microwave, unless you enjoy soggy shrimp. You can also use an air fryer for an extra crunch.
More shrimp recipes
Print
Buffalo Shrimp
Crispy, fried shrimp coated in a spicy, tangy buffalo sauce.
Author: Jessica Pinney
Prep Time: 10 minutes
Cook Time: 15 minutes
Total Time: 25 minutes
Yield: 6 1x
Category: Appetizer
Cuisine: American
Ingredients
2 lbs. raw extra-large shrimp, peeled and deveined
1/3 cup cornstarch
1 teaspoon salt
½ teaspoon black pepper
½ teaspoon cayenne pepper
4 tablespoon melted unsalted butter
½ cup Frank's RedHot Original Sauce, room temperature
1 teaspoon brown sugar
Oil for frying
Instructions
In a large bowl combine the cornstarch, salt, black pepper, and cayenne pepper; whisk until thoroughly combined.
Heat 1 inch of vegetable oil in a heavy pan, cast iron or a Dutch oven to 360 degrees.
While oil is heating, add shrimp to bowl with cornstarch mixture, toss with rubber spatula to coat shrimp.
Fry shrimp in batches of 6, turning shrimp after 60 seconds, frying an additional 60 seconds or until shrimp are cooked through.
Remove shrimp from oil, and place on a paper towel lined cookie sheet or wire rack.
Melt butter in saucepan over low heat, or in the microwave.
In a large bowl add melted butter, hot sauce and sugar, whisk until combined.
Toss shrimp in prepared buffalo sauce until completely coated.
Serve with prepared ranch dressing or additional buffalo sauce.
Notes
Can be prepared in an Air Fryer
Preheat air fryer for 5 minutes at 400 degrees.
Carefully place corn starch coated shrimp in basket in a single layer, spray lightly with vegetable oil.
Air fry for 3 minutes, turn shrimp, fry an additional 3 minutes.
Toss in prepared sauce.