Strawberries and gin come together to create this refreshing smash cocktail. Perfect for sipping on in the spring and summer.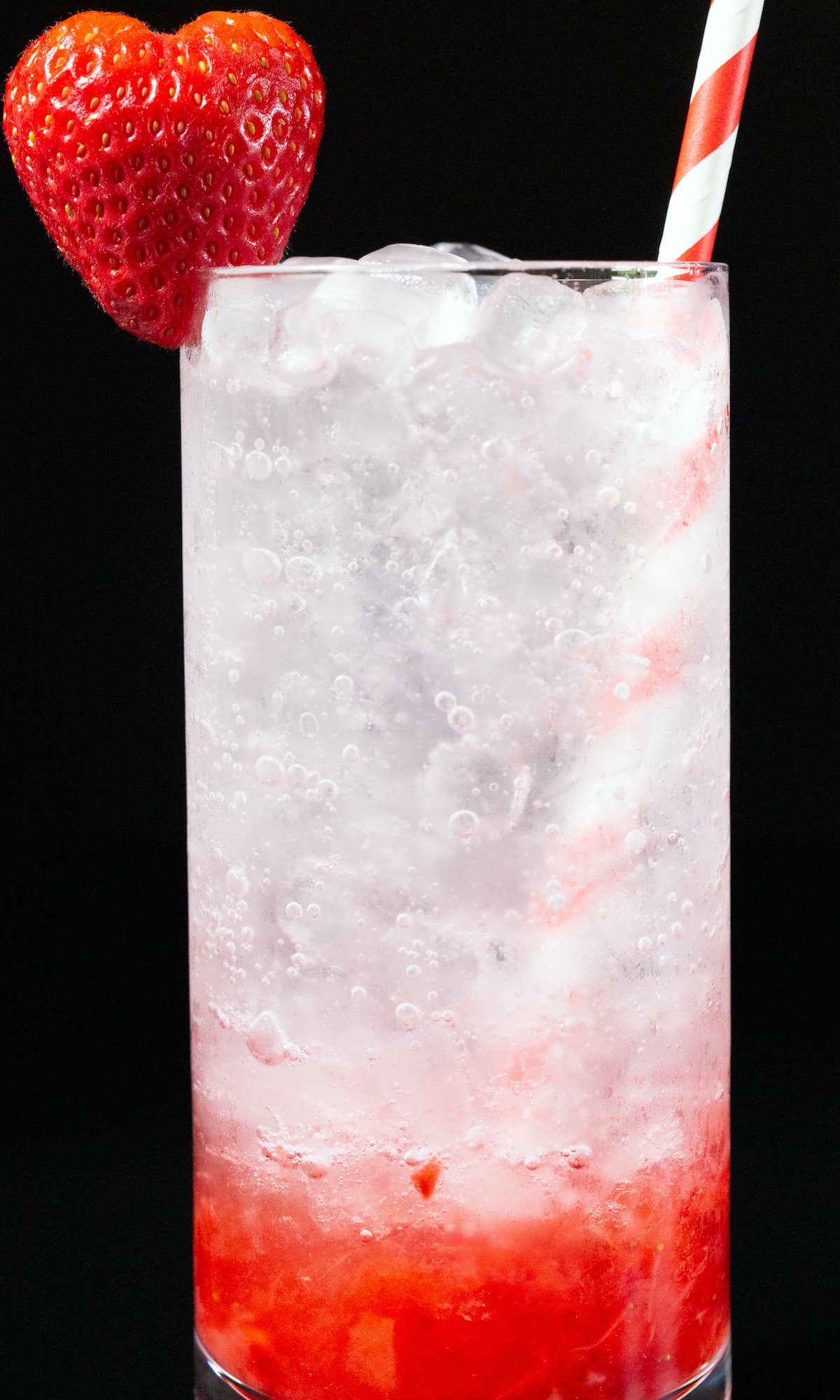 Once spring begins, strawberry season is in full swing in California. It's always a beautiful sight to behold at the farmer's market.
The abundance of fresh berries leads me to using them in absolutely everything – including drinks.
On many warm afternoons, our happy-hour-at-homes have featured this simple gin smash. The sweet juicy berries are brightened up by the fresh squeezed lime while the gin adds delightful herbal and floral notes.
It really doesn't get more refreshing than that! It is the type of cocktail that would brighten up any day in the backyard or evening on the porch.
The best part is how simple this drink is. You build it in the glass – no need to dirty up a cocktail shaker. All you really need is a muddler and a jigger to measure out the liquids.
Ingredients
Strawberries – Be sure to pick out strawberries at peak ripeness. Look for berries that have a bright red color and fresh green tops.
Simple Syrup – For simplicity I use simple syrup, but if you want to be traditional use 1 sugar cube instead.
Lime Juice – Use fresh squeezed lime juice for the best flavor. Bottled has preservatives that negatively alter the flavor.
Gin – Any gin will work in this recipe. You can also substitute vodka, if you'd prefer.
Club Soda – Use your favorite brand of club soda.
Ice – Pebble ice or crushed ice works best in this cocktail.
This post contains affiliate links (when you buy we make a little money at no cost to you). See our disclosure for more information.
How To Make
Add strawberries, lime juice, and simple syrup to glass.
Muddle together.
Add gin.
Add ice.
Fill to the top with club soda.
Add a strawberry slice garnish and a straw. Enjoy!
Twists & Substitutions
Herbs
Add more fresh flavor to this cocktail with herbs like mint and basil. Muddle them with the strawberries to release their essential oils.
Liqueurs
For a more complex drink, add .25-.50z of a liqueur. Elderflower liqueur, like St. Germain, add more floral notes and sweetness.
Campari, which has a distinct bitter flavor, adds some contrasting flavor and depth to the cocktail.
Club Soda Alternative
If you'd like to use something other than club soda that was similar, try a seltzer like Topo Chico. If you want to try something more unique, use ginger beer.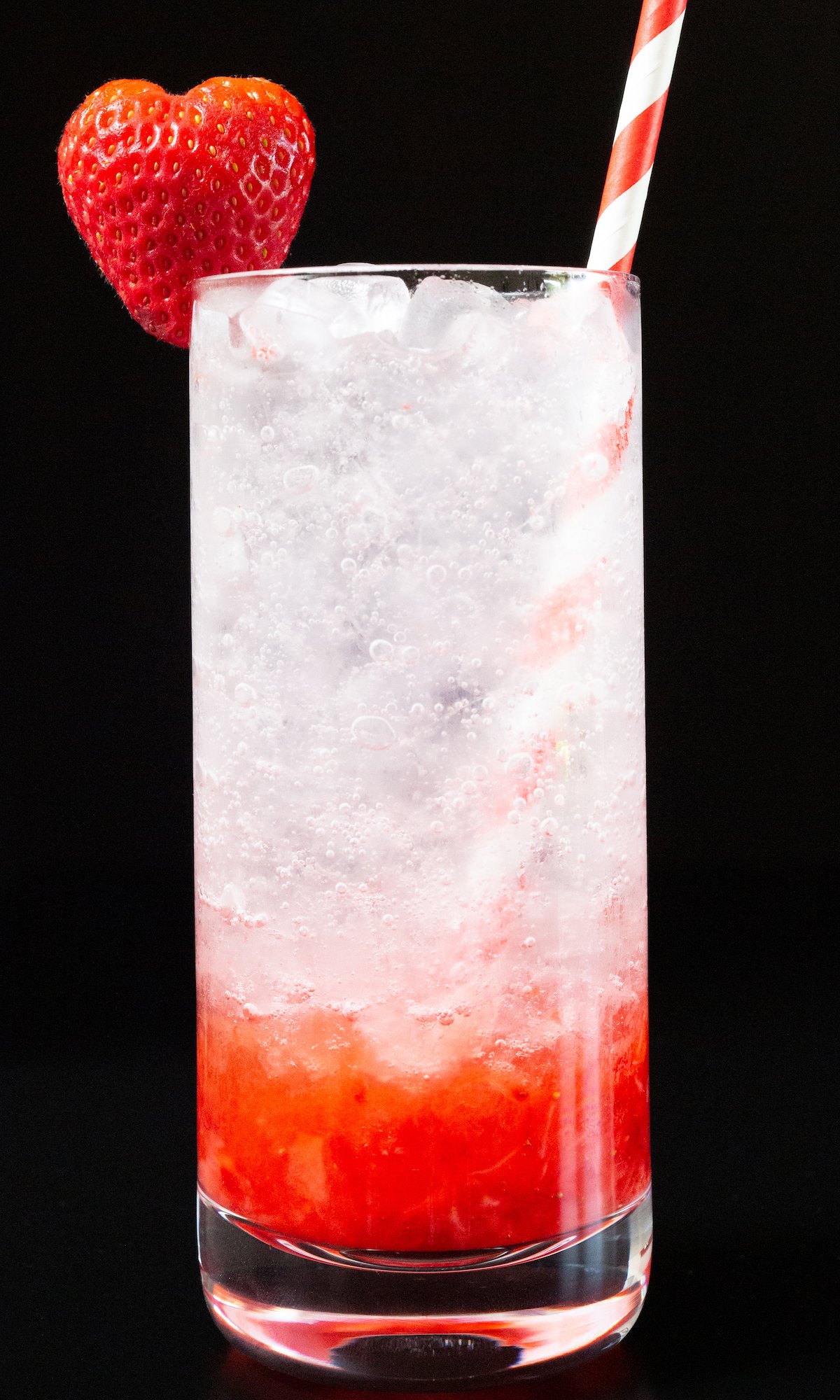 Tips
If you want to batch this cocktail, I recommend pulsing the strawberries with the lime juice and simple syrup in a blender or food processor instead of muddling in individual glasses.
No fresh strawberries? Use a spoonful of strawberry jam instead. Be sure to leave out the simple syrup so the drink isn't too sweet.
If you're home bar doesn't have a muddler, you can use the handle of a wooden spoon or a mortal and pestle.
What glass should you use?
A highball glass or a rocks glass is ideal for this drink.
Print
Strawberry Gin Cocktail
A simple smash cocktail made with fresh strawberries and gin.
Author: Jessica Pinney
Prep Time: 5 minutes
Total Time: 5 minutes
Yield: 1 1x
Category: Cocktails
Cuisine: American
Ingredients
2 Large Strawberries, sliced
.5oz Simple Syrup
.25oz Lime Juice
2oz Gin
Ice
Club Soda
Instructions
Add sliced strawberries, simple syrup, and lime juice to the bottom of a highball glass. Muddle until the strawberries have been pureed.
Add the gin and swirl it together with a bar spoon. Add ice, then fill to the top with a club soda.
Garnish as desired and enjoy!