Summer is winding down and I have conflicting feelings about it. On one hand, I love summer recipes and LA always has this lovely summer break feel across the city. On the other hand, we've had some days where temperatures have reached 115 degrees! I've spent my entire life living in either Florida or California, so I'm no stranger to warm weather, but that is just insane.
Needless to say, I've been making recipes that can help me cool down in the afternoon. My personal favorite has been sweet tea floats with peach sorbet. ?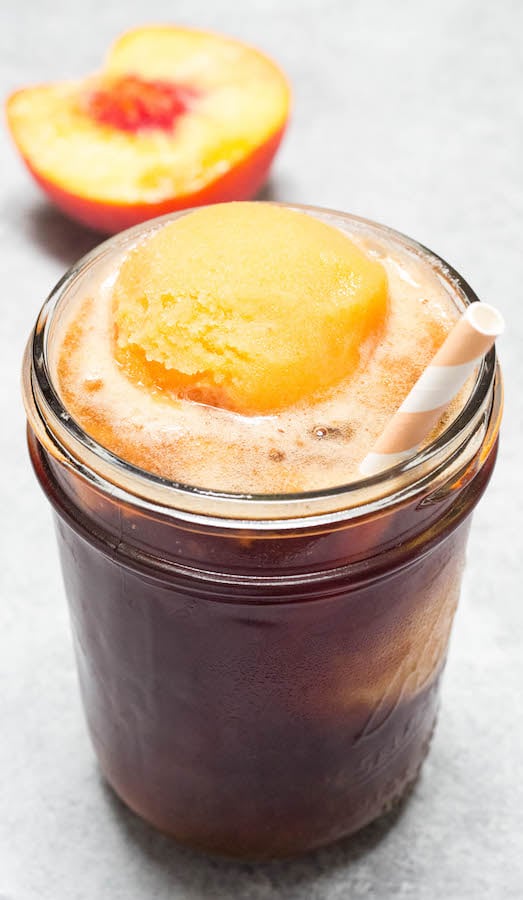 Growing up, there was always a pitcher of sweet tea in our fridge. My mother, a true Southern lady, made 2-3 batches of it per week. Our friends would often beg to come over after church just so they could get a taste. They even started calling it "crack tea".
These days, it's pretty rare to find sweet tea in my fridge, but I wanted a bit of nostalgia to help me cool down. I was fresh out of Ecto Cooler Sherbet, so sweet tea seemed like the next logical choice.
Because I was making the tea specifically for a drink that would have ice cream, I made it a little less sweet than I normally would. You can easily adjust the amount of sugar, either up or down, to match your preferred sweetness.
Peach is such a classic fruit to pair with tea. Since we're in the peak of stone fruit season, I couldn't resist using fresh ones from the farmer's market. I chose sorbet because it is not diluted with any kind of dairy, so the fresh fruit flavor really shines through.
If you check out my recipe below you'll notice that I use corn syrup instead of sugar. That is because using corn syrup in lieu of sugar creates sorbet with a less icy texture. Don't trust me? Maybe you'll listen to Serious Eats.
Want a real pro-tip for this recipe? Here you go: This sweet tea float pairs wonderfully with vodka or bourbon if you need a happy hour cool down cocktail. ?
Enjoy, ya'll!
This post contains affiliate links (when you buy we make a little money at no cost to you). See our disclosure for more information.
Print
Peach Tea Float Recipe
Homemade peach sorbet ice cream scooped into delicious Southern sweet tea to make a refreshing ice cream float.
Author: Jessica Pinney
Prep Time: 4 hours
Cook Time: 20 minutes
Total Time: 4 hours 20 minutes
Yield: 4 1x
Category: Dessert
Cuisine: American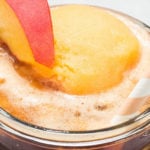 Ingredients
Peach Sorbet
5 lbs Fresh Peaches
3 Tsp Lime Juice
1/2 Cup Corn Syrup
1/4 – 1/2 Tsp Salt
Sweet Tea
4 Cups Water
5 Tea Bags ( I use Lipton)
1/2 Cup Sugar
Instructions
Peach Sorbet
Dice peaches, leaving the peels on.
Add the diced peaches, lime juice, and corn syrup into the food processor. Puree until there are no large chunks.
Strain into a large bowl through a fine mesh strainer. Add the salt to taste. Press plastic wrap against the surface and chill in the refrigerator until very cold (at least 3 hours).
Churn in your ice cream maker according to manufacturer's instructions. I use the kitchen aid ice cream maker attachment and churn for about 20 minutes. Transfer to an airtight freezer container (I like to use these, a bread pan with saran wrap also works in a pinch.) Freeze for 2-3 hours, until the desired consistency is reached.
Sweet Tea
Add the water to a small saucepan and bring to a boil over medium-high heat. Once it comes to a boil, remove from the heat and add the tea bags. Let steep 5 minutes, then remove the tea bags and discard.
Add the sugar and stir until completely dissolved. Put in a pitcher and add another 4 cups of water.
Refrigerate until chilled.
Peach Tea Float
Fill a pint glass or wide-mouth mason jar with 2-3 scoops of peach sorbet. Pour sweet tea over the top until the glass is almost full. Add a straw and enjoy immediately, preferably while swinging on a porch.